Meen Pollichathu is an authentic and tasty Kerala-style seafood dish. Traditionally, the fried/steamed fish is cooked in banana leaf which gives a unique taste and aroma. And this meen pollichathu is prepared with coconut oil and coconut milk which makes this dish rich and delicious. Kerala Karimeen Pollichathu is a flavorful, and finger-licking dish that one could easily prepare at home. This delicious seafood dish tastes great as a side dish with white rice or just as it is as a starter for lunch and dinner.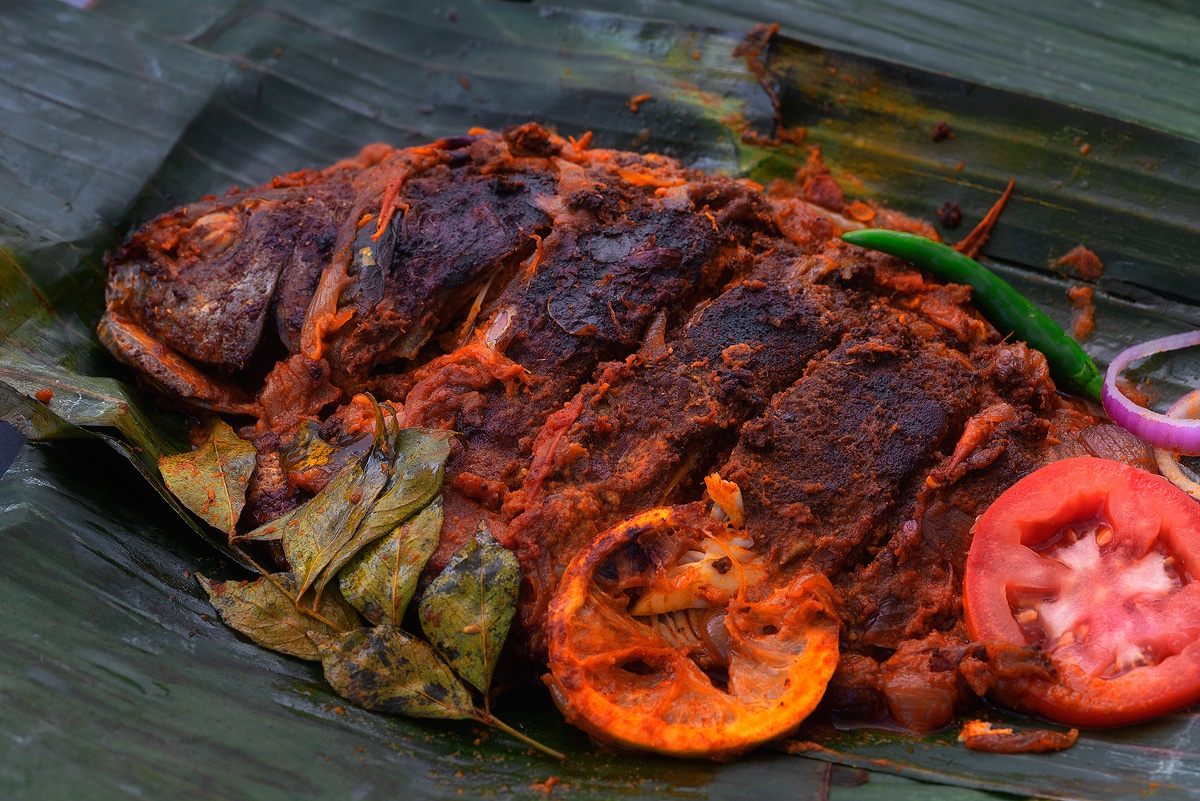 Jump to:
What is Meen Pollichathu?
Meen pollichathu is a traditional South Indian dish that is authentic to the state of Kerala. The meen pollichathu recipe uses karimeen(pearl spot fish), Indian spices, tomato, onion, curry leaves, coconut milk, cocum/kudam puli, coconut oil, and banana leaf. The marinated fish is usually fried and then wrapped in a banana leaf with tomato onion gravy and grilled for few minutes in a banana wrap. It usually looks like a fried fish in a thick gravy sauce. People from Kerala also refer to this dish as Nadan Karimeen Pollichathu.
Meen Pollichathu is popular and commonly served in most of the restaurants and households in Kerala. Due to its rich taste and flavor, this dish got its popularity in its neighboring states like Tamil Nadu, Andhra Pradesh, and Karnataka. Even though the preparation and taste of the dish vary from place to place, it is a delicious treat for seafood lovers.
About this Meen Pollichathu recipe
The recipe I have shared here is a similar version of Kerala Karimeen pollichathu but with Black Pomfret fish. Initially, I marinated the fish with spice powders and allowed it to rest for 15 minutes. I would highly recommend not to skip this step which helps the fish to absorb all the flavors from the masala.
After that, in a pan with medium heat, I added some curry leaves and shallow fried the fish until both the sides turned golden brown in color and reserved it for later use. Adding curry leaves while frying gives a nice aroma to the dish. Then I sauteed green chili, curry leaves, and onions in coconut oil until it turned soft. And then I added spice powders, and ginger garlic paste and gave a nice mix. Later, I have added tomatoes and cooked until it turned mushy.
At this stage, you could add diluted cocum or kudampuli and simmer for few minutes. I skipped this step since it was not handy to me. But you could use it if you would like kudampuli and let me know how it tasted for you. Finally, I added the thick coconut milk and simmered the mix until it reached a thick gravy consistency.
After that, I placed one part of the gravy mix evenly on the banana leaf and then the fried fish on top of it. Then I added a generous amount of remaining gravy mix on top of the fish. Finally, I garnished it with a piece of lemon slice, green chili, and a sprig of curry leaves. Then I wrapped the banana leaf with the banana string.
Following that, I have added coconut oil on a Tawa and placed the banana leaf wrap on it, and cooked the fish for 7 to 10 minutes on both sides in medium heat.
Tips
The key to a tasty, Kerala-style meen pollichathu is to use the traditional ingredients. I would always recommend you to use coconut oil and coconut milk to enjoy the authentic taste and flavor. And another important factor is banana leaves. Usually, the foods cooked in banana leaves enhance the aroma and flavor of the dish. If the banana leaves are not handy, you could follow the same process with aluminum foil. To be honest there will be a slight change in the flavor and taste as you would miss the natural aroma the banana leaf has.
You could also make this meen pollichathu recipe in the oven. To do that, you just need to follow the same marination process, and instead of pan-frying, grill the fish at 180 degrees Celsius in the oven. Cook the fish for about 12 to 15 minutes on each side until it turns golden brown in color. Then remove the fish from the oven and wrap it along with the gravy with aluminum foil and broil for 5 to 7 minutes.
Variations
Kerala karimeen pollichathu is a tangy, tasty, and finger-licking seafood dish that has a lot of variations. Though the traditional recipe uses Karimeen fish, people from Kerala also use Mackreal, Salmon, Tilapia, Pomfret, and snappers for different tastes and flavors. Similarly with the people in neighboring states too.
In some parts of Kerala people uses cocum or kudampuli for tanginess while some people use only tomatoes instead. And they also make meen pollichathu with coconut milk which gives a unique flavor to the dish. Though this fried/steamed fish in banana leaf uses coconut oil, people also use other cooking oils for different flavors according to their family needs.
Serving Suggestions
This meen pollichathu recipe is tasty, delicious, and goes best with white rice accompanied with, Chepala Pulusu, Rasam, Kadala Curry or it can also be enjoyed as it is as a starter for lunch or dinner meal.
You could also find similar recipes below and more at Seafood Recipes
If you are looking for more seafood recipes from fish to prawn and from side dishes to main dishes, you can take a look at this collection of Indian Seafood Recipes from this blog in one place. Take a peek!
Meen Pollichathu recipe video
I have also shared video instructions for meen pollichathu recipe below and I believe this will help you to make/prepare this dish quick and easy at home. For a quick reference, you could also find this recipe in story format.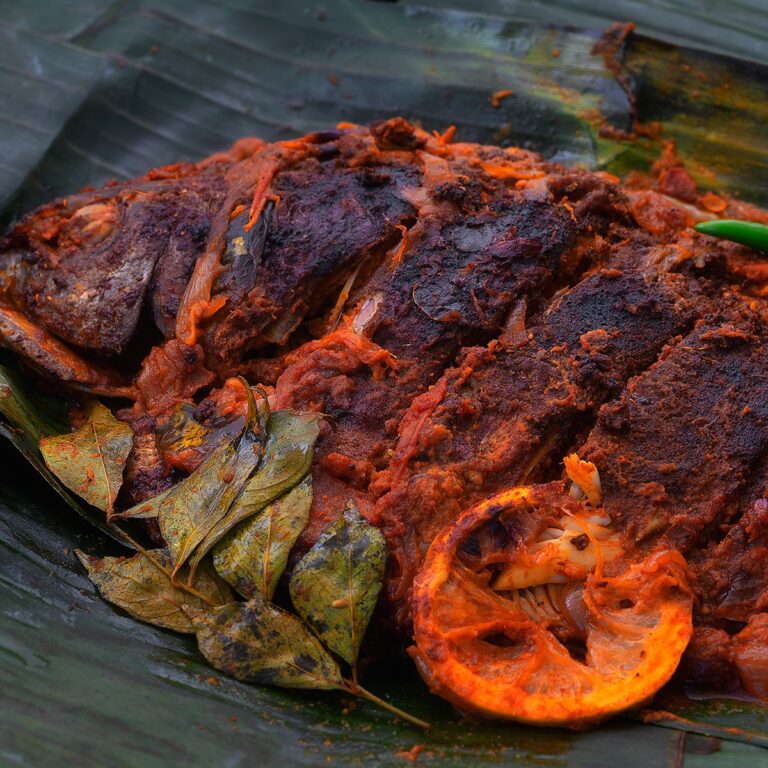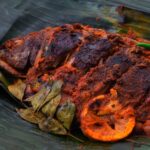 Meen Pollichathu
Meen Pollichathu is a traditional seafood recipe from the south Indian state of Kerala. In this recipe, the fried fish is wrapped with coconut milk, onion, and tomato masala gravy in a banana leaf and grilled. It is a flavorful and finger-licking food that can be enjoyed as it is or as a side dish for lunch and dinner.
Subscribe
print (text-only)
email
pin
review
save
saved!
Ingredients
To Marinate
1

Fish

,

Black Pomfret, full fish cleaned & slit

½

tsp

Turmeric Powder

1½

tsp

Chili Powder

1

tsp

Pepper Powder

1

tsp

Coriander Powder

1

tsp

Ginger Garlic Paste

2

tsp

Lemon Juice

Salt

,

as needed
To Make Gravy
0.55

lb

Pearl Onion

,

shallot, chopped

2

Tomato

,

chopped

3

Green Chili

,

sliced

1

sprig

Curry Leaves

2

tsp

Ginger Garlic Paste

1

tsp

Chili Powder

1

tsp

Coriander Powder

½

tsp

Turmeric Powder

Salt

,

as needed

½

cup

Coconut Milk

2

tsp

Coconut Oil
To Wrap & Serve
1

Banana Leaf

1

tsp

Coconut oil

1

sprig

Curry Leaves

2

Green Chili

1

Lemon Slice

Banana string

,

twine, to tie
More on Unit Conversions »
Instructions
To Marinate Fish
In a bowl add turmeric powder, chili powder, coriander powder, pepper, ginger garlic paste, salt, and lemon juice and mix everything well to make a masala

Apply the masala on both sides of the fish and allow it to rest for 15 minutes
To Fry
In a pan with medium heat, add coconut oil, one spring of curry leaves, and add the fish to it

Fry the fish until both sides turn golden brown in color. Do not over fry the fish to turn crispy which is not required for this recipe. Once fried, remove the fish and reserve it for later use
To Prepare Gravy
In a pan with medium heat, pour coconut oil, add curry leaves, onion, green chili, and saute until onion turns soft

Now add chili, coriander, turmeric powders, ginger garlic paste, salt, and saute well until the raw aroma leaves

Add the tomatoes and saute until they turn mushy

Now add the thick coconut milk and mix well. Allow the coconut milk to cook well until the mixture turns thick gravy consistency. Now the gravy is ready for the wrap
To Wrap
In a banana leaf, place half of the prepared gravy mix and place the fish on top of it

And spread the remaining gravy all over the fish. Place 1 spring of curry leaves, green chili, and a lemon slice

Wrap the leaf tightly and tie it with banana string

Now in a pan with medium heat, pour coconut oil and place the wrapped fish and allow it to cook for 7 to 10 minutes on each side. Once cooked, remove the banana leaf-wrapped fish from heat and now it should be ready for you to taste and enjoy
To Serve
Serve this delicious Kerala Style Meen Pollichathu with steamed rice or enjoy as it is
Chef's Notes and Tips
Traditionally meen pollichathu is made using Pearl spot fish but here I used Black pomfret which could also be replaced with white pomfret, red snapper, tilapia, and mackerel
Marinating and resting the fish for at least 15 minutes helps the fish to absorb the masala well
Coconut oil is used for this recipe which gives a unique flavor and taste and I recommend you stick with it
I have added coconut milk which spruces the taste of the gravy and adds authentic taste to the dish. But if you do not like coconut milk feel free to skip it
I have used the banana leaf for wrapping which has a natural aroma and enhances the taste of meen pollichathu. But it can also be replaced with aluminum foil if the banana leaf is not readily available to you
Nutrition Info
Serving:
1
serving
|
Calories:
291
kcal
|
Carbohydrates:
30
g
|
Protein:
5
g
|
Fat:
19
g
|
Saturated Fat:
16
g
|
Polyunsaturated Fat:
1
g
|
Monounsaturated Fat:
1
g
|
Cholesterol:
0.3
mg
|
Sodium:
438
mg
|
Potassium:
724
mg
|
Fiber:
10
g
|
Sugar:
13
g
|
Vitamin A:
2260
IU
|
Vitamin C:
84
mg
|
Calcium:
86
mg
|
Iron:
4
mg
Disclaimer: We're not nutrition experts. Nutritional info is estimated and should be used as a guide. For precise details, consult a professional.
FAQ
What is Meen pollichathu?
Meen Pollichathu is an authentic and tasty seafood dish native to the south Indian state of Kerala. In this dish, the fish is steamed/fried in coconut oil and wrapped with banana leaf along with tomato onion gravy, and then grilled to perfection.
What fish tastes best for meen pollichathu?
Though the traditional recipe uses Karimeen(pearl spot fish), it also tastes great when made with salmon, tilapia, snapper, kingfish, pomfret, and other fatty fishes.
Can this meen pollichathu recipe made without banana leaf?
Yes, you can make this recipe in aluminum foil instead of banana leaf following the same process.
Can this recipe be made in the oven?

Yes, this recipe can be made in oven. Just follow the process mentioned above.
Is Meen Pollichathu good for health?
Traditional meen pollichathu uses karimeen which is rich in omega 3 fatty acid and it is a good source of protein as well. Though the fish is healthy, it is fried in oil and cooked with spices. So consuming it in moderate quantity is better.

I really hope you enjoyed the recipe that I have shared here and I would love to hear from you on how it turned out for you. Please let me know.
If you have any other questions, feel free to post them in the comment section below and I will try to get back to you as soon as possible.

Happy Cooking!