Oven-Roasted Brussels Sprouts offer a delightful blend of crispy exteriors and tender interiors, making them a superb side dish. This fresh Brussels Sprouts roasted at high temperatures brings out the natural sweetness and nutty flavor, making them an excellent accompaniment to a wide range of main courses, including roasted meats, seafood, pasta, and rice dishes.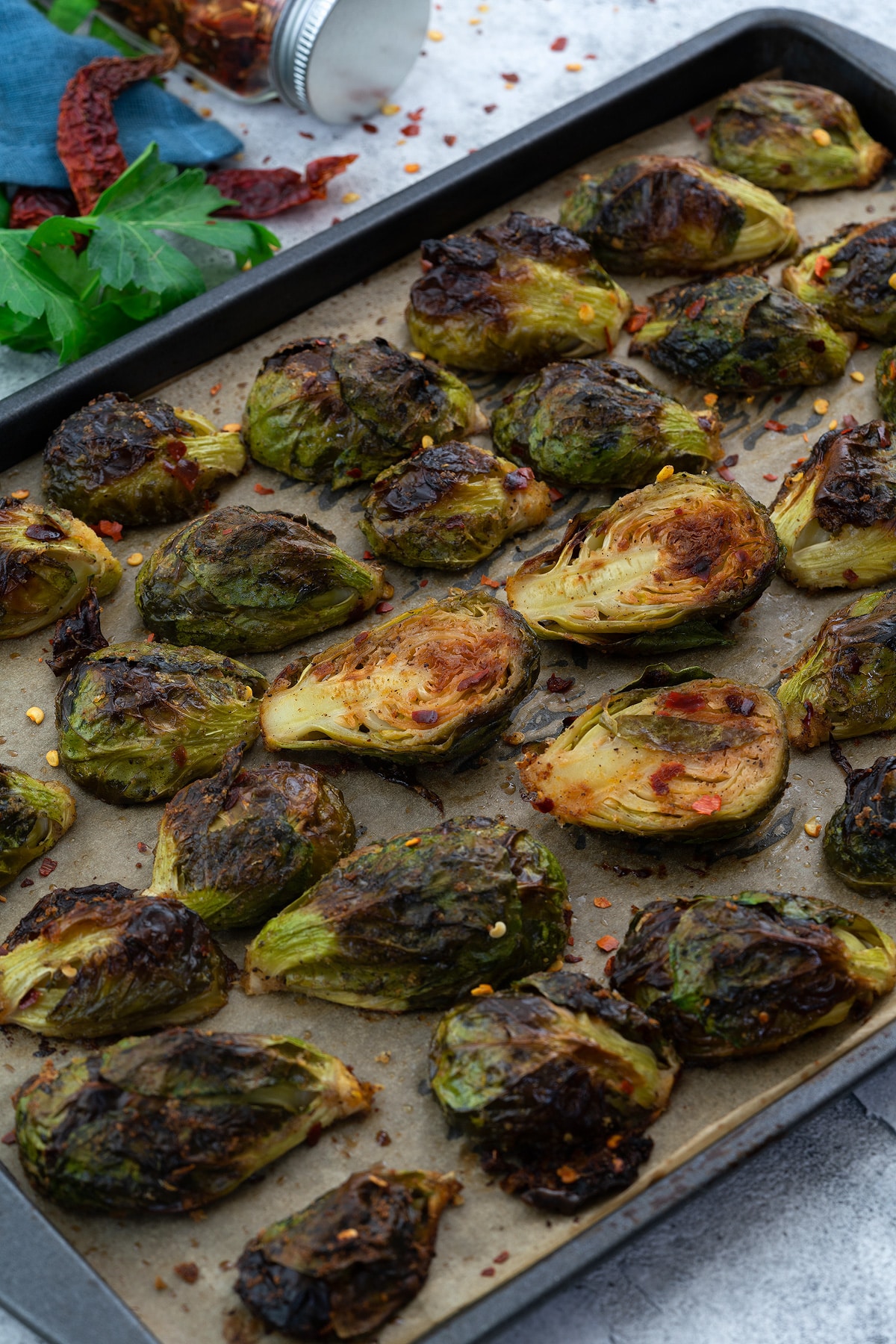 Jump to:
Brussels sprouts are not only flavorful but also highly nutritious, packed with fiber, vitamins, and minerals. Roasting them is a superior cooking method that retains more nutrients compared to boiling or microwaving, and it adds a satisfying crispiness. This dish is an ideal choice for anyone seeking to add more greens to their diet, combining taste with health benefits.
In summary, these roasted Brussels sprouts are an easy, versatile, and healthy option that is sure to delight both family and guests. This recipe is a great way to enjoy a nutritious and flavorful meal.
Ingredients and Substitutions Overview
For Roasted Brussels Sprouts, you'll need a few simple ingredients that are easily available at your local grocery store. These ingredients not only add flavor but also offer nutritional benefits: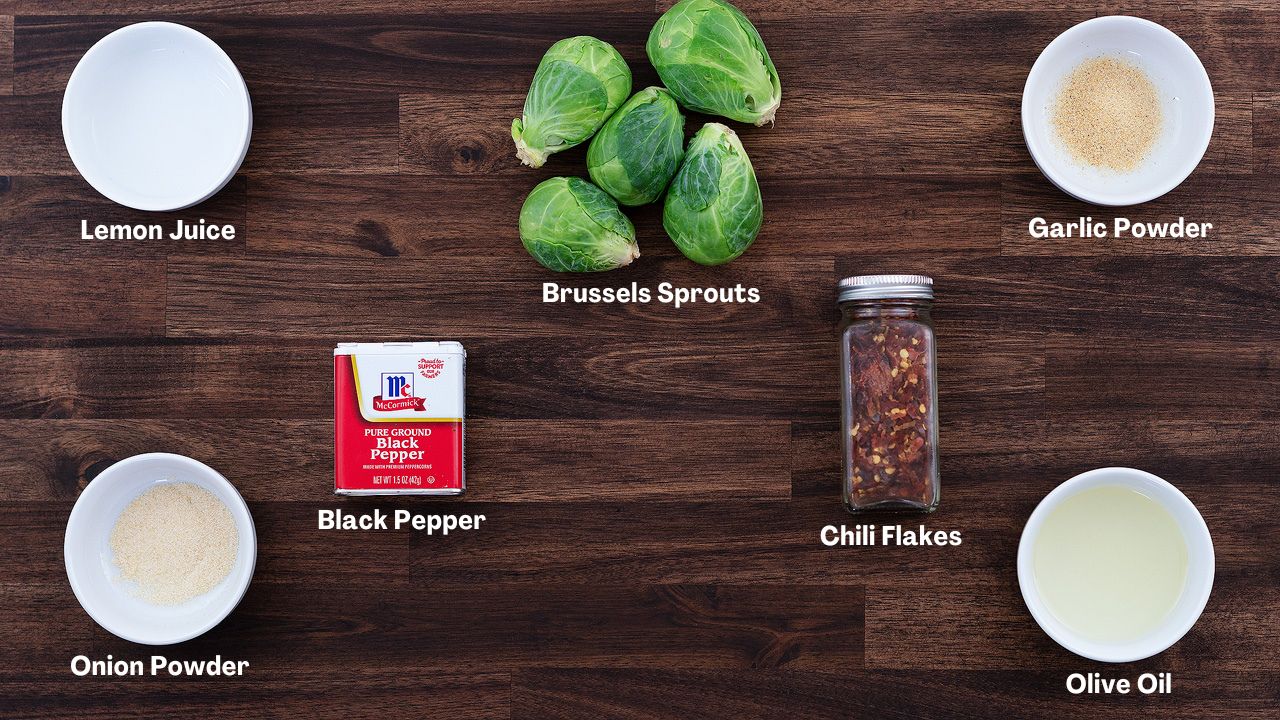 Brussels Sprouts: A nutritional powerhouse, these sprouts are rich in vitamins, nutrients, and dietary fiber, making them a healthful choice.
Garlic and Onion Powder: Adding these spices imparts a warm and savory flavor to the Brussels sprouts.
Black Pepper: A dash of black pepper offers a warm, peppery accent.
Chili Flakes or Chili Powder: Opt for chili flakes for a hint of heat, or chili powder for a spicier kick.
Lemon Juice or Vinegar: Incorporating lemon juice or vinegar lends a tangy, zesty note to the dish.
Oil: Use a healthy fat like olive oil to enhance the roasting process and elevate the overall flavor of the Brussels sprouts.
How to Perfectly Roast Brussels Sprouts in the Oven?
Discover the delicious simplicity of Oven-Roasted Brussels Sprouts with this easy-to-follow recipe. Perfect for any occasion, these sprouts bring a burst of flavor and nutrition to your table. Follow along with our photos and video below for each step to create this delightful dish.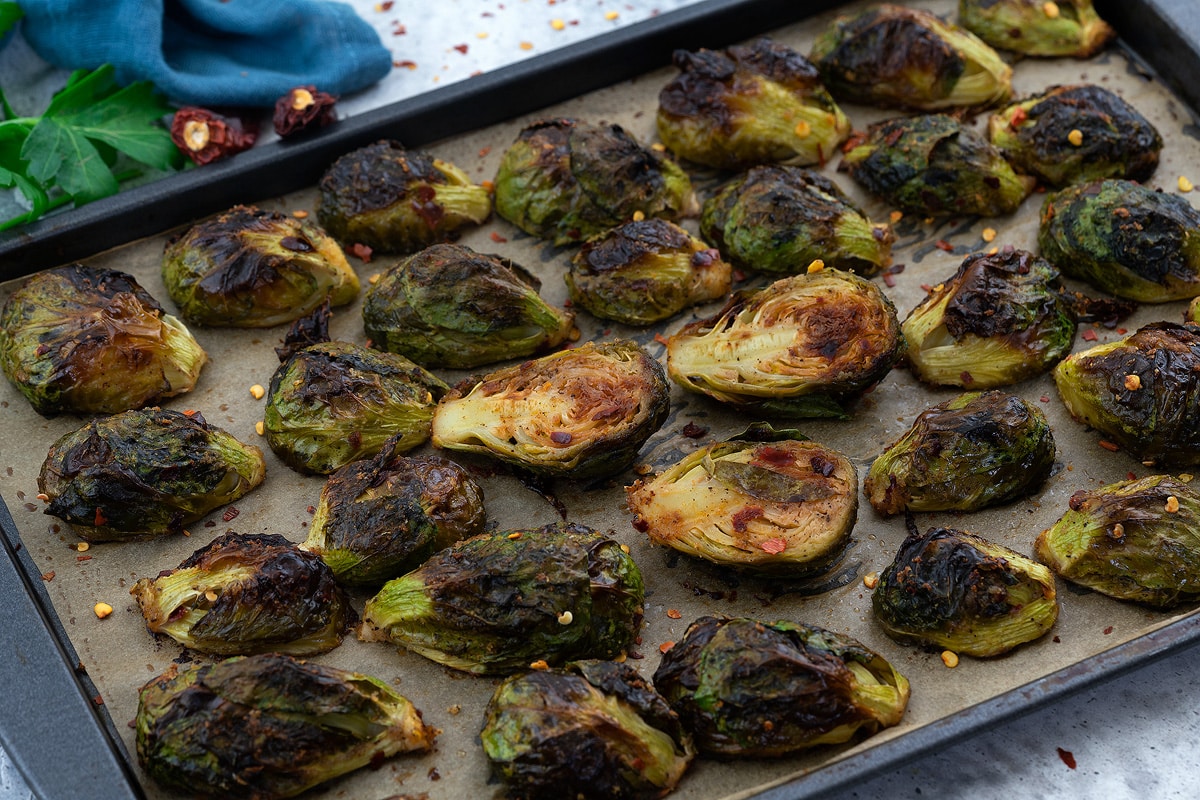 Explore our range of nutritious vegetables, featuring Brussels Sprouts and other roasted and baked options: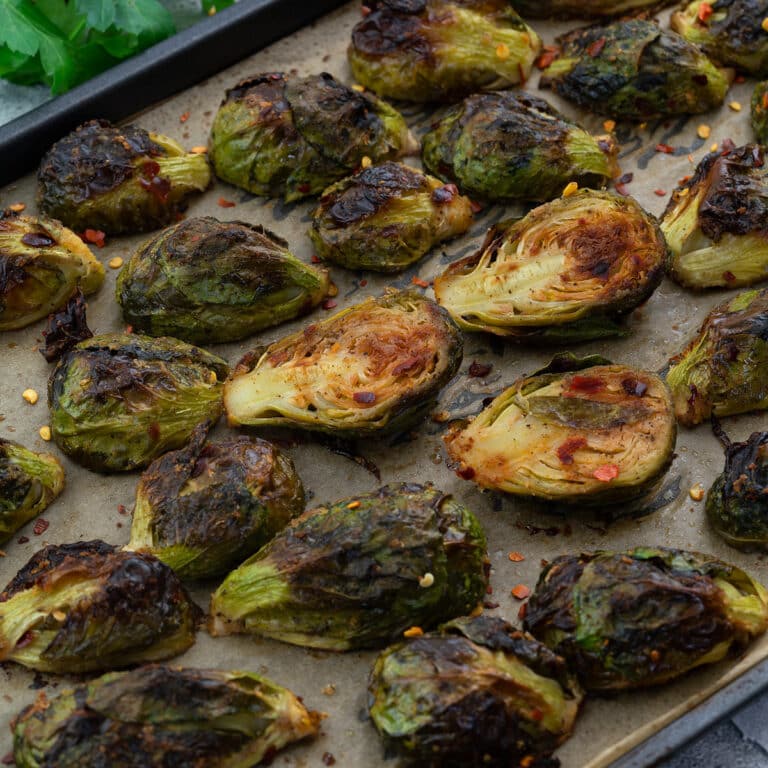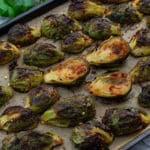 Roasted Brussels Sprouts
Oven-Roasted Brussels Sprouts, seasoned with garlic and onion powders and lemon juice, offer a crispy yet tender side dish. Ideal with roasted meats, pasta, or rice, roasting enhances their flavor, making them a versatile addition to meals.
Subscribe
print (text-only)
email
pin
review
save
saved!
Ingredients
1½

lb

Brussels Sprouts

¾

tsp

Garlic Powder

½

tsp

Onion Powder

½

tsp

Black Pepper

,

ground

½

tsp

Chili Flakes

,

or paprika or chili powder for spicy flavor

1

tbsp

Lemon Juice

,

or vinegar

Salt

,

to taste
More on Unit Conversions »
Instructions
To make Roasted Brussels Sprouts
Begin by discarding any yellow or spoiled leaves from the Brussels sprouts. Wash, pat dry, trim the thick stems, and halve the sprouts.

In a bowl, combine the halved sprouts with garlic, onion powder, black pepper, lemon juice, olive oil, chili flakes, and salt. For extra heat, consider adding chili powder or paprika. Toss to ensure an even coating.

Arrange the seasoned sprouts on a parchment-lined baking tray, cut side down, ensuring they're not overcrowded.

Roast in a preheated 400°F oven for 30 to 40 minutes. The sprouts should be crispy outside and tender inside. Optionally, flip them halfway through for even crisping.

Once done, take the sprouts out of the oven. Optionally, garnish with grated parmesan cheese or a drizzle of garlic butter sauce for added flavor.
To Serve
This versatile side dish complements a wide array of main courses. It's perfect alongside various grains and proteins, offering a balanced and flavorful meal. Checkout our serving ideas.
Chef's Notes and Tips
Tips for Perfect Roasted Brussels Sprouts:
Trim and Clean: Begin by thoroughly washing and trimming the stems off the Brussels sprouts, then cut them in half for uniform cooking and better absorption of flavors. Although I've used only olive oil in this recipe, you can also experiment with a blend of olive oil and butter for a rich, caramelized finish.
Seasoning: Get creative with your seasonings to enhance the dish. Try Cajun seasoning, fajita seasoning, buffalo sauce, or chili sauce for a spicy twist. For a creamy and cheesy flavor, consider serving with garlic parmesan sauce or a sprinkle of parmesan cheese.
Roasting Temperature: Roast the sprouts at 400-425°F. Cooking times may vary based on the sprouts' size. In this recipe, I roasted them at 400°F for about 30 minutes, achieving a perfect balance of texture and flavor.
Crispy Roasted Brussels Sprouts: To achieve perfect crispiness, avoid overcrowding them on the baking sheet, as this causes steaming rather than crisping. Ensure each sprout is lightly coated in oil, and preheat your oven to at least 400°F (200°C).
Add Some Zing: Elevate the dish with bold ingredients like garlic, garlic powder, chili flakes, black pepper, and lemon juice. For an extra flavor boost, consider adding garlic butter sauce, tahini sauce, or balsamic vinegar when serving.
Nutrition Info
Serving:
1
serving
|
Calories:
78
kcal
|
Carbohydrates:
16
g
|
Protein:
6
g
|
Fat:
1
g
|
Saturated Fat:
0.1
g
|
Polyunsaturated Fat:
0.3
g
|
Monounsaturated Fat:
0.05
g
|
Sodium:
338
mg
|
Potassium:
681
mg
|
Fiber:
7
g
|
Sugar:
4
g
|
Vitamin A:
1357
IU
|
Vitamin C:
146
mg
|
Calcium:
75
mg
|
Iron:
2
mg
Disclaimer: We're not nutrition experts. Nutritional info is estimated and should be used as a guide. For precise details, consult a professional.
Explore our collection of delicious recipes featuring roasted and baked vegetables, and flavorful vegetable sides, each crafted to elevate your dining experience.
Serving Suggestions
Roasted Brussels Sprouts are a versatile side dish that pairs well with various mains. Consider these options:
Storage Suggestions
Roasted Brussels Sprouts are ideally enjoyed warm, but if you have leftovers, they can be refrigerated for up to 2 days. Note that they may lose their crispiness over time. For optimal taste, it's best to consume them shortly after roasting. If you need to reheat leftovers, the microwave offers a quick and convenient method, although they might not retain their original texture.
What are the best ways to cook Brussels Sprouts?
Brussels Sprouts can be prepared in several delightful ways:
Roasting: As demonstrated in my recipe, roasting is an excellent method for a healthy, flavorful side dish.
Air Frying: For a quick, healthy option, air fryers use circulating hot air to create a crispy texture with minimal oil.
Sautéing: Cook the sprouts in butter or olive oil in a medium-high heat pan for 10-15 minutes until tender and browned, seasoning with salt and pepper.
Steaming: Steam in a pot with a few inches of boiling water, using a steamer basket, for 8-10 minutes until tender.
Grilling: Preheat your grill to medium-high, halve the sprouts, toss with oil, salt, and pepper, and grill for 5-7 minutes until tender and charred.
Frying: Fry halved sprouts coated in a flour, salt, and pepper mix in 350°F (180°C) oil for 3-4 minutes until golden and crispy.
Remember, avoid overcooking to maintain their texture and flavor. Enjoy your Brussels sprouts cooked to perfection!