Roasted zucchini, a quick and nutritious side dish, can be prepared in under 30 minutes. This dish involves fresh zucchini seasoned with garlic powder, Italian herbs, black pepper, and olive oil, then oven-roasted to achieve a tender, flavorful result. It complements a variety of main courses, including rice dishes, meats, and seafood like salmon, making it suitable for both lunch and dinner.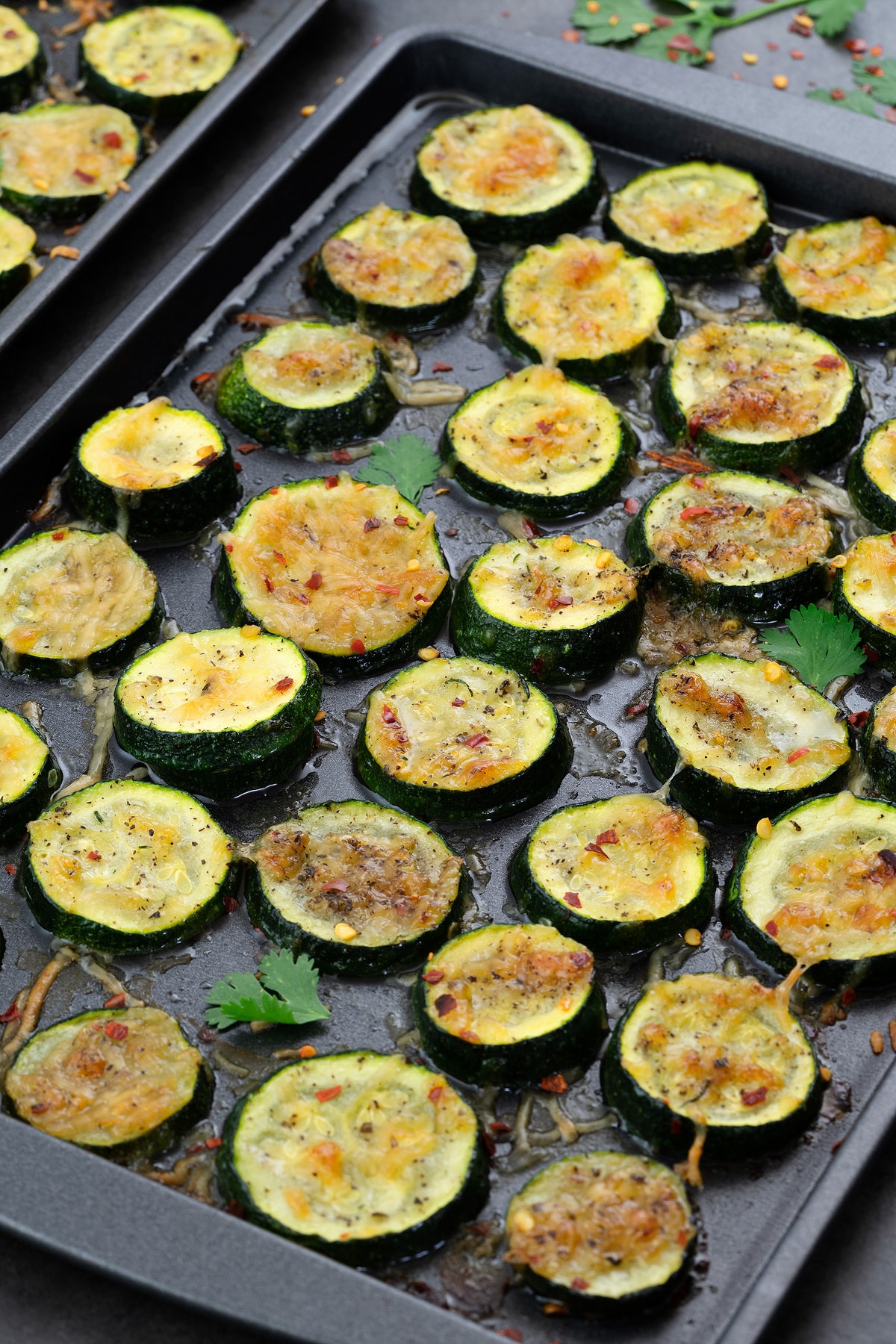 Jump to:
Enhance the flavor by experimenting with additional seasonings like parmesan cheese, chili flakes, paprika, or cumin. This recipe is an efficient way to utilize surplus zucchini from your garden. Simply slice, season, and roast until golden and delicious.
Its versatility is a standout feature, perfect as a side, a topping for salads and pizzas, or as a standalone snack. For vegetarians and vegans, it's a nutrient-rich, flavorful alternative to meat. Vegans can easily substitute parmesan with a non-dairy variant. Quick to prepare, roasted zucchini is an excellent choice to enrich any vegetarian meal with its delightful taste and health benefits.
Ingredients Overview
To make this roasted zucchini, you will need a few basic pantry ingredients that can be easily found at most grocery stores or supermarkets. These include: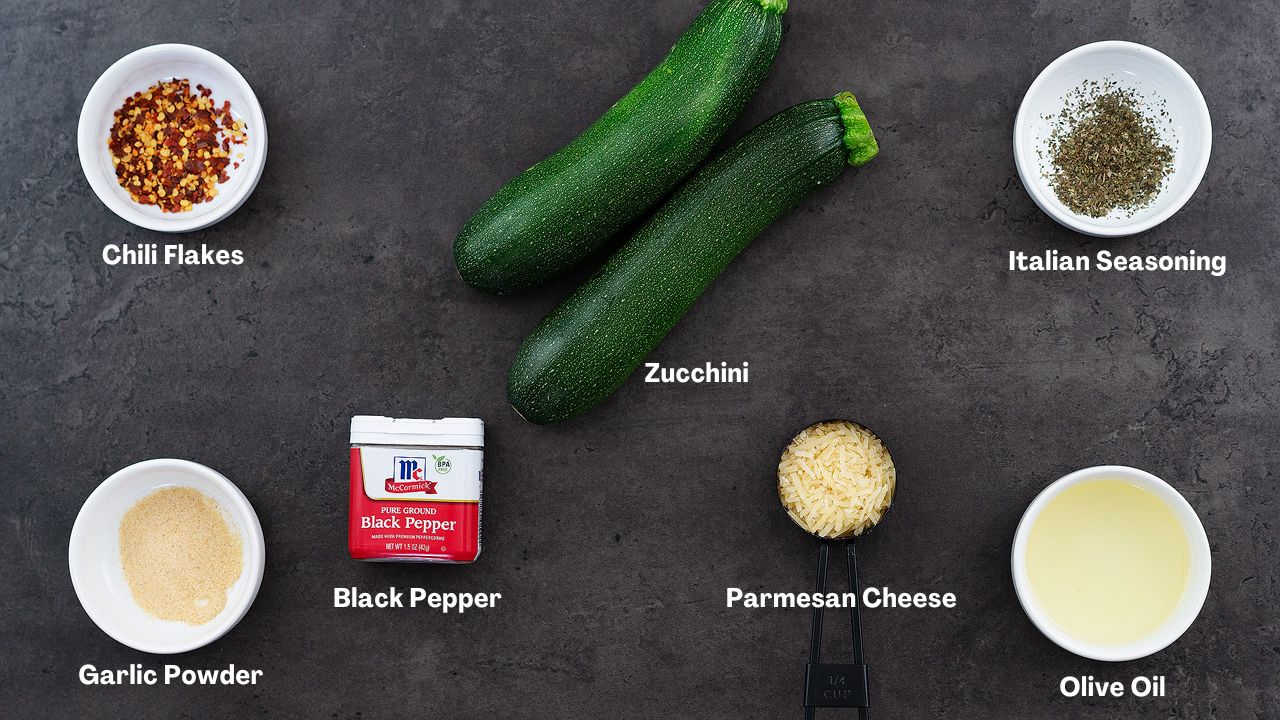 Zucchini: Choose fresh zucchini, ensuring it's washed and dried.
Italian seasoning: This blend of dried herbs brings out the zucchini's natural flavors.
Parmesan Cheese: Adds a crispy texture and distinct cheesy taste.
Other Seasonings: Garlic powder, black pepper, chili flakes, and salt enhance the vegetable's flavor.
Healthy Fat: Olive oil not only adds richness but also nutritional value to this side dish.
How to Roast Zucchini in Oven?
Our roasted zucchini recipe, easy and full of flavor, is here to impress. Follow these simple steps, complemented by photos and a video guide, to create a mouthwatering side dish. Let's get started!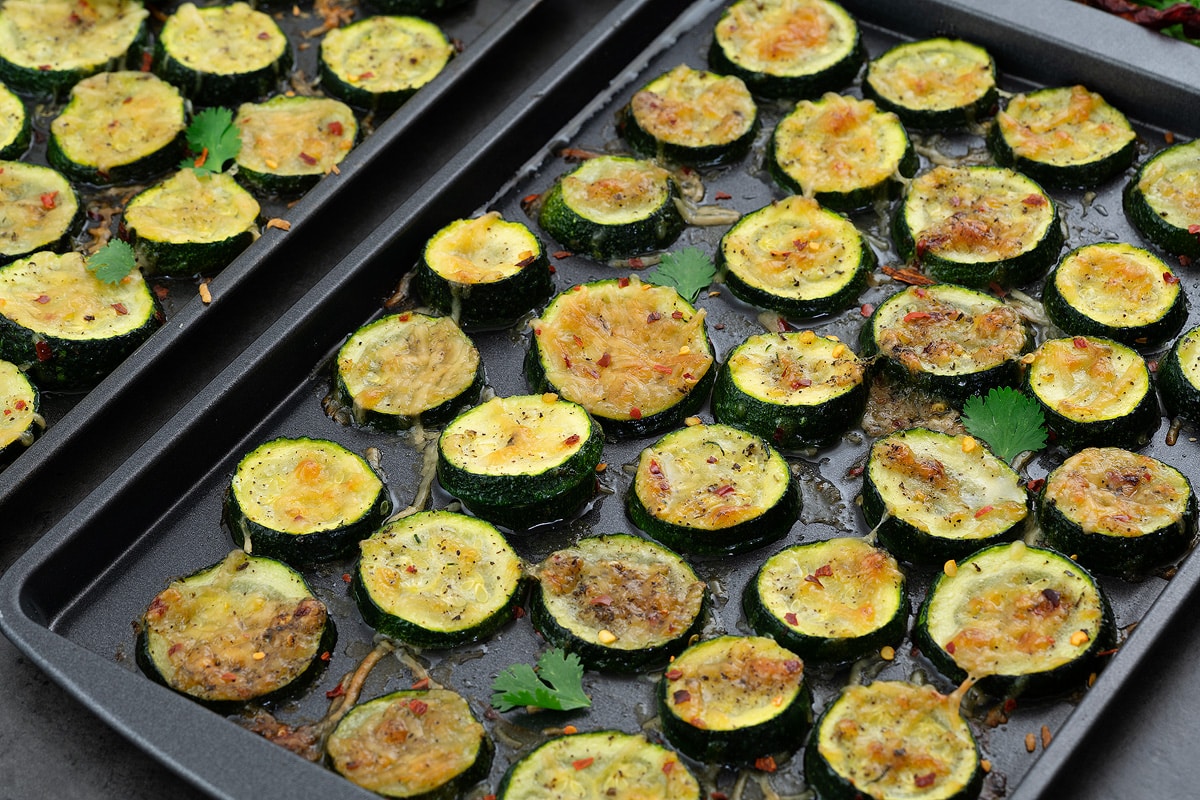 Explore our range of nutritious vegetables, featuring zucchini and other roasted and baked options below.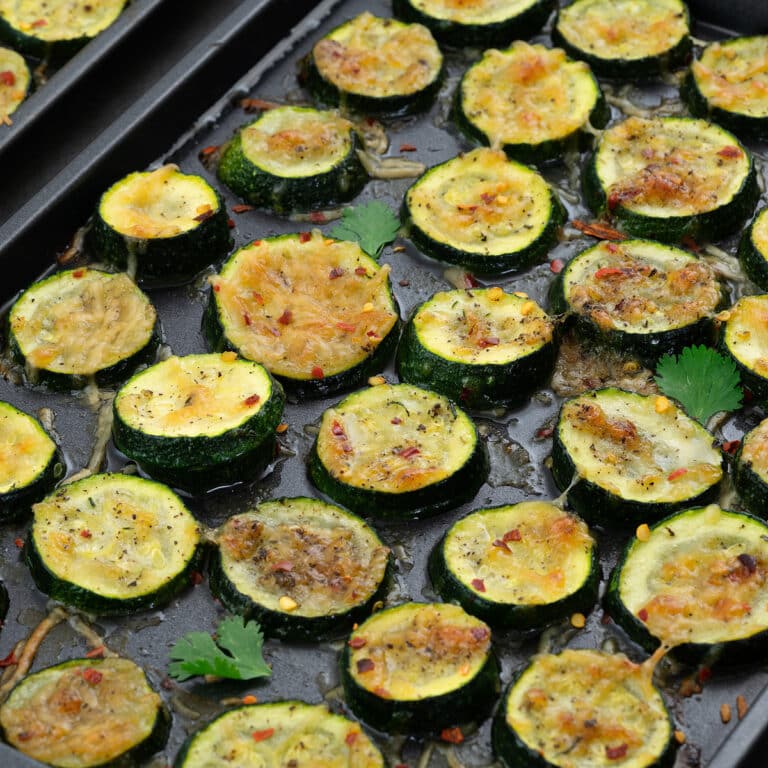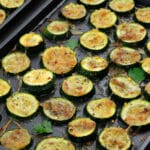 Roasted Zucchini
Roasted zucchini, a quick and nutritious side, is prepared in under 30 minutes using fresh zucchini, garlic powder, Italian seasoning, black pepper, and olive oil. Perfectly complementing meals like rice, meats, or seafood such as salmon, it's a versatile choice for lunch or dinner.
Subscribe
print (text-only)
email
pin
review
save
saved!
Ingredients
4

Zucchini

,

medium size

1

tsp

Garlic Powder

1

tsp

Ground Black Pepper

1

tsp

Chili Flakes

½

tsp

Italian Seasoning

Salt

,

as needed

3

tbsp

Parmesan Cheese

2

tbsp

Olive Oil
More on Unit Conversions »
Instructions
To Roast Zucchini in the Oven
Begin by washing the zucchini and drying it with a clean kitchen towel. Cut the zucchini into circular slices about ½ inch thick, or other shapes like breadstick-sized cuts, cubes, or any convenient shape.

Place the sliced zucchini in a bowl. Add garlic powder, ground pepper, chili flakes, salt, Italian seasoning, and parmesan cheese, then mix well to coat evenly.

Grease a baking tray with oil and arrange the seasoned zucchini slices on it, ensuring they are not overcrowded.

Preheat the oven to 400°F. Roast the zucchini for 12 to 15 minutes. For a crispier finish, switch to broil mode for the last 3 to 5 minutes to create a golden, parmesan-crusted exterior.

Once roasted to perfection, remove the zucchini from the oven. It's now ready to serve and enjoy.
To Serve
Enjoy this Oven Roasted Zucchini as a versatile side dish alongside your favorite chicken, salmon, rice, or any main course you prefer, perfect for both lunch and dinner.
Chef's Notes and Tips
Tips for Perfect Roasted Zucchini:
Seasoning Matters: The secret to flavorful roasted zucchini lies in the seasoning. Use classic ingredients like parmesan, garlic powder, black pepper, olive oil, and salt for a traditional taste. For a more adventurous twist, try adding paprika, cumin, cajun, or chili seasoning. Each brings its unique flair to the dish.
Optimal Roasting Temperature: Roast your zucchini at 400°F to achieve the perfect texture - crispy on the outside and tender on the inside, without any sogginess.
For Crispy Roasted Zucchini: Use a high roasting temperature to reduce moisture. Cut the zucchini into thick slices and roast them on a baking rack to avoid sogginess.
Choosing the Right Shape: While you can cut your zucchini into rounds or sticks, thicker slices often yield the best results. They hold up well during roasting and ensure an even cooking.
Nutrition Info
Serving:
1
serving
|
Calories:
115
kcal
|
Carbohydrates:
7
g
|
Protein:
4
g
|
Fat:
9
g
|
Saturated Fat:
2
g
|
Polyunsaturated Fat:
1
g
|
Monounsaturated Fat:
5
g
|
Cholesterol:
3
mg
|
Sodium:
77
mg
|
Potassium:
537
mg
|
Fiber:
2
g
|
Sugar:
5
g
|
Vitamin A:
433
IU
|
Vitamin C:
35
mg
|
Calcium:
87
mg
|
Iron:
1
mg
Disclaimer: We're not nutrition experts. Nutritional info is estimated and should be used as a guide. For precise details, consult a professional.
Explore our collection of delicious recipes featuring roasted and baked vegetables, and flavorful vegetable sides, each crafted to elevate your dining experience.
Storage Suggestions
To keep your roasted zucchini fresh, place it in an airtight container and store it in the refrigerator. It will remain fresh for up to 2 days. When you're ready to enjoy it again, reheat it in the oven at 400 degrees Fahrenheit until it regains its crispiness. This method helps preserve the texture and flavor, making your zucchini almost as good as when it was freshly made.
Serving Suggestions
Roasted Zucchini makes a delightful and nutritious side dish that pairs beautifully with various main courses. It's perfect alongside rice, roasted or baked chicken (including breast, drumsticks, and wings), and flavorful salmon dishes like garlic butter baked salmon.
This versatile side is ideal for a well-rounded meal and can also be served as a healthy after-school snack or a quick fix for sudden hunger cravings. Its ease of preparation and compatibility with a range of dishes makes it a go-to option for any mealtime.