Oven-Roasted Potatoes offer a delightful side dish with a crispy golden exterior and a soft interior. Prepared primarily with red or white potatoes, this dish is seasoned with garlic powder, herbs, and a mix of spices, making it an effortless addition to meals like brown rice, chicken, salmon, or shrimp.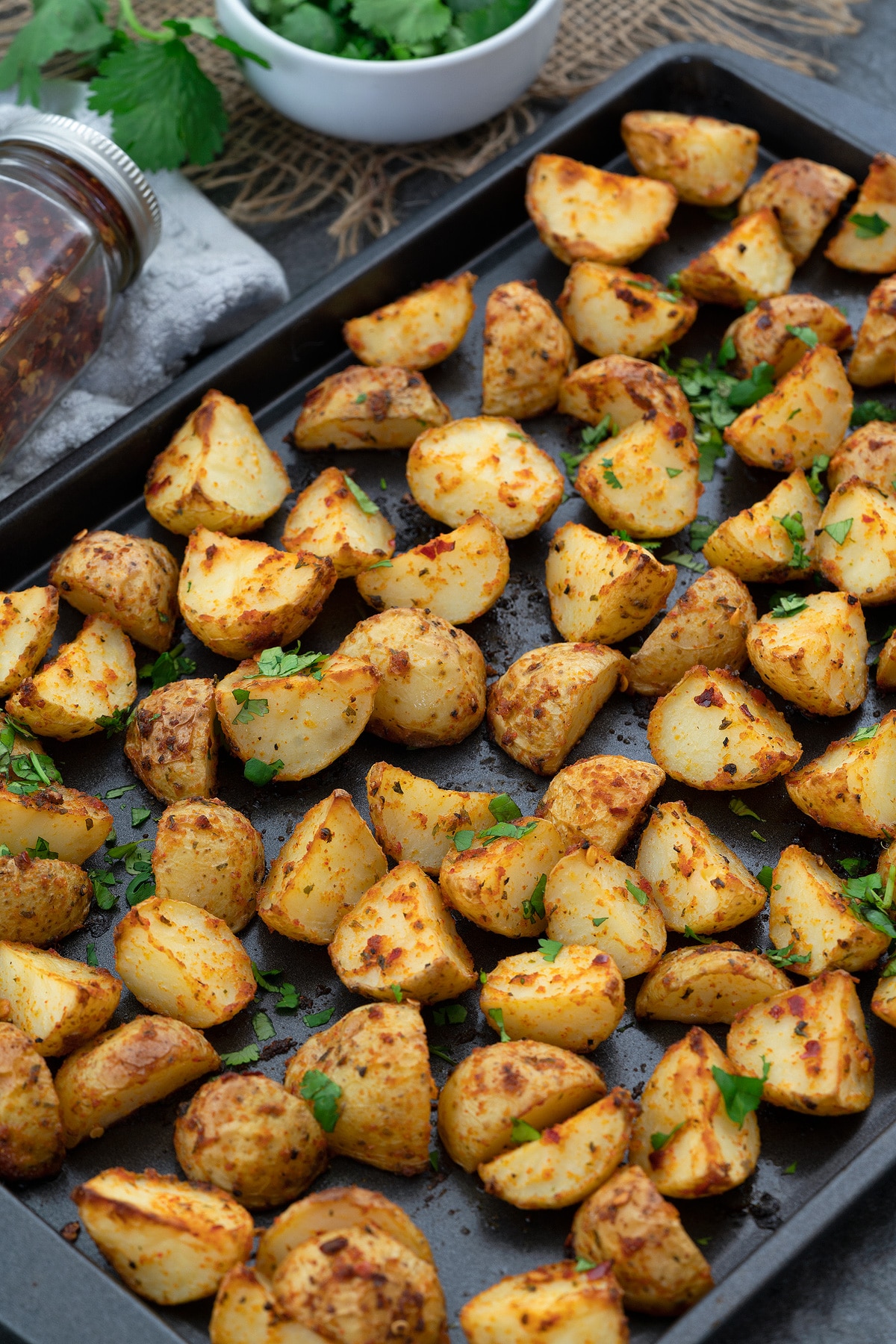 Jump to:
The use of garlic powder instead of fresh garlic ensures a perfect roasted flavor without the risk of burning. These vegan-friendly potatoes are an ideal choice for holidays, festivals, or everyday meals, requiring minimal effort for a delicious result.
Discover More Potato-based Recipes:
Ingredients Overview
For this Roasted Potatoes recipe, you'll need basic seasonings and potatoes. Here's a detailed list of what you'll need: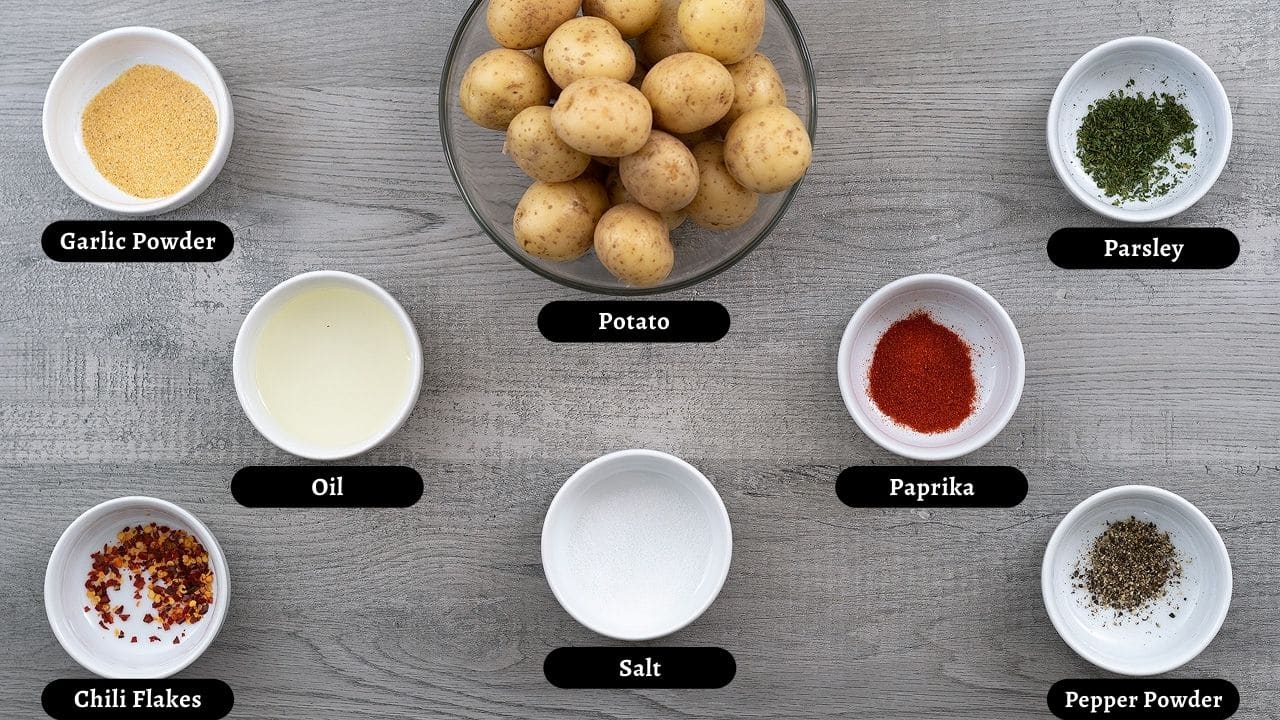 Potatoes: This recipe is versatile and works well with any type of potato. Choose from red, white, Yukon gold, Russet, or Fingerling potatoes, depending on what's available.
Garlic Powder: A key ingredient for enhancing the taste and flavor of the potatoes. It also aids in digestion.
Paprika and Chili Flakes: These are used to add a bit of heat to the dish. Feel free to adjust the amount based on your family's heat preference.
Black Pepper Powder: This adds a slight heat and subtle citrusy flavor notes to the potatoes.
Oil: Most cooking oils are suitable for this recipe. However, for an enhanced flavor, consider using olive oil, canola oil, or coconut oil.
How to Roast Potatoes in Oven?
Dive into the savory world of Oven-Roasted Potatoes, perfectly seasoned with garlic and spices. With step-by-step photos and a video guide, you'll find making this dish both simple and enjoyable.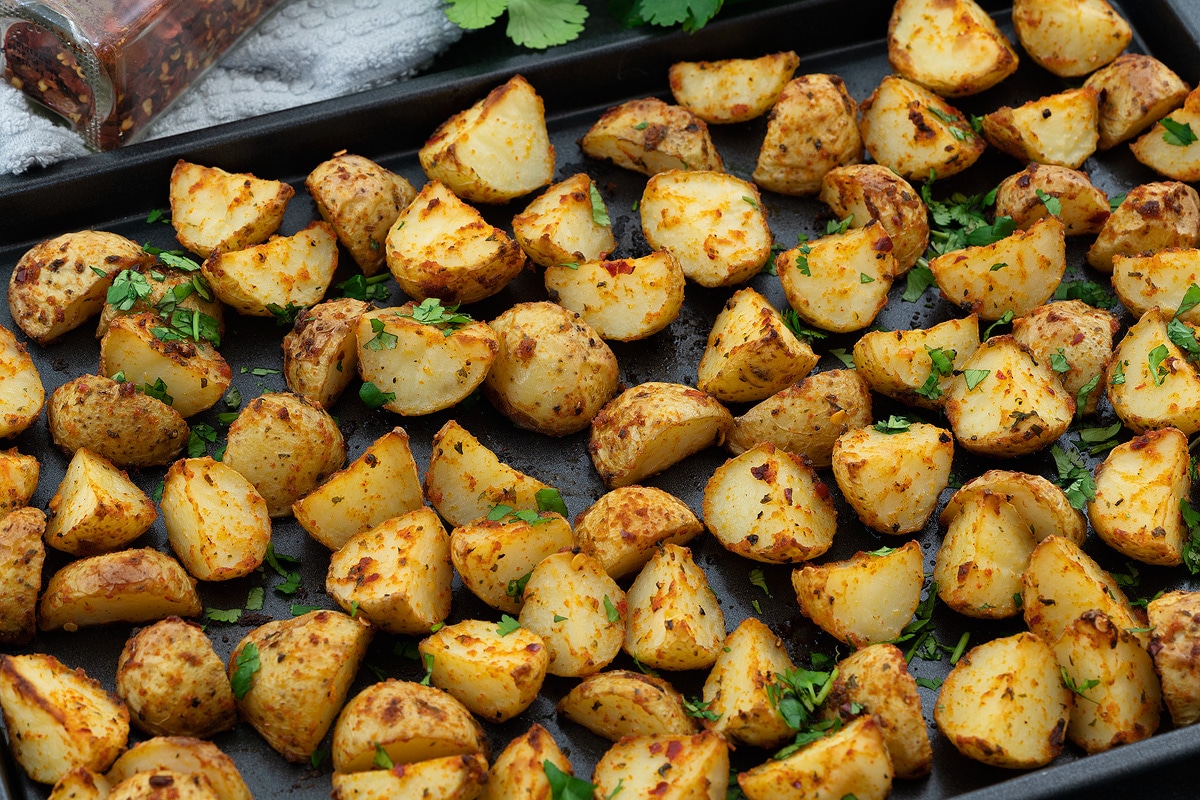 Explore our range of nutritious vegetables, featuring various roasted and baked vegetables below: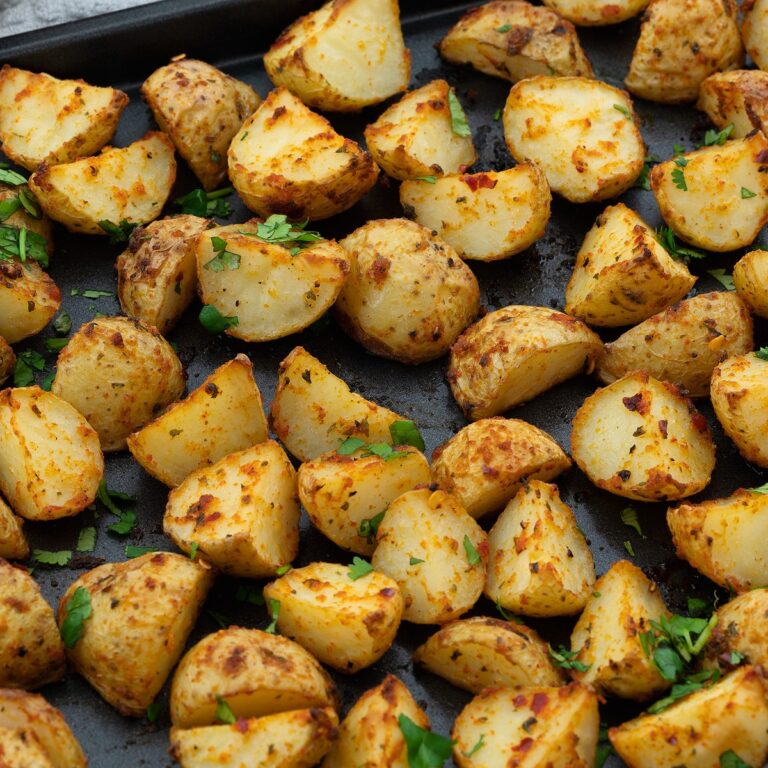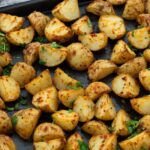 Oven Roasted Potatoes
Oven-Roasted Potatoes, easy to prepare with a crispy outside and fluffy inside, are made using red or white potatoes, garlic, and basic seasonings. They pair wonderfully with baked chicken, salmon, or shrimp for a satisfying lunch or dinner.
Subscribe
print (text-only)
email
pin
review
save
saved!
Ingredients
2

lb

Potatoes

,

red or white

1½

tsp

Garlic Powder

1

tsp

Paprika

½

tsp

Chili Flakes

,

optional

1

tsp

Pepper Powder

,

black

1

tsp

Parsley

,

dried

Salt

,

as needed

2

tbsp

Coriander Leaves

,

to garnish

1

tsp

Oil
More on Unit Conversions »
Instructions
To make Oven-Roasted Potatoes
Start by washing the potatoes. Dry them thoroughly with a kitchen towel and cut into medium-sized pieces, whether they are red or white potatoes.

In a large bowl, combine the potato cubes with seasonings: paprika, garlic powder, chili flakes, black pepper powder, oil, salt, and dried parsley.

Toss until the potatoes are well-coated with the seasoning mix.

Spread the seasoned potato cubes in a single layer on an oil-greased baking sheet or tray, ensuring they are not overcrowded.

Bake in a preheated oven at 400°F for 25 to 30 minutes, or until they turn golden and crispy.

Once baked, remove from the oven and garnish with fresh cilantro or other herbs like parsley, thyme, basil, or rosemary for an added burst of flavor.
To Serve
Serve these crispy Oven-Roasted Potatoes as a perfect side dish to complement garlic butter chicken, grilled salmon, garlic butter baked salmon, or other similar entrees.
Chef's Notes and Tips
Tips for Perfect Oven-Roasted Potatoes:
Choosing Potatoes: While I've used white potatoes in this recipe, feel free to experiment with other varieties like red, russet, Yukon gold, or yellow potatoes. These are all excellent choices for oven baking.
Seasoning: Basic garlic and spice seasoning has been used here, but don't hesitate to try your favorite seasoning blends to personalize the flavor.
Fresh Herbs: Enhance the dish by incorporating fresh herbs. Italian herbs such as basil, thyme, rosemary, parsley, or cilantro are great options to elevate the taste and aroma.
For Crispier Potatoes: For extra crispiness, soak your chopped potatoes in water for 30 minutes to reduce starch. Remember to pat them dry thoroughly before seasoning 
Roasting Temperature: For a perfectly crispy exterior and fluffy interior, roasting at a high temperature is key. However, feel free to adjust the temperature and cooking time to suit your preferences.
Nutrition Info
Serving:
1
serving
|
Calories:
190
kcal
|
Carbohydrates:
41
g
|
Protein:
5
g
|
Fat:
1
g
|
Saturated Fat:
0.2
g
|
Polyunsaturated Fat:
0.4
g
|
Monounsaturated Fat:
1
g
|
Trans Fat:
0.01
g
|
Sodium:
19
mg
|
Potassium:
987
mg
|
Fiber:
5
g
|
Sugar:
2
g
|
Vitamin A:
341
IU
|
Vitamin C:
47
mg
|
Calcium:
30
mg
|
Iron:
2
mg
Disclaimer: We're not nutrition experts. Nutritional info is estimated and should be used as a guide. For precise details, consult a professional.
Explore our collection of delicious recipes featuring roasted and baked vegetables, succulent salmon fillets, and flavorful vegetable sides, each crafted to elevate your dining experience.
Storage Suggestions
Roasted Potatoes can be stored in the refrigerator for up to a day when kept in a sealed container. To rejuvenate their crispiness, reheat them in the oven at 400°F for 5 to 10 minutes. Alternatively, you can quickly reheat them in the microwave on high for 1 to 2 minutes.
Serving Suggestions
Now that you've prepared your perfectly crispy-on-the-outside, fluffy-on-the-inside Roasted Potatoes, the next step is pairing them with the right dishes. These golden, crispy delights are versatile and complement a wide range of meals. For a simple yet satisfying weeknight or weekend dinner, consider these pairings:
These combinations will ensure a well-rounded and delicious dining experience.
Roasting Time and Temperature for Potatoes
The key to achieving potatoes with a crispy exterior and soft interior lies in the baking temperature. Here's a guide to roasting times at various temperatures:
350°F (175°C): Roast the potatoes for 40 to 50 minutes.
375°F (190°C): Roast for 30 to 45 minutes.
400°F (205°C): This is my usual setting, roasting the potatoes for 25 to 30 minutes until they turn golden and crispy.
425°F (220°C): Roast for 20 to 25 minutes.
Note: It's essential to preheat the oven to your chosen temperature to ensure it's hot enough for even cooking. This prevents undercooked potatoes. Remember, the actual baking time can vary depending on the size of the potato chunks and their freshness.
How to make Red Roasted Potatoes?
Creating Red Roasted Potatoes in the oven is quite similar to the traditional method, with a few delightful twists. Use the same seasoning, herbs, and baking temperature you would for regular roasted potatoes to get a scrumptious side dish. While the garlic seasoning mix is a great fit for Red Roasted Potatoes, feel free to experiment with other flavorings for a unique twist.
Consider trying these variations for an extra burst of flavor:
Opt for red baby potatoes to expedite the baking process. These Red Roasted Potatoes, with their striking color, make an excellent side dish for festive occasions, gatherings, or as a vibrant addition to any meal.