Whip up a batch of Breakfast Potatoes with just a few kitchen staples—potatoes, seasonings, fat, and herbs. These skillet potatoes are easy to make and a perfect match for your favorite breakfast foods like eggs, toast, and sausages.
Loved for their crispy skin and soft center, our skillet potatoes are a simple yet versatile dish. Customize them with extra veggies or spices to suit your taste. A well-seasoned skillet is the secret to achieving that irresistible crunch.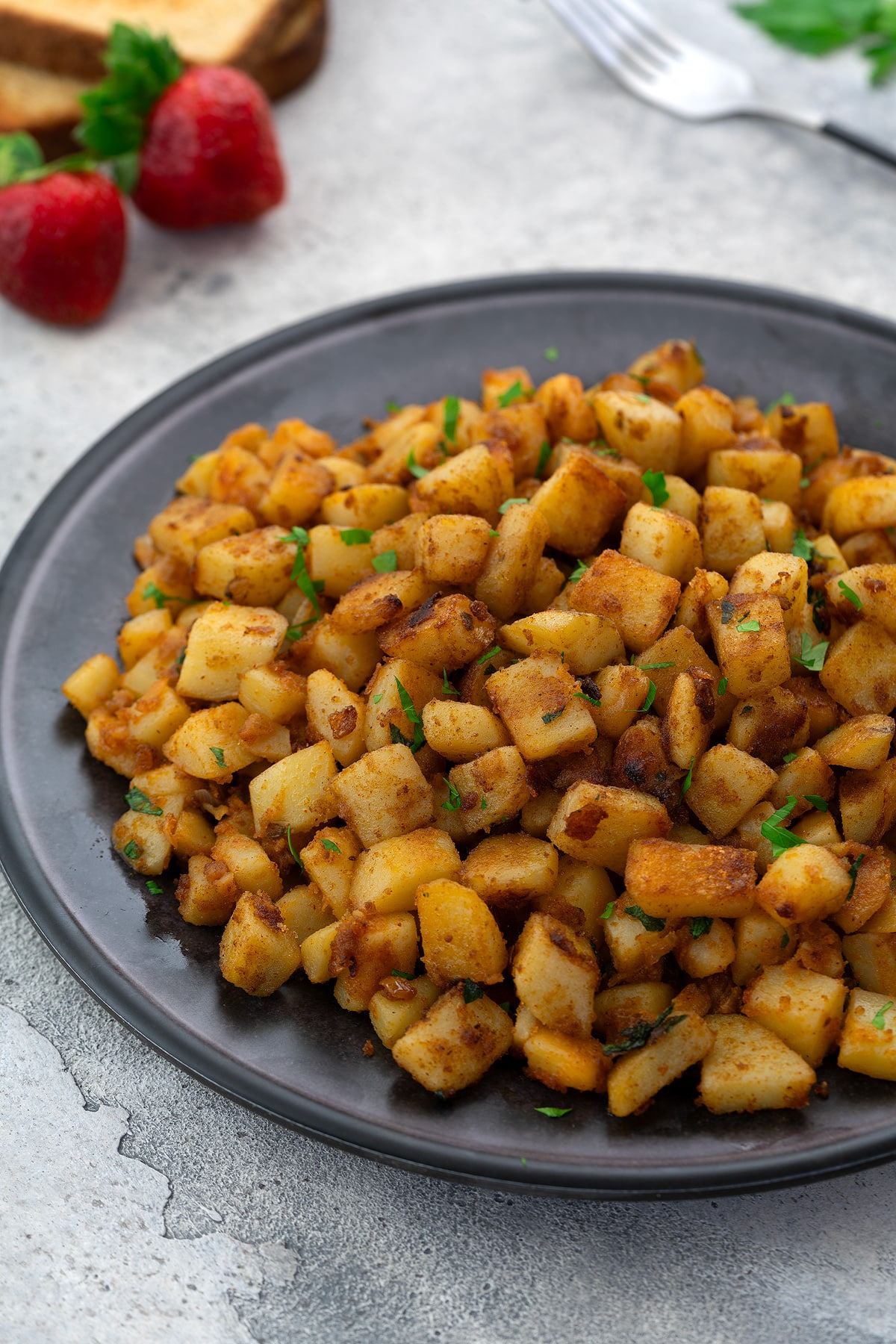 Jump to:
Whether you prefer cooking in a skillet or the oven, I've got you covered. Ready to make your mornings more delicious? Let's cook some Breakfast Potatoes!
Additional Breakfast Ideas:
Ingredients and Substitutions Overview
To craft your delicious Breakfast Potatoes, you'll only need some common pantry staples that are widely available in most grocery stores. Here's what to grab: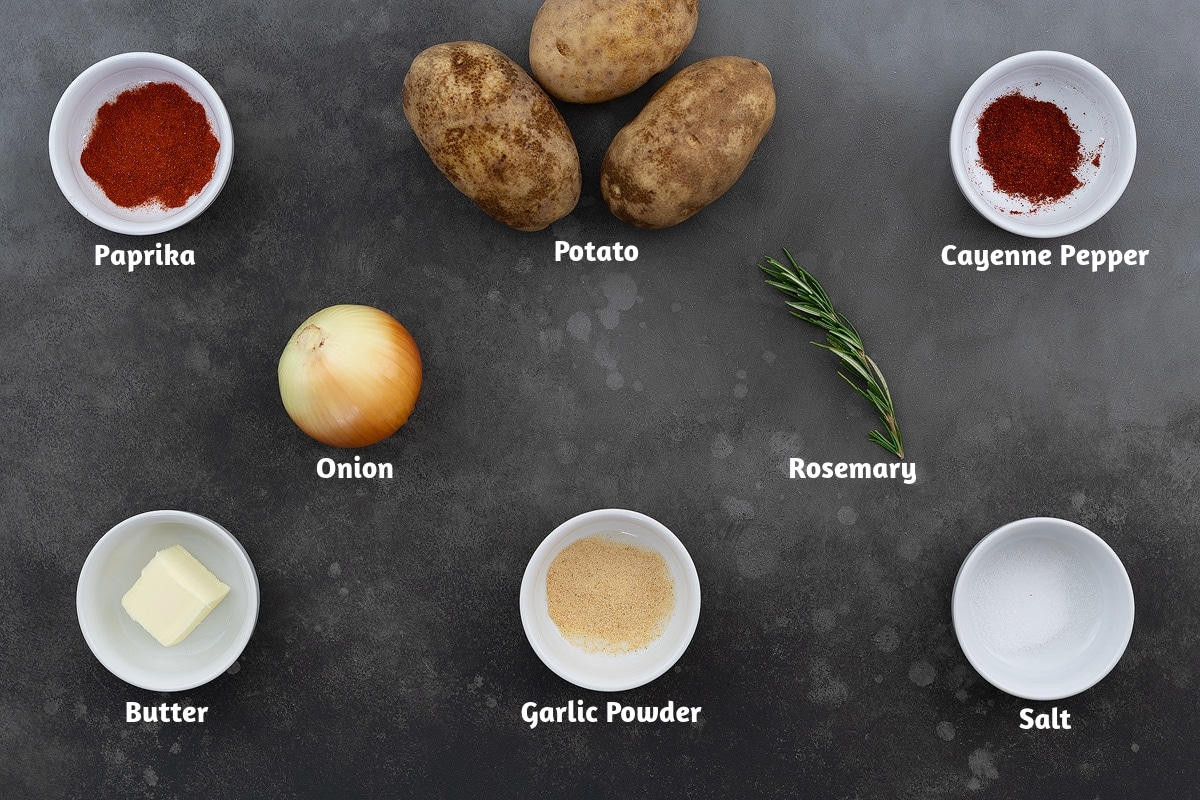 Potatoes: Whether you choose Russet potatoes or Yukon Gold, both offer a perfect texture when roasted properly. They bring a starchy and earthy quality to the dish
Onion: Add warmth and a slightly sweet flavor to the breakfast potatoes. They provide a savory depth to the dish
Paprika: Contributes a mild, robust, and slightly smoky flavor to the potatoes. It imparts a subtle spiciness and rich color
Cayenne Pepper: For those seeking a slight spicy kick, cayenne pepper can be added. Alternatively, it can be omitted for those who prefer their potatoes non-spicy. Cayenne pepper brings a pleasant heat to the dish
Garlic Powder: Introduces a mild garlicky flavor, enhancing the overall savory profile of the breakfast potatoes
Olive Oil and Butter: The combination of olive oil and butter lends a delightful richness and depth of flavor to the dish. They contribute to a savory and buttery taste
Herbs: Fresh herbs such as rosemary and parsley leaves offer fresh herbal notes to the dish. Rosemary infuses the potatoes with a fragrant and aromatic quality, while parsley adds a touch of freshness and color
How to Make Breakfast Potatoes in a Skillet?
Dive into making classic Breakfast Potatoes with my easy skillet method, or use the oven if you prefer. Check out the video guide and step-by-step photos below for hassle-free cooking!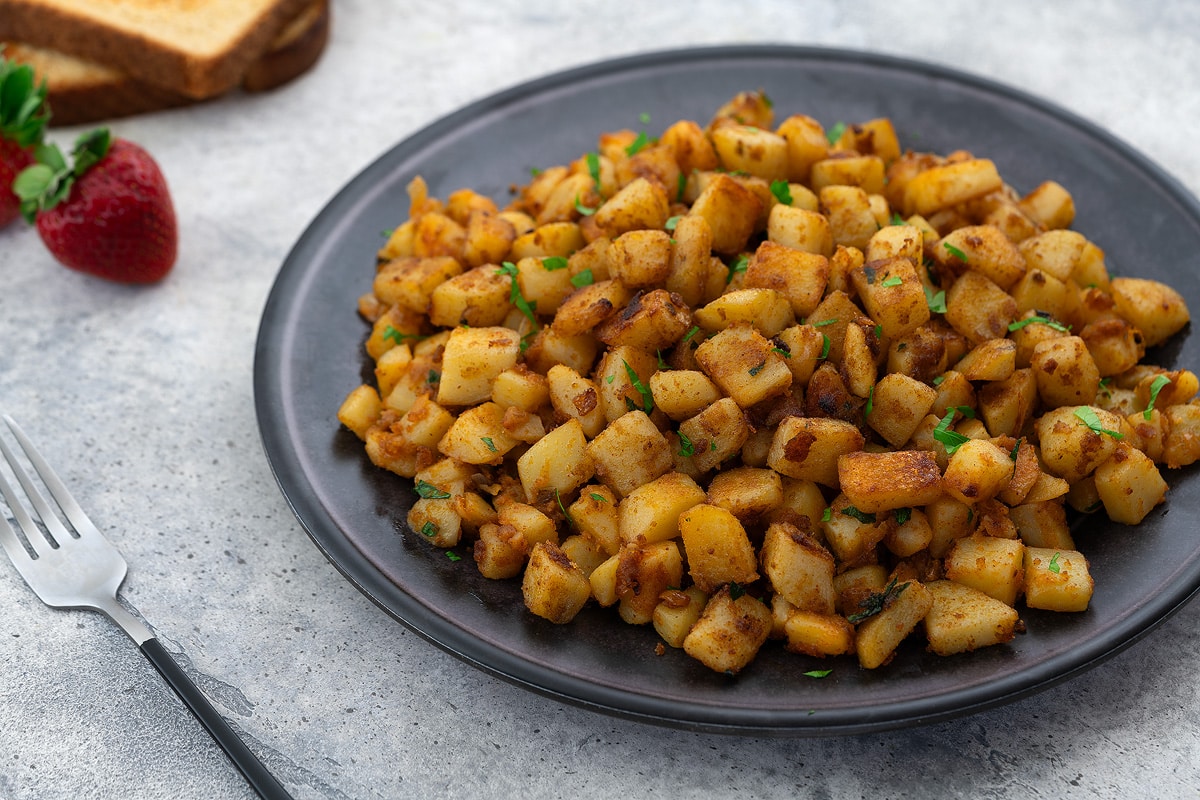 Best-Loved Potato Recipes: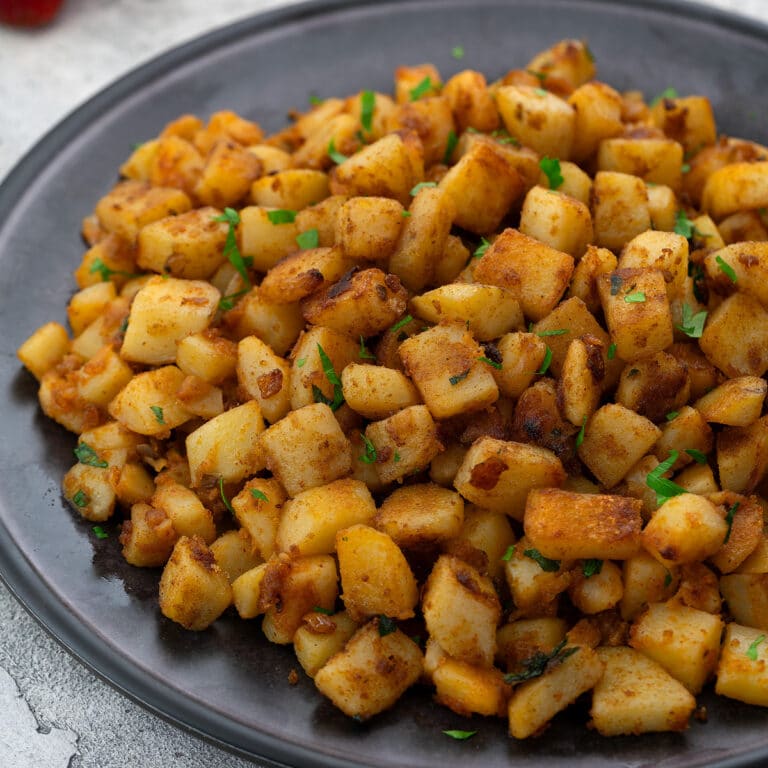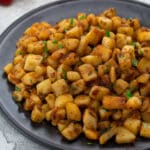 Breakfast Potatoes
Enjoy easy-to-make Breakfast Potatoes, a tasty side with just a few ingredients: potatoes, basic spices, some oil, and herbs. They pair perfectly with eggs, toast, and your breakfast favorites!
Subscribe
print (text-only)
email
pin
review
save
saved!
Ingredients
6

Russet Potatoes

,

medium size, or Yukon gold potatoes

Water

,

to parboil potato

½

Onion

,

chopped

3

tsp

Olive Oil

1

tbsp

Butter

1

sprig

Rosemary

1

tsp

Paprika

½

tsp

Cayenne Pepper

¾

tsp

Garlic Powder

Salt

,

to taste

Parsley Leaves

,

to garnish
More on Unit Conversions »
Instructions
Prep the Potatoes
Begin by thoroughly washing the Russet potatoes to remove any dirt or debris. Pat them dry well. Peel the potatoes and dice them into bite-sized pieces. If you prefer, you can leave the skin on and dice them that way
Parboil the Potatoes
In a deep saucepan, add enough water to submerge the diced potatoes. Boil the potatoes for about 5 minutes

Drain them and allow them to cool to room temperature
Making Breakfast Potatoes
Heat a cast-iron skillet over medium heat and add olive oil and a tablespoon of butter. Let them melt together. Add fresh rosemary (or other herbs like thyme, if you prefer) to the oil-butter mixture, infusing it with flavor, and then remove the herbs

Add the parboiled potatoes to the skillet and gently toss them in the infused oil. Let them cook undisturbed for 3-5 minutes to develop a crispy outer layer. Then add the diced onion and sauté gently

Next, incorporate the spice powders such as garlic powder, cayenne pepper, paprika, and salt. Mix gently to coat the potatoes evenly

Continue to roast the potatoes for approximately 8-10 minutes, stirring occasionally, until they become crispy and turn a golden color. Finally, garnish with fresh parsley and remove from the heat
Chef's Notes and Tips
Potato Selection and Preparation:
Potato Selection: Typically, classic breakfast potatoes rely on the reliable Russet potatoes for their desired texture. However, if you happen to have Yukon Gold potatoes on hand, they can be a suitable alternative.
Uniform Dicing: To ensure even roasting, it's essential to dice the potatoes evenly. This consistency will lead to a more uniform and satisfying result.
Cooking Method:
Parboiling or Steaming: Parboiling the potatoes for a brief period is a key step in achieving crispy and perfectly roasted potatoes. Alternatively, you can opt for steaming the potatoes for about 5-6 minutes if it's more convenient for your cooking process.
Seasoning and Cookware:
Seasoning in Moderation: While the recipe suggests seasoning with herb-infused oil and basic spices like cayenne, paprika, and garlic powder, remember that seasoning can be adjusted to suit your personal taste.
Choice of Skillet: While you have some flexibility in choosing your skillet, a well-seasoned cast iron or ceramic skillet is highly recommended.
Flavor and Additions:
Herbal Infusion: Don't overlook the power of infusing and garnishing with fresh herbs. This step contributes to the aromatic and flavorful profile of your breakfast potatoes.
Other Add-ins: For an extra layer of flavor, you can add diced bell peppers, onions, or other vegetables to the skillet alongside the potatoes during the cooking process.
Nutrition Info
Serving:
1
serving
|
Calories:
313
kcal
|
Carbohydrates:
60
g
|
Protein:
7
g
|
Fat:
6
g
|
Saturated Fat:
2
g
|
Polyunsaturated Fat:
1
g
|
Monounsaturated Fat:
3
g
|
Trans Fat:
0.1
g
|
Cholesterol:
8
mg
|
Sodium:
40
mg
|
Potassium:
1368
mg
|
Fiber:
5
g
|
Sugar:
3
g
|
Vitamin A:
234
IU
|
Vitamin C:
21
mg
|
Calcium:
47
mg
|
Iron:
3
mg
Disclaimer: We're not nutrition experts. Nutritional info is estimated and should be used as a guide. For precise details, consult a professional.
How to make Breakfast Potatoes in the Oven?
You can easily whip up Breakfast Potatoes without the extra step of parboiling. Just toss those potato cubes in olive oil and your choice of spices. Then, you're all set to roast!
Heat Up: Preheat your oven to a cozy 425°F.
Mix Magic: Give your potato chunks a good tumble with olive oil and a sprinkle of your favorite herbs like rosemary or Italian seasoning.
Spread Out: Lay them out on a greased baking sheet, giving them space to crisp up.
Roast and Relax: Pop them in the oven for 20-30 minutes. Halfway through, give them a flip for that all-around golden glow.
Crisp Finish: For an added touch of crunch, broil the potatoes for the last 2-3 minutes.
Garnish and Serve: Once they're done, sprinkle on some fresh parsley, and voila - your oven-baked potatoes are ready to impress!
Serving Suggestions
Breakfast Potatoes can be a delicious side dish that pairs well with other breakfast foods. Here are some options for what to serve with it:
Eggs: Start with classic breakfast choices such as scrambled eggs, sunny side-ups, poached eggs, or an omelet
Bacon or Sausage: To enhance the overall flavor and add a protein boost, consider crispy bacon strips or savory sausages with these potatoes
Toast or English Muffins: Complement your potatoes with toasted bread, either traditional slices or English muffins
Avocado: Incorporate sliced or mashed avocado for its creamy texture and nutritious qualities. Avocado toast is also a delectable option to pair with your potatoes
Spinach or Other Greens: To introduce freshness and nutritional value to your meal sautéed spinach, sauteed kale, or leafy greens serve as an excellent choice
Sour Cream or Greek Yogurt: Enhance the creaminess and add a tangy element to your plate with a dollop of sour cream or Greek yogurt
Gravy: For a heartier breakfast, explore the option of serving sausage gravy over your potatoes, creating a comforting combination
Pancakes or Waffles: Combine sweet and savory by serving Breakfast Potatoes alongside pancakes or waffles
Storage Suggestions
You can store these breakfast potatoes in a sealed airtight container in the refrigerator for up to 2 days. When you're ready to enjoy them, simply reheat them in the microwave until they are evenly warmed before serving.
FAQ
Should I parboil potatoes before frying them for breakfast potatoes?
Yes, a quick 5-minute parboil is recommended. It helps the potatoes get that desirable crispy exterior when fried.
Can I add other veggies to my breakfast potatoes?
Definitely! Feel free to throw in extras like bell peppers for added flavor and color.
What causes my potatoes to get mushy when I cook them?
Mushy potatoes can result from overboiling, too much stirring, or insufficient roasting time. Keep an eye on these steps to maintain the perfect texture.