Vietnamese Coffee, known for its strong, sweet, and rich flavor, is a delightful beverage perfect for any season. It's traditionally made using Vietnamese coffee grounds and condensed milk, brewed with a Phin, a unique Vietnamese filter. This coffee is a treat for those who love a rich coffee experience, whether served hot to warm you up on chilly days or iced for a refreshing summer drink.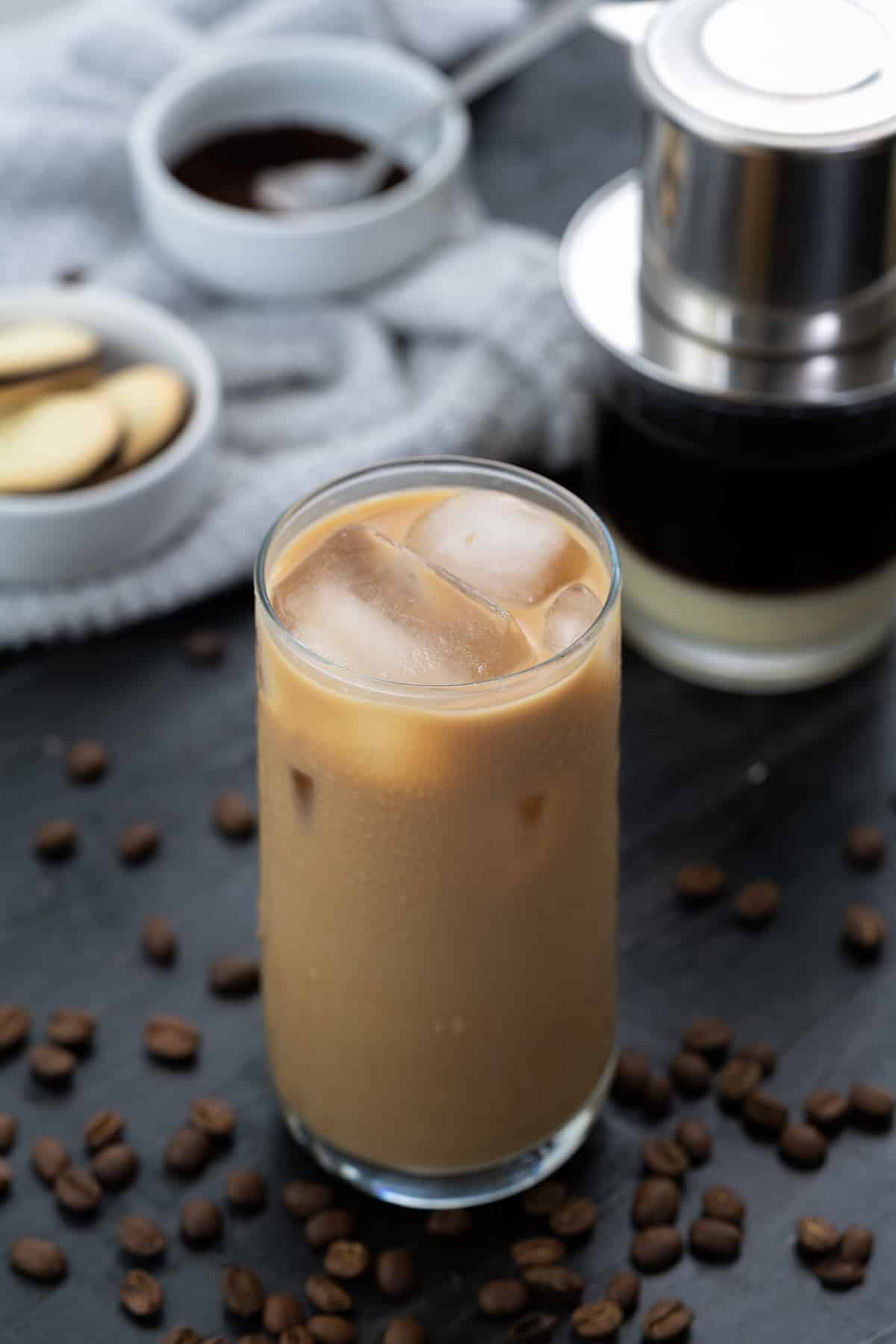 Jump to:
The brewing process involves placing coffee grounds in the filter's chamber, which is then pressed down. This assembly is set over a glass containing condensed milk. Boiling water is poured into the chamber and covered, allowing the coffee to drip slowly into the glass. Once brewed, the coffee is stirred with the condensed milk and can be enjoyed hot as café nong or cold as cà phê sữa đá, the latter being loaded with ice cubes.
For those without a traditional Phin, alternative brewing methods like a Moka pot or French press can be used to replicate the strong and rich taste of Vietnamese Coffee.
Ingredients Overview
To make authentic Vietnamese Coffee, the ingredients are straightforward, but you'll need a Phin, a traditional Vietnamese Coffee filter, to capture the unique flavor. These items, including the filter, are usually found in Asian stores.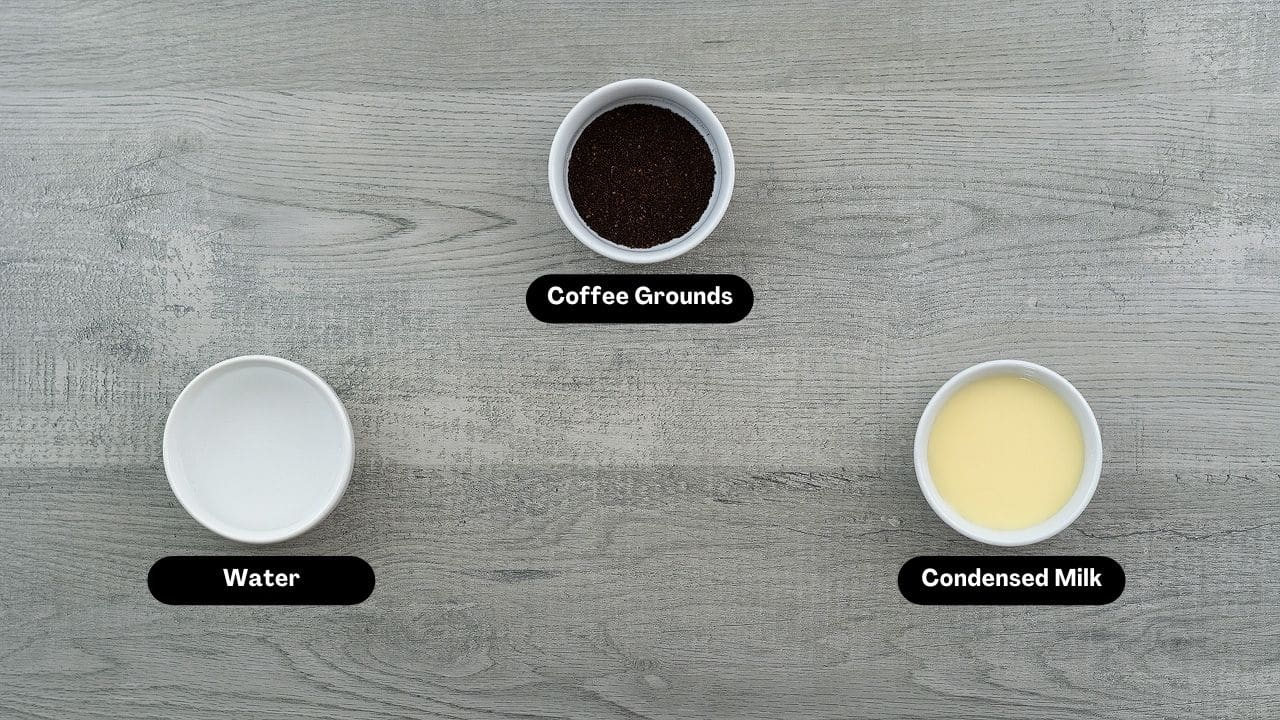 Coffee: Vietnamese Coffee grounds are ideal, but French roast coffee grounds are a good alternative. Brands like Trung Nguyen and Café du Monde are easily accessible online.
Condensed Milk: This is key for sweetening your strong coffee. Adjust the amount to suit your taste preference for strength.
Water: Use boiling water for brewing the coffee.
How to Make Vietnamese Coffee?
Dive into the aromatic world of Vietnamese Coffee with our easy-to-follow recipe. Explore each step through engaging photos and a detailed video guide. Now, let's get started: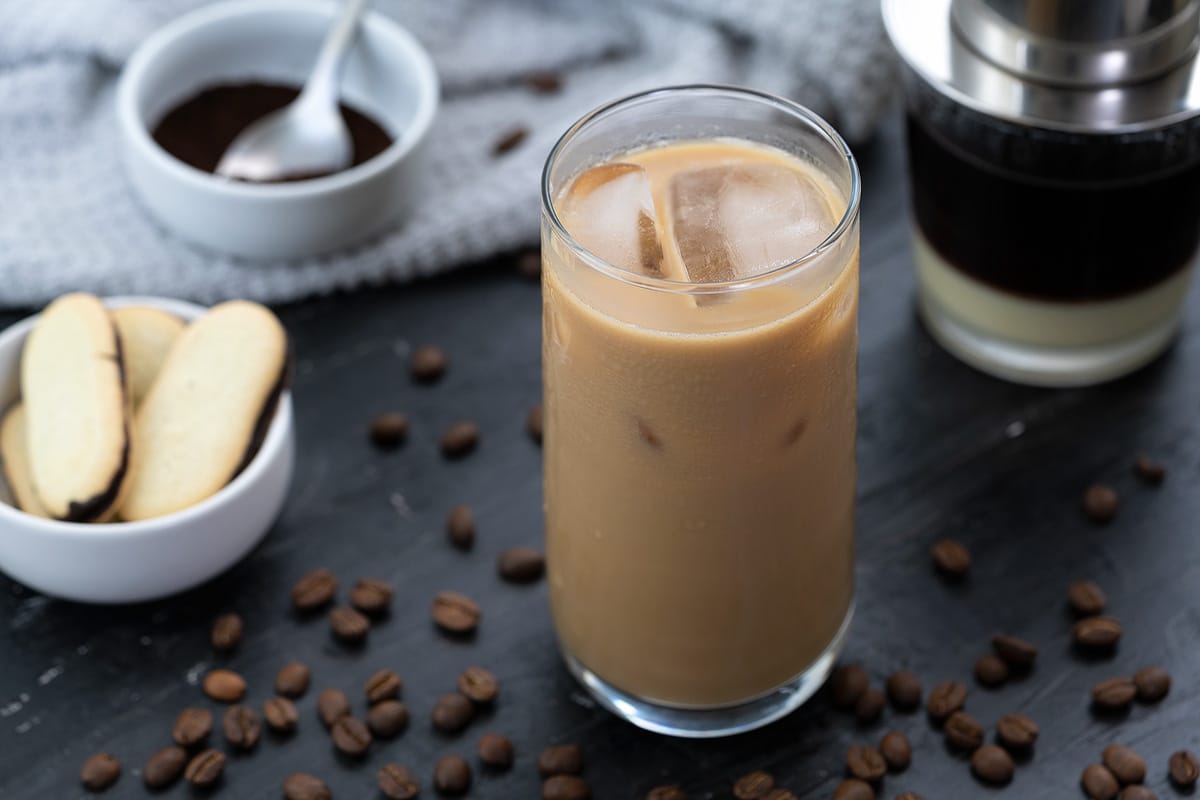 Explore Delectable Coffee-Infused Drinks: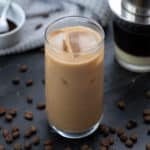 Vietnamese Coffee
Vietnamese Coffee, a strong and sweet drip beverage, is made with Vietnamese coffee grounds and condensed milk using a traditional Phin filter. Enjoy this rich-flavored drink hot to warm up in winter or iced for a refreshing summer treat.
Subscribe
print (text-only)
email
pin
review
save
saved!
Ingredients
2

tsp

Vietnamese Ground Coffee

1

cup

Boiling Water

2

tbsp

Condensed Milk

Ice Cubes

,

for iced version
More on Unit Conversions »
Instructions
To make Vietnamese Coffee
Start by pouring 2 tablespoons of condensed milk into a serving glass.

Set the Vietnamese coffee filter (Phin) over the glass.

Fill the filter's chamber with coffee grounds, spreading them out evenly.

Lightly press down the grounds with the coffee press, screwing it halfway – ensure it's not too tight to allow for proper dripping.

Add a tablespoon of boiling water, then close the lid for a few seconds to let the grounds soak.

Open the lid again, fill up the filter with more boiling water, and close it.

Wait for the coffee to slowly drip into the glass.

Once all the coffee has dripped through, stir it well with the condensed milk and savor your delicious Vietnamese Coffee.
Iced Vietnamese Coffee
For a refreshing iced version, cool the hot Vietnamese Coffee mixed with condensed milk to room temperature, then pour into a glass brimming with ice cubes and savor the deliciousness.
To Serve
Enjoy this Vietnamese Coffee hot to warm up your winter days or serve it iced for a cool refreshment during hot summer days.
Chef's Notes and Tips
Tips for Perfect Vietnamese Coffee:
Rich Flavor: Opt for Vietnamese coffee grounds or fresh roast coffee for a deeply rich taste.
Condensed Milk: The suggested amount offers moderate sweetness and a robust coffee flavor. For a stronger coffee taste, simply reduce the condensed milk.
Phin or Filter: My 8 oz. filter comes with a cup, dripping tray, and a screw-down coffee press with a lid. This press allows you to control the drip rate, which might differ with other models.
Coffee Grounds: While Vietnamese Coffee grounds provide an authentic flavor, high-quality French Roast Coffee grounds can also be used as a substitute.
Iced Version: Cool the hot coffee mixed with condensed milk to room temperature. Then, fill a glass with ice cubes and pour in the coffee to enjoy a refreshing Iced Vietnamese Coffee.
Nutrition Info
Serving:
1
cup
|
Calories:
191
kcal
|
Carbohydrates:
32
g
|
Protein:
5
g
|
Fat:
5
g
|
Saturated Fat:
3
g
|
Polyunsaturated Fat:
2
g
|
Cholesterol:
20
mg
|
Sodium:
86
mg
|
Sugar:
32
g
Disclaimer: We're not nutrition experts. Nutritional info is estimated and should be used as a guide. For precise details, consult a professional.
Explore our curated collection of coffee recipes, complemented by a variety of winter warmers and summer refreshers, catering to every season's mood and flavor.
Serving Suggestions
For the best flavor, enjoy this coffee freshly brewed, as storing it may diminish its strong aroma and taste. Serve it hot for a cozy treat on chilly winter days, or iced for a refreshing thirst-quencher during hot summer days.