Enjoy the ultimate summer refreshment with our Homemade Strawberry Lemonade. This delightful drink combines the natural tartness of fresh lemons with the sweetness of ripe strawberries, creating a flavor that's both invigorating and satisfying.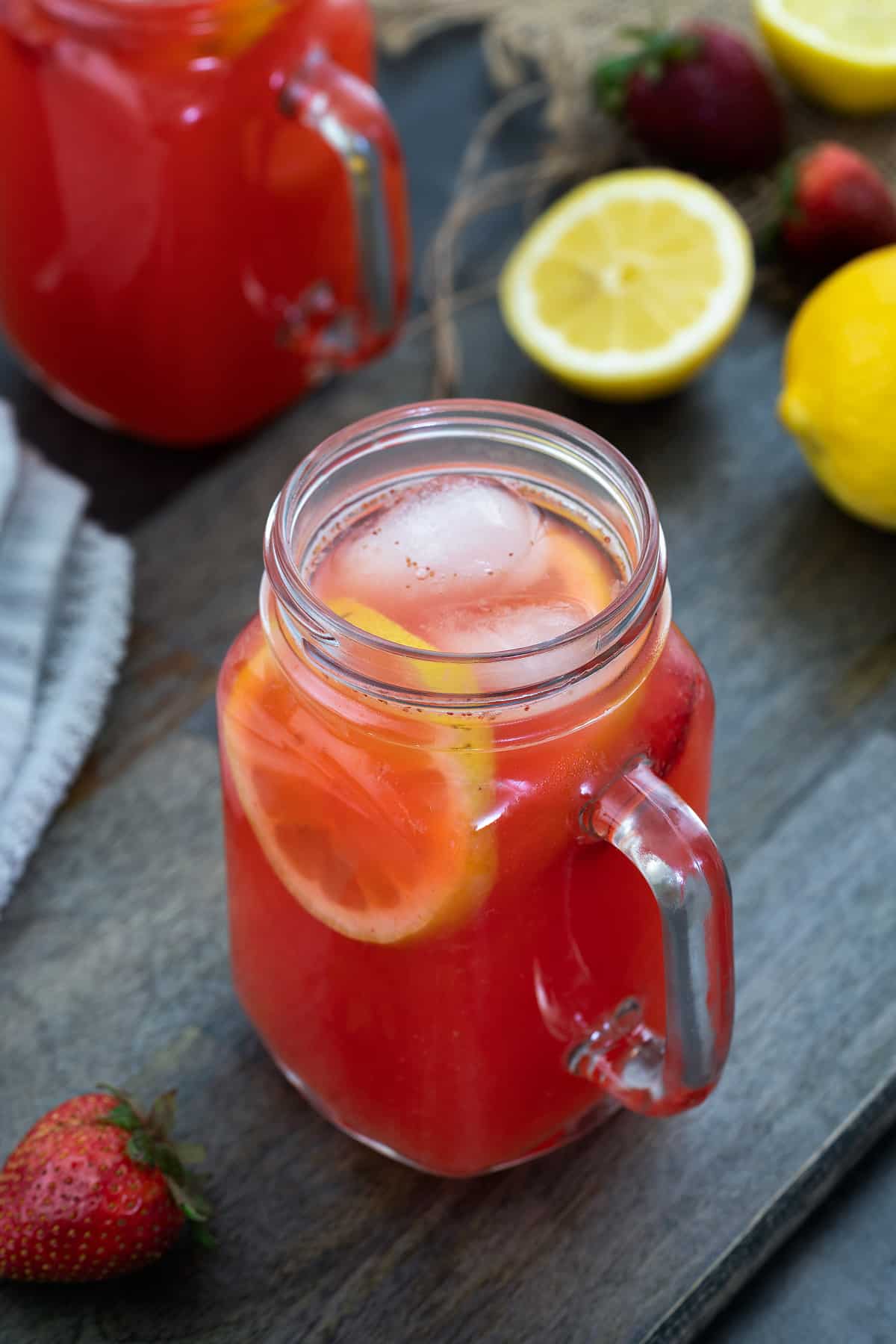 Jump to:
The striking bright red hue of the strawberries not only makes it visually appealing but also enhances the overall taste, making it a popular choice for hot days, family gatherings, and special occasions. Easy to prepare and irresistibly delicious, our Strawberry Lemonade is the perfect way to quench your thirst and please your palate during the summer season.
Explore More Strawberry-Infused Beverages:
Ingredients Overview
Making our Homemade Strawberry Lemonade is straightforward, with ingredients you can easily find at your local supermarket or grocery store. Let's take a look at what you'll need: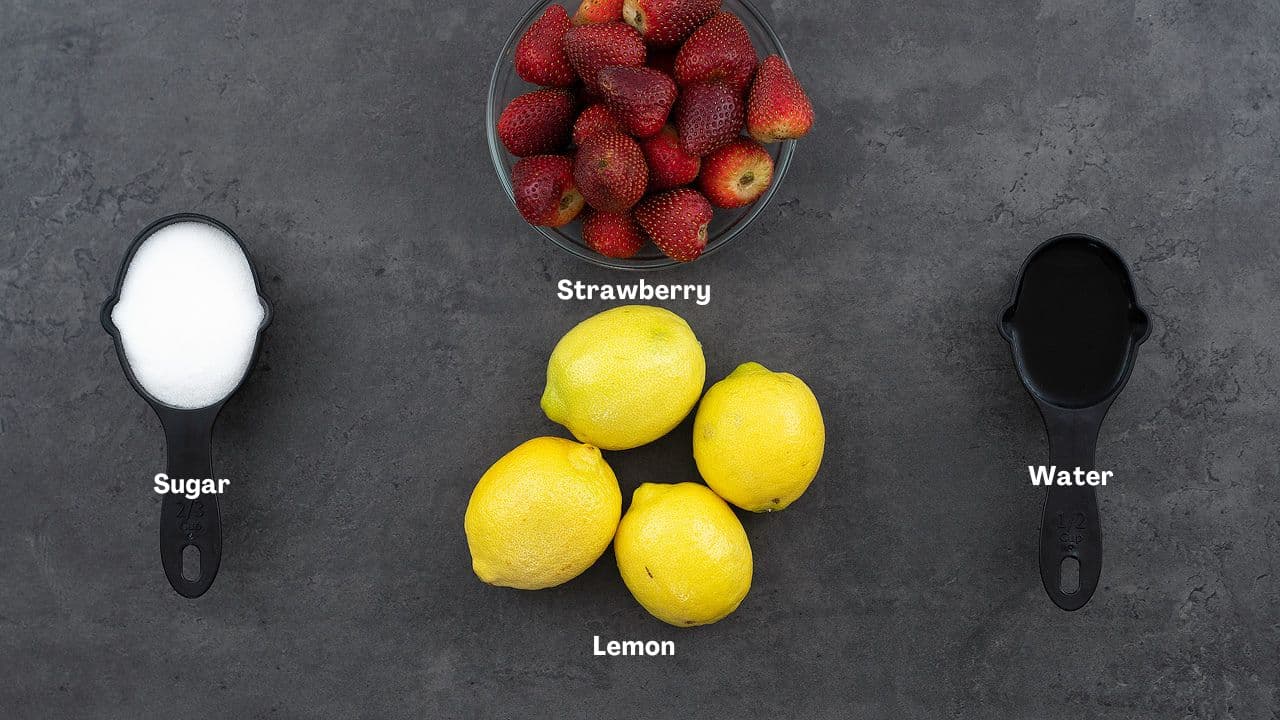 Strawberries: Opt for fresh, whole strawberries. Remove the stems and wash them well under running water.
Lemon: While Meyers Lemons are used here, you can use any variety available to you.
Sugar: Needed to create a simple syrup.
Water: Used both for making the syrup and for diluting the lemonade.
Ice Cubes: Add these when serving to ensure a cool and refreshing drink.
Discover More Lemon Drinks:
How to make Strawberry Lemonade?
Get ready to create the ultimate summer drink with our easy-to-follow Strawberry Lemonade recipe. Below, you'll find step-by-step instructions accompanied by vivid photos and a helpful video guide to ensure your lemonade turns out perfectly refreshing.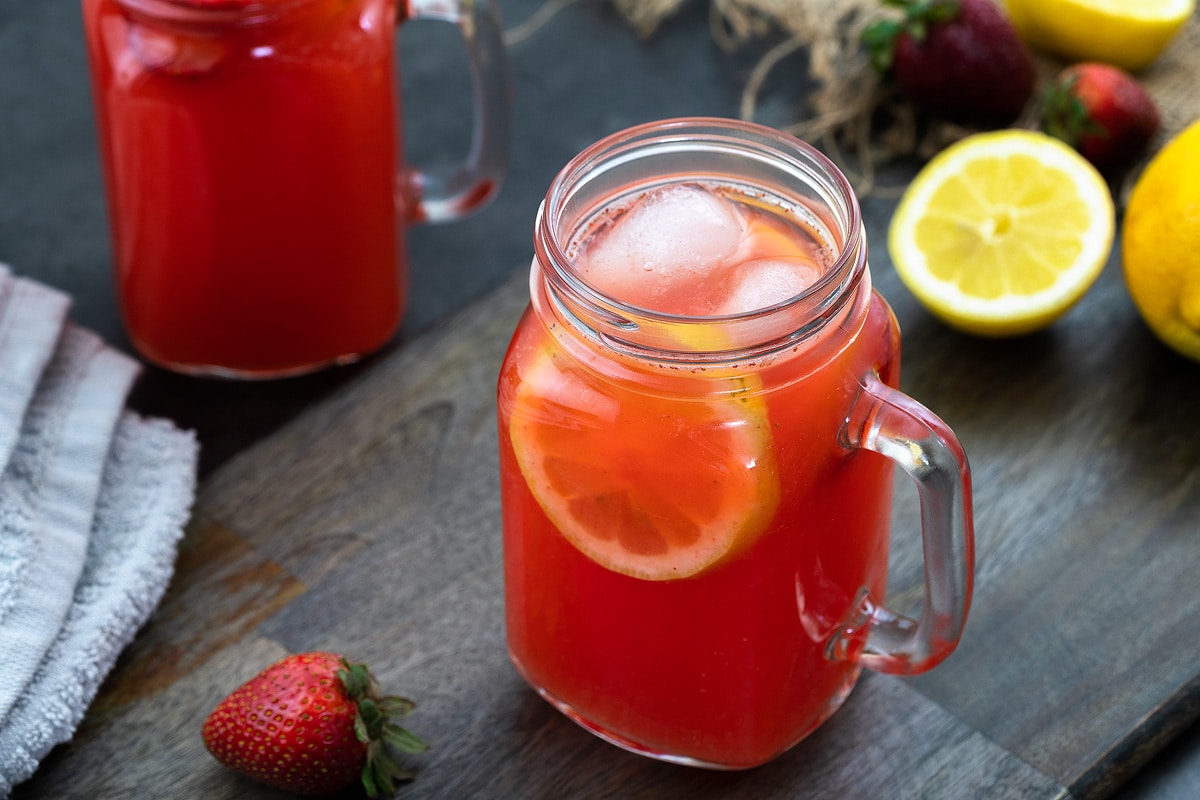 Enjoy Different Lemon-Infused Drinks: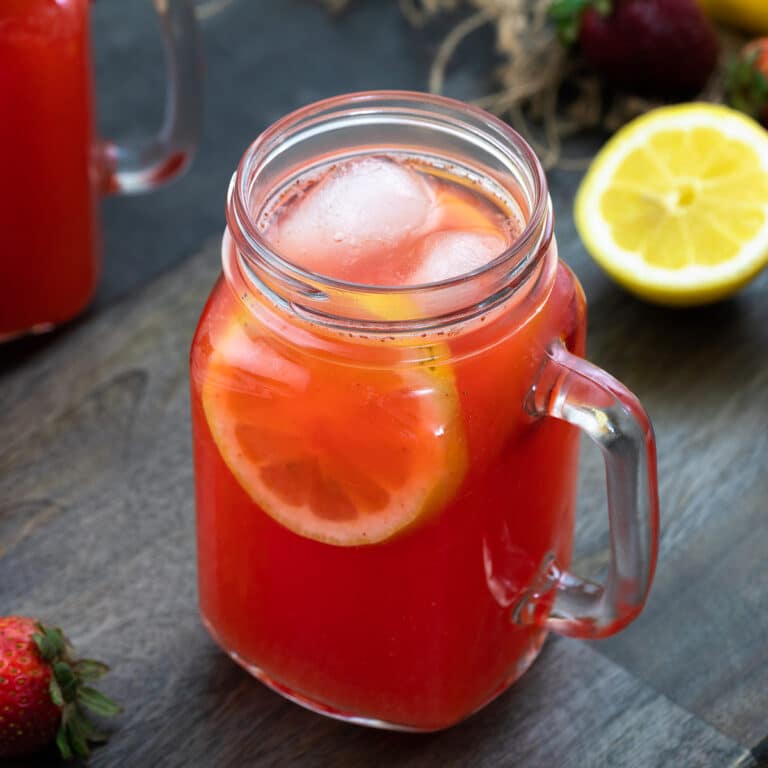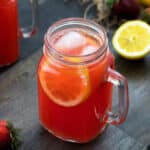 Strawberry Lemonade
Savor the taste of summer with our Homemade Strawberry Lemonade. This refreshing blend, featuring fresh strawberries and lemons in a sweet-tart symphony, is perfect for hot days and social gatherings. Its vibrant hue and icy coolness make it an ideal choice for beating the heat and delighting your guests.
Subscribe
print (text-only)
email
pin
review
save
saved!
Ingredients
For Lemonade
8

Lemon

½

lb

Strawberries

5

cups

Water

,

1 cup for puree + 4 cups for diluting
More on Unit Conversions »
Instructions
Creating Sugar Syrup
Combine 2 cups of sugar with 2 cups of water in a saucepan over medium heat.

Stir the mixture until it boils and the sugar fully dissolves, then take off the heat to cool.
To Make Strawberry Lemonade
Add strawberries and water to a blender. Ensure strawberries are stem-free and thoroughly rinsed.

Secure the lid on the blender and blend until the mixture is smooth.

Remove the lid and strain the blended strawberries through a fine-mesh strainer to separate the puree.

Keep the resulting strawberry puree aside.

Slice the lemons in half and place them into a bowl.

Position a fine-mesh strainer over a bowl and extract the juice from the halved lemons, using a handheld juicer or citrus press as preferred.

Press the collected pulp against the strainer with a spoon or spatula to thoroughly extract the juice.

Combine the lemon juice, sugar syrup, strawberry puree, and 4 cups of water in a large bowl or pitcher. Stir well to mix.

Place sliced strawberries, lemon rounds, and ice cubes in a serving glass, then pour over the prepared Strawberry Lemonade. Your refreshing drink is now ready to be enjoyed.
To Serve
Serve this homemade Strawberry Lemonade as a perfect thirst-quencher on sweltering summer days or as a delightful refreshment for parties and get-togethers.
Chef's Notes and Tips
Tips for Perfect Strawberry Lemonade:
Sugar Syrup: A 1:1 sugar-to-water ratio creates ideal sweetness. However, adjust the sugar based on the natural sweetness of your strawberries and lemons.
Water Quantity: The amount of water used to dilute the lemon juice and strawberry puree can vary. For a balanced sweet-tart flavor, I've found that 4 cups of water works well.
Chill for Refreshment: For the best flavor, refrigerate the lemonade for at least 2 hours before serving. This ensures a truly refreshing drink.
Nutrition Info
Serving:
1
cup
|
Calories:
151
kcal
|
Carbohydrates:
40
g
|
Protein:
1
g
|
Sodium:
6
mg
|
Fiber:
2
g
|
Sugar:
36
g
Disclaimer: We're not nutrition experts. Nutritional info is estimated and should be used as a guide. For precise details, consult a professional.
Discover a wide array of lemon-infused, summer beverages in our extensive recipe collection. Each drink is crafted to refresh and delight, catering to various wellness goals and tastes!
Storage and Serving Suggestions
Storing the Lemonade: Keep your Strawberry Lemonade fresh in the fridge for 2-3 days by storing it in a sealed pitcher. For longer storage, freeze it in freezer-safe bags for up to a month.
Serving Suggestions: For the ultimate refreshing experience, serve the lemonade with fresh strawberry slices, lemon slices, and ice cubes. Perfect as a summer cooler or a delightful party beverage.