Pink Lemonade is a delightful summer beverage, perfect for quenching thirst on hot days or as a special treat at gatherings. Made with fresh lemon juice, simple syrup, and a hint of cranberry juice, grenadine, or other pink-tinted juices, it offers a charming pink hue and a perfect blend of tart and sweet flavors.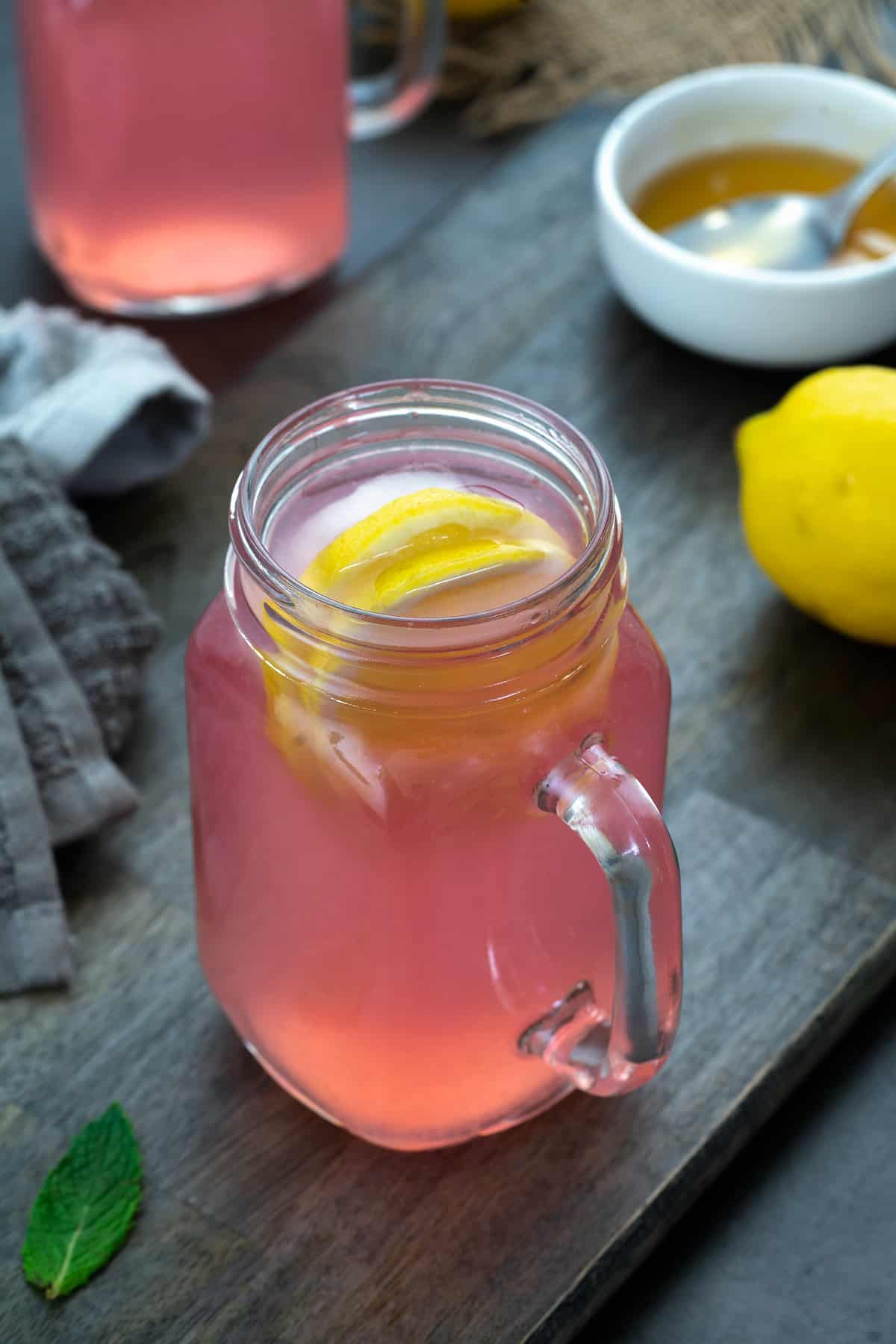 Jump to:
This icy drink, served chilled with plenty of ice, is not only refreshing but also a popular choice for parties and get-togethers. While its origin has various tales, today's Pink Lemonade is celebrated for its appealing color and taste.
Explore More Lemon Drinks:
Ingredients and Substitutions Overview
The ingredients you will need to make this Pink Lemonade are pretty simple. All the ingredients can be easily found in most supermarkets or grocery stores around. So let's see what are they below.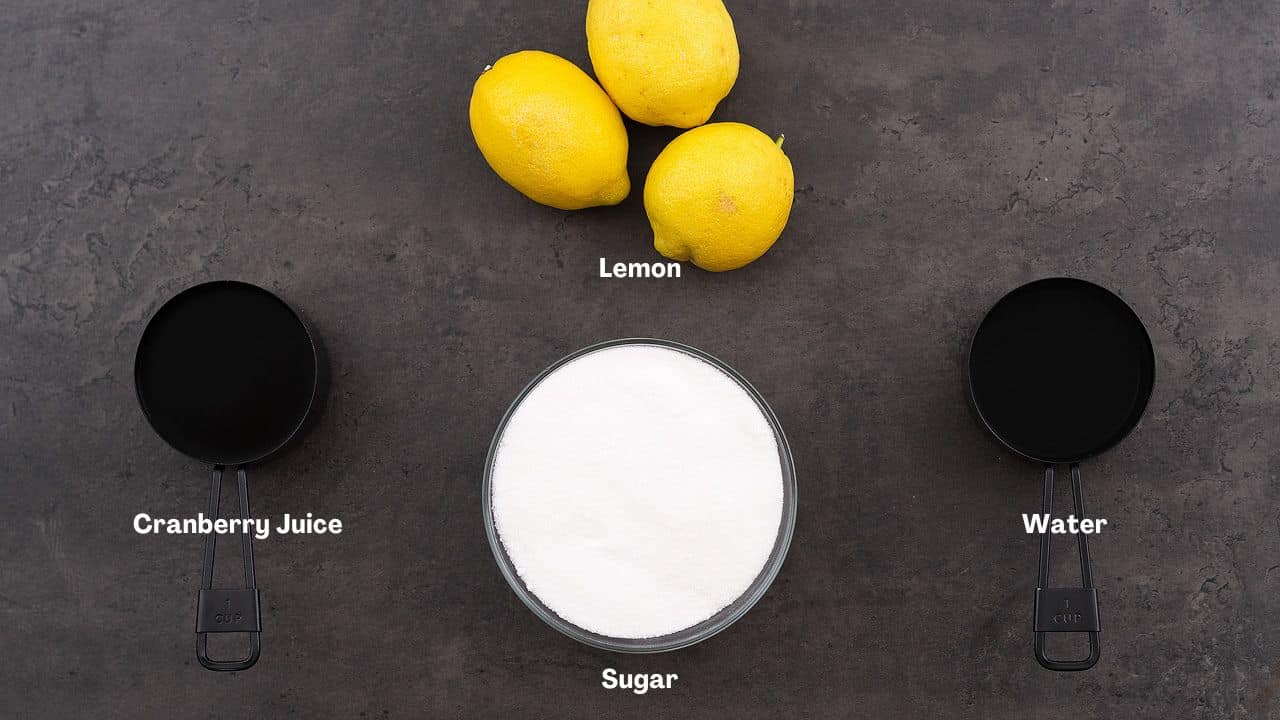 Lemon: Opt for any type of lemon available to you.
Sugar: Necessary for making simple syrup. You can choose from granulated white sugar, raw sugar, or brown sugar. Note: Brown sugar may alter the lemonade's color, impacting the pink hue.
Cranberry Juice: A cup of cranberry juice is used for the pink tint. Alternatively, strawberry juice, pomegranate juice, watermelon juice or grenadine syrup are suitable substitutes.
Water: Used to dilute the lemon juice and for preparing the sugar syrup.
Ice Cubes: Essential for serving the lemonade chilled.
How to make Pink Lemonade?
Get ready to craft the perfect Pink Lemonade with our simple recipe, enhanced by step-by-step photos and a video guide below for effortless preparation.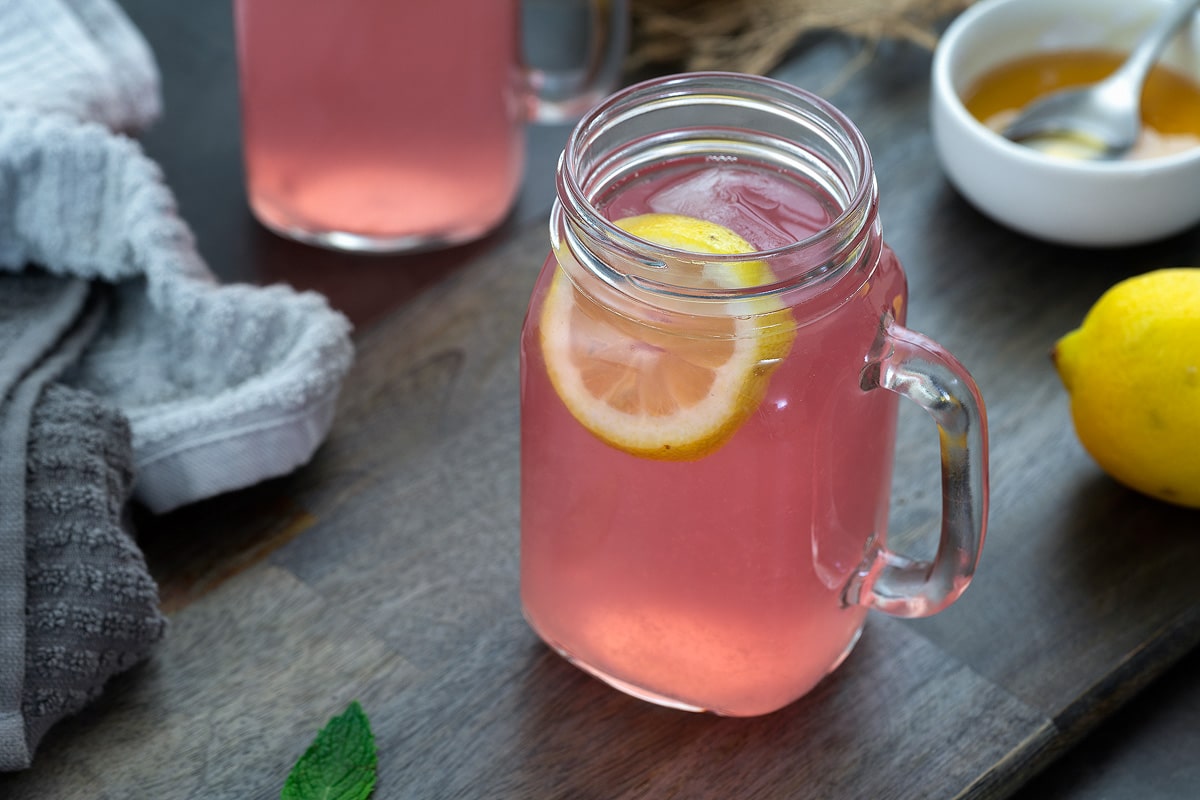 Enjoy Different Lemon-Infused Drinks: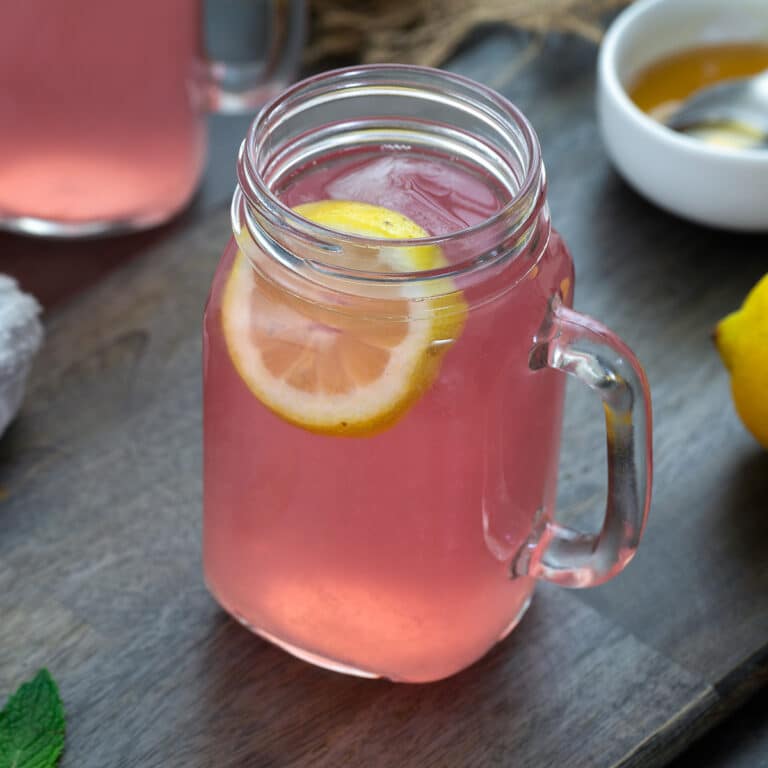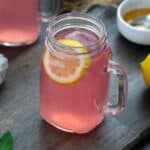 Pink Lemonade
Pink Lemonade, a delightful summer beverage, combines freshly squeezed lemon juice, simple syrup, and a touch of cranberry or grenadine juice for its signature pink hue. Perfect for quenching thirst on hot days or as a special treat at gatherings, it offers a refreshing balance of sweet and tart flavors.
Subscribe
print (text-only)
email
pin
review
save
saved!
Ingredients
For Lemonade
1.1

lb

Lemon

,

10 medium size

4

cups

Water

1

cup

Cranberry Juice
More on Unit Conversions »
Instructions
To make Sugar Syrup
Combine equal parts sugar and water in a saucepan and place over medium heat.

Stir until the sugar is fully dissolved, then take the pan off the heat and let the syrup cool before use.
To make Pink Lemonade
Start by halving the lemons, and transfer them into a bowl.

To ensure you get every drop of flavor, thoroughly juice the lemons. Choose a juicing method that feels right for you, whether that's a fork, a handheld squeezer, or a citrus press.

Press the pulp against a mesh strainer to maximize the juice yield.

Combine the lemon juice, sugar syrup, cranberry juice, and water in a large pitcher, stirring well. Refrigerate for at least one hour to cool and infuse the flavors.

Fill a serving glass with ice cubes and lemon slices, then pour in the chilled Pink Lemonade. Your refreshing drink is now ready to savor and enjoy.
To Serve
Enjoy this Pink Lemonade as a perfect cooler on warm days or as a delightful beverage for your party guests.
Chef's Notes and Tips
Tips for Perfect Pink Lemonade:
Syrup Sweetness: Simple sugar syrup adds the right sweetness. While a 1:1 sugar-to-water ratio works well, feel free to adjust it to suit your taste.
Achieving the Pink Hue: One cup of cranberry juice gives a lovely pink color without overpowering the lemonade's flavor. Use a minimal amount to keep the taste balanced.
Alternative Pink Ingredients: For different shades of pink, try watermelon or cherry juice, or grenadine syrup. Each adds a unique twist to the lemonade's color and flavor.
Nutrition Info
Serving:
1
cup
|
Calories:
200
kcal
|
Carbohydrates:
53
g
|
Protein:
1
g
|
Fat:
0.3
g
|
Saturated Fat:
0.02
g
|
Polyunsaturated Fat:
0.1
g
|
Monounsaturated Fat:
0.01
g
|
Sodium:
10
mg
|
Potassium:
99
mg
|
Fiber:
2
g
|
Sugar:
49
g
|
Vitamin A:
25
IU
|
Vitamin C:
32
mg
|
Calcium:
22
mg
|
Iron:
0.4
mg
Disclaimer: We're not nutrition experts. Nutritional info is estimated and should be used as a guide. For precise details, consult a professional.
Explore a wide array of lemon-infused, summer beverages in our extensive recipe collection. Each drink is crafted to refresh and delight, catering to various wellness goals and tastes!
Storage and Serving Suggestions
Storage: Keep your Pink Lemonade fresh in the fridge for 4 to 5 days, stored in a sealed pitcher. Alternatively, store the sugar syrup and squeezed lemon juice separately, mixing with cranberry juice and water when ready to serve.
Serving: Serve this Pink Lemonade loaded with ice cubes and fresh lemon slices for a refreshing thirst-quencher on hot days. It's also an ideal refreshment for gatherings and parties.