Lemon Ginger Tea is a delightful drink that combines the tanginess of lemon with the spice of ginger, creating a beverage that's both invigorating and soothing. Perfect for detoxing, this tea is traditionally brewed using fresh ginger root and lemon, steeped in boiling water, and sweetened with honey to taste. It's a versatile drink that can be enjoyed hot or cold, any time of the day, and it's especially comforting when served warm.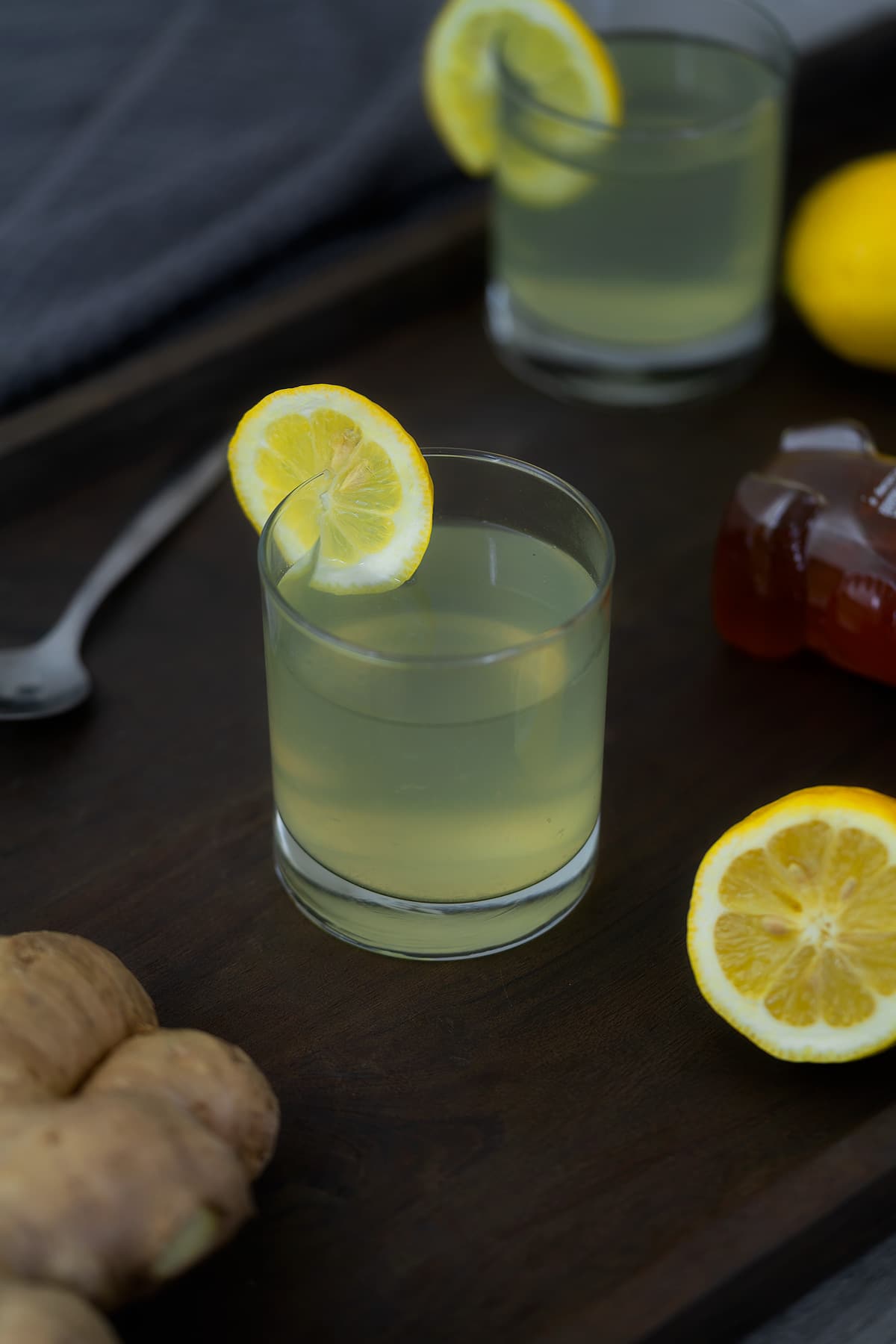 Jump to:
This homemade Lemon Ginger Tea recipe takes less than 15 minutes to prepare, offering a simple and quick way to enjoy a healthy drink. It's a staple in Indian and Chinese cuisines, renowned for its purported healing properties and has been used as a natural remedy for various ailments for centuries.
Making this tea at home with fresh ingredients elevates the taste and aroma, providing a superior experience to store-bought teas. Plus, it's caffeine-free since it's made without tea leaves, making it an excellent choice for those avoiding caffeine.
Explore a World of Tea Delights:
Ingredients and Substitutions Overview
To prepare Lemon Ginger Tea, you will need the following ingredients, which are readily available at most food markets:
Ginger Root: A versatile and healthful spice known for aiding digestion, alleviating morning sickness, and supporting weight loss efforts.
Lemon: This vibrant yellow fruit is a rich source of vitamin C and fiber. You can use freshly sliced lemon or lemon juice for this recipe.
Honey: While raw honey is known for its therapeutic benefits, the honey in this recipe serves as a sweetener to balance the sharp taste of ginger. Alternatives like brown sugar or maple syrup can also be used to sweeten your tea.
Options for Nutritious Beverages:
How to make Lemon Ginger Tea?
Capture the essence of simplicity and wellness in your cup with this Lemon Ginger Tea. Follow these straightforward steps, enhanced with photos and video below, to craft a soothing and healthful beverage in no time.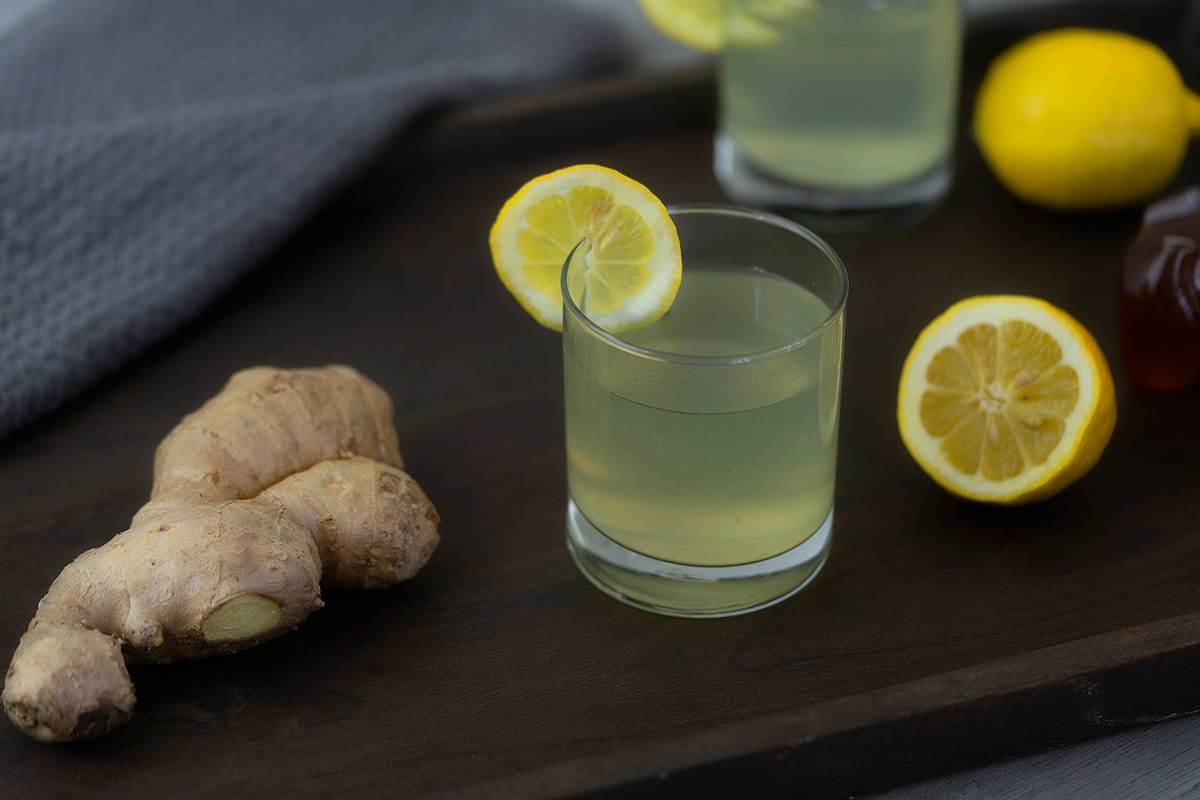 More Health-Boosting Beverages: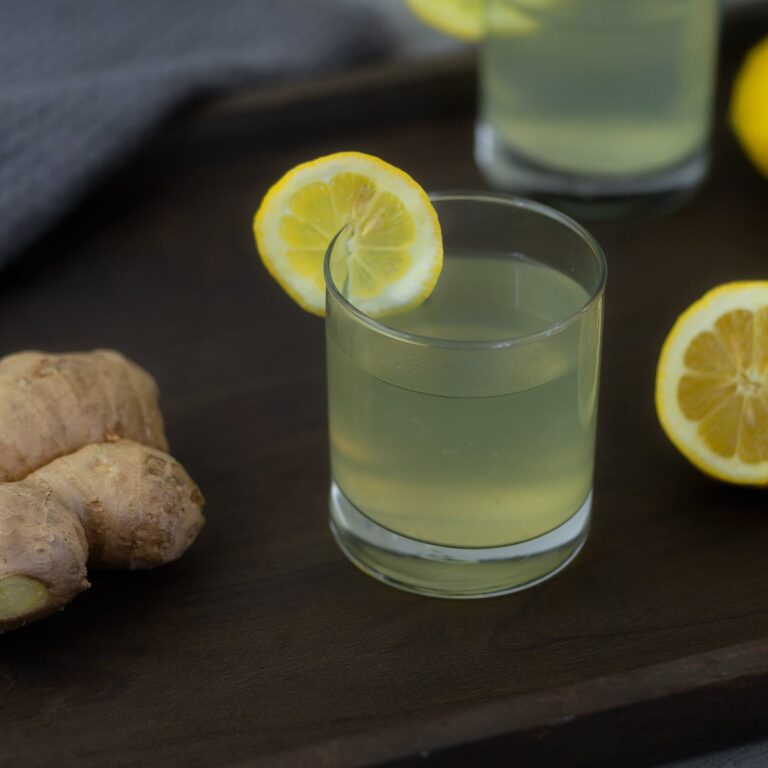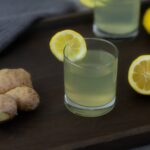 Lemon Ginger Tea
Savor the comforting zing of Lemon Ginger Tea, a sweet and spicy elixir for wellness. Freshly steeped with ginger, lemon, and honey, this tea is a delicious healer for colds and digestion, enjoyed steaming or chilled.
Subscribe
print (text-only)
email
pin
review
save
saved!
Ingredients
4

cups

Water

1

piece

Ginger

,

4-5 cm long

1

Lemon

,

medium size

2

tsp

Honey
More on Unit Conversions »
Instructions
To make Lemon Ginger Tea
Start by thinly slicing a medium lemon.

Take a piece of ginger root, about 4-5 cm in length, and chop it into small pieces.

Heat up water in a saucepan until it reaches a boil.

Turn off the heat, then add the lemon slices and ginger pieces to the pan.

Cover the saucepan with a lid and let the flavors meld together for 5 minutes.

After the time is up, lift the lid and pour the tea through a strainer into your favorite cup.
To Serve
Sweeten your Lemon Ginger Tea with a drizzle of honey or another sweetener to your liking, and enjoy the warmth.
Chef's Notes and Tips
Tips for Perfecting Your Lemon Ginger Tea:
Minty Freshness: Enhance the aroma and flavor by adding fresh mint leaves.
Citrus Twist: Swap out lemon for orange to add a unique zest.
Sweetness Your Way: Enjoy the tea plain or sweeten it with alternatives like brown sugar or maple syrup.
Preparation Varieties: Use chopped lemon and ginger pieces, or try grated/crushed ginger and lemon juice for similar taste and health benefits.
Nutrition Info
Serving:
1
cup
|
Calories:
72
kcal
|
Carbohydrates:
19
g
|
Protein:
1
g
|
Sodium:
13
mg
|
Fiber:
2
g
|
Sugar:
13
g
Disclaimer: We're not nutrition experts. Nutritional info is estimated and should be used as a guide. For precise details, consult a professional.
Discover our diverse range of lemon-enhanced, revitalizing beverages designed for health and detoxification, find the perfect tasty blend to align with your wellness journey!
Storage and Serving Suggestions
Refrigeration: Keep the tea in the fridge; it remains fresh for up to 3 days.
Temperature Preference: Savor it chilled straight from the refrigerator or warm it up for a cozy beverage.
Seasonal Comfort: Ideal for the colder months, this tea provides soothing warmth.
Versatile Enjoyment: Serve it hot to kickstart your morning or cold before bedtime for a restful night's sleep.
Benefits
Explore the myriad of health benefits offered by Lemon Ginger Tea, a versatile and comforting drink that not only warms your soul but also boosts your wellbeing.
Detoxifying: Aids in cleansing the body.
Improves Sleep: Can enhance sleep quality when consumed before bedtime.
Cold Remedy: Offers relief for symptoms of colds, coughs, and fevers.
Comforting: The sweet and spicy profile provides warmth during illness.
Digestive Aid: Helps with digestion, particularly after large meals.
Reduces Bloating: Alleviates bloating and stomach discomfort.
Medicinal Properties: Both ginger and lemon contribute to nausea relief and weight loss.
Preventative Health: May reduce the risk of heart and liver diseases.
Broad Health Benefits: Offers a range of additional wellness advantages.
For more detailed information on the health benefits of Lemon Ginger Tea, refer to WebMD. Remember, it's always advisable to consult a healthcare provider for health concerns or personalized dietary advice.