Savor the warmth and wellness of Ginger Tea, a delightfully spicy detox beverage. Crafted from fresh ginger root and optionally enhanced with cinnamon or mint, this tea is not only a taste sensation but also a boon for your health. It's a homemade remedy, celebrated for centuries, particularly in Asian regions, for its efficacy in combating colds, coughs, indigestion, acid reflux, and nausea.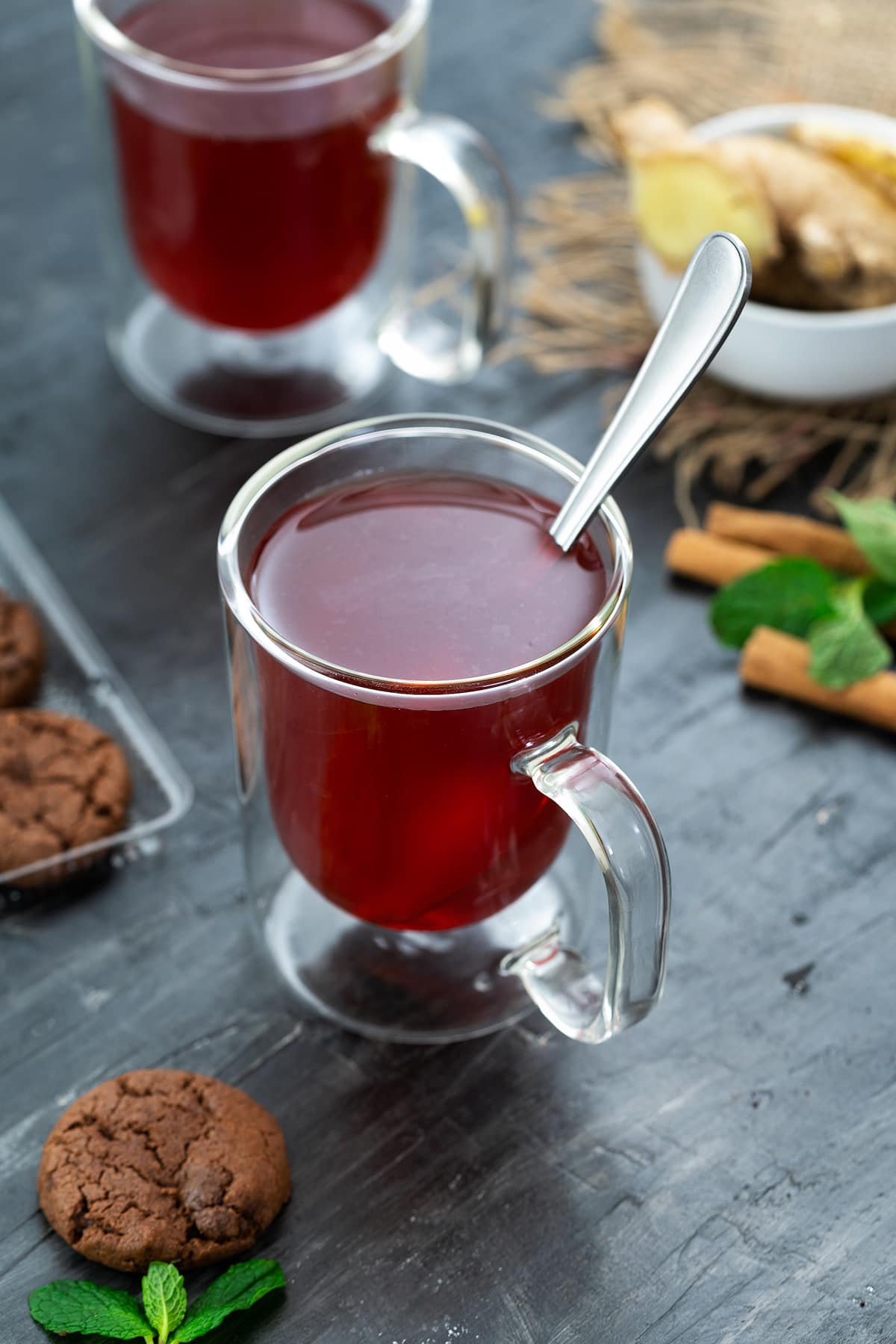 Jump to:
Not only is it easy to prepare in just 15 minutes using basic ingredients, but it's also a wholesome choice, free from caffeine and alcohol, making it an ideal vegan-friendly option for family gatherings, especially during chilly winter days.
Explore Additional Healthy Drinks:
Ingredients Overview
To create this Ginger Tea, just gather a few basic ingredients - chances are, you've got most of them in your kitchen already. Here's what you'll need: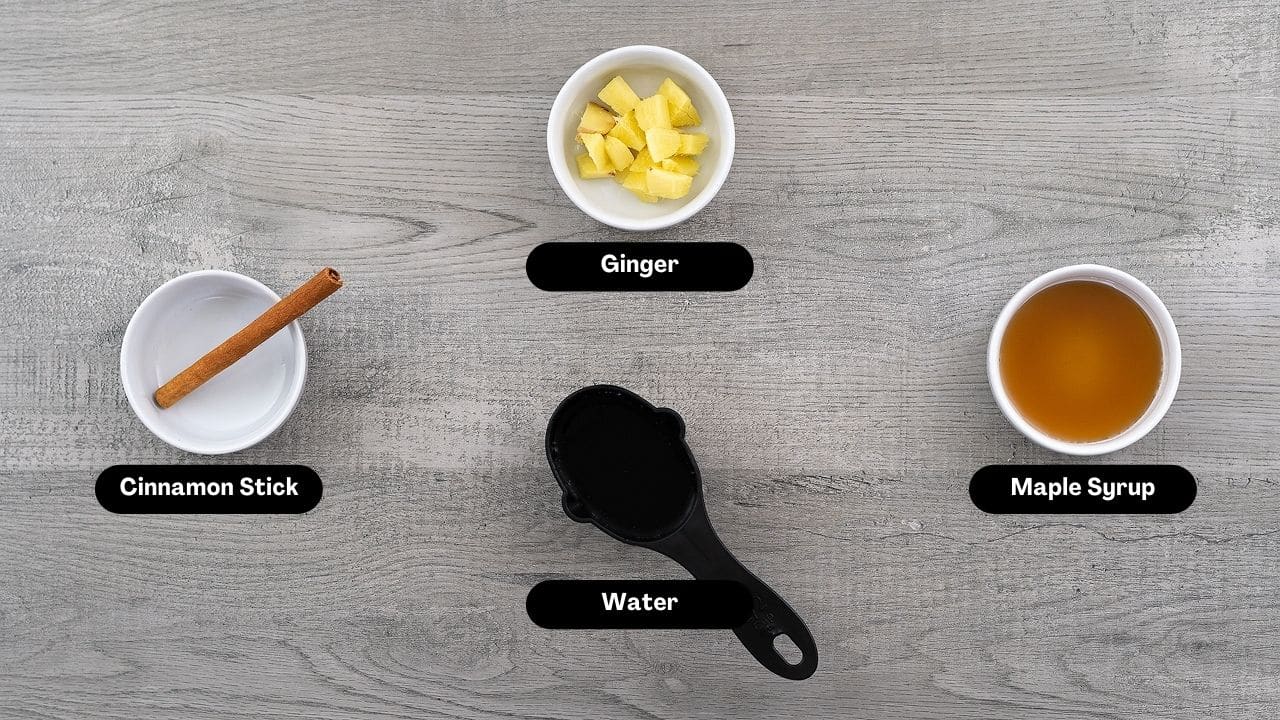 Ginger: Go for either chopped or grated, depending on your preference. If you're using it with the skin, just give it a good wash. Peeling is optional – a spoon does the trick.
Cinnamon Stick: This one's up to you. It adds a nice twist, but you can skip it or swap it with mint, turmeric, or a squeeze of lemon.
Water: Filtered is best for a clean brew.
Sweetener: I've used maple syrup for a vegan-friendly touch, but feel free to use honey, brown sugar, or your favorite sweetener.
How to make Ginger Tea?
Get ready to brew a soothing cup of Ginger Tea with this simple recipe. Follow along with the steps, perfectly captured in photos and video, to make your own delightful blend. Now, let's dive into the recipe: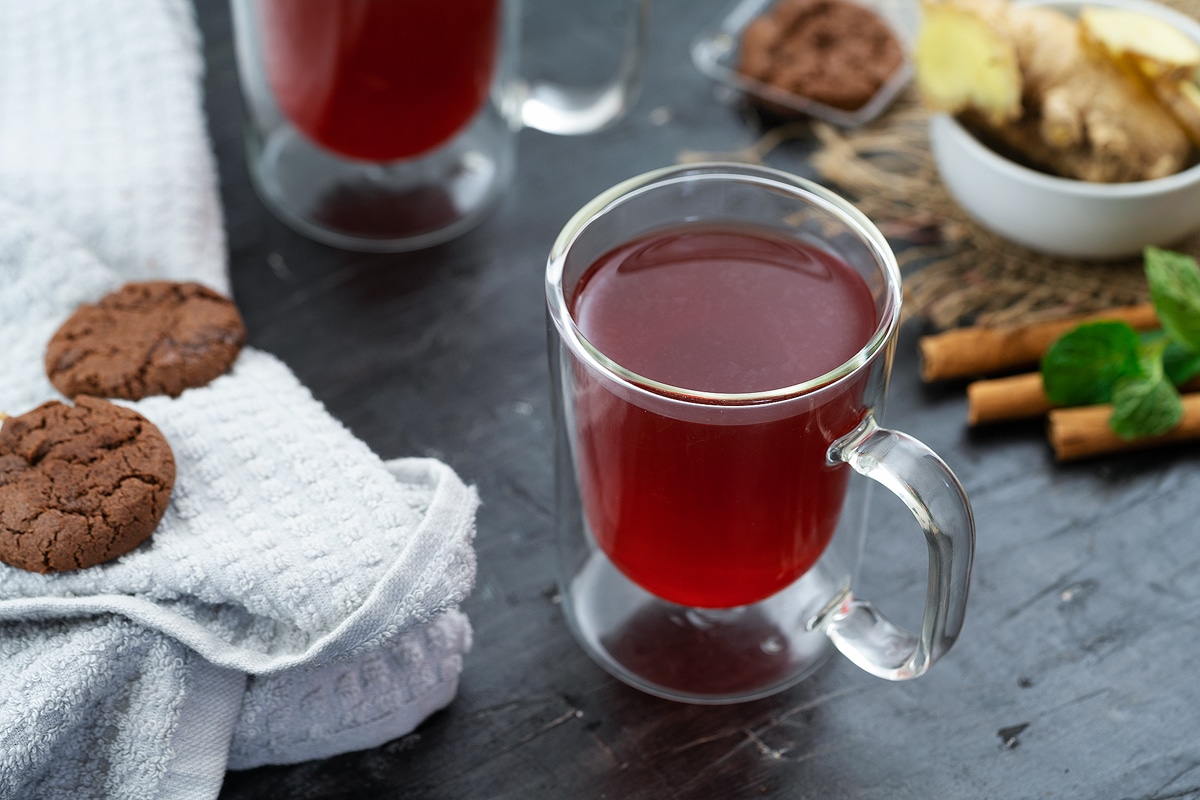 Explore More Healthy Ginger and Tea Recipes: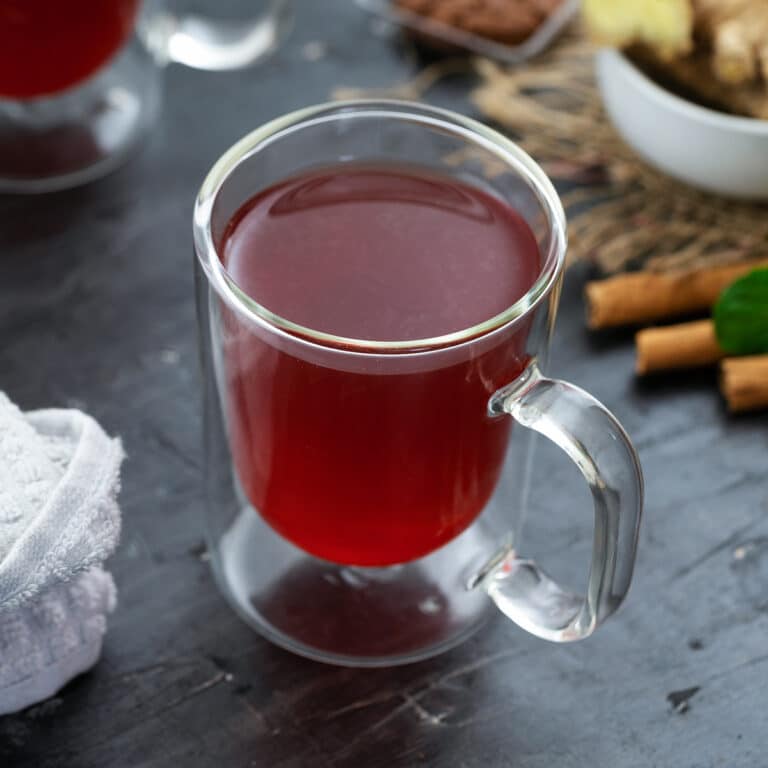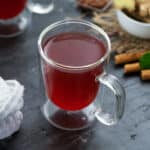 Ginger Tea
Ginger Tea offers a delightful blend of refreshment and mild spice, making it a superb detox drink with numerous health benefits. Typically prepared with fresh ginger root and water, and enhanced with cinnamon or mint for extra flavor, this homemade tea is an ideal comfort drink to warm you up on chilly winter days.
Subscribe
print (text-only)
email
pin
review
save
saved!
Ingredients
2

tbsp

Ginger

,

chopped

1

Cinnamon Stick

,

optional

2

cups

Water

1

tsp

Maple Syrup

,

or honey optional
More on Unit Conversions »
Instructions
To Make Ginger Tea
Start by heating water in a saucepan over medium heat until it reaches a boil.

Add your choice of chopped or grated fresh ginger to the boiling water and let it boil for 2 to 3 minutes.

Reduce the heat to a simmer and add a cinnamon stick to the tea for added flavor. This step is optional; you can omit the cinnamon if preferred.

Cover the saucepan with its lid and allow the tea to steep for 5 minutes.

After steeping, remove the saucepan from heat. Strain out the cinnamon stick and ginger pieces, pouring the filtered Ginger Tea into a serving glass.

Sweeten the tea with maple syrup or honey to your liking, stirring well. Your healthy Ginger Tea is now ready to be savored and enjoyed.
To Serve
Enjoy this soothing Ginger Tea to calm an itchy throat, ease nausea, aid digestion, or simply warm up during the chilly winter days.
Chef's Notes and Tips
Simple Tips for Perfect Ginger Tea:
Rich Flavor: Opt for freshly grated or chopped ginger root for a robust, spicy kick.
Sweetness: Maple syrup is my go-to sweetener, but feel free to substitute with honey or your preferred sweetener.
Flavor Enhancers: While I've used a cinnamon stick for an extra flavor boost, mint leaves or turmeric root are great alternatives for varying tastes.
Ideal Occasions: This tea is perfect for soothing indigestion, nausea, colds, or coughs, and it's especially comforting during chilly winter days.
Nutrition Info
Serving:
1
cup
|
Calories:
10
kcal
|
Carbohydrates:
2
g
|
Sodium:
11
mg
|
Fiber:
1
g
Disclaimer: We're not nutrition experts. Nutritional info is estimated and should be used as a guide. For precise details, consult a professional.
Dive into a universe of wholesome and warming beverages with our extensive recipe collection. From soothing teas perfect for frosty days to lively drinks infused with citrus, we present a wide array of delicious options designed to boost your health and tantalize your taste buds on any occasion!
Storage and Serving Suggestions
Storage: Keep the filtered tea in the fridge for up to 2-3 days, stored in a sealed pitcher. Reheat to your preferred temperature before serving.
Serving Suggestions: Enjoy the tea as is, or sweeten to taste. While I prefer maple syrup, honey or brown sugar are great alternatives. It's perfect for sipping any time, especially to warm up on cold days. This tea is also a traditional home remedy for relieving symptoms of colds, coughs, and itchy throats.
Benefits of Ginger Tea
Ginger Tea is not only a delightful beverage but also a powerhouse of health benefits. Supported by scientific evidence from NCBI and Healthline, this tea offers a multitude of advantages:
From NCBI:
Relieves Nausea and Vomiting: Effective in managing morning sickness and post-operative nausea.
Aids in Digestion: Alleviates discomfort from indigestion.
Cancer Risk Reduction: Possesses properties that may help in lowering the risk of various cancers.
Anti-Inflammatory: Beneficial in reducing inflammation.
Improves Heart Health: Helps in lowering cholesterol and improving lipid levels, reducing cardiovascular disease risks.
From Healthline:
Motion Sickness Relief: Assists in reducing symptoms of motion sickness.
Blood Sugar Management: Helps in maintaining healthy blood sugar levels.
Supports Weight Loss: Aids in weight management and addresses obesity-related complications.
Heart Health: Contributes to overall heart health through its effects on cholesterol and other heart-related factors.
During Pregnancy: Ginger Tea is not only safe but beneficial for pregnant women. It effectively alleviates vomiting, nausea, and morning sickness, making it a comforting choice during pregnancy. (Source: Healthline)
Together, these trusted sources highlight Ginger Tea's role in promoting overall health and wellness.