Barley Tea, or 'Boricha' in Korean, is a delightful drink with a rich nutty flavor. Made from roasted barley and water, it's a popular choice in Korea, served hot or cold. In Japan, it's a favorite for staying cool in the summer. And, don't miss our recipe for Barley Water, a soothing and nutritious option to complement your beverage collection!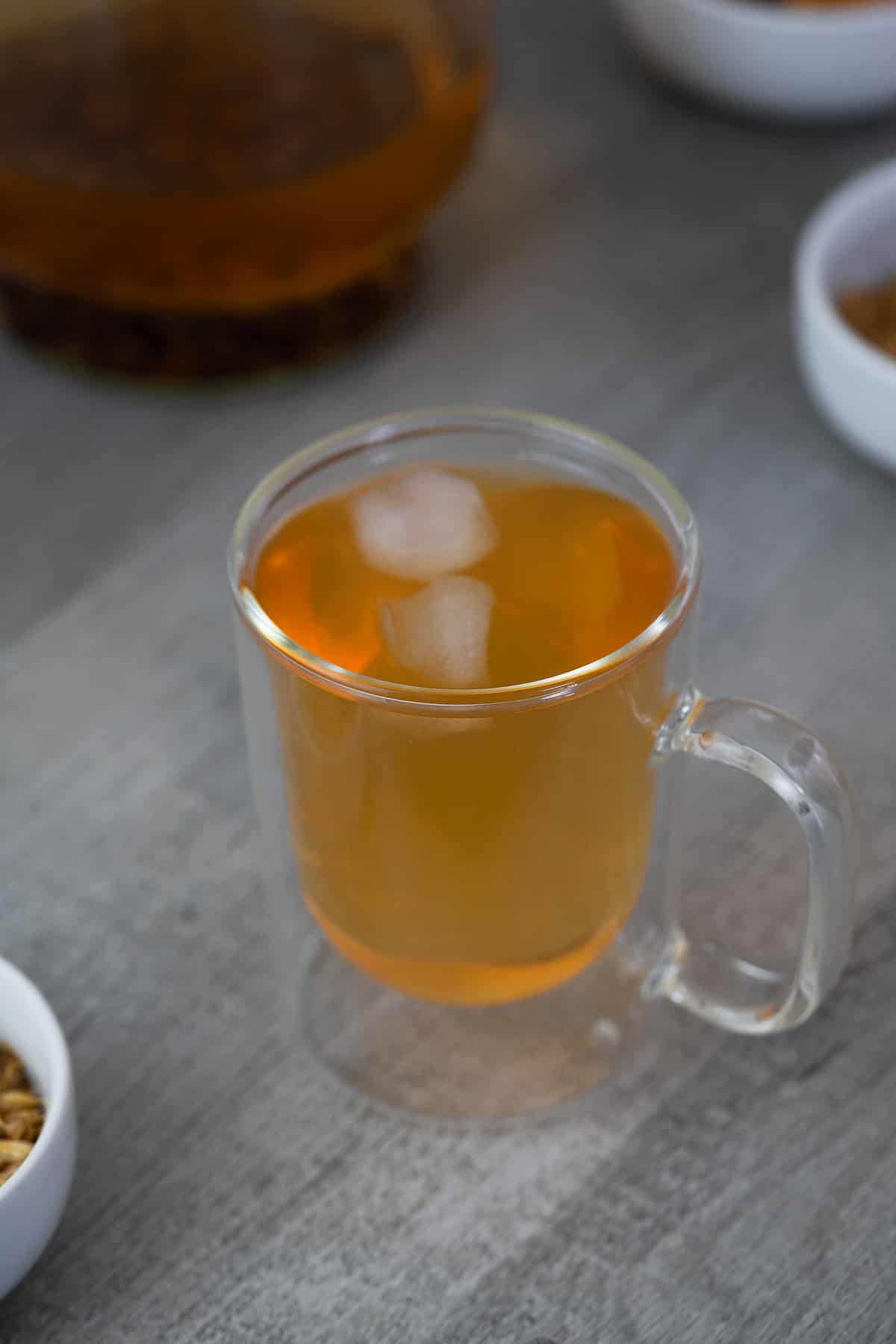 Jump to:
This tea fits any mood and is more than just a drink, it's part of daily life, offering health benefits without caffeine. Enjoy this comforting, caffeine-free beverage every day for a simple touch of health and flavor.
Explore a World of Tea Delights:
Ingredients Overview
For this tea, you'll only need two simple ingredients: barley and water.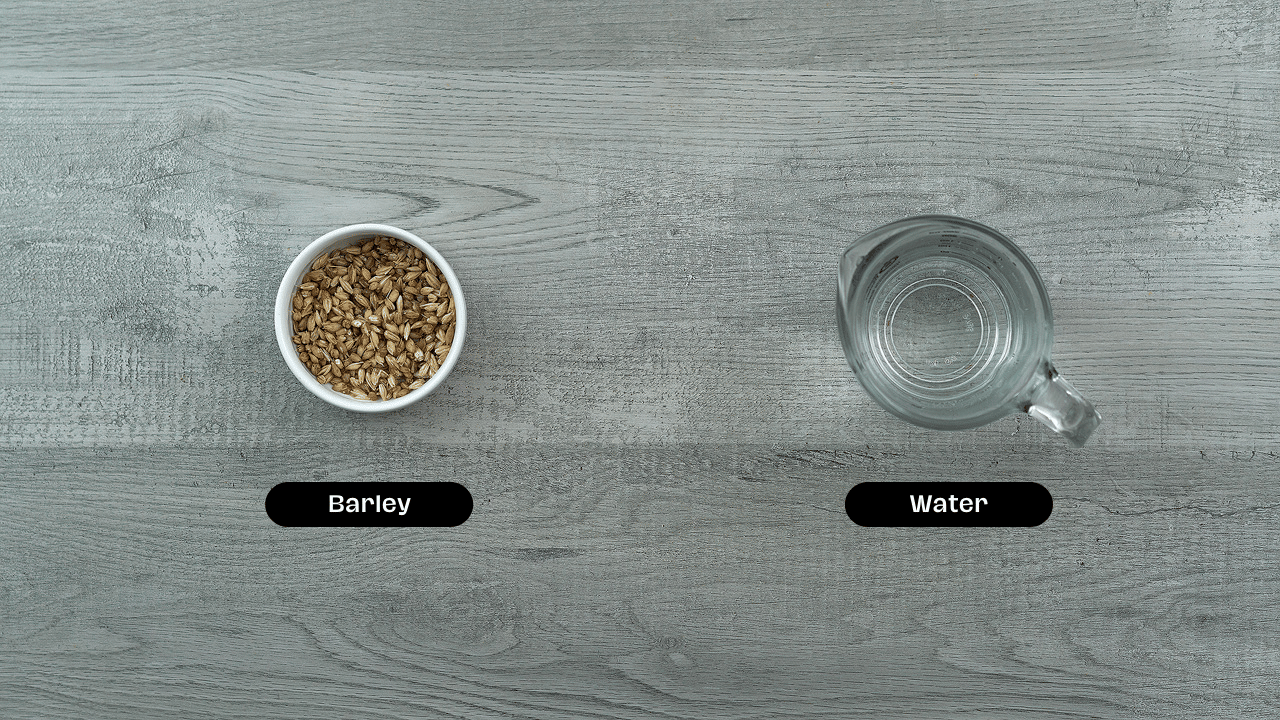 Barley Kernels: You can either roast the barley yourself following the recipe below or use pre-roasted barley, typically available in Korean food markets.
Water: Use 2 cups of filtered water.
How to make Barley Tea?
Step into the world of Barley Tea making with our immersive visual guide. Follow along with our photos and video below as we simplify the process, making it easy for you to enjoy this delightful beverage!
More Health-Boosting Beverages: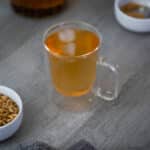 Barley Tea (Boricha)
Discover the joy of Barley Tea, or Boricha. This nutty detox drink, made from roasted barley and water, is a Korean staple enjoyed hot or cold anytime. Plus, find a bonus Barley Water recipe!
Subscribe
print (text-only)
email
pin
review
save
saved!
Ingredients
2

cups

Filtered Water

2

tbsp

Barley

,

whole kernels

Ice Cubes

,

as needed
More on Unit Conversions »
Instructions
To prepare Barley Tea
In a pan over medium heat, roast 2 tbsp of barley kernels until dark brown. Set aside.

In a saucepan, bring water to a boil.

Add the roasted barley kernels and boil for 3-5 minutes.

Cover the saucepan, steep for another 2-3 minutes on low heat.

Remove from heat, and your Barley Tea is ready to enjoy.
To Serve
You can enjoy this Barley Tea either hot or iced. Serve it immediately for a warm sip!
Chef's Notes and Tips
Enhance the Flavor: For the best flavor, roast the barley kernels until they turn dark brown.
Iced Version: After steeping, refrigerate the tea for 1 to 2 hours to savor a refreshing iced version.
Barley Tea Bags: If whole barley kernels aren't available, you can opt for barley tea bags as an alternative.
Stronger Tea: Roast the barley for a longer duration for a bolder and more robust flavor.
Reduce Food Waste: Leftover cooked barley can be used in salads, soups, or enjoyed alongside your drink.
Anytime Beverage: This caffeine-free Barley Tea is versatile and can be served at any time of the day, making it a great substitute for water or traditional tea.
Nutrition Info
Serving:
1
cup
|
Calories:
16
kcal
|
Carbohydrates:
4
g
|
Sodium:
7
mg
|
Fiber:
1
g
Disclaimer: We're not nutrition experts. Nutritional info is estimated and should be used as a guide. For precise details, consult a professional.
Explore our extensive collection of tea recipes and healthful beverages for a diverse range of flavors and wellness benefits. There's a brew to satisfy every palate and support various health goals!
Storage and Serving Suggestions
You can store this drink in the refrigerator for up to 2 days, and it can be enjoyed either cold or reheated to serve hot. Barley Tea is a versatile beverage that you can savor at any time of the day, served in both hot and cold variations.
How to make Barley Water?
Ever wondered about the difference between Barley Water and Barley Tea? The key distinction is in the roasting process. Barley Tea involves roasting to a rich brown, while Barley Water is simply prepared by cooking the kernels until soft in water.
Both are popular detoxifying drinks in Asia, and making Barley Water at home is a healthy and satisfying choice. It's usually enjoyed plain but can be flavored with ingredients like ginger, lemon juice, or pepper. Now, let's get into the steps of making Barley Water.
Wash the Grains: Thoroughly rinse barley grains until all dust particles are removed. Hulled or pearl barley is recommended for this drink.
Soak the Barley: Soak the grains in water for at least 5 hours. For 1 cup of barley, use 3 to 4 cups of water.
Cook the Grains: In a pot, cook the soaked barley until it becomes mushy. You can use the soaked water to cook the grains. If you're using a pressure cooker, use a 1:3 grain-to-water ratio. For a pot, you can use a 1:4 ratio.
Strain and Serve: Once the grains are cooked, strain the water and serve it hot or cold. You can also add flavor with lemon juice, ginger, or pepper. Leftover cooked barley can be used in salads, soups, or enjoyed alongside your drink.
Benefits
As mentioned earlier, Korean Barley Tea is caffeine-free and offers various health advantages, including:
Low in calories, aiding in weight management.
Abundant in antioxidants, promoting heart health, brain function, and blood circulation.
Supports digestion (source: Healthline).
FAQ
Can I prepare it without barley kernels?
If you don't have barley kernels, you can use store-bought barley tea bags as a convenient alternative.
Is barley tea healthy?
Barley Tea is a low-calorie, antioxidant-rich beverage that aids digestion, detoxifies, and promotes gut health. It's a healthy choice, but it's always wise to consult with experts before making it a regular part of your diet.
What is the difference between barley water and barley tea?
Barley Tea is made by roasting barley until it's brown, then boiling it in water to create a golden-brown detox drink. In contrast, barley water is prepared by cooking barley kernels in water until they become soft or mushy, and the resulting water is consumed as a healthy drink.