Frozen Hot Chocolate is a deliciously rich and creamy drink, brimming with the deep flavors of dark chocolate. It's a simple blend of cooled hot chocolate, milk, and ice cubes, offering a homemade taste that's perfect for hot summer days or as a delightful year-round treat.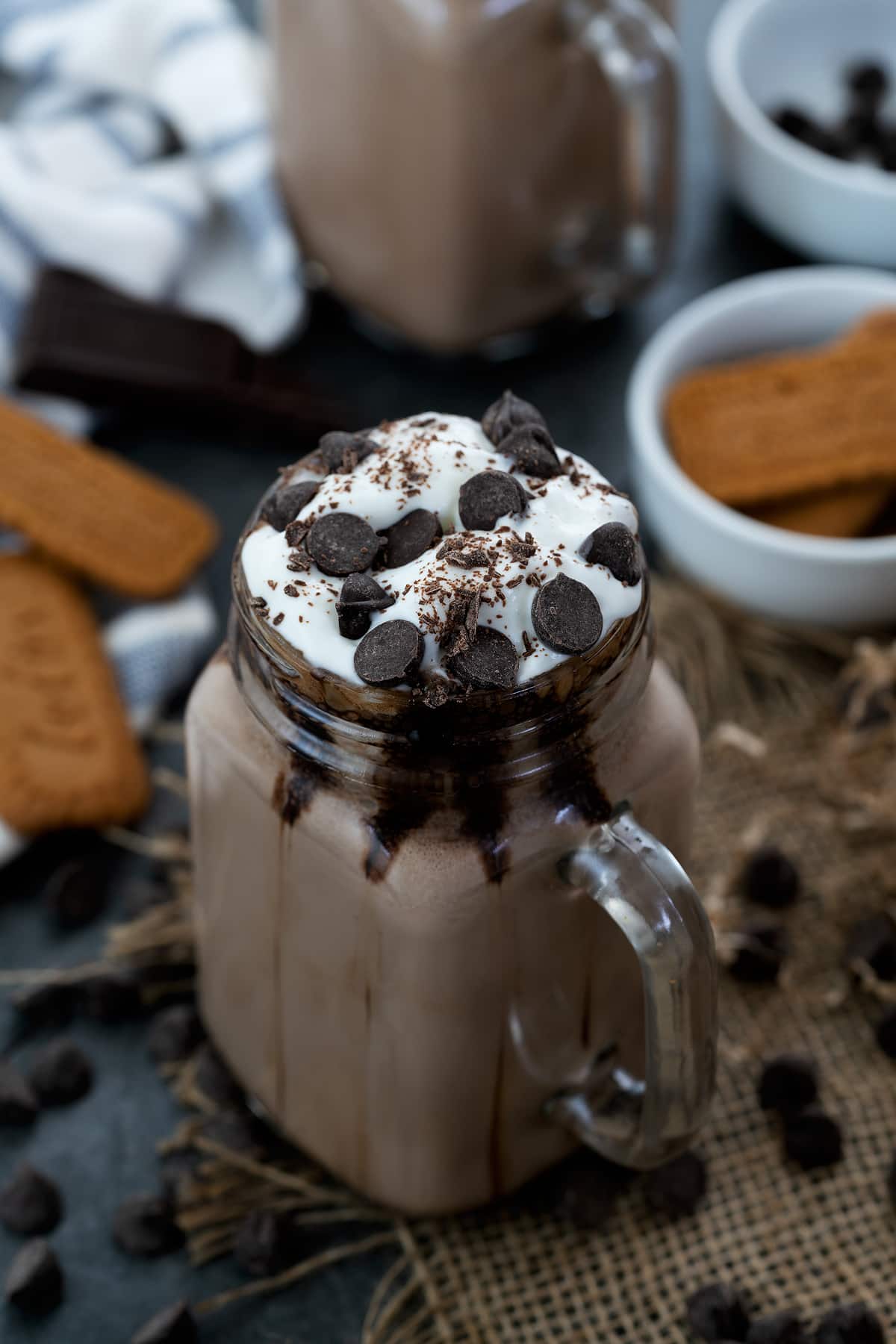 Jump to:
You can create this indulgent beverage either from an instant mix or by preparing the hot chocolate from scratch. While the instant mix provides a good flavor, making it from scratch elevates the taste to a whole new level. The process involves cooling the freshly made hot chocolate before blending it with milk and ice, resulting in a taste that's both refreshing and satisfying.
Not only is Frozen Hot Chocolate a hit in fast-food chains and iconic spots like Serendipity in NYC, but it's also incredibly easy to make at home. Using basic pantry ingredients, you can whip up this delightful drink in no time.
Discover a Variety of Summer Drinks to Quench Your Thirst!
Ingredients Overview
The Ingredients you will need to make this Frozen Hot Chocolate are simple. And it should be easily available in most Supermarkets around. So let's see what are they below.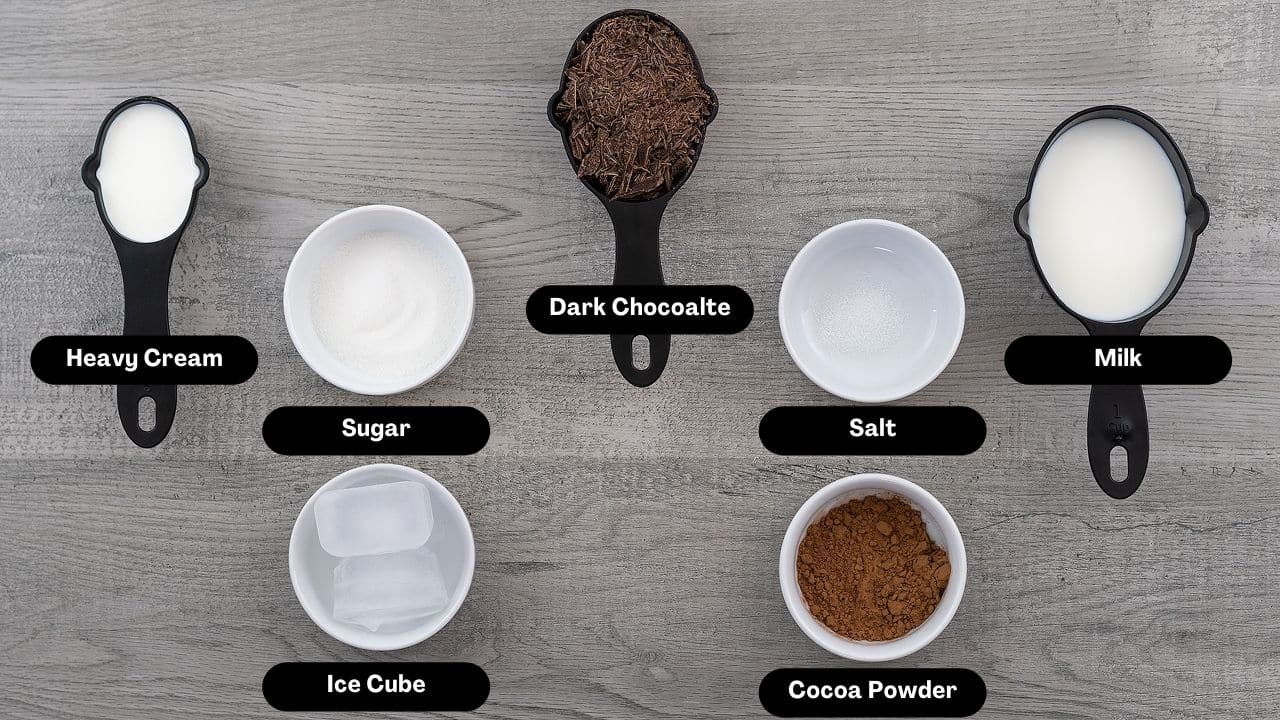 Dark Chocolate: The key ingredient for a rich chocolatey flavor. You can also opt for semi-sweet dark chocolate or milk chocolate, depending on your taste.
Cocoa Powder: A small amount enhances the drink's flavor and taste.
Milk: Chocolate milk is used here for added richness, but whole milk works just as well for a similar result.
Half and Half: This contributes to the drink's thick and creamy texture.
Sugar: A minimal amount is added. However, you can omit it if using milk chocolate or a chocolate mix, as they already contain sweeteners.
Ice Cubes: These are crucial for achieving a thick and creamy consistency when blended.
How to make Frozen Hot Chocolate?
Embark on a delightful culinary journey with our Frozen Hot Chocolate recipe. Follow along with our detailed photos and video below to effortlessly recreate this indulgent treat at home.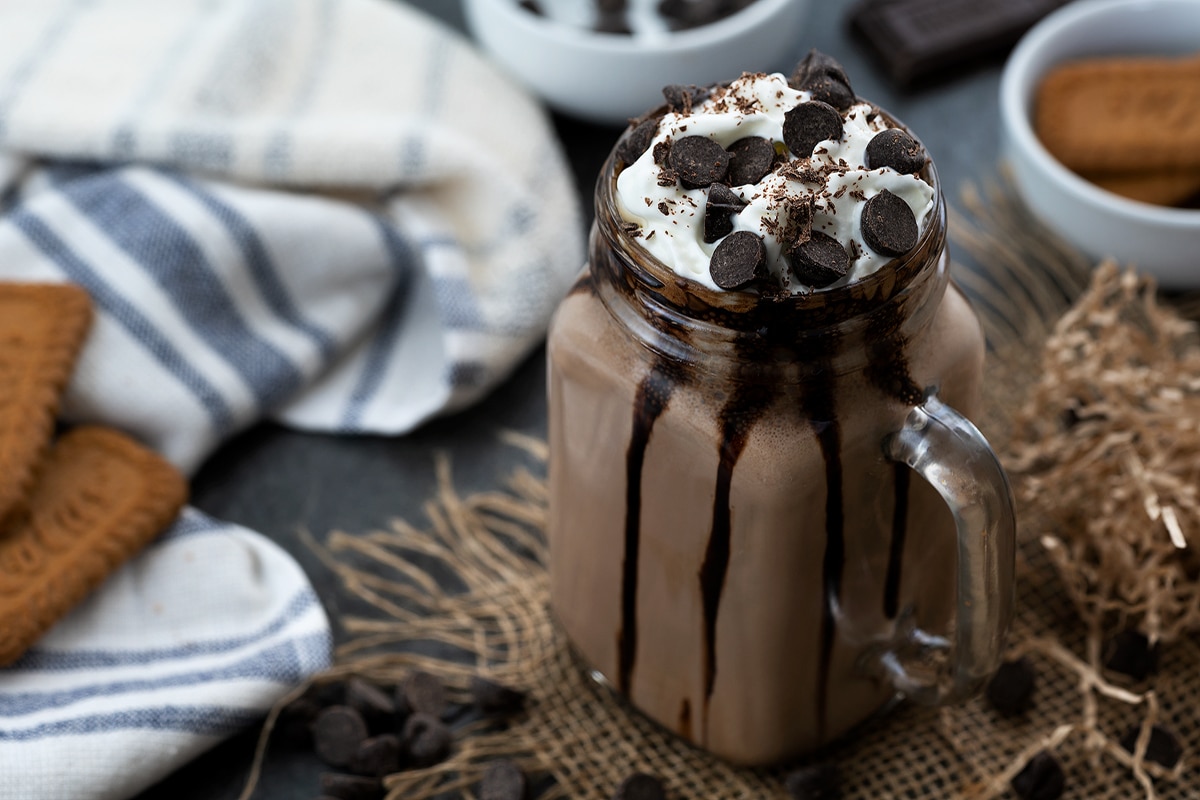 Discover More Chocolate Drinks Below: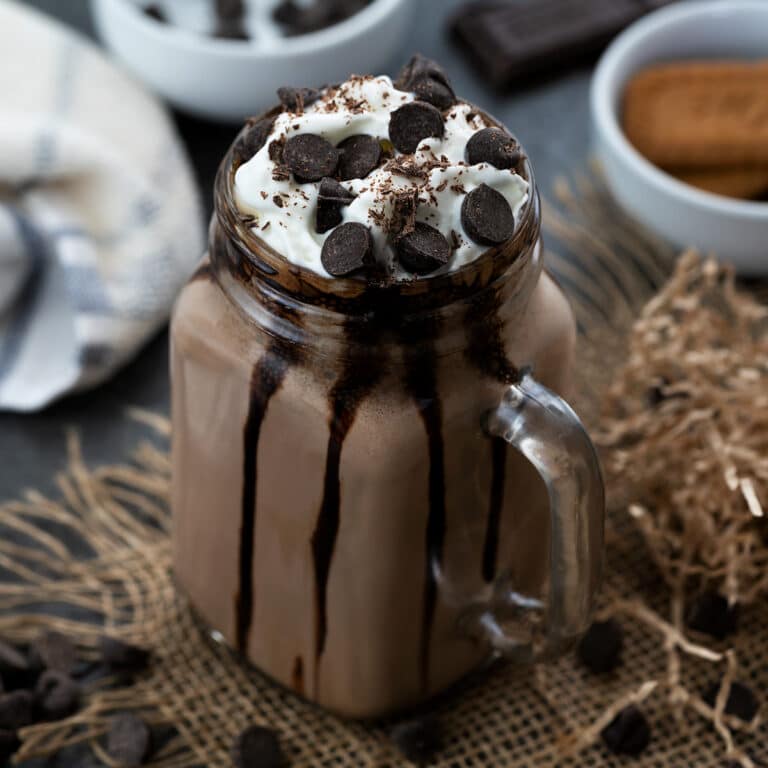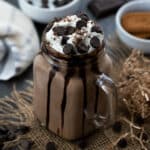 Frozen Hot Chocolate
Frozen Hot Chocolate, a creamy and luxurious drink, combines the richness of dark chocolate with milk and ice. This homemade delight is perfect for cooling down on summer days or as a year-round treat.
Subscribe
print (text-only)
email
pin
review
save
saved!
Ingredients
1

cup

Dark Chocolate

1

cup

Half and Half

2

tsp

Cocoa Powder

2

tsp

White Sugar

Salt

,

a pinch optional

2

cups

Milk

,

or chocolate milk

Ice Cubes

,

for blending

Whipping Cream

,

for topping
More on Unit Conversions »
Instructions
To make Frozen Hot Chocolate
Begin by heating a saucepan over medium heat. Add dark chocolate, cocoa powder, sugar, salt, and half-and-half milk.

Stir the mixture until all ingredients are completely dissolved.

Once done, take the hot chocolate off the heat and let it cool down to room temperature.

Next, pour the cooled hot chocolate into a blender, adding either chocolate milk or regular milk, along with ice cubes.

Secure the blender lid and blend until the mixture is smooth.

After blending, pour the Frozen Hot Chocolate into a serving glass.

Finish by topping it with whipped cream, chocolate curls, or syrup. Your thick, creamy Frozen Hot Chocolate is now ready to enjoy!
To Serve
Enjoy this Homemade Frozen Hot Chocolate as a delightful dessert at parties or as a refreshing way to cool down on hot summer days.
Chef's Notes and Tips
Here are some helpful tips to enhance your Frozen Hot Chocolate experience:
Taste and Flavor: Prepare your hot chocolate from scratch for the most authentic flavor. Blending it with chocolate milk further enriches the taste.
Thickness: For that signature thick and creamy consistency, similar to what you'd find in cafes or Serendipity in NYC, use plenty of ice cubes during blending.
Milk Options: While chocolate milk is preferred for blending, regular whole milk is a suitable alternative. If using plain milk, add chocolate mix powder to maintain the chocolate intensity.
Preparing Hot Chocolate: Use dark chocolate and cocoa powder for a robust flavor. Semi-sweet dark chocolate is also a good option. Remember to cool the hot chocolate to room temperature before blending.
Blender-Free Tip: If you don't have a blender, cool the prepared hot chocolate in the refrigerator for an hour. Then, simply whisk in cold milk to your liking and serve with a topping of whipped cream and chocolate shavings or curls. This method still delivers a delightful Frozen Hot Chocolate experience.
Nutrition Info
Serving:
1
cup
|
Calories:
534
kcal
|
Carbohydrates:
58
g
|
Protein:
10
g
|
Fat:
29
g
|
Saturated Fat:
17
g
|
Polyunsaturated Fat:
10
g
|
Cholesterol:
26
mg
|
Sodium:
107
mg
|
Fiber:
6
g
|
Sugar:
48
g
Disclaimer: We're not nutrition experts. Nutritional info is estimated and should be used as a guide. For precise details, consult a professional.
Immerse yourself in our handpicked collection of chocolate drink recipes and summer refreshments, crafted to bring joy and coolness to your warm days with their enticing flavors and delightful textures.
Serving and Storage Suggestions
Enjoy your Frozen Hot Chocolate in true café style by garnishing it with whipped cream, chocolate curls, and a drizzle of chocolate syrup.
For storage, keep the hot chocolate mixture in the refrigerator for up to 2 days. When ready to enjoy again, simply blend it with milk and ice cubes for another round of this creamy, decadent treat.