Hibiscus Tea, or Agua De Jamaica, is a delightful Mexican iced drink celebrated for its unique sweet and tart flavor. Crafted from dried hibiscus flowers and often enhanced with lemon, ginger, cinnamon, and sugar, this tea serves as an excellent detox beverage. Ideal for sipping on warm summer days or for a comforting warmth during chilly winters, it's not just a thirst-quencher but also a health booster when consumed in moderation.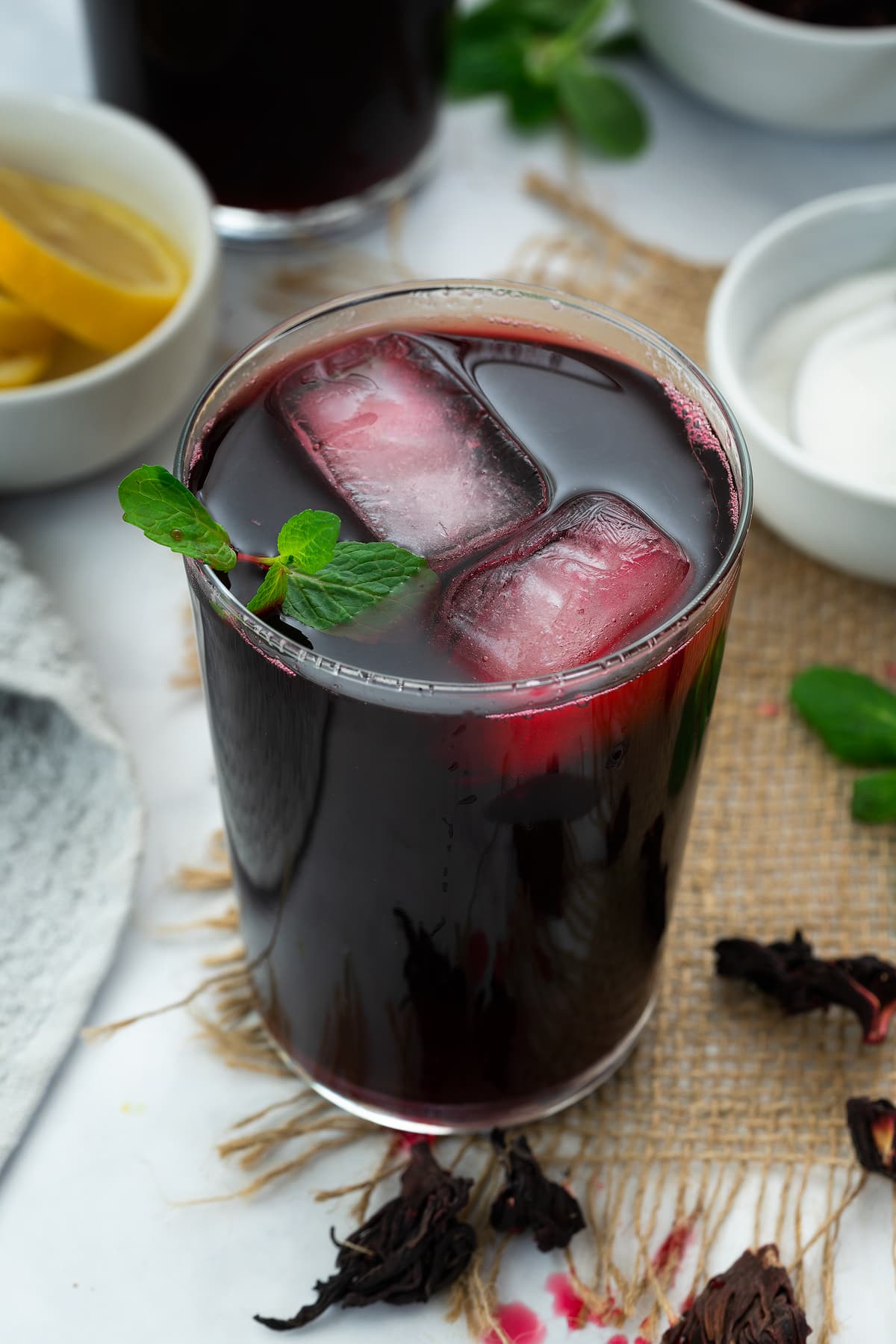 Jump to:
In Mexico, where it's also referred to as agua fresca Jamaica, meaning 'fresh and cool hibiscus water,' Hibiscus Tea stands out as a popular choice among the agua frescas. It's commonly enjoyed as a healthier alternative to sodas, often relished with ice cubes on hot days or as a pleasant addition to mid-day meals. This versatile drink blends the allure of taste with the promise of health benefits, making it a must-try for any season.
Explore Delectable Flavors of Mexican Drinks:
Ingredients Overview
To create this delightful Hibiscus Tea, you'll need a handful of simple ingredients, some of which you may already have in your kitchen. Here's what you'll need: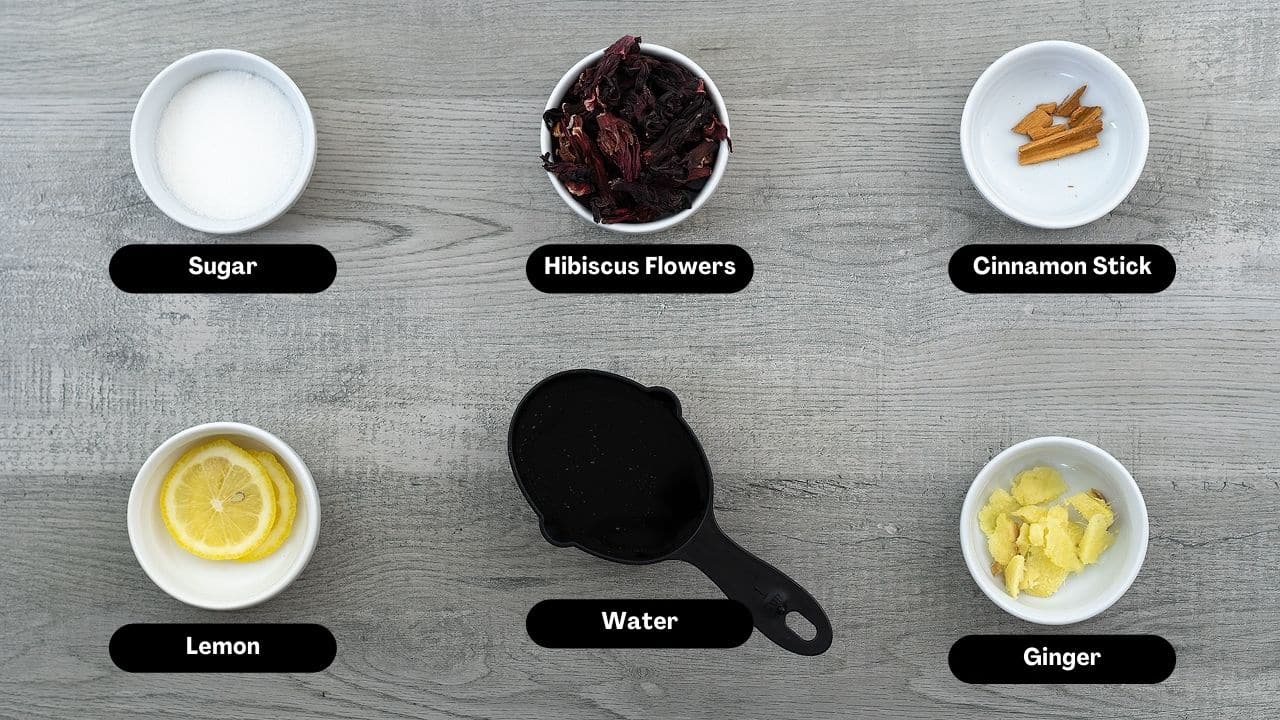 Dried Hibiscus Flowers: While fresh hibiscus flowers can be used, edible varieties are rare. For ease and safety, opt for dried hibiscus flowers specifically intended for tea preparation, available in most Mexican grocery stores or online.
Lemon: Two slices of lemon add a subtle citrusy zest to the tea.
Cinnamon Sticks: These bring a mild heat and warmth, enhancing the overall flavor.
Ginger: Known for aiding digestion and being beneficial for colds and coughs, ginger adds a healthy twist.
Sugar: A minimal amount is used to lightly sweeten the tea. However, you can adjust the quantity if you prefer a stronger, sweeter concentrate.
How to make Hibiscus Tea?
Get ready to brew a refreshing and healthful Hibiscus Tea, a simple yet exquisite beverage. Follow these easy steps, complemented by photos and a video guide, to bring this delightful drink to your table.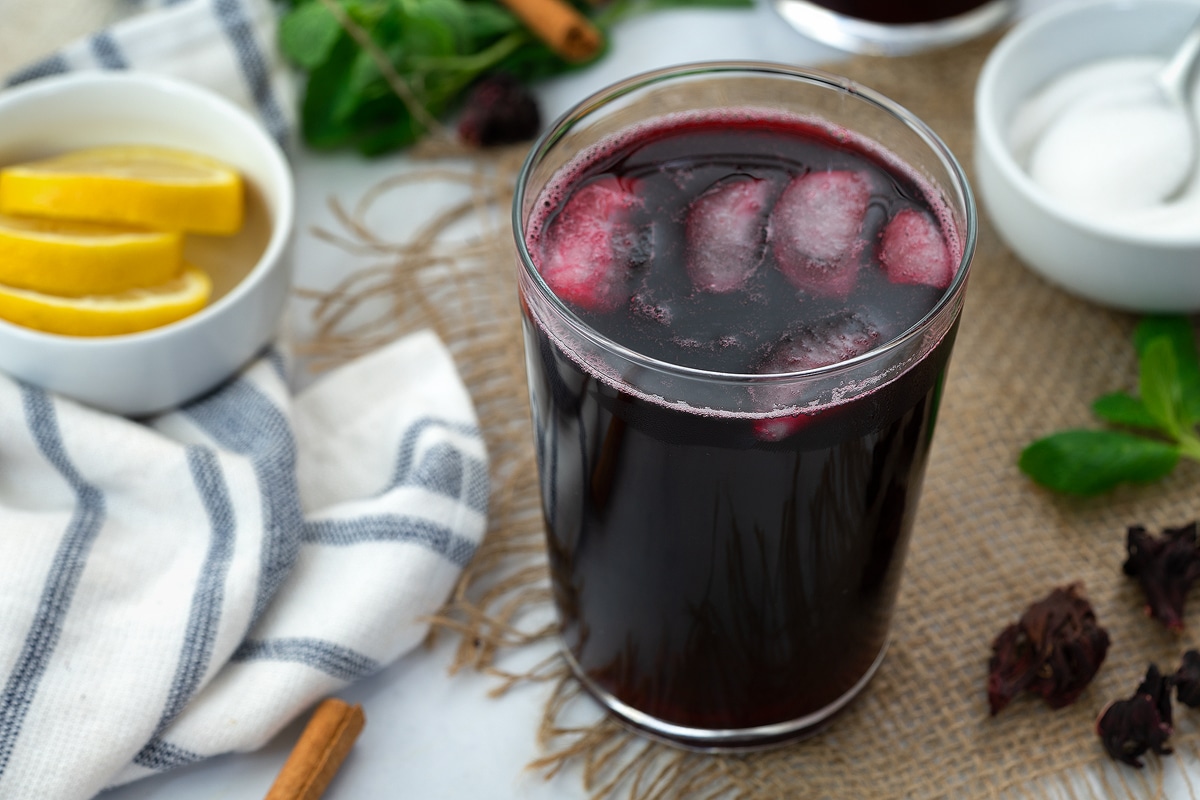 Explore a World of Tea Recipes: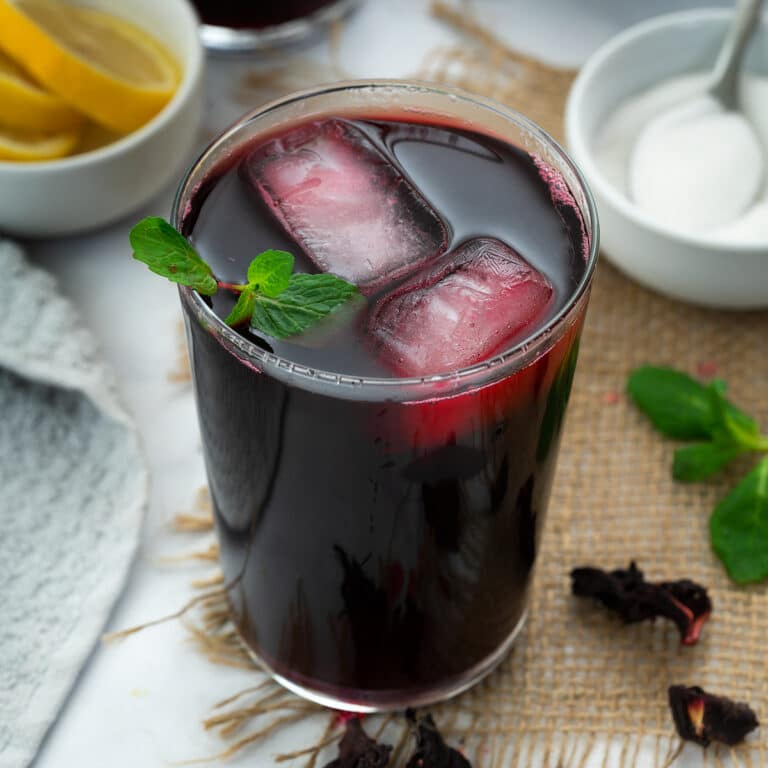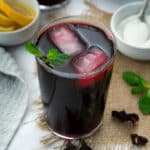 Hibiscus Tea (Agua De Jamaica)
Hibiscus Tea, or Agua De Jamaica, is a refreshing Mexican drink with a sweet and tart flavor, made from dried hibiscus flowers, lemon, ginger, cinnamon, and sugar. Perfect as a detox drink, it's great for cooling down in summer or warming up in winter, and it's packed with health benefits.
Subscribe
print (text-only)
email
pin
review
save
saved!
Ingredients
3

cups

Water

1

tsp

Ginger

2

Lemon slices

½

Cinnamon Stick

,

small

2

tbsp

Sugar

¼

cup

Dried Hibiscus Flower
More on Unit Conversions »
Instructions
To make Hibiscus Tea (Agua De Jamaica)
In a saucepan, combine 3 cups of water with ginger, lemon slices, cinnamon sticks, and sugar.

Bring the mixture to a boil for 2 to 3 minutes, then turn off the heat.

Add the dried hibiscus flowers to the saucepan and stir well.

Cover the saucepan with its lid and let the mixture steep for 5 to 7 minutes.

After steeping, remove the lid and take the saucepan off the heat. Strain the tea and enjoy it hot as it is.

For a delightful iced version, simply add plenty of ice cubes to the tea. Your refreshing Hibiscus Tea is now ready to be enjoyed.
To Serve
Enjoy this healthy Hibiscus Tea hot for a comforting embrace on chilly winter days, or serve it iced for a refreshing cool-down during the warm summer months.
Chef's Notes and Tips
Here are some valuable tips to perfect your Hibiscus Tea:
Enhancing Flavor: While traditional Mexican recipes often use just hibiscus flowers, water, and sugar, adding ginger, cinnamon, and lemon can significantly elevate the tea's taste and aroma.
Adjusting Concentration: For a balanced brew, use ¼ cup of dried hibiscus flowers per 3 cups of water. If you prefer a stronger taste, increase the hibiscus up to ½ cup, but remember to serve the concentrated tea with plenty of ice cubes to dilute it appropriately.
Balancing Tartness with Sweeteners: The natural tartness of Agua De Jamaica can be offset by adding sugar, honey, or other sweeteners, depending on your preference.
Nutrition Info
Serving:
1
cup
|
Calories:
36
kcal
|
Carbohydrates:
10
g
|
Sodium:
10
mg
|
Fiber:
1
g
|
Sugar:
9
g
Disclaimer: We're not nutrition experts. Nutritional info is estimated and should be used as a guide. For precise details, consult a professional.
Discover our diverse range of Mexican and seasonal drink recipes, perfect for every season. From authentic Mexican beverages ideal for any gathering to classic winter warmers for chilly days, our collection has it all. Tea enthusiasts will also delight in our cozy tea recipes, crafted to bring extra warmth and comfort to your daily routine.
Storage and Serving Suggestions
To maintain the freshness and flavor of Hibiscus Tea:
Storage: Keep the tea in an airtight pitcher and refrigerate it. It stays fresh for about 3 to 4 days. For optimal freshness, it's recommended to strain the tea before storing.
Serving: Enjoy this versatile tea according to the weather. Serve it hot to provide comforting warmth on chilly days, or chilled with plenty of ice cubes for a thirst-quenching, cool beverage during the hot summer. This flexibility makes Hibiscus Tea a perfect drink for any season.
Benefits Of Hibiscus Tea
Hibiscus Tea is renowned for its health benefits, as supported by various studies. Key advantages include:
Reducing High Blood Pressure: Research by the NCBI US National Institute of Health indicates that Hibiscus Tea can help lower the risk of hypertension when consumed in recommended amounts.
Lowering Bad Cholesterol: It's effective in reducing bad cholesterol levels, thereby promoting heart health.
Improving Cardiovascular Health: Regular consumption can enhance overall cardiovascular wellness.
Rich in Antioxidants: According to Healthline, Hibiscus Tea is packed with antioxidants that prevent cell damage.
Promoting Liver Health: It aids in detoxifying enzymes, thus supporting liver function.
Weight Loss Aid: Its properties can also contribute to weight loss efforts.
Incorporating Hibiscus Tea into your diet can offer these varied health benefits, making it a valuable addition to a healthy lifestyle.
Side Effects
While Hibiscus Tea is beneficial for health, it's important to consider potential side effects, especially when consumed in excess. According to WebMD:
Digestive Issues: Overindulgence may lead to gas, constipation, and stomach upset.
Not Recommended During Pregnancy: Its consumption during pregnancy is discouraged as it might stimulate the menstrual cycle and affect pregnancy.
Caution During Breastfeeding: The safety of Hibiscus Tea for breastfeeding mothers is unclear, suggesting avoidance.
Surgical Concerns: Refrain from consuming Hibiscus Tea before, during, and after surgery to prevent potential complications.
Uncertain for Children: The effects on children under 12 years are not well-documented.
Given these concerns, it's advisable to consume Hibiscus Tea in moderation. For specific health conditions or if you're under special circumstances like pregnancy or post-surgery recovery, seeking professional medical advice before consuming Hibiscus Tea is recommended to ensure safety and well-being.