Welcome to our world of the best tea recipes! In this post, you will find a collection of tea recipes from all around the world. We have something for every taste and occasion, whether you're in the mood for a refreshing iced tea on a hot summer day or a cozy, spiced chai to warm you up on a cold winter evening.
First, let's start with some classic bubble tea recipes. Bubble tea, also known as boba milk tea, is a Taiwanese tea-based drink that has gained widespread popularity in recent years. It typically consists of black or green tea, milk, and chewy tapioca balls, also known as "boba." We have several variations for you to try, including taro milk tea, strawberry milk bubble tea, and brown sugar milk bubble tea.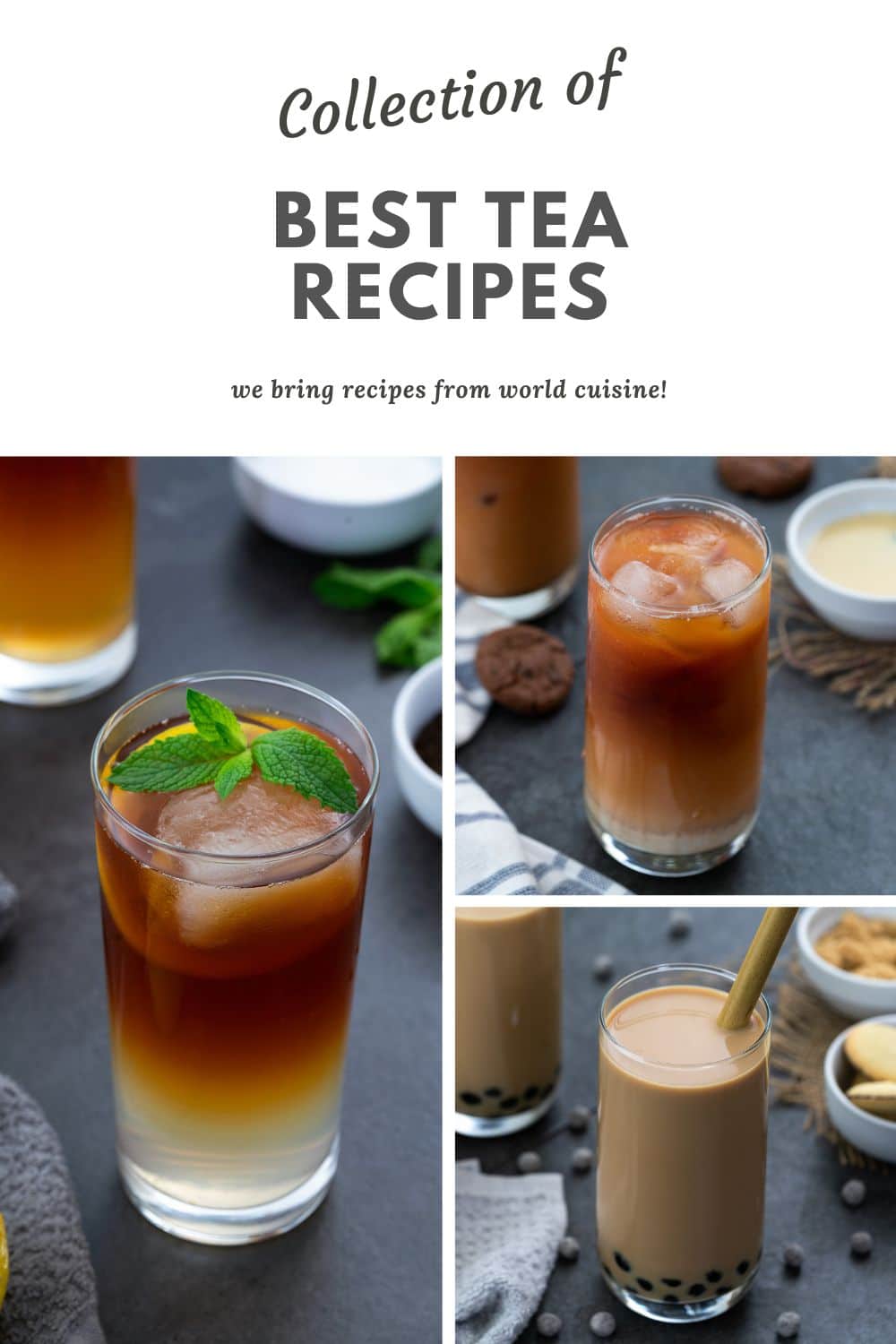 Jump to:
Next, we have a few international favorites, such as Thai iced tea, a sweet and creamy beverage made with strong black tea, spices, and coconut milk, and sweet tea, a Southern US classic made with black tea, sugar, and water. We've also included a recipe for the Arnold Palmer drink, a refreshing blend of iced tea and lemonade.
For those who prefer a more aromatic and spiced tea experience, we have several chai recipes to choose from. Chai, which means "tea" in Hindi, is a traditional Indian beverage made with black tea, milk, and a blend of spices such as cardamom, ginger, and cinnamon. We have a recipe for masala chai, as well as a recipe for making your own chai masala spice blend. We've also included a copycat recipe for Starbucks' popular chai tea latte, and a recipe for dirty chai latte, a spicy and caffeinated twist on the classic chai latte.
Finally, we have a selection of herbal and wellness teas, such as lemon ginger tea, mint tea, ginger tea, turmeric tea, honey lemon tea, and hibiscus tea. We've also included a recipe for barley tea, or boricha, a popular Korean beverage made with roasted barley grains. Each of these teas has its own unique flavor and potential health benefits, so be sure to give them a try!
We hope you enjoy trying out these delicious and diverse tea recipes! Whether you're a seasoned tea connoisseur or a newcomer to the world of tea, we're confident you'll find something to suit your taste. Happy sipping!
You can also find similar collections below and more at Recipe Collections.