Detoxing is a popular way to cleanse the body and improve overall health. There are many different methods and techniques that can be used to detox, and one of the most effective is through the use of specially crafted drinks. These detox drinks can help to support the body's natural detoxification processes and provide a convenient way to consume a variety of nutrients.
In this post, we will be sharing with you some of the best detox drink recipes, grouped into categories for easy reference. From refreshing juices to soothing teas and other nourishing drinks, these recipes are sure to become a staple in your healthy lifestyle.
Juices: Juices are a great way to get a concentrated dose of nutrients and make it easy to consume a variety of vegetables and fruits in one serving. Some of the top detox juices include green juice, made from leafy greens and other vegetables; pineapple juice, packed with vitamin C and bromelain; cucumber juice, a hydrating and alkalizing choice; and beetroot juice, a rich source of nitrates.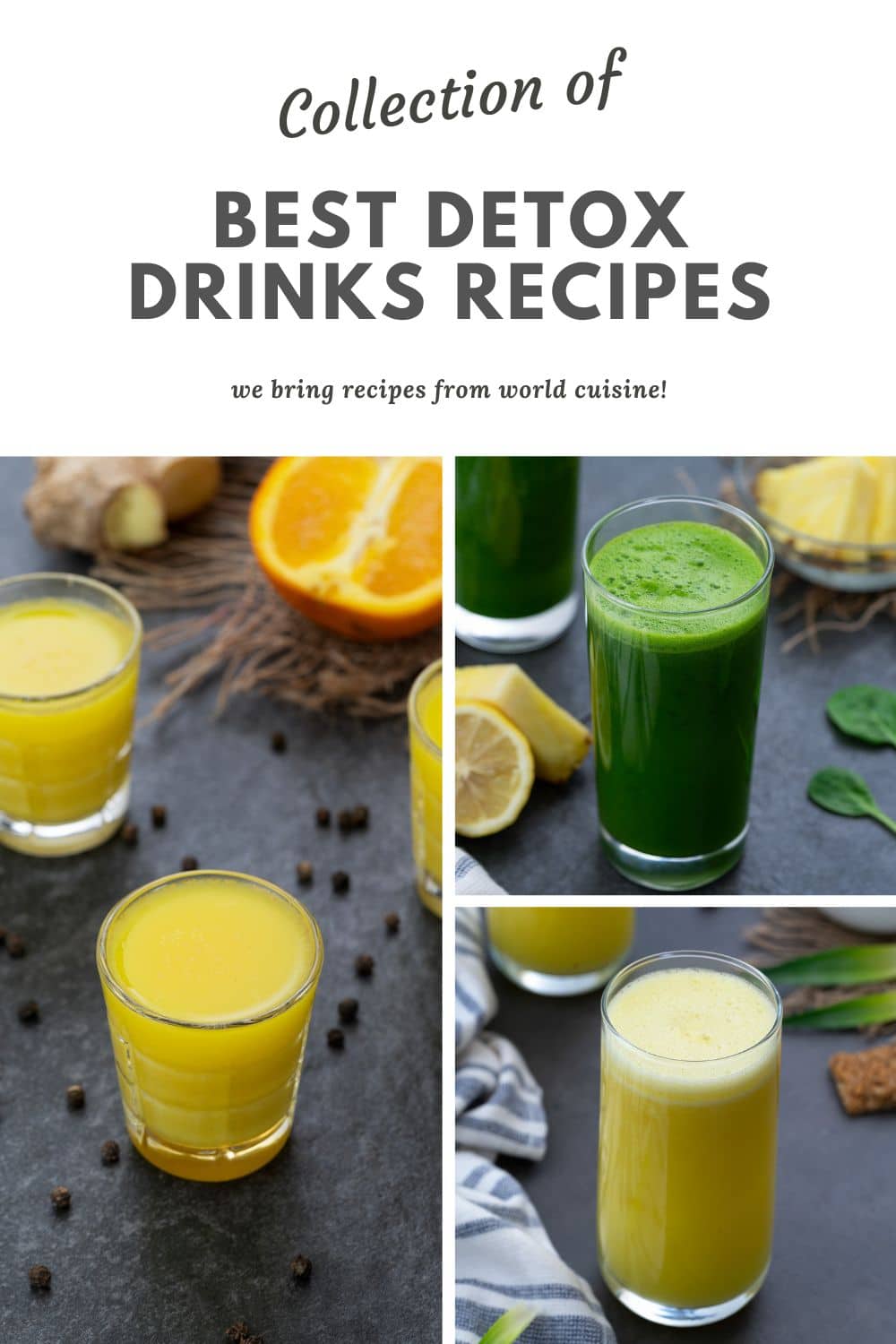 Jump to:
Teas: Teas are a soothing and relaxing way to support the body's natural detoxification processes. Some of the best detox teas include ginger tea, known for its digestive and immune-boosting properties; turmeric tea, with its anti-inflammatory benefits; and hibiscus tea, a refreshing and floral-tasting beverage that is high in antioxidants.
Other drinks: In addition to juices and teas, there are several other detox drinks that are worth trying. These include golden milk, a creamy and comforting drink with antioxidant and anti-inflammatory benefits; barley tea, a traditional Korean drink made from roasted barley that aids digestion and reduces inflammation.
Lemon ginger water, a simple and refreshing drink that supports digestion and hydration; and lemon water, which can help to kickstart digestion and promote detoxification when consumed on an empty stomach in the morning. Ginger shots and turmeric shots are also popular options for a quick and convenient way to get the benefits of these potent spices.
So let's get started and explore some of the top detox drink recipes out there!
You can also find similar collections below and more at Recipe Collections.