Revitalize your mornings with homemade Beetroot Juice – it's simple, wholesome, and brimming with benefits. Just blend beets, apples, cucumber, lemon juice, and ginger for a delicious health boost. It's perfect for weight management and increasing stamina, ideal for sipping on an empty stomach.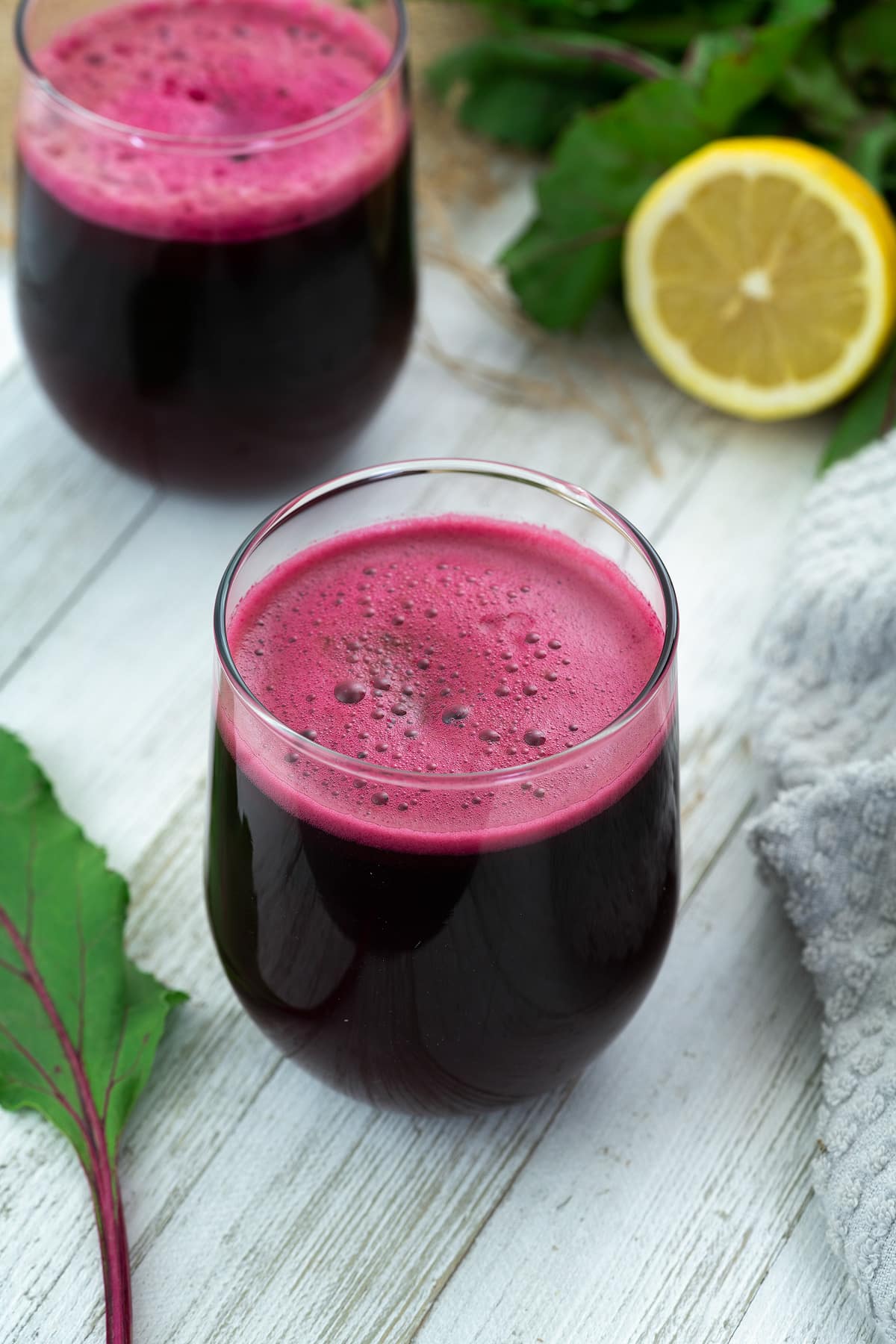 Jump to:
Plus, it's a refreshing alternative to sugary drinks, especially in the summer. Ready in minutes with your kitchen blender or juicer, enjoy the fresh, vibrant flavor of pure wellbeing!
Discover more nutritious juice blends.
Ingredients Overview
To whip up this nutritious Beetroot Juice, you'll need a few fresh staples that are easily found in any local grocery store. Here's what you'll be looking for: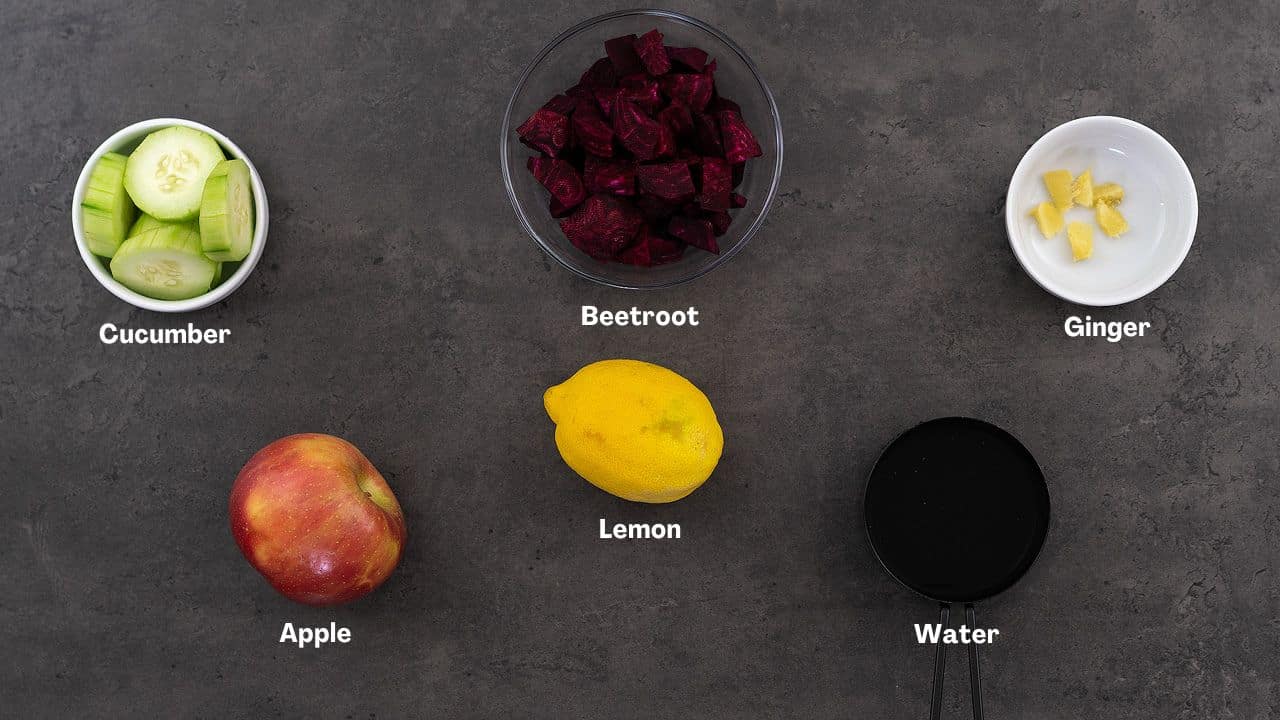 Beetroot: Packed with vitamins, minerals, and antioxidants, this root vegetable is the star of the juice, offering a wealth of health benefits.
Cucumber: High in water content, cucumber ensures your juice is hydrating and refreshing.
Apple: Adds a natural sweetness to your drink, balancing the flavors beautifully.
Ginger: Aids digestion and adds a subtle warmth and spice to the mix.
Lemon Juice: Gives your juice a zesty twist, brightening the flavors.
Water: Use filtered water to combine all your ingredients into a smooth, delightful juice.
How to make Beetroot Juice?
Get ready to blend a batch of refreshing Beetroot Juice! Our photos and video make it easy to follow along. Here's how to do it: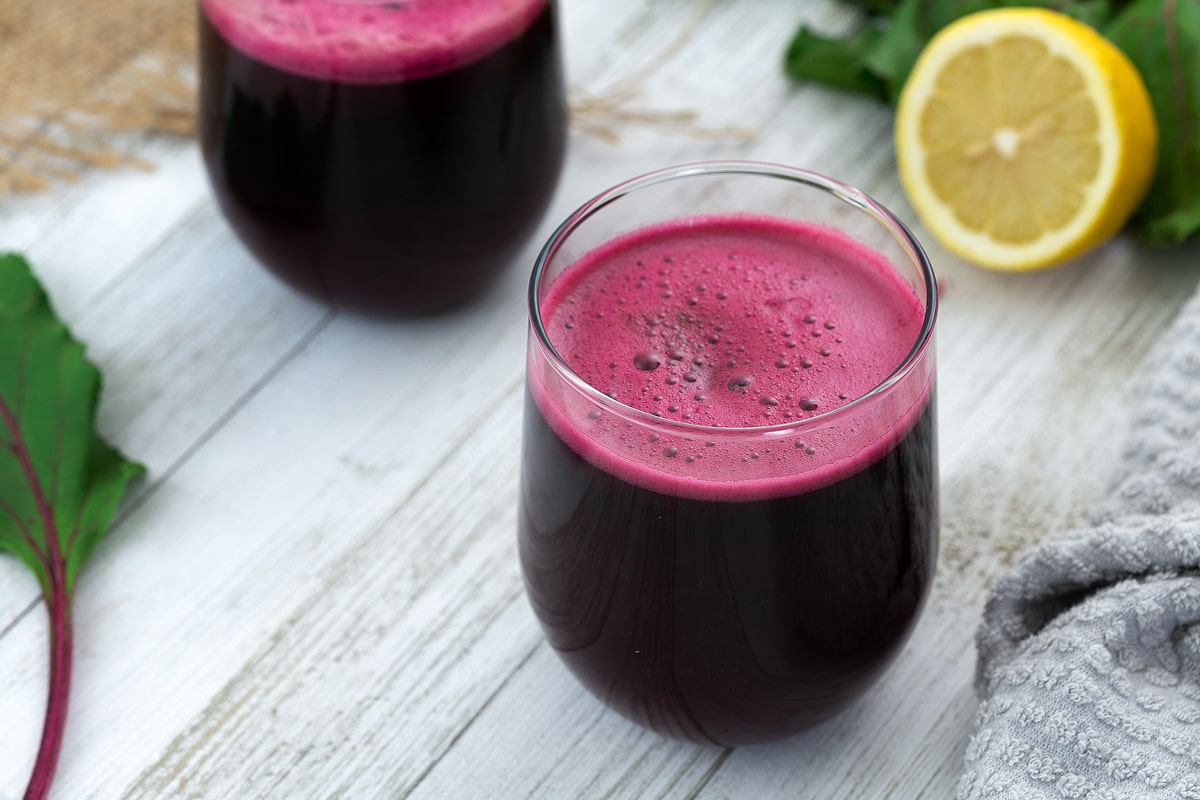 Dive into a Variety of Wholesome Beverages: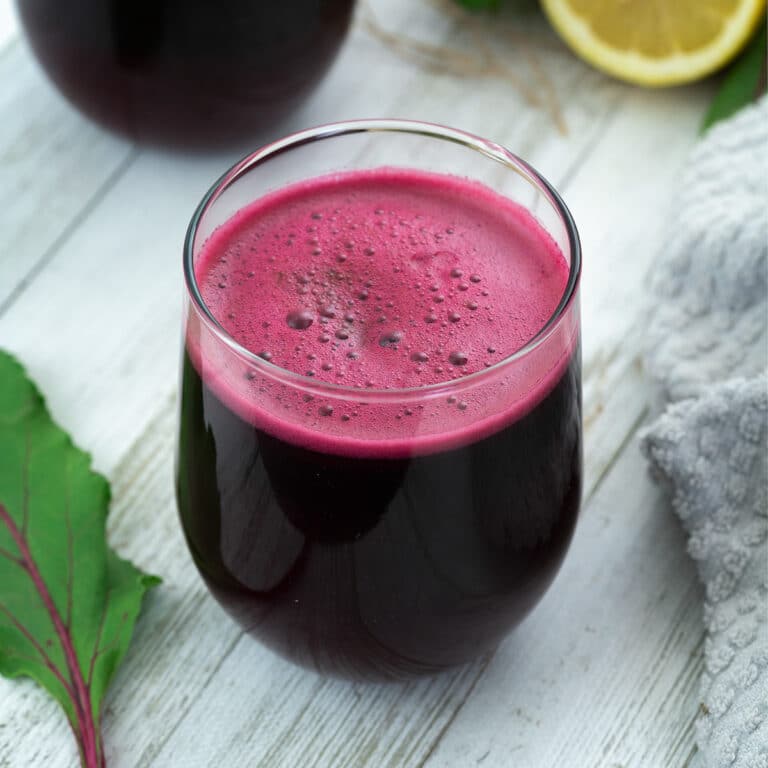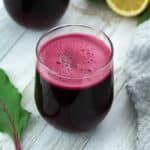 Beetroot Juice
Energize your day with Beetroot Juice, a delicious blend of fresh beets, apple, cucumber, and a zest of lemon and ginger. It's more than just a tasty drink; it's a health kick that supports weight loss, reduces blood pressure, and boosts your workout stamina. Refreshing and nutrient-packed, it's wellness in a glass!
Subscribe
print (text-only)
email
pin
review
save
saved!
Ingredients
1

cup

Beet

,

chopped, 2 medium size

¼

cup

Apple

,

chopped, ½ medium size apple

½

cup

Cucumber

,

chopped, ½ medium size

1½

cup

Water

¼

tsp

Ginger

,

chopped

1

tbsp

Lemon Juice

,

freshly squeezed
More on Unit Conversions »
Instructions
To make Beetroot Juice
Start by placing the chopped beetroot, apple, cucumber, and ginger into your blender. Pour in the lemon juice and water.

Secure the lid and blend until the mixture is completely smooth.

After blending, strain the mixture through a fine mesh to separate the juice. Use a spoon to press and extract as much liquid as possible.

Pour the freshly strained juice into a glass, and it's ready to be enjoyed!
To Serve
Enjoy this wholesome Beetroot Juice first thing in the morning to kick-start your day with a detoxifying cleanse, allowing you to absorb the full spectrum of its health benefits.
Chef's Notes and Tips
Balance the Flavor: While beets are sweet, they can have an earthy taste. For a well-rounded flavor, mix in apples, cucumber, and lemon juice.
Strain for Smoothness: To achieve a silky texture, strain your juice after blending. If you prefer, you can also enjoy it unfiltered for an extra fiber boost.
Optimal Timing: Drinking this juice first thing in the morning can enhance nutrient absorption, aid in detoxification, and support weight loss efforts.
Nutrition Info
Serving:
1
serving
|
Calories:
43
kcal
|
Carbohydrates:
10
g
|
Protein:
1
g
|
Fat:
0.2
g
|
Saturated Fat:
0.04
g
|
Polyunsaturated Fat:
0.1
g
|
Monounsaturated Fat:
0.02
g
|
Sodium:
63
mg
|
Potassium:
292
mg
|
Fiber:
3
g
|
Sugar:
7
g
|
Vitamin A:
55
IU
|
Vitamin C:
8
mg
|
Calcium:
22
mg
|
Iron:
1
mg
Disclaimer: We're not nutrition experts. Nutritional info is estimated and should be used as a guide. For precise details, consult a professional.
For a wider array of delicious and nutritious juice recipes, be sure to visit our full collection. There's a blend for every taste and health need!
Benefits & Side Effects
Beetroot juice is not only a vibrant addition to your diet but also a powerhouse of health benefits. According to Healthline:
Blood Pressure Control: Beetroot juice can help lower blood pressure levels, promoting cardiovascular health.
Enhanced Physical Performance: Regular consumption can boost stamina, making your workouts more effective.
Potassium-Rich: Essential for heart health, potassium is plentiful in beetroot juice.
Mineral-Packed: A range of minerals in beets support the immune system, and maintain healthy teeth and bones.
Liver Health: The antioxidants in beets aid in keeping the liver functioning properly.
Cholesterol Management: It can contribute to reducing high cholesterol levels.
Diabetes Support: Beetroot juice may have a positive effect on diabetes management.
Adding beetroot juice to your daily regimen offers a myriad of health perks, enhancing everything from heart health to physical stamina. Yet, it's wise to be aware of its potential side effects. For a comprehensive understanding of these, consider visiting WebMD.
For the most accurate information, always consult a healthcare professional, especially if you have specific health conditions or concerns.