Taro Milk Tea, also known as Taro Bubble Tea, is a Taiwanese delicacy that boasts a unique purple hue. This creamy, sweet beverage blends the distinct flavors of Taro Root with your choice of black or green tea, enriched with milk and tapioca pearls. Whether you enjoy it warm to beat the winter chill or as a refreshing iced drink during summer, its versatility is a delight.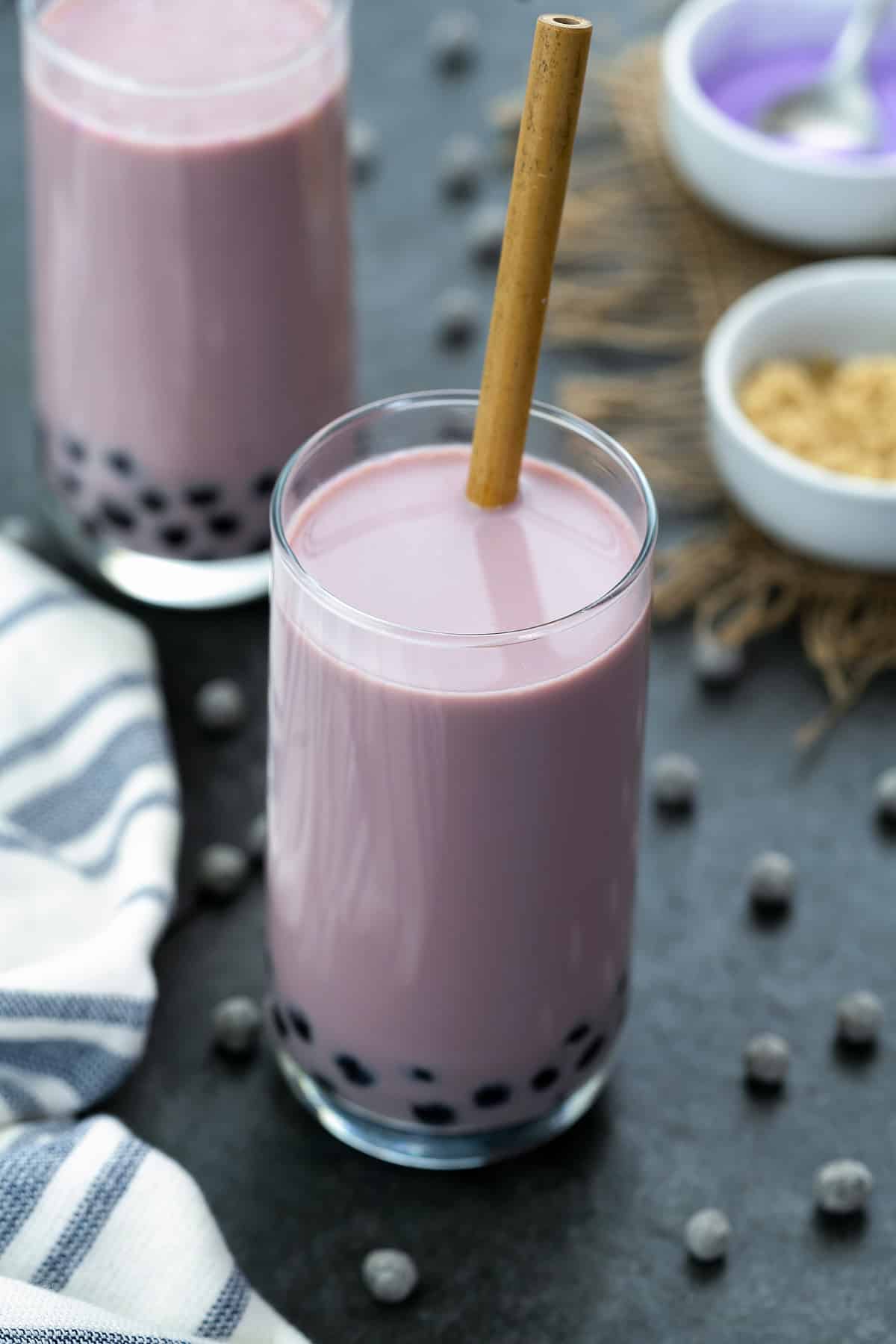 Jump to:
While this recipe primarily uses Taro Root Powder for convenience, opting for fresh Taro Root adds a notable starchiness to its texture, enhancing the experience. As a variant of the popular Bubble Tea, this Taro Boba Milk Tea recipe allows for personalization to suit your taste preferences.
Ingredients Overview
Let's start by exploring the core ingredients that go into crafting Taro Milk Tea, all of which you can easily find at your local Asian stores or conveniently order online.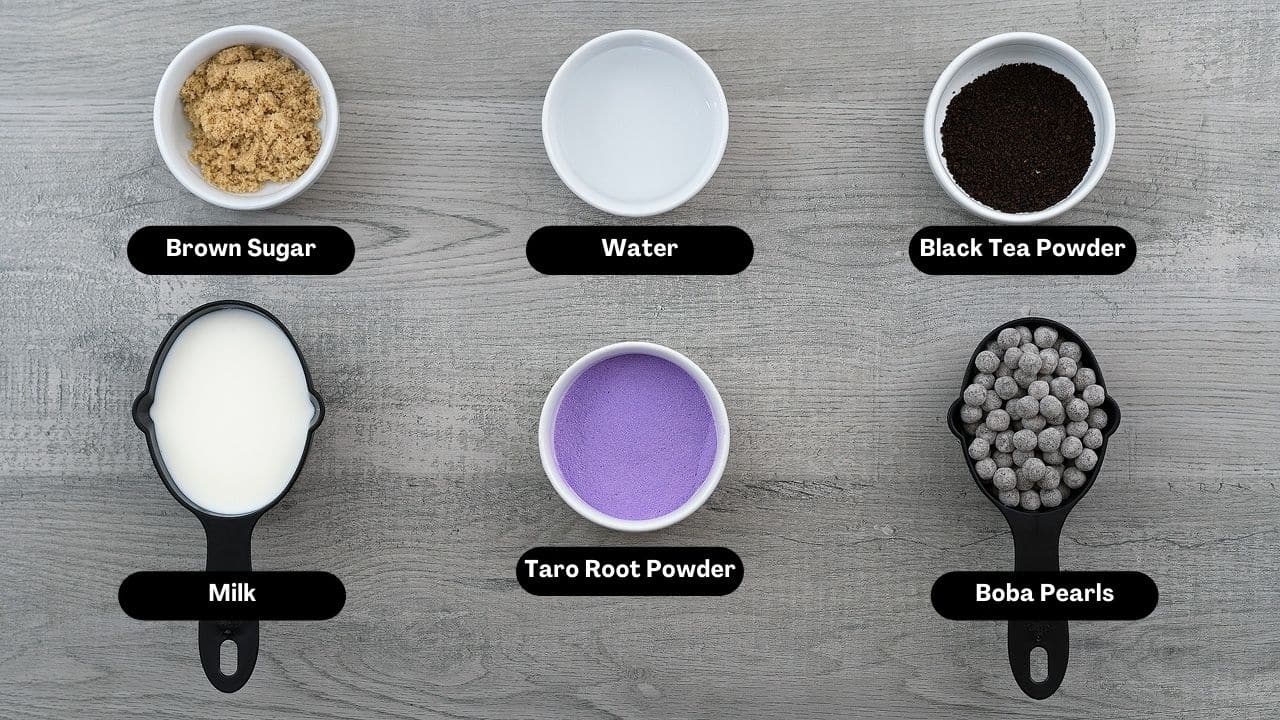 Taro Root or Taro Root Powder: While fresh Taro roots can be found in most Asian stores, Taro Root Powder is a convenient alternative, widely available online. If you choose fresh Taro Root, refer to the tips section for usage guidance.
Boba Pearls: Instant black sugar Boba pearls are used here, known for their quick cooking time, usually under 10 minutes.
Black or Green Tea: While traditional Taro Milk Tea often omits tea, adding brewed black or green tea can balance the sweetness of the Taro. Loose leaf black tea is used in this recipe, but green tea is a suitable alternative.
Milk: Opt for full-fat milk or half-and-half to impart a rich, creamy texture to your Boba drink.
Sweetener: A modest amount of brown sugar is recommended. However, adjust according to your taste, especially considering that store-bought Taro powder may already contain sweeteners.
How to make Taro Milk Tea?
Begin your delectable adventure into the world of Taro Milk Tea with our straightforward recipe. Follow each step with the help of engaging photos and a comprehensive video guide. Let's get started: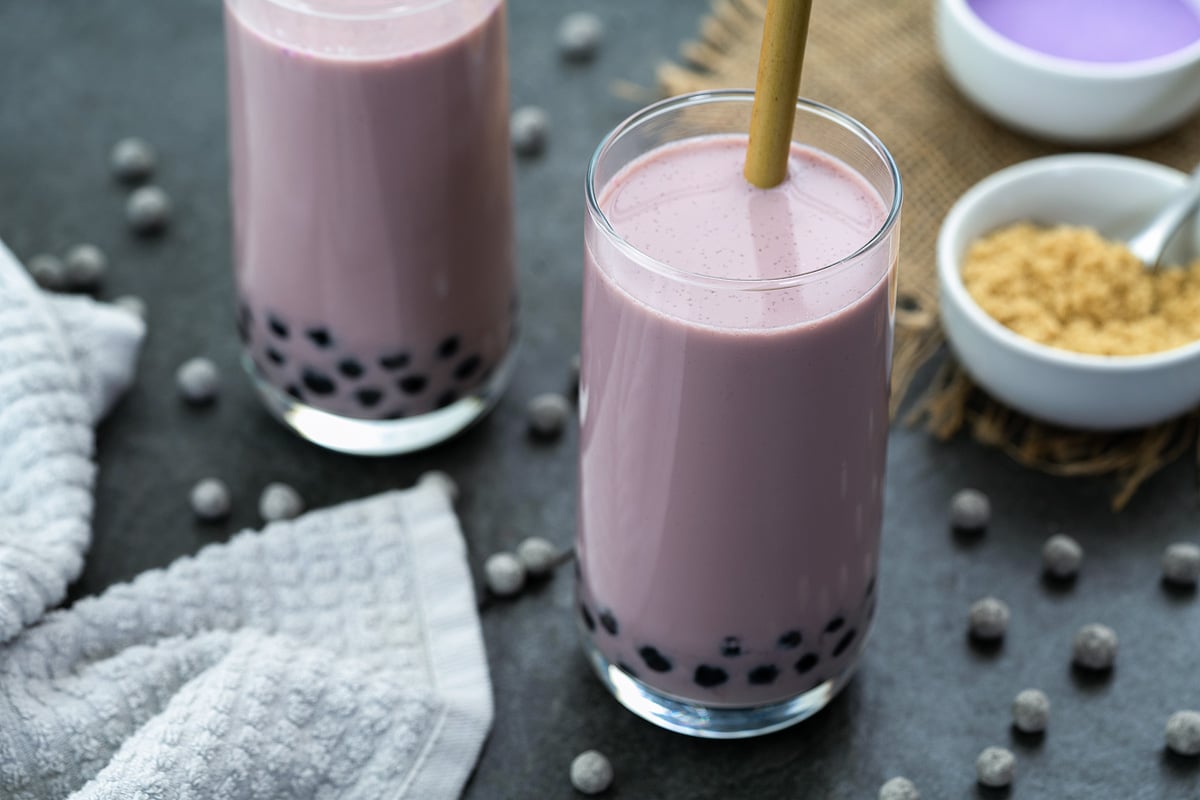 Discover Tea Recipes from Around the World: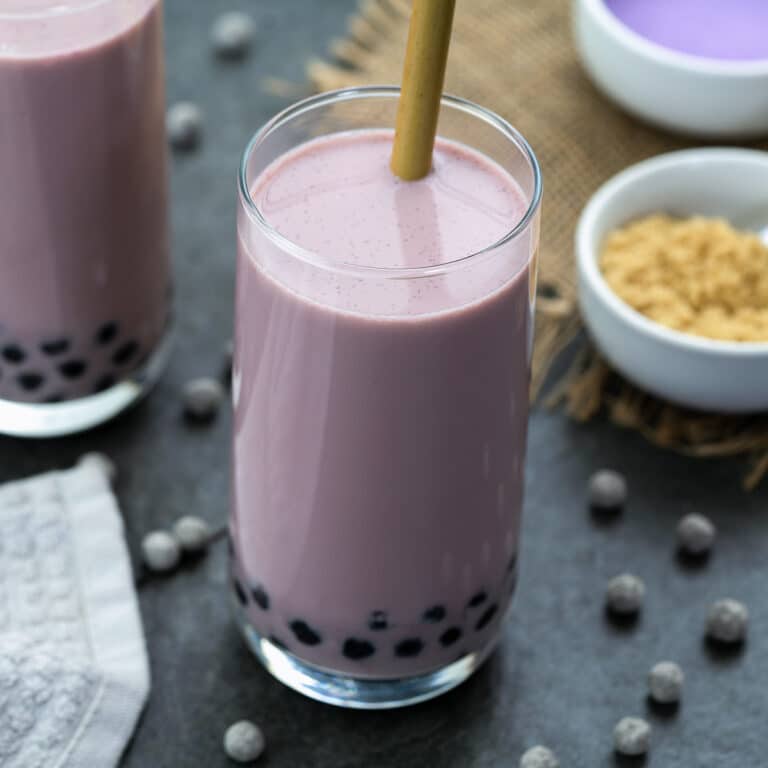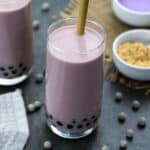 Taro Milk Tea (Taro Bubble Tea)
Taro Milk Tea, also called Taro Bubble Tea, is a sweet and creamy Taiwanese drink with a delightful purple hue. It's made using Taro Root Powder, milk, and your choice of black or green tea, along with black Boba pearls. Enjoy it hot in winter or iced in summer.
Subscribe
print (text-only)
email
pin
review
save
saved!
Ingredients
½

cup

Black Boba

,

instant

1

tsp

Black Tea

,

loose-leaf or green tea

1

cup

Milk

5

cups

Water

,

3 cups for cooking boba + 2 cups for tea

1

tsp

Brown Sugar

2

tsp

Taro Root Powder
More on Unit Conversions »
Instructions
To make Taro Milk Tea (Taro Bubble Tea)
Start by heating water in a pan over medium heat until it comes to a slight boil. Then, add the black sugar Boba pearls and let them boil for 2 minutes.

Reduce the heat to a simmer and cover the pan with its lid. Allow the Boba pearls to cook until they double in size.

Once cooked, remove the Boba pearls from the water and set them aside for later use. You can also keep them in the water to prevent them from getting sticky.

In another saucepan over medium heat, add water and black or green tea leaves. Brew the tea for 2 to 3 minutes, then remove it from heat and set it aside. If you prefer a tea-free version, you can skip this step.

In a mug, pour warm milk and add 2 tsp of Taro root powder. Mix until well incorporated.

In a serving glass, add the Boba pearls, brown sugar, and strain the brewed tea.

Finally, pour the prepared Taro milk into the glass and give it a good mix. Your delicious Taro Milk Tea is now ready to be savored and enjoyed.
To Serve
Indulge in the delightful sweetness and creaminess of Taro Milk Tea. Enjoy it warm to chase away the winter chill or iced for a refreshing sip on hot summer days.
Chef's Notes and Tips
Here are some helpful tips for perfecting your Taro Milk Tea:
Creamy Texture: Achieve a rich and creamy texture by using full-fat milk or half and half. However, feel free to use your preferred type of milk.
Tea Selection: While black brewed tea is used in this recipe, you can also opt for green tea leaves to achieve a similar flavor profile.
Caffeine-Free Option: For a caffeine-free version, skip the tea altogether and enjoy the delightful combination of Taro Milk and Boba pearls.
Fresh Taro Root: If you choose to use fresh Taro root, peel and cook it until it becomes fork-tender. Mash it thoroughly into the milk, add your preferred sweetener, and incorporate Boba pearls to savor the authentic taste of the drink.
Sweetener Choice: A minimal amount of brown sugar is used in this recipe, considering that both the Boba and Taro powder are already sweetened. However, you can use your choice of sweetener. Condensed milk is also an option for those seeking an extra sweet treat.
Nutrition Info
Serving:
1
cup
|
Calories:
108
kcal
|
Carbohydrates:
17
g
|
Protein:
4
g
|
Fat:
2
g
|
Saturated Fat:
2
g
|
Polyunsaturated Fat:
1
g
|
Cholesterol:
10
mg
|
Sodium:
67
mg
|
Sugar:
11
g
Disclaimer: We're not nutrition experts. Nutritional info is estimated and should be used as a guide. For precise details, consult a professional.
Explore a world of tea recipes, spanning from revitalizing summer coolers to cozy winter brews. Discover the perfect tea for every seasonal sip.
Storage and Serving Suggestions
This Taro Milk Tea is best enjoyed immediately, whether hot or iced. If planning to serve it as an iced beverage later, refrigerate it, but avoid storing it for more than 4 hours. Taro powder tends to lose its freshness and flavor over time.
Serve your Taro Milk Tea or Bubble Tea with ample ice cubes for a refreshing experience. If you prefer the hot version, consider adding extra frothed milk for a creamy touch. Enjoy!