Golden Milk, or Turmeric Milk, is a cherished Indian beverage, renowned for its detoxifying and anti-inflammatory properties. Crafted with a blend of turmeric, ginger, pepper, and other Indian spices, this latte-like drink is quick and easy to prepare, taking less than 10 minutes. Ideal for mornings or as a nighttime beverage, it promotes relaxation and sound sleep.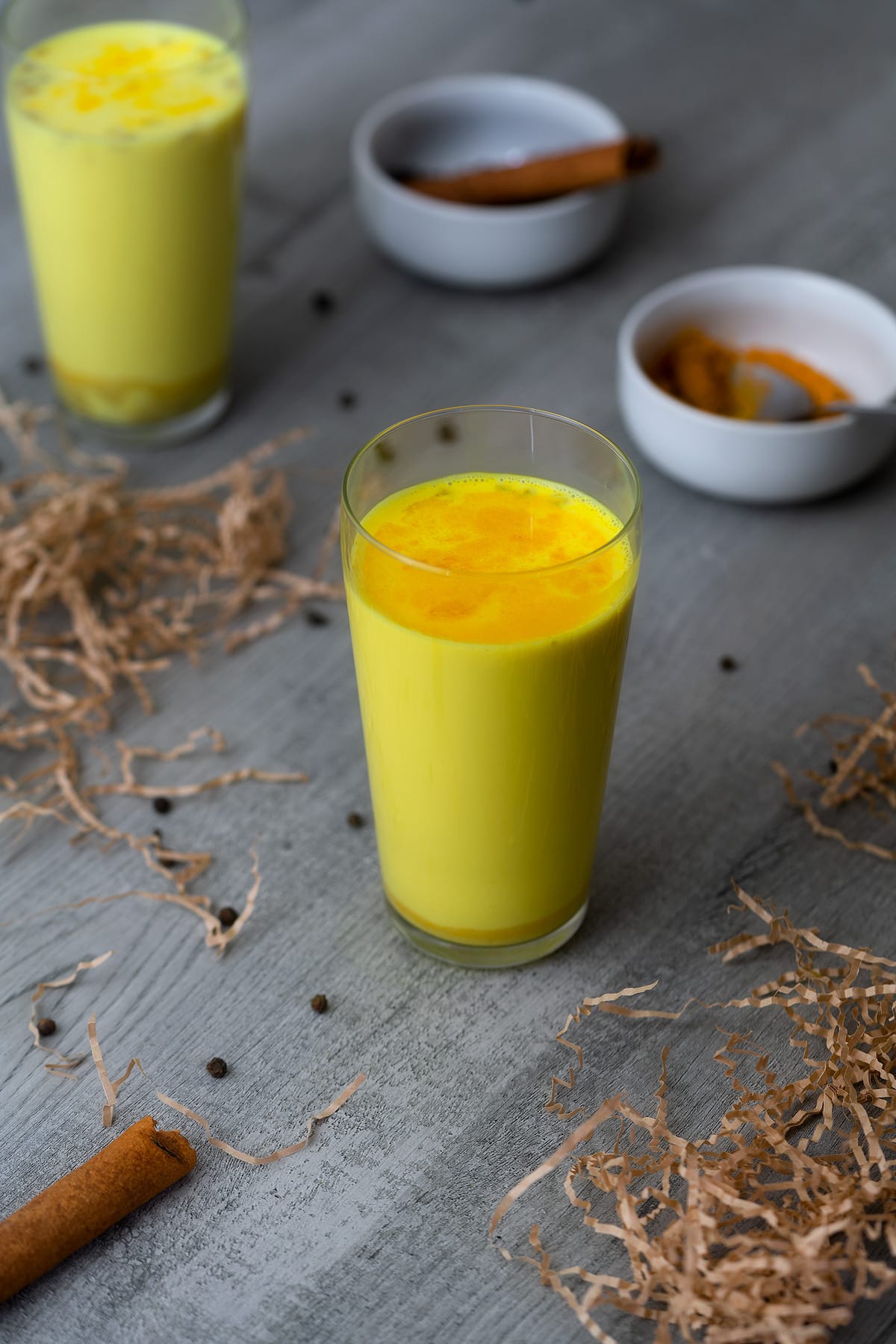 Jump to:
With its roots in India, this drink, also known as 'Haldi Doodh' in Hindi, has been a traditional remedy for colds, coughs, and digestive discomfort. Its popularity has grown in the West, where it's appreciated as a healthful, caffeine-free alternative. This recipe, a family favorite passed down through generations, offers soothing relief for sore throats and relaxation after stressful days.
Discover More Healthy and Tea Recipes.
Ingredients and Substitutions Overview
To create this nourishing Golden Milk, you'll need some simple ingredients, all of which are commonly found in grocery stores. Let's take a look at what you'll need!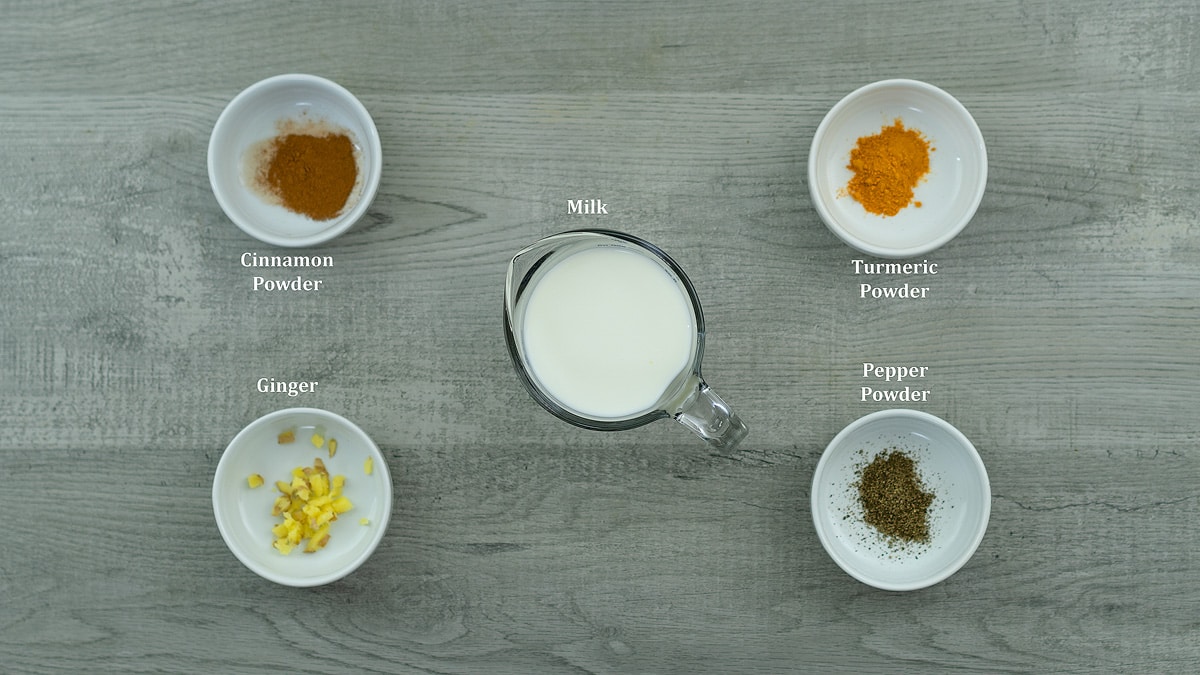 Milk: I prefer full-fat cow's milk for its rich texture. Alternatively, use fat-free milk for a lighter variant or cashew, almond, coconut, or oat milk for a vegan-friendly version.
Turmeric Powder: Freshly ground turmeric powder or grated turmeric roots are ideal. No specific substitution is suggested here as turmeric is the key ingredient.
Pepper Powder: Use freshly ground pepper powder or crushed peppercorns. No substitution is provided for this ingredient as its unique flavor is essential.
Cinnamon Powder: I use cinnamon powder, but cinnamon sticks can also be used if powder is unavailable.
Ginger: Freshly chopped ginger adds a distinctive spicy warmth. If fresh ginger is unavailable, dry ginger powder is a suitable substitute.
How to make Golden Milk at Home?
Dive into the vibrant world of Golden Milk with this easy-to-follow recipe. Accompanied by photos and a video, each step is visually illustrated to guide you through the process. Let's begin: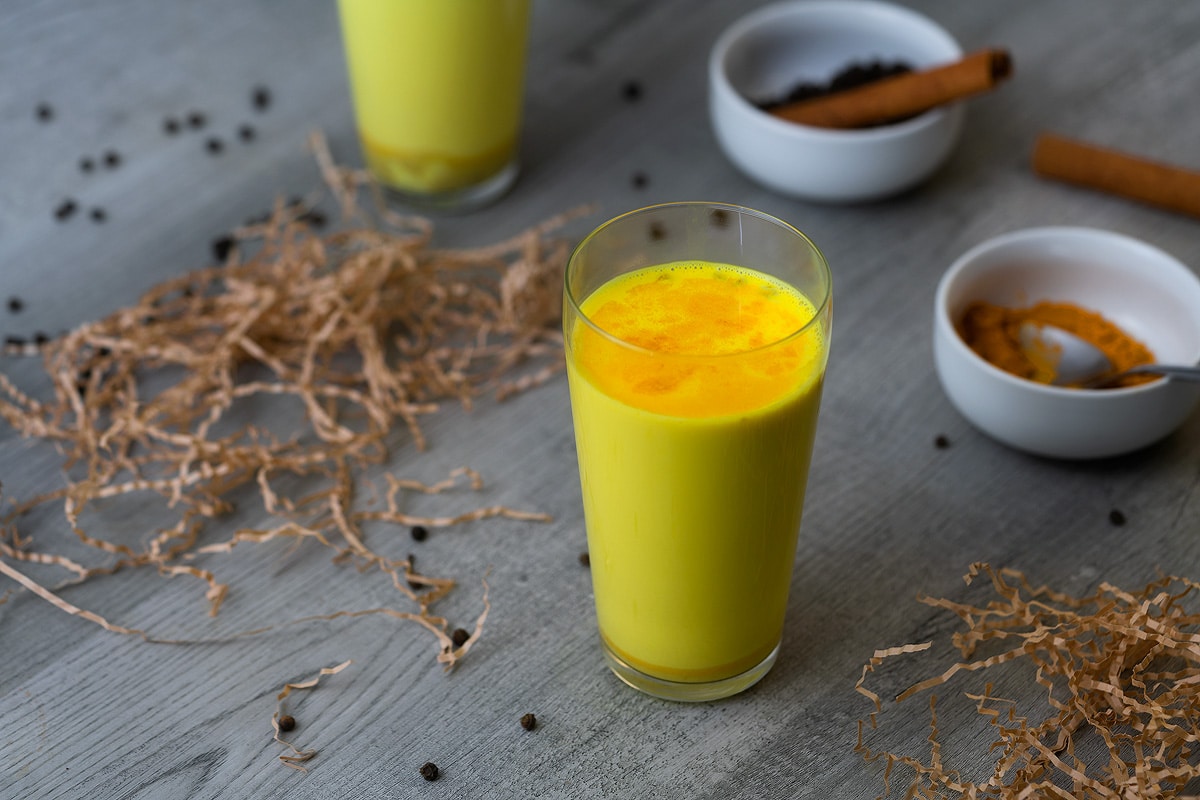 Explore More Healthy and Milk Drinks: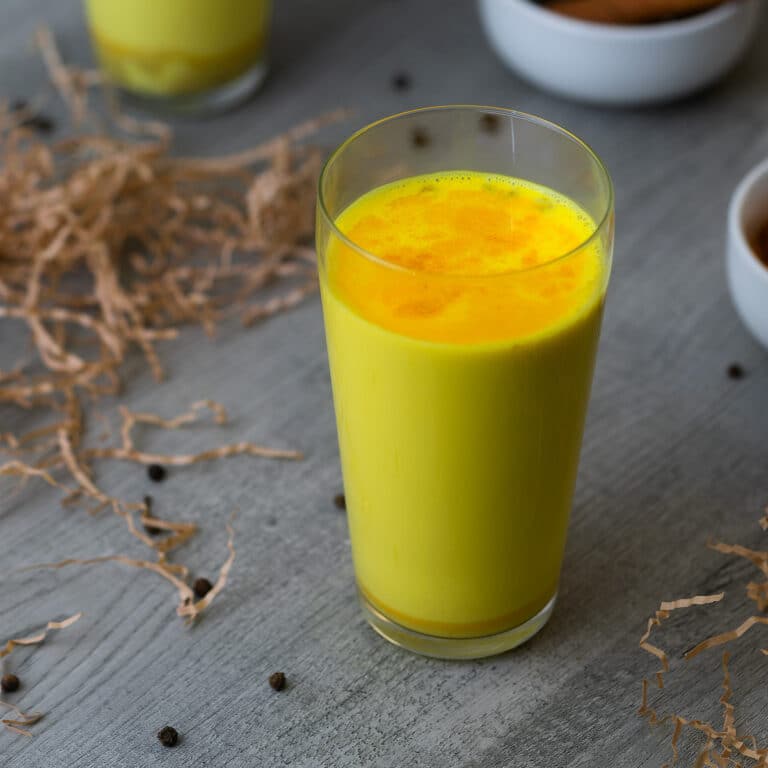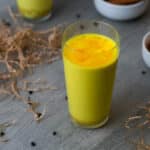 Golden Milk (Turmeric Milk)
Golden Milk, or Turmeric Milk, is a traditional Indian drink made with milk, turmeric, ginger, and other spices. This age-old remedy is known for its health benefits and is commonly enjoyed as a comforting bedtime beverage.
Subscribe
print (text-only)
email
pin
review
save
saved!
Ingredients
2

cup

Milk

½

tsp

Turmeric Powder

¼

tsp

Cinnamon Powder

¼

tsp

Pepper Powder

1

tsp

Ginger

,

chopped
More on Unit Conversions »
Instructions
To Prepare Golden Milk (Turmeric Milk)
Begin by heating the milk in a saucepan over medium heat. Add turmeric powder, cinnamon powder, pepper powder, and chopped ginger to the milk.

Stir the mixture until all the ingredients are well dissolved in the milk.

Allow the milk to simmer for 3 to 5 minutes, stirring occasionally, to ensure even heating and flavor infusion.

Wait for the milk to puff up – a sign that it has fully absorbed the flavors of the added ingredients.

Once ready, remove the saucepan from the heat. Pour the aromatic Golden Milk into a glass, and it's now ready to be savored and enjoyed.
To Serve
Now, serve your freshly prepared Golden Milk warm, allowing its comforting warmth and rich flavors to soothe and relax you.
Chef's Notes and Tips
Tips for Perfect Golden Milk:
Boiling for Benefits: Always boil the ingredients in milk to unlock their full benefits, rather than mixing them in raw milk for cold consumption. If you prefer it cold, boil the ingredients first and then refrigerate.
Flavor Profile: The combination of cinnamon powder, pepper powder, and ginger with turmeric powder creates a spicy and earthy flavor.
Sweetening Options: No sweeteners are used in my recipe, but you can add honey or maple syrup if you find the milk too spicy.
Milk Varieties: While I use cow's milk, non-dairy alternatives like almond, coconut, or oat milk are great for a vegan option.
Hot or Cold: Enjoy this drink hot or cold. For a cold version, boil the ingredients in milk and then chill it.
Ghee Addition: Adding ghee can increase digestive enzymes and improve metabolism.
Golden Milk Latte: To make a Golden Milk Latte, froth the milk and garnish the top layer of the prepared Turmeric Milk.
Nutrition Info
Serving:
1
cup
|
Calories:
130
kcal
|
Carbohydrates:
13
g
|
Protein:
9
g
|
Fat:
5
g
|
Saturated Fat:
3
g
|
Polyunsaturated Fat:
2
g
|
Cholesterol:
20
mg
|
Sodium:
128
mg
Disclaimer: We're not nutrition experts. Nutritional info is estimated and should be used as a guide. For precise details, consult a professional.
Discover our collection of warming winter beverages, from nourishing milk drinks to comforting teas. Each recipe offers a blend of health and flavor, perfect for cozying up on chilly days. Explore and find your favorite winter comfort in a cup!
Storage and Serving Suggestions
Storage: Golden Milk is most flavorful when enjoyed fresh. However, if you have leftovers, they can be stored in the refrigerator for up to two days. For the best taste, gently reheat the milk on the stovetop or in the microwave before serving.
Serving: This versatile drink is perfect for starting your day or as a soothing pre-bedtime beverage. You can savor it with or without a sweetener. For a traditional touch and added benefits, consider sweetening it with honey.
Benefits Of Golden Milk
Incorporating Golden Milk into your daily routine can bring a host of wellness benefits, rooted in Ayurvedic practices:
Rich in Antioxidants: This drink is a powerhouse of antioxidants, which are crucial in fighting off infections and boosting your immune system.
Reduces Inflammation: The anti-inflammatory properties of its ingredients, particularly turmeric, help reduce bodily inflammation, aiding in pain relief and overall health.
Healing Qualities: It's renowned for its healing properties, potentially speeding up the recovery process from various ailments.
Enhances Mood: Regular consumption can positively impact your mood, thanks to the soothing and calming effects of its spices.
Relieves Cold Symptoms: Especially effective in soothing symptoms associated with colds, coughs, and nasal congestion.
Promotes Quality Sleep: A perfect nighttime beverage, it can help in achieving restful and rejuvenating sleep.
For a deeper understanding of these health benefits, consider exploring further resources and studies on the topic.