Welcome to our round-up of coffee recipes from around the world! Whether you're a coffee aficionado looking to try new brewing methods or flavors, or simply a caffeine lover in search of new ways to enjoy your daily cup of joe, this post has something for you. In the following paragraphs, you will find a collection of coffee recipes that will add some variety and excitement to your coffee routine. From classic cold brew to international favorites like Vietnamese coffee and Mexican café de olla, we have a range of recipes to choose from. So let's get started and explore the world of coffee!
First, let's start with a classic: cold brew coffee. This smooth and refreshing coffee method involves brewing coffee grounds with cold water for an extended period of time, resulting in a coffee concentrate that can be mixed with water or milk over ice for a delicious iced coffee.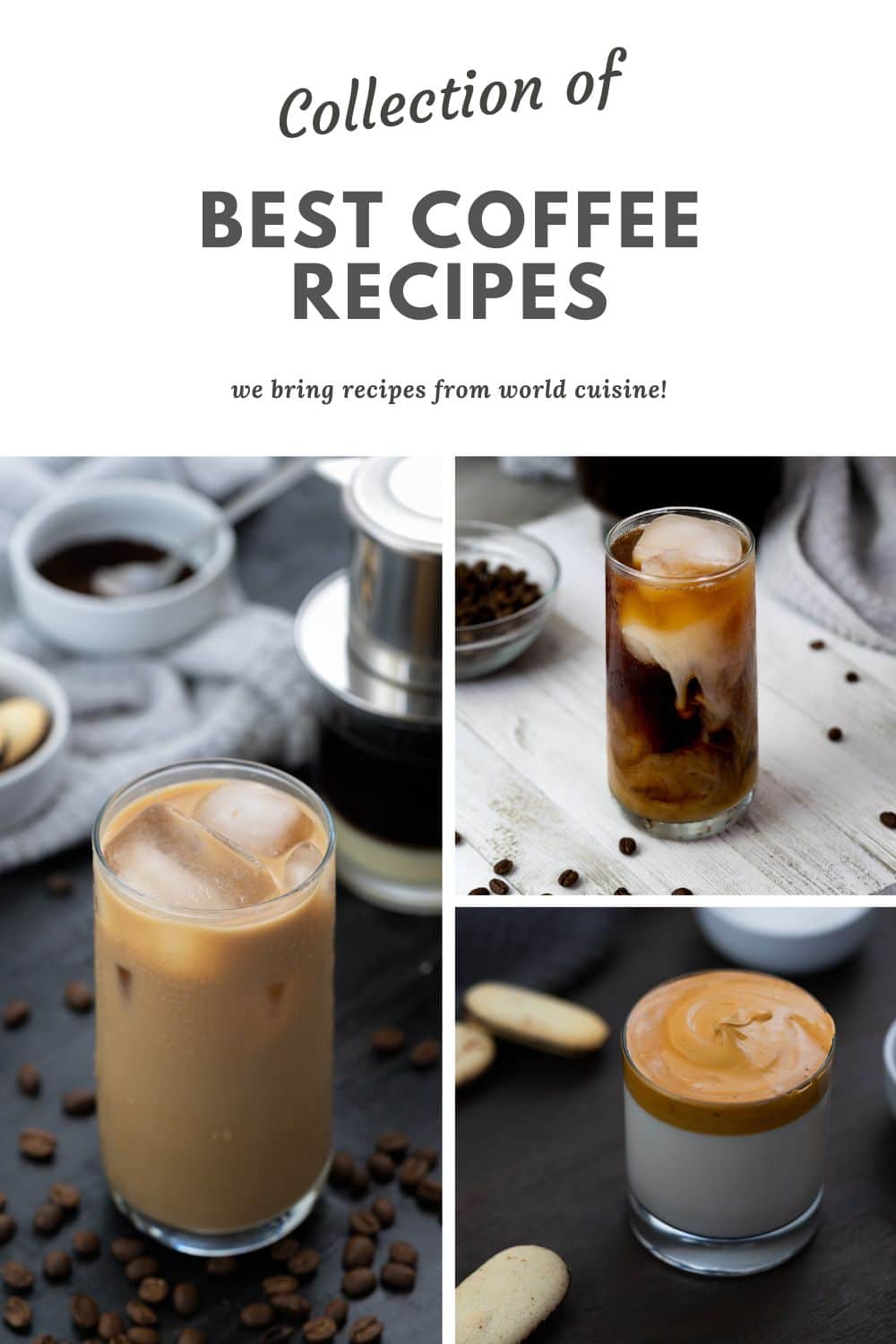 Jump to:
Next, we have a few international favorites, such as Vietnamese coffee, a strong and sweet coffee made with sweetened condensed milk, and café de olla, a Mexican coffee brewed with spices and piloncillo, a type of raw, unrefined cane sugar.
We've also included a recipe for iced coffee, as well as a black coffee recipe that can be enjoyed hot or iced. For those looking for a protein boost, we have an iced coffee protein shake recipe that combines cold brew coffee with protein powder and milk.
If you're in the mood for something a little sweeter, we have several flavored coffee recipes to choose from, including whipped coffee (also known as Dalgona coffee), a viral trend that involves whisking instant coffee, sugar, and water into a creamy foam, and mocha coffee, a chocolate and coffee-flavored beverage made with cocoa powder or chocolate and espresso. We've also included a recipe for the popular pumpkin spice latte, as well as a dirty chai latte, a spicy and caffeinated twist on the classic chai latte.
We hope you enjoy trying out these delicious and diverse coffee recipes! Happy sipping!
You can also find similar collections below and more at Recipe Collections.