Dirty Chai Latte, a delightful blend of traditional Indian masala chai and espresso, offers a warm, spicy, and subtly sweet experience. Enhanced with milk foam and chai masala powder, this homemade version is perfect for cozy winter days or as an iced refreshment during summer. Its popularity extends to global coffee chains like Starbucks, making it a familiar yet unique beverage choice.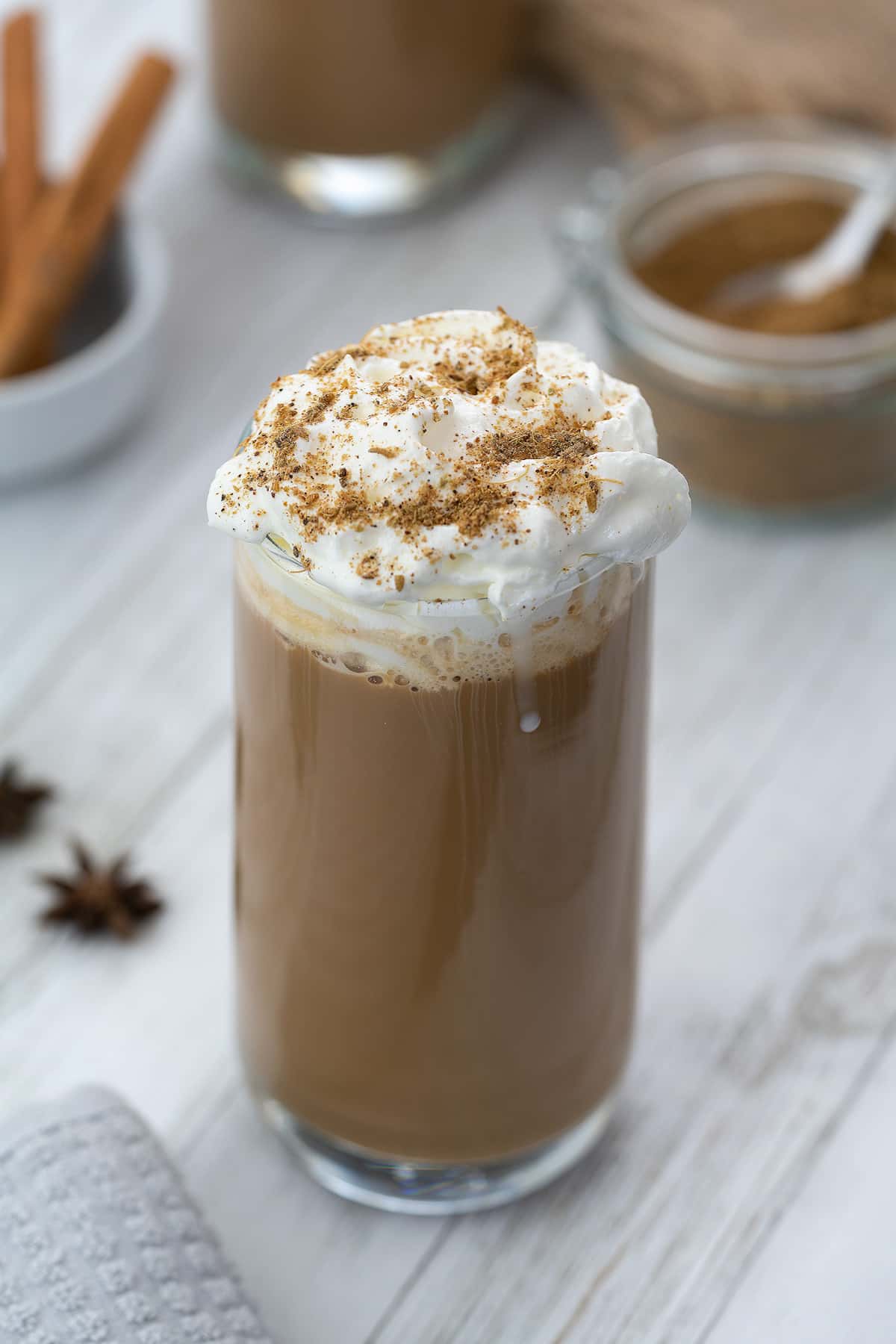 Jump to:
Ingredients Overview
Creating a Dirty Chai Latte is simple with ingredients you're likely to have in your kitchen or can easily find at any local grocery store. Here's what you'll need: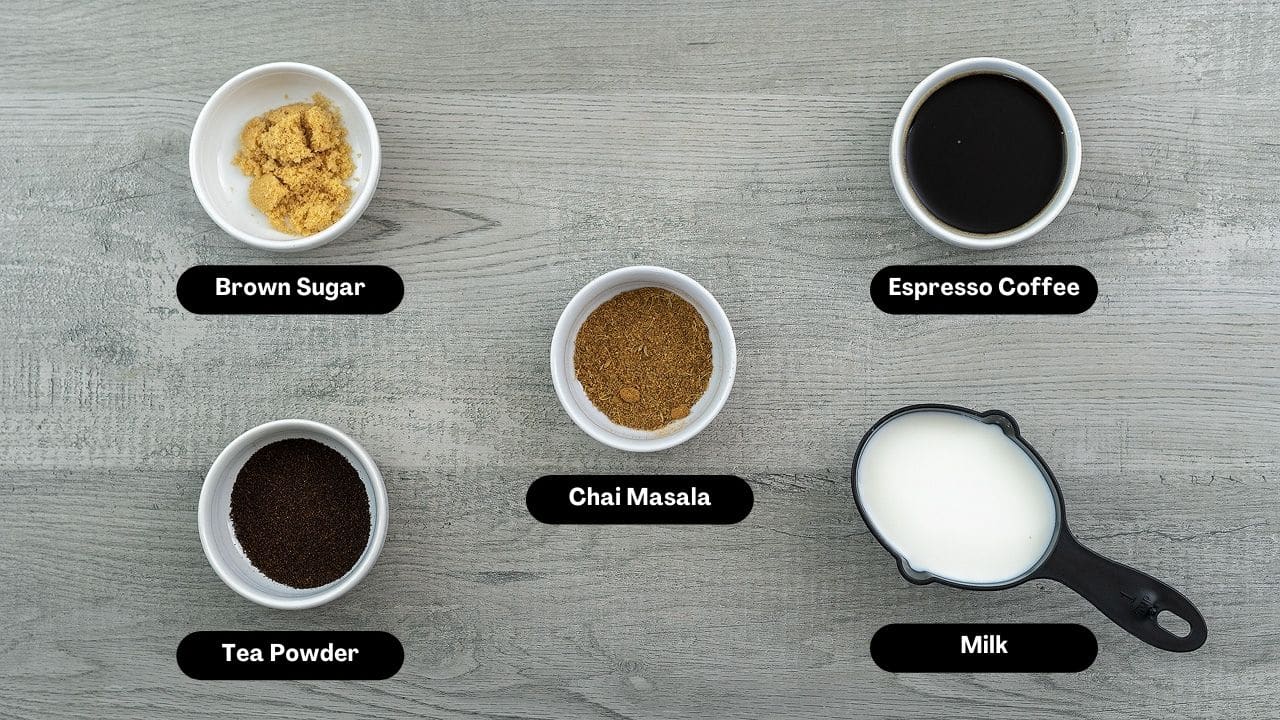 Milk: Whole milk is ideal, but feel free to substitute with oat, almond milk or other non-dairy milks.
Black Tea Powder: This is preferred for a rich flavor, though tea bags are a fine alternative.
 Chai Masala Powder: Homemade is best for authentic taste, but adding fresh ginger and spices can also work well.
Espresso Coffee: While Starbucks often uses 1-2 shots of espresso, regular coffee can be used to replicate the taste.
Frothed Milk or Whipping Cream: Whipped cream adds a luxurious touch, but frothed milk is also a great option.
How to make Dirty Chai Latte?
Get ready to brew a delicious Dirty Chai Latte right at home! Follow these easy steps, perfectly captured in our photos and video guide, to create your own comforting cup.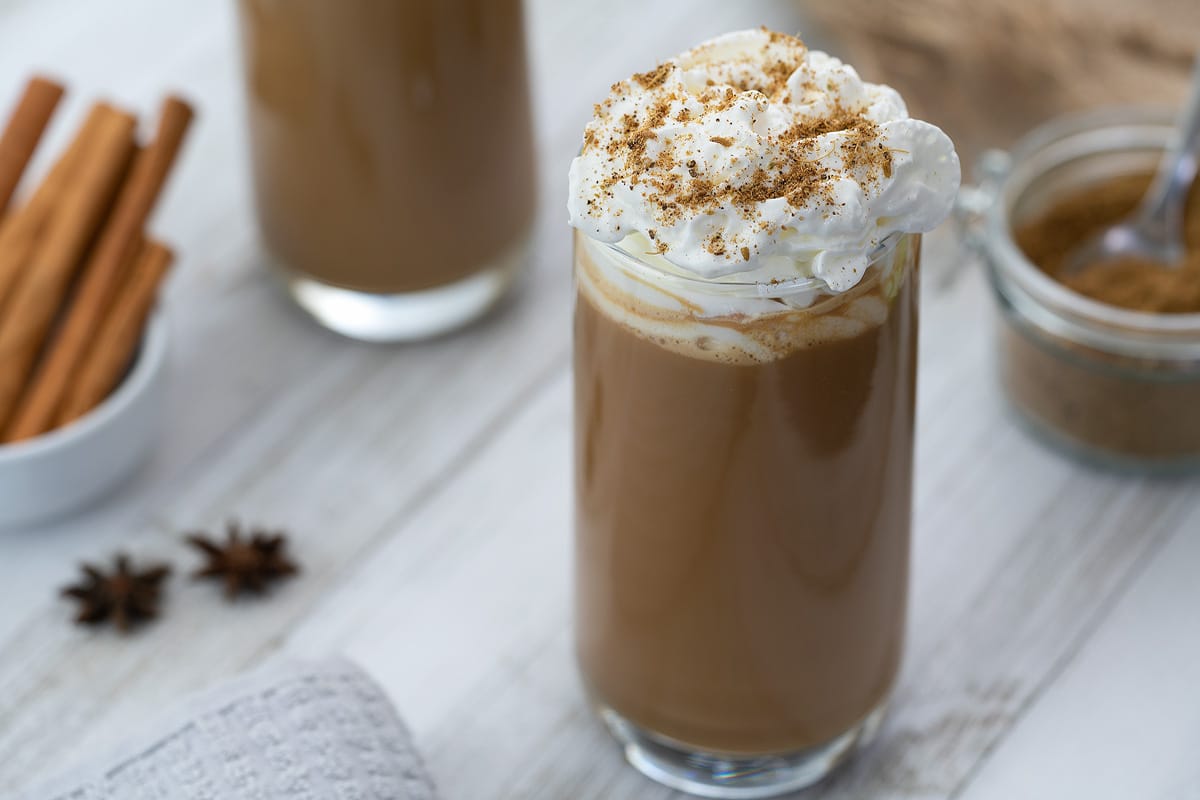 Explore Beverages from Around the World!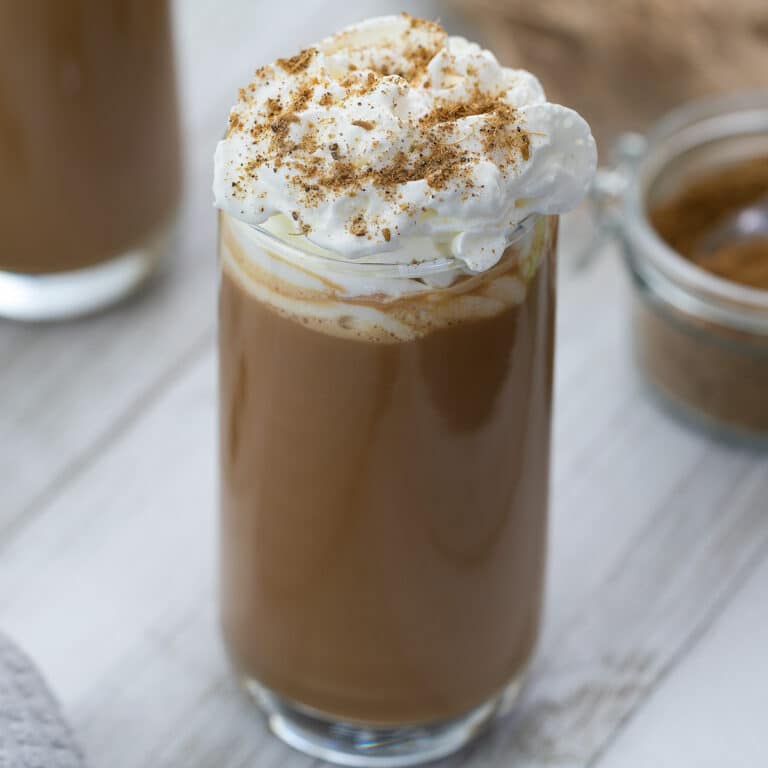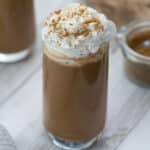 Dirty Chai Latte
Dirty Chai Latte combines the warmth and spice of Masala Chai with the boldness of espresso, topped with milk foam. Ideal for winter, this cozy beverage can also be enjoyed as an Iced Dirty Chai Latte during summer.
Subscribe
print (text-only)
email
pin
review
save
saved!
Ingredients
1½

cup

Milk

¼

cup

Espresso Coffee

2

tsp

Black Tea Powder

¼

tsp

Chai Masala Powder

2

tsp

Brown Sugar

Whipping Cream

,

optional
More on Unit Conversions »
Instructions
To make Dirty Chai Latte
Start by gently heating milk in a saucepan on medium heat. Stir in black tea powder, chai masala powder, and brown sugar until well combined.

Once the tea mixture begins to puff up, take it off the heat and keep it aside for later.

Next, pour ¼ cup of Espresso Coffee into your favorite serving glass.

Carefully filter the tea mixture you set aside earlier into the glass with the espresso.

Top your latte with a dollop of whipped cream or a swirl of frothed milk. Your delightful Dirty Chai Latte is now ready to savor!
To Serve
Savor this delightful Dirty Chai Latte with your breakfast, as a noon pick-me-up, or anytime you're in the mood for a flavorful treat!
Chef's Notes and Tips
Tips for Perfect Dirty Chai Latte:
Taste and Flavor: While homemade Chai Masala Powder offers an authentic flavor, adding fresh ginger and spices can equally enhance the drink's taste.
Espresso Coffee: Typically, espresso is used to create the 'dirty' aspect of the tea, but a strong coffee decoction can also suffice for a similar effect.
Milk Choices: Whole milk and heavy whipping cream give a decadent, café-style touch. Alternatively, non-dairy options like almond or oat milk are excellent substitutes.
Iced Dirty Chai Latte: For a chilled version, cool the masala chai for at least 2 hours. Serve over plenty of ice, adding espresso coffee and topping with frothed milk or whipping cream for a refreshing twist.
Nutrition Info
Serving:
1
cup
|
Calories:
111
kcal
|
Carbohydrates:
13
g
|
Protein:
6
g
|
Fat:
4
g
|
Saturated Fat:
2
g
|
Polyunsaturated Fat:
1
g
|
Cholesterol:
15
mg
|
Sodium:
94
mg
|
Sugar:
13
g
Disclaimer: We're not nutrition experts. Nutritional info is estimated and should be used as a guide. For precise details, consult a professional.

Dive into our diverse collection of latte, coffee, and tea recipes, meticulously curated to match every seasonal ambiance. Whether you're seeking the warmth of winter beverages or the cool refreshment of summer drinks, our array includes something for every mood and flavor preference, ensuring a delightful experience in every cup.
Storage and Serving Suggestions
To keep your Dirty Chai Latte fresh, store it in the refrigerator for up to a day without the toppings. This stored version is perfect for an iced latte, offering a delightful cold treat. However, it's best not to reheat, as the flavors may not be as vibrant for a warm or hot drink.
When ready to serve, enhance your homemade latte by topping it with heavy whipping cream and a sprinkle of chai masala powder. While I've used whipped cream, you can also froth milk for a lighter topping, using the jar method demonstrated in my chai tea latte recipe.
FAQ
What does Dirty Chai taste like?
Dirty Chai offers a harmonious mix of warmth and spice, blending the flavors of black tea and espresso. It presents a unique taste profile of sweetness, bitterness, and spiciness, all topped with soothing milk foam for a comforting experience.
Why is it called 'dirty chai'?
The term 'dirty' comes from the appearance. When espresso is mixed with chai latte, it creates a dark, 'muddy' color, reminiscent of dirt, thus earning the name 'Dirty Chai.'
What differentiates a chai latte from a dirty chai?
The key difference lies in the addition of espresso coffee in Dirty Chai. While a Chai Latte blends spices, black tea, and milk, Dirty Chai enriches this mix with the bold flavor of espresso.