Enjoy a cup of homemade Lemon Tea for a soothing and refreshing experience. Simple to make with just black tea, lemon, and a touch of honey, it's packed with antioxidants and nutrients to aid with sore throats, colds, digestion, and even weight management.
Perfect as a morning kickstart or a midday pick-me-up, this balanced brew is a delightful remedy for winter ailments and a great choice for health-conscious individuals.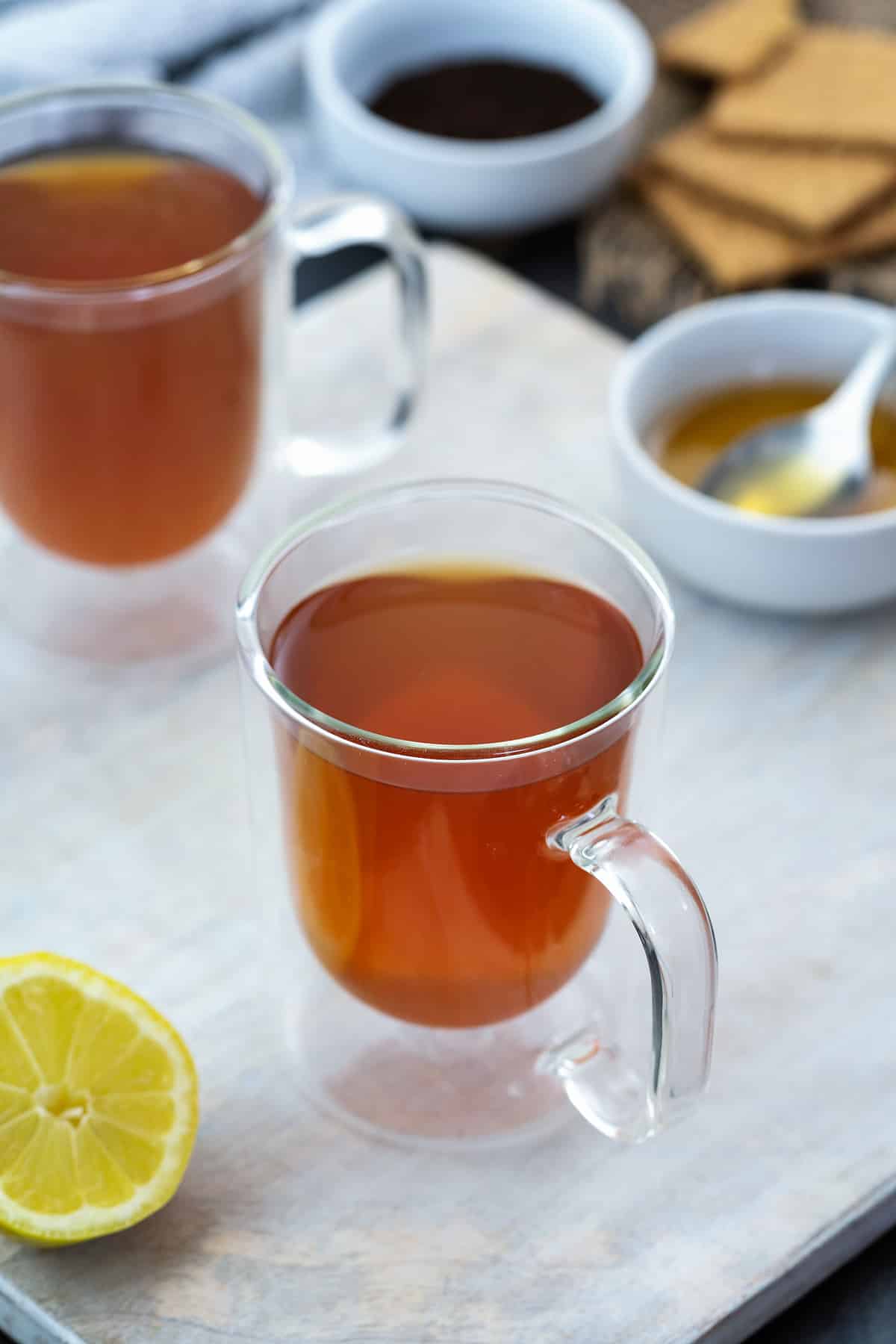 Jump to:
Discover More Tea Recipes.
Ingredients Overview
To whip up a soothing Honey and Lemon Tea, you'll only need a few basic ingredients likely already in your pantry or easily found at any supermarket. Let's take a look at the simple list below.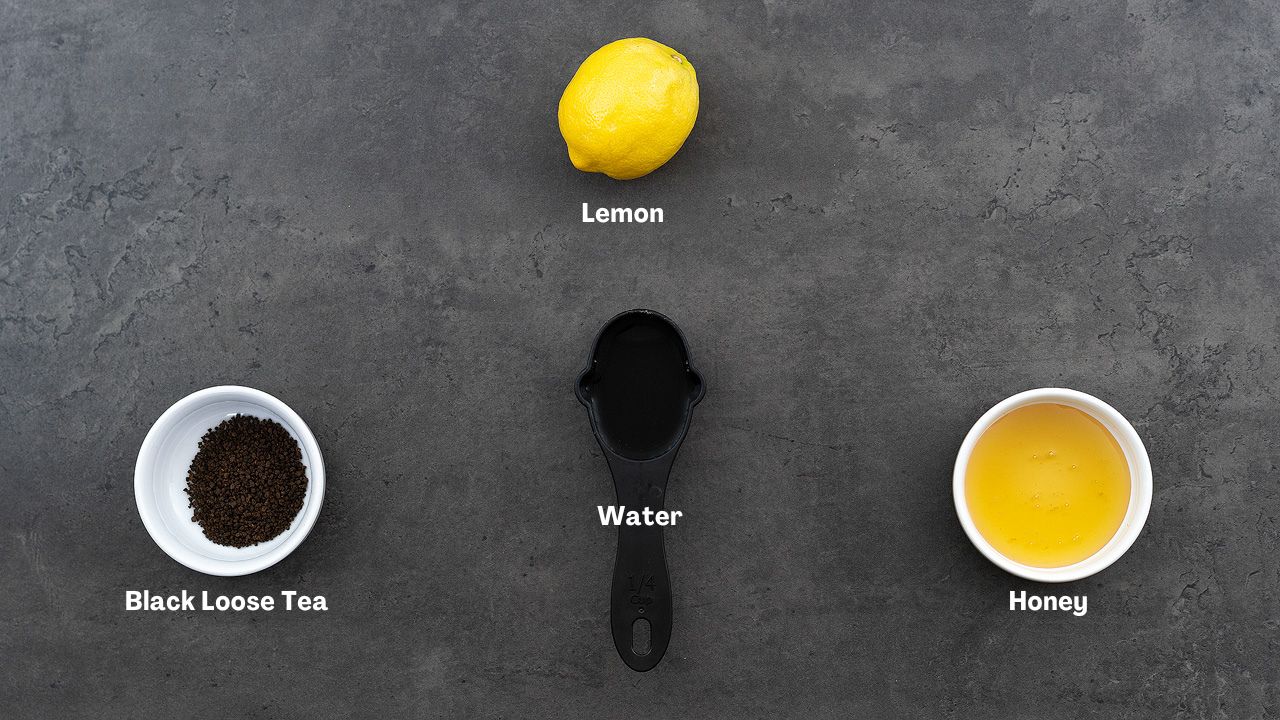 Black Tea: Choose any brand you prefer or have on hand. Popular Indian varieties such as Assam, Darjeeling, or Nilgiri, available as loose leaves, are excellent choices and commonly found in Indian grocery stores.
Lemon: A rich source of vitamin C, antioxidants, and minerals to boost your tea's health benefits.
Honey: Adds a touch of natural sweetness and brings anti-inflammatory properties to your brew.
How to make Lemon Tea with Honey?
Dive into our quick visual guide, complete with step-by-step images and a handy video, to effortlessly create a comforting cup of Honey and Lemon Tea. Perfect for beginners and tea enthusiasts alike!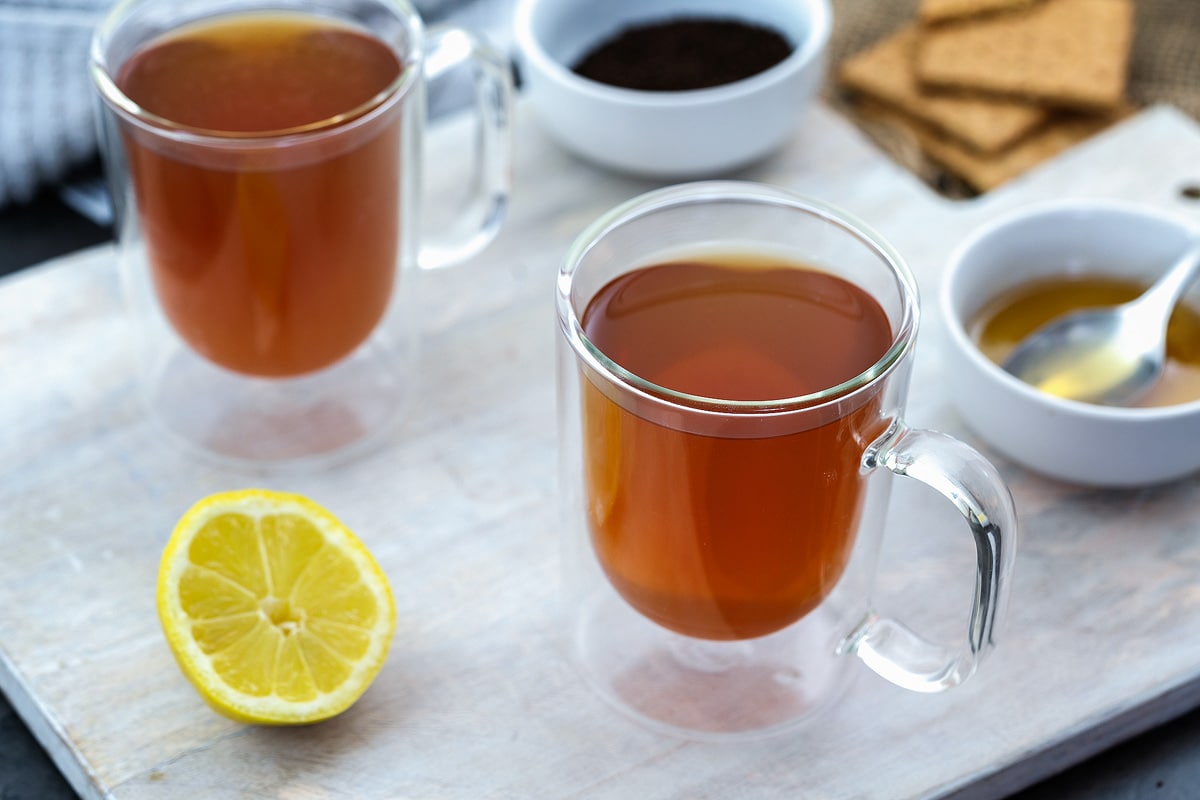 Explore More Lemon-Infused Drink Recipes: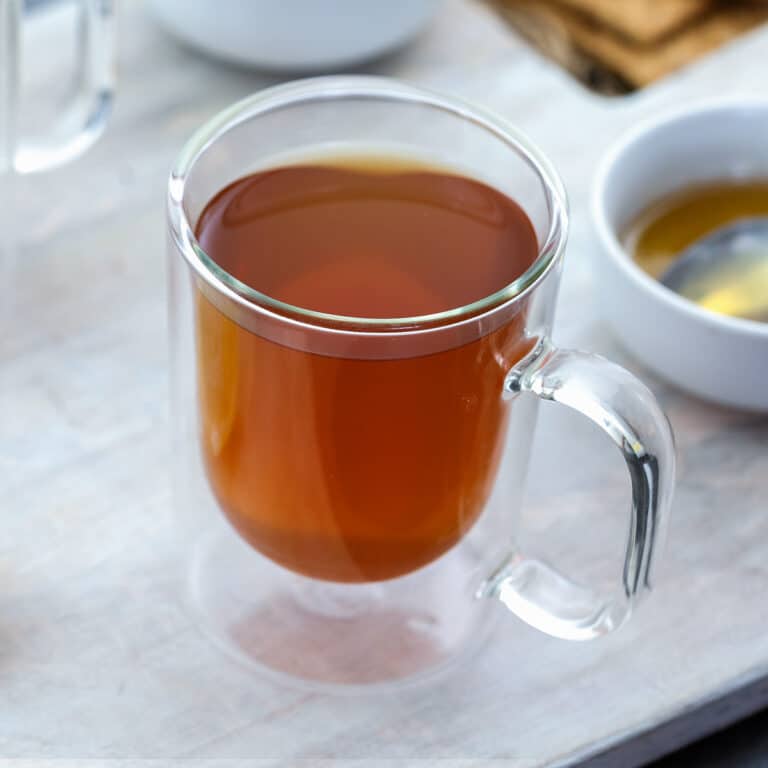 Honey Lemon Tea
Enjoy the wholesome goodness of Honey Lemon Tea! This comforting blend of black tea, zesty lemon, and sweet honey is packed with antioxidants and vitamins to support your well-being. It's the perfect pick-me-up for soothing sore throats and colds, aiding digestion, and even supporting your weight loss journey.
Subscribe
print (text-only)
email
pin
review
save
saved!
Ingredients
4

cup

Water

1

tsp

Black Tea Powder

,

loose leaf

3

Lemon Slices

1

tsp

Honey

,

or Maple Syrup
More on Unit Conversions »
Instructions
Brewing Honey Lemon Tea
Begin by bringing 4 cups of water to a boil in a medium saucepan over medium heat.

Stir in 1 teaspoon of loose black tea leaves and let them brew for 1 to 2 minutes.

Lower the heat to a simmer and add 3 fresh lemon slices into the pan.

Cover the saucepan with its lid and allow the tea to infuse for another minute.

After brewing, remove the pan from the heat and lift the lid.

Strain the tea through a fine mesh strainer to capture the leaves and lemon slices.

Sweeten the tea by stirring in 1 teaspoon of honey until well combined.
To Serve
Serve the freshly prepared Honey and Lemon Tea warm.
Chef's Notes and Tips
Here are some expert tips to perfect your Honey Lemon Tea:
Brewing: Infusing black tea leaves with lemon slices adds a distinctive zesty flavor. Alternatively, add a teaspoon of lemon juice to your brewed tea for a similar tang.
Honey: Its anti-inflammatory qualities not only sweeten your tea but also boost your immune system and soothe sore throats and cold symptoms.
Ginger: Consider adding ginger for an extra kick. Check out my separate post on Lemon Ginger Tea for a twist that excludes black tea leaves.
Lemon Juice: If lemon slices aren't available, simply use lemon juice. Add 1 teaspoon of it per cup to your brewed black tea for a fresh, citrusy taste in every sip.
Nutrition Info
Serving:
1
cup
|
Calories:
20
kcal
|
Carbohydrates:
5
g
|
Sodium:
10
mg
|
Sugar:
5
g
Disclaimer: We're not nutrition experts. Nutritional info is estimated and should be used as a guide. For precise details, consult a professional.
Serving Suggestions
This tea is ideal for easing sore throats, colds, or coughs. Drinking it first thing in the morning may also assist in weight management. If you're following a vegan diet, feel free to replace honey with maple syrup, which also complements the tea's flavor profile beautifully.
Storage Suggestions
Freshly made Honey and Lemon Tea offers the best flavor, so I recommend enjoying it immediately after preparation. If you do have leftovers, they can be kept in the refrigerator for up to one day. Remember to reheat gently to preserve the delicate flavors.
Health Benefits
Many wonder about the health perks of Lemon Tea. Here's what reputable sources like WebMD and Healthline suggest:
Immune Boost: Lemons are loaded with vitamin C, minerals, and antioxidants, all known for strengthening the immune system.
Heart Health: The flavonoids in lemon have been linked to blood pressure regulation and overall cardiovascular wellness.
Wound Healing and Cough Relief: Honey's anti-inflammatory effects are beneficial for everything from healing wounds to calming coughs in both children and adults.
Additional Benefits: Lemon's properties may also lower the risk of diabetes, slow cognitive decline, and aid with digestive health.
Remember to consult with a healthcare provider for personalized health advice.