Homemade Lemonade is the perfect refreshing drink for hot summer days or whenever you need to quench your thirst. Easy to make, it combines fresh lemon juice, sugar syrup, and water, served chilled with ice. This drink strikes a delightful balance between sweet and tart. When mixed with iced tea, it becomes the renowned Arnold Palmer Drink.
Jump to:
Making Lemonade at home is straightforward. It involves preparing the sugar syrup, squeezing fresh lemon juice, and then mixing these with water. What's great about this recipe is its adaptability; you can store the sugar syrup and lemon juice separately in the fridge and simply add water just before serving.
The amount of water can be adjusted according to your taste preferences, allowing you to customize the sourness to suit your palate. This homemade Lemonade is not just easy and refreshing but also a customizable treat for you and your family.
Enjoy More Healthy Drinks:
Ingredients Overview
For this homemade Lemonade, you'll need just three basic ingredients. Here's what you'll require: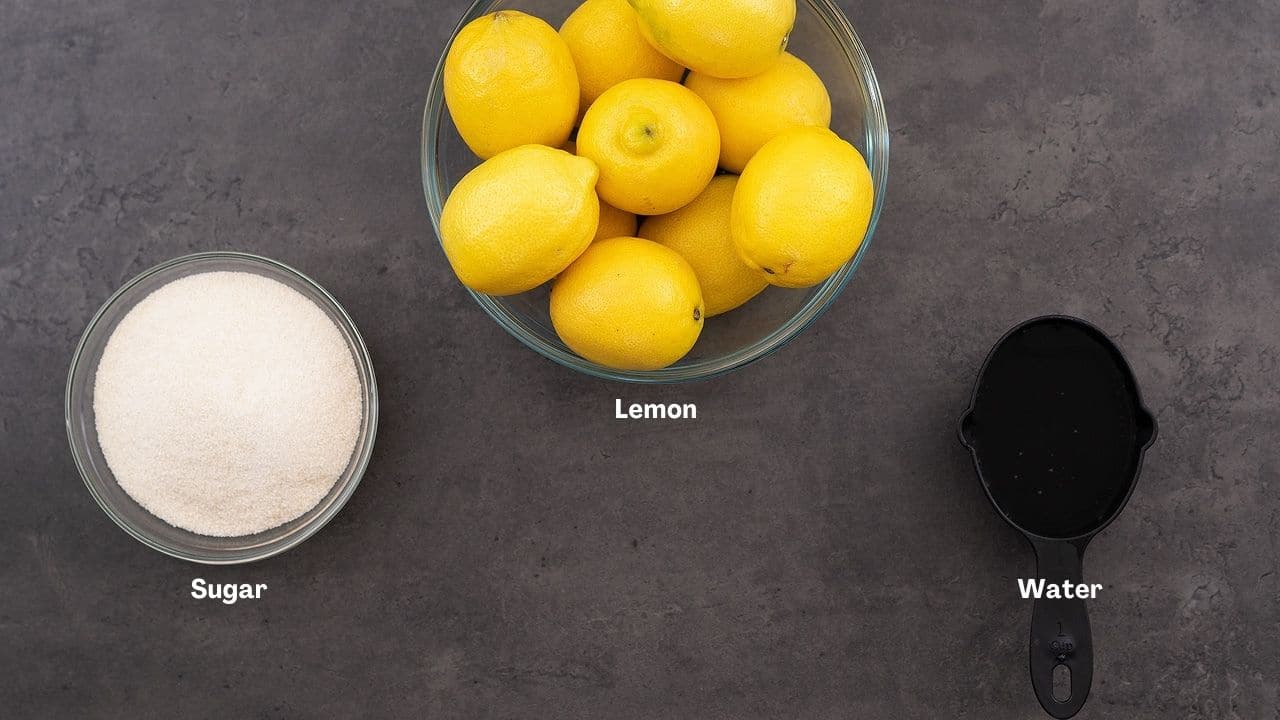 Lemon: Meyers Lemons are preferred, but you can use any variety available to you.
Sugar: This is used to create a simple sugar syrup.
Water: Needed for both the syrup and diluting the lemon juice.
How to make Lemonade?
Get ready to whip up a refreshing batch of homemade Lemonade! Follow these easy steps, perfectly captured in photos and video, to create your own delicious summer drink. Let's dive into the recipe:
Explore Different Lemon-Infused Drinks.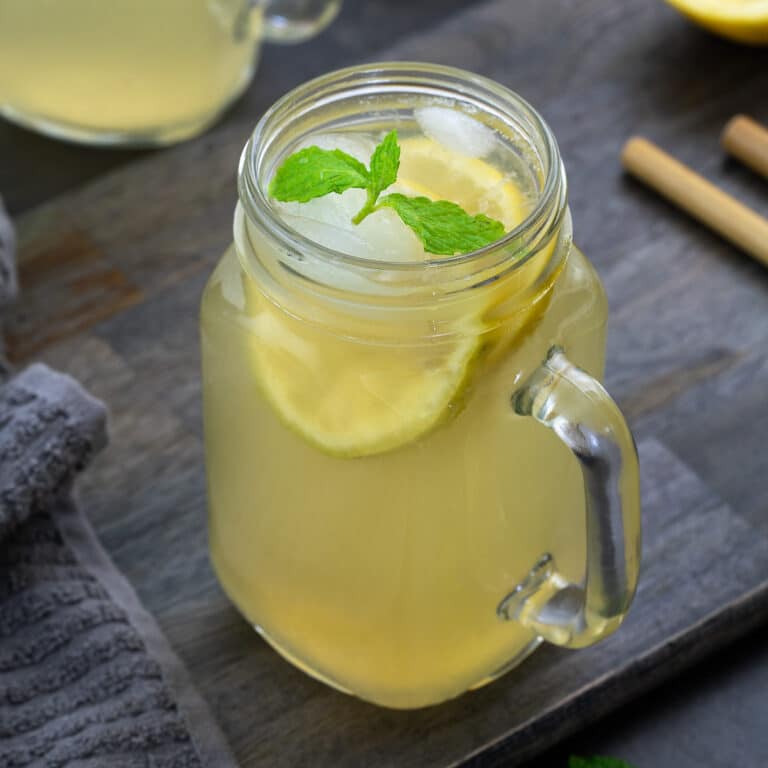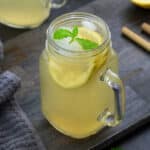 Best Lemonade
Lemonade, with its delightful blend of sweet and sour, stands out as a classic summer refreshment. Prepared with fresh lemon juice, a simple sugar syrup, and water, it's typically served ice-cold. This homemade version is especially perfect for those hot summer days or anytime you're in need of a thirst-quenching, delicious drink.
Subscribe
print (text-only)
email
pin
review
save
saved!
Ingredients
2

cups

Sugar

2

cups

Water

10

Lemon

,

medium size

2

cups

Filtered Water

,

for diluting the juice
More on Unit Conversions »
Instructions
To make Lemonade
In your saucepan, combine 2 cups of sugar with an equal amount of water.

Stir this well and bring it to a boil for about 2 to 3 minutes. Once done, take it off the heat and let this sweet syrup cool down.

Next, take all your lemons, cut them in half, and gather them in a bowl.

Now, over another bowl, place a fine-mesh strainer and squeeze out the juice from your halved lemons. You can use any tool you find easy – a fork, spoon, handheld squeezer, or even a citrus press. Aim for about 2 cups of lemon juice.

Don't forget to press the pulp left in the strainer to get out all the juicy goodness.

In a large pitcher or bowl, pour in the freshly squeezed lemon juice, add your sugar syrup, and then mix in 2 cups of water. Stir it all together well and pop it in the fridge to chill.

When it's serving time, grab a glass, toss in a few ice cubes and some lemon slices, then pour over your refreshing, chilled homemade Lemonade. It's now ready for you to sip and savor!
To Serve
Enjoy this homemade Lemonade as a perfect thirst-quencher on hot days or as a refreshing drink for parties and gatherings. It's sure to be a summer favorite!
Chef's Notes and Tips
Tips to Make Perfect Lemonade:
Sugar Syrup: A 1:1 sugar to water ratio is typically ideal for that perfect sweetness. However, adjust the sugar based on how sweet your lemons are.
Lemon Juice: The amount of juice can vary depending on the size of your lemons. For this recipe, it's roughly 2 cups, but this could differ.
Water for Dilution: I've used 2 cups of filtered water to dilute the lemon juice, which suits our family's taste. Feel free to modify the amount to match your preference.
Refrigeration: Chilling the Lemonade for 1 to 2 hours enhances its refreshing quality, making it perfect for summer. Alternatively, you can store the sugar syrup and lemon juice separately and mix them with water when ready to serve.
Nutrition Info
Serving:
1
cup
|
Calories:
295
kcal
|
Carbohydrates:
78
g
|
Protein:
1
g
|
Sodium:
10
mg
|
Fiber:
4
g
|
Sugar:
70
g
Disclaimer: We're not nutrition experts. Nutritional info is estimated and should be used as a guide. For precise details, consult a professional.
For a refreshing selection of lemon-infused to summer drink recipes, explore our comprehensive collection - there's a flavorful concoction for every wellness goal!
Storage and Serving Suggestions
Storage: Keep your fresh Homemade Lemonade in a sealed pitcher in the refrigerator, and it will stay delightful for up to a week. It's perfect for a refreshing sip anytime you need a cool drink.
Serving: Enhance this Lemonade by adding a few lemon slices and ice cubes, making it a wonderfully hydrating and refreshing choice for hot summer days. It's also an excellent beverage option for parties or casual gatherings, sure to be enjoyed by all.