Indulge in the ultimate comfort of homemade Hot Chocolate, a lusciously creamy and rich beverage that's perfect for those chilly days or whenever you're in the mood for a chocolate fix. Crafted with a harmonious blend of dark chocolate and cocoa powder, this drink is not just about warmth, it's a celebration of chocolate in every sip.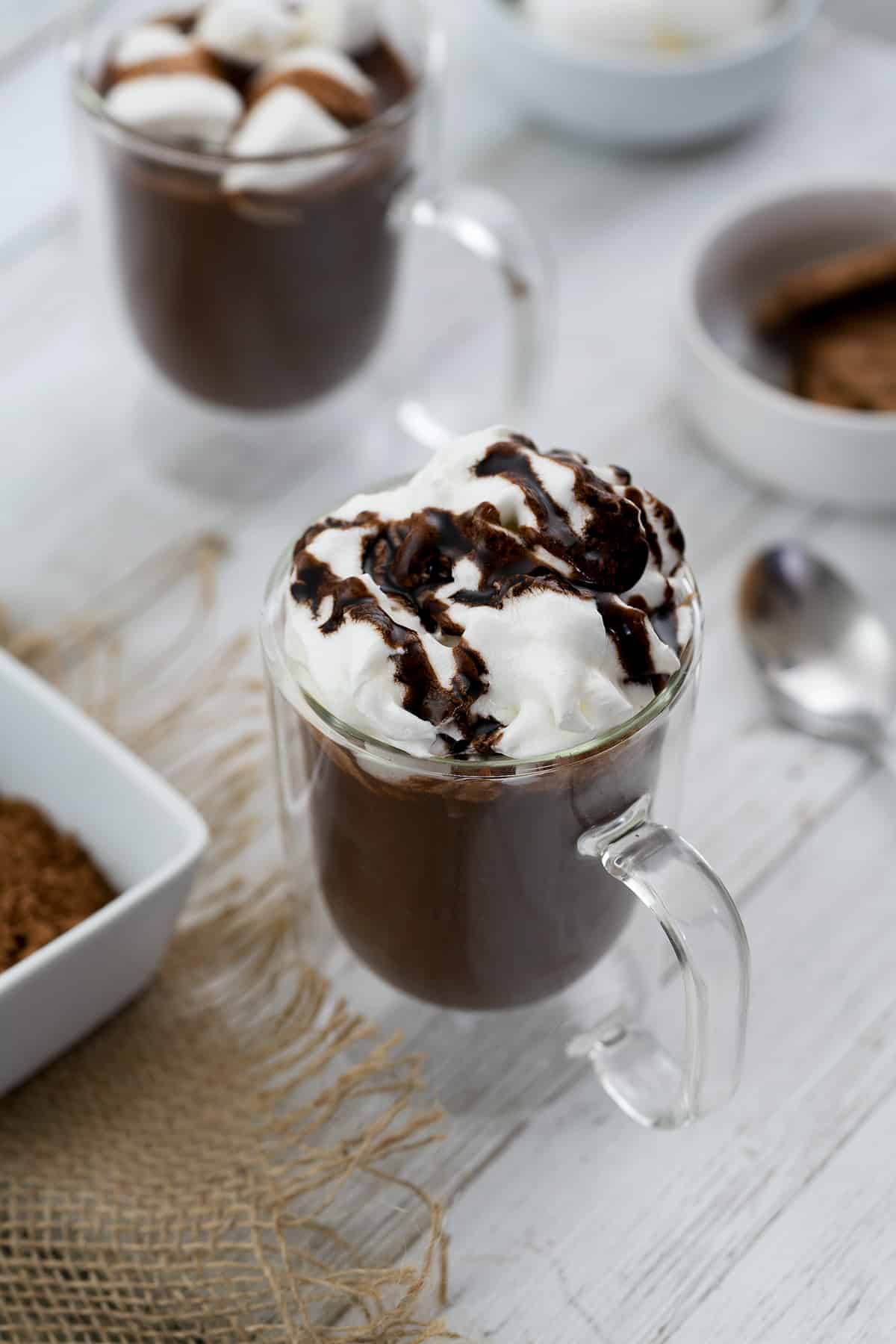 Jump to:
Personalize it to your taste! I love adding a touch of maple syrup for sweetness, but you're welcome to use your preferred sweetener. And for my vegan friends, easily swap in your favorite non-dairy milk. Dive into this delightful chocolate experience, made right in your kitchen, where you're the master of sweetness and flavor.
Discover Healthy Winter Beverages:
Ingredients Overview
Creating this sumptuous Hot Chocolate requires a few simple, readily available ingredients. Let's delve into what you'll need to whip up this luxurious drink: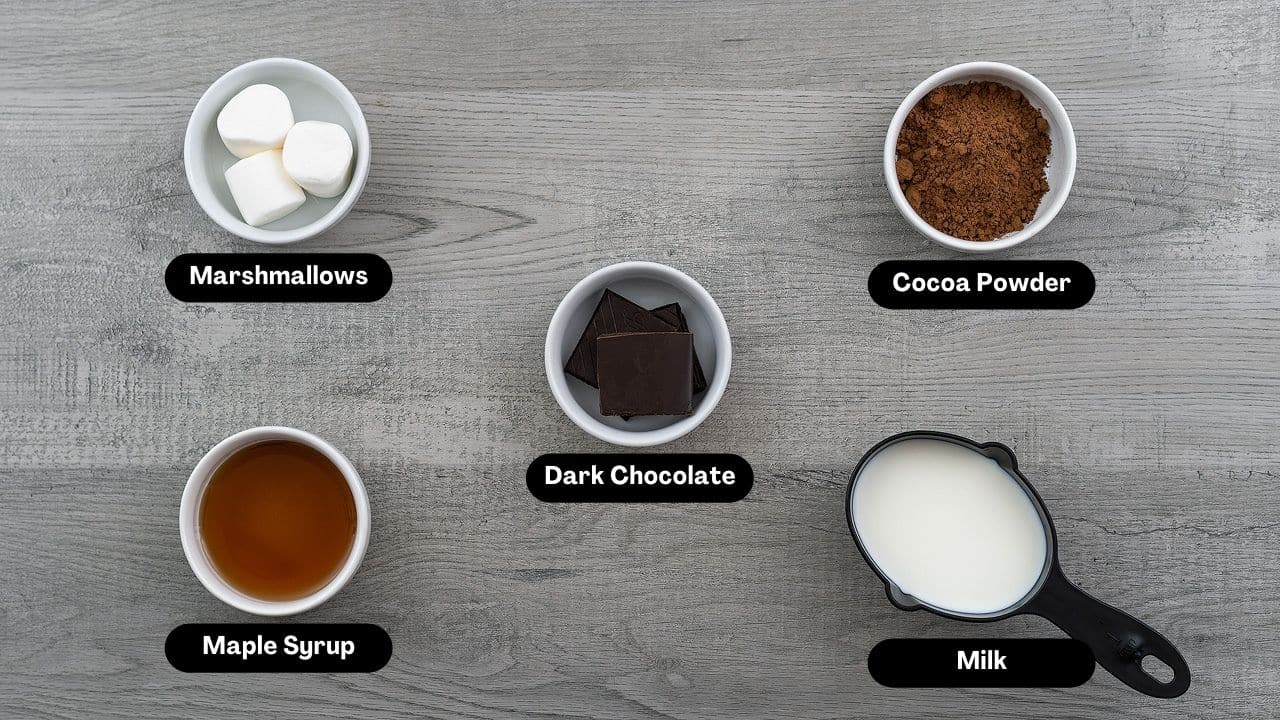 Dark Chocolate: The cornerstone of our recipe, dark chocolate imparts a deep, rich flavor. Choose anything from milk to intense dark chocolate based on your taste.
Cocoa Powder: I use unsweetened cocoa powder, but if you prefer convenience, a store-bought instant hot cocoa mix works too. Just remember to omit additional sweeteners as these mixes typically contain sugar.
Milk: Whole milk is my go-to for its rich, thick texture. For an even creamier touch, feel free to use half-and-half or heavy cream.
Maple Syrup: I love the natural sweetness of maple syrup in this recipe. However, you're free to substitute it with your preferred sweetener.
Each ingredient contributes to the overall indulgence of this Hot Chocolate, ensuring every cup is a delightful treat.
How to make Hot Chocolate?
Get ready to indulge in the ultimate chocolatey delight with this simple and delicious Hot Chocolate recipe. Follow along with my photos and video to see how each step brings you closer to this rich, creamy treat.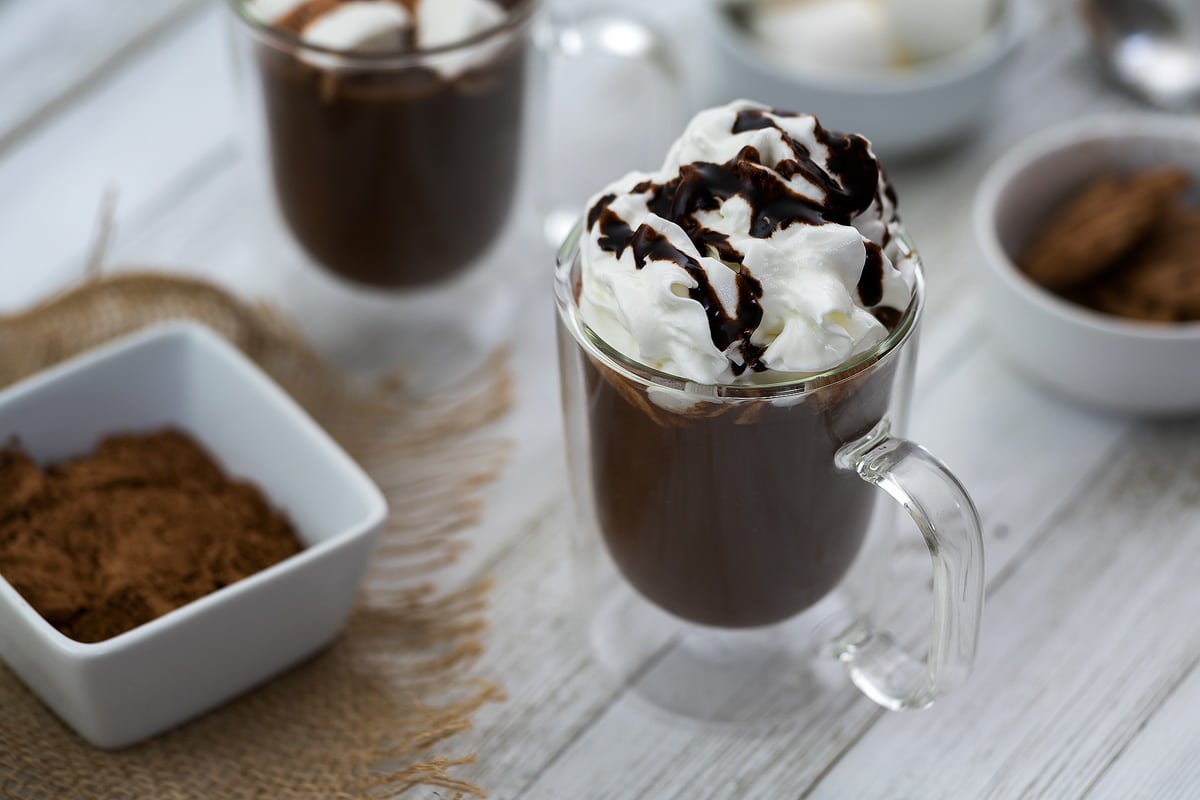 Discover More Delectable Chocolate Beverages: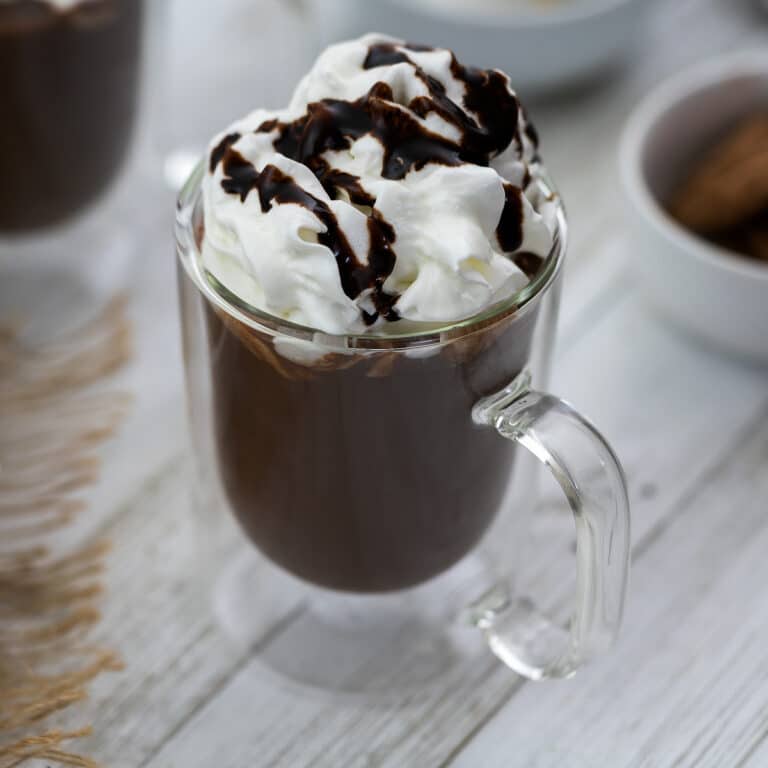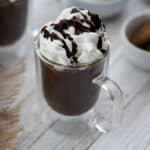 Homemade Hot Chocolate Recipe
Savor the richness of Hot Chocolate, a creamy blend of dark chocolate, cocoa powder, and warm milk. It's topped with whipped cream or marshmallows for a delightful treat. Perfect for warming up on cold days or satisfying chocolate cravings!
Subscribe
print (text-only)
email
pin
review
save
saved!
Ingredients
1½

cup

Milk

¼

cup

Dark Chocolate

,

shredded or chopped

3

tbsp

Cocoa Powder

,

Unsweetened

2

tbsp

Maple Syrup

Whipping Cream

,

optional

Marshmallows

,

optional
More on Unit Conversions »
Instructions
To make Homemade Hot Chocolate
Begin by heating milk in a saucepan over medium heat. Add cocoa powder to the warm milk.

Give it a good whisk until the cocoa powder is completely blended with the milk.

Next, pour in the maple syrup and stir to combine all the flavors.

Add the chopped dark chocolate and continue to whisk until the chocolate is entirely melted into the mixture.

Now, using a spatula, gently stir the mixture on and off until it thickens slightly. Stirring intermittently helps prevent the drink from burning. Once it reaches your desired thickness, remove the Hot Chocolate from the stove and let it cool for a bit to reach the perfect drinking temperature.

Finally, pour your homemade Hot Chocolate into a serving glass and top it off with a generous dollop of whipped cream or a handful of marshmallows.
To Serve
Indulge in this luscious Homemade Hot Chocolate on chilly winter days or whenever those chocolate cravings strike.
Chef's Notes and Tips
Tips for Perfect Hot Chocolate:
Flavor: The combination of dark chocolate and cocoa powder is key to achieving that deeply satisfying, rich taste in your hot chocolate.
Texture: For a luxuriously thick and creamy texture, full-fat cow's milk is my go-to choice. However, if you're aiming for an even richer consistency, half-and-half or heavy cream are excellent alternatives.
Vegan-Friendly: Don't worry if you're vegan or prefer plant-based options; almond, oat, coconut, or cashew milk are all fantastic substitutes that still deliver great flavor.
Cinnamon Twist: For an extra layer of warmth and flavor, consider sprinkling in some cinnamon powder. This not only enhances the taste but adds a subtle, spicy aroma that complements the chocolate beautifully.
Store-Bought Cocoa Mix: While homemade Hot Chocolate holds a special charm, you can certainly opt for a store-bought cocoa mix powder for convenience. Just remember to omit additional sweeteners, as these mixes typically already contain sugar.
Nutrition Info
Serving:
1
cup
|
Calories:
385
kcal
|
Carbohydrates:
50
g
|
Protein:
9
g
|
Fat:
17
g
|
Saturated Fat:
10
g
|
Polyunsaturated Fat:
5
g
|
Cholesterol:
33
mg
|
Sodium:
102
mg
|
Fiber:
3
g
|
Sugar:
41
g
Disclaimer: We're not nutrition experts. Nutritional info is estimated and should be used as a guide. For precise details, consult a professional.
Discover our curated selection of chocolate drink recipes and cozy winter beverages. Each one is carefully crafted to infuse your cold days with warmth, comfort, and the delightful aroma of chocolate.
Storage and Serving Suggestions
Enjoy your Hot Chocolate fresh for the best flavor. However, if you have leftovers, store them in an airtight container in the refrigerator for up to a day. Reheat gently over medium heat to retain its rich taste.
Elevate your Homemade Hot Chocolate by garnishing it with marshmallows, a generous dollop of heavy whipping cream, and a sprinkle of shaved chocolate. For an added visual delight, dust with cocoa powder or drizzle with chocolate syrup.