Welcome to our delightful collection of salad recipes! Whether you're a health-conscious individual or simply looking to add more variety to your meals, we've got you covered. In this post, we'll take you on a culinary journey through a diverse range of salad options that are sure to tantalize your taste buds and satisfy your cravings. From classic favorites to unique combinations, there's something here for everyone.
Let's start with the quintessential side dish that complements any main course: coleslaw. This refreshing and crunchy salad, typically made with shredded cabbage and carrots dressed in a tangy mayonnaise-based coleslaw dressing, adds a delightful contrast of textures and flavors to your plate. It's a timeless classic that pairs perfectly with barbecues, sandwiches, or even as a standalone snack.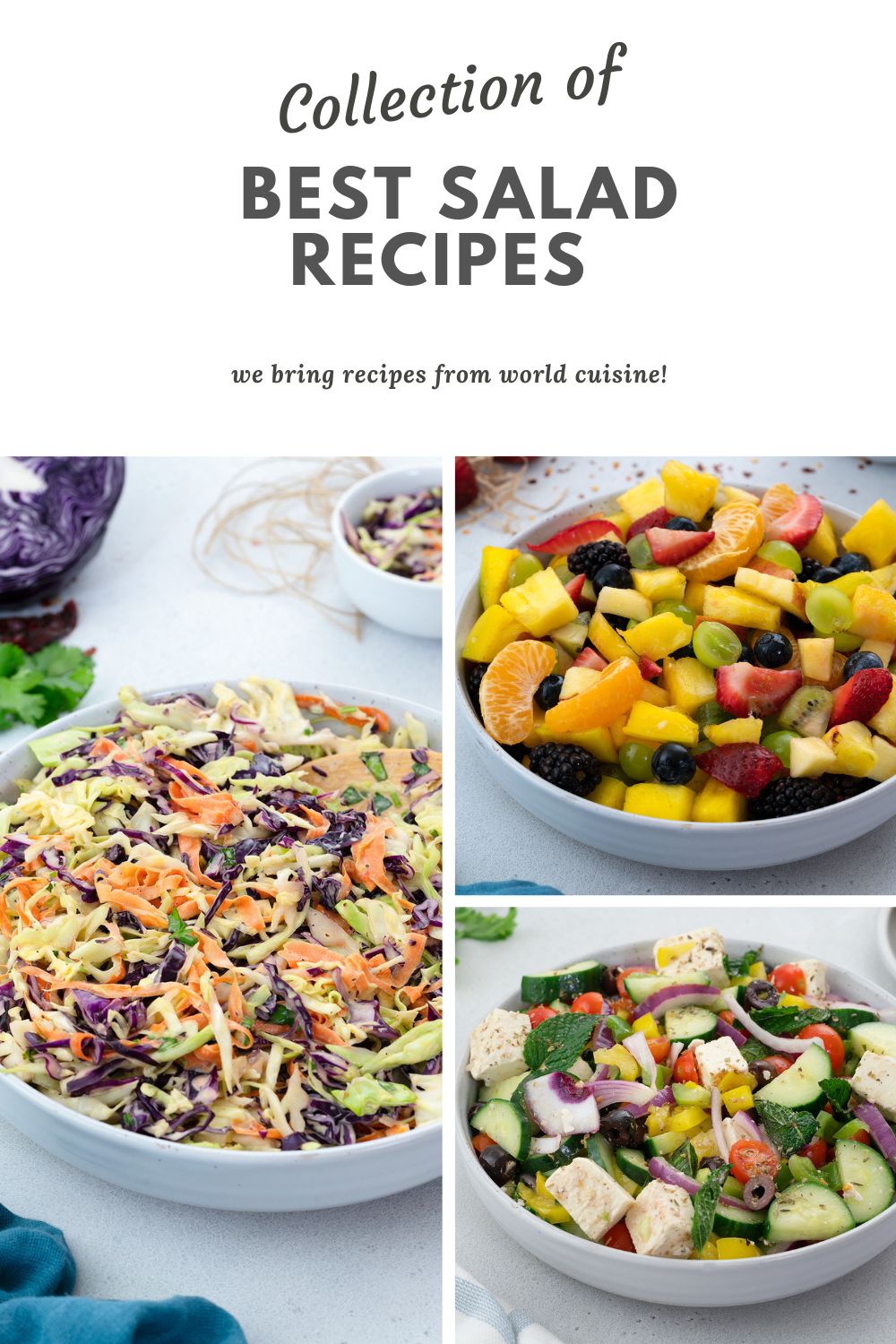 Jump to:
If you're in the mood for something heartier, look no further than our pasta salad. Bursting with colorful vegetables, al dente pasta, and a zesty dressing, this versatile dish can be served warm or chilled, making it a crowd-pleaser at picnics, potlucks, or any gathering. Its endless customization options allow you to experiment with different ingredients, such as cherry tomatoes, olives, feta cheese, or even grilled chicken for added protein.
Traveling to the sunny shores of the Mediterranean, we arrive at the Greek salad. This vibrant combination of fresh tomatoes, cucumbers, red onions, Kalamata olives, and creamy feta cheese, all drizzled with a lemony dressing, transports you to the picturesque landscapes of Greece. It's a light and flavorful option that embodies the essence of the Mediterranean diet.
For those seeking a protein-packed meal, our chicken salad is a fantastic choice. Tender, juicy chicken breast, mixed with crisp lettuce, cherry tomatoes, cucumbers, and a delectable dressing, creates a wholesome and filling dish that can be enjoyed on its own or stuffed into a sandwich or wrap. It's perfect for a quick and satisfying lunch or dinner.
If you have a sweet tooth or want a refreshing dessert option, our fruit salad is here to brighten your day. Bursting with juicy seasonal fruits, such as berries, melons, grapes, and citrus segments, this colorful creation is a delightful medley of flavors. Whether you enjoy it as a light dessert, a healthy breakfast option, or a snack on a hot summer day, our fruit salad is as versatile as it is delicious.
These are just a taste of the salad recipes we have in store for you. Stay tuned as we delve into more delightful options like chickpea salad, broccoli salad, cucumber salad, cobb salad, salmon salad, and shrimp salad. Whether you're a vegetarian, a seafood lover, or someone who enjoys a variety of ingredients in their salads, we're confident you'll find something to suit your taste buds. So, put on your apron, grab your favorite salad bowl, and get ready to embark on a culinary adventure with us!
You can also find different collections of recipes below and more at recipe collections.