Caesar Salad is a timeless classic, famous for its distinct and refreshing flavors. This salad is created from a medley of fresh romaine lettuce, croutons, grated Parmesan cheese, and a luscious Caesar salad dressing, this homemade version stands as an exceptional summer dish. It pairs with a variety of dishes such as chicken, salmon, shrimp, and soups.
The recipe I'm sharing outlines a straightforward method for crafting this Caesar Salad, complete with easy-to-follow step-by-step instructions. Additionally, I've included a comprehensive video guide to ensure a clear visual understanding of the entire preparation process.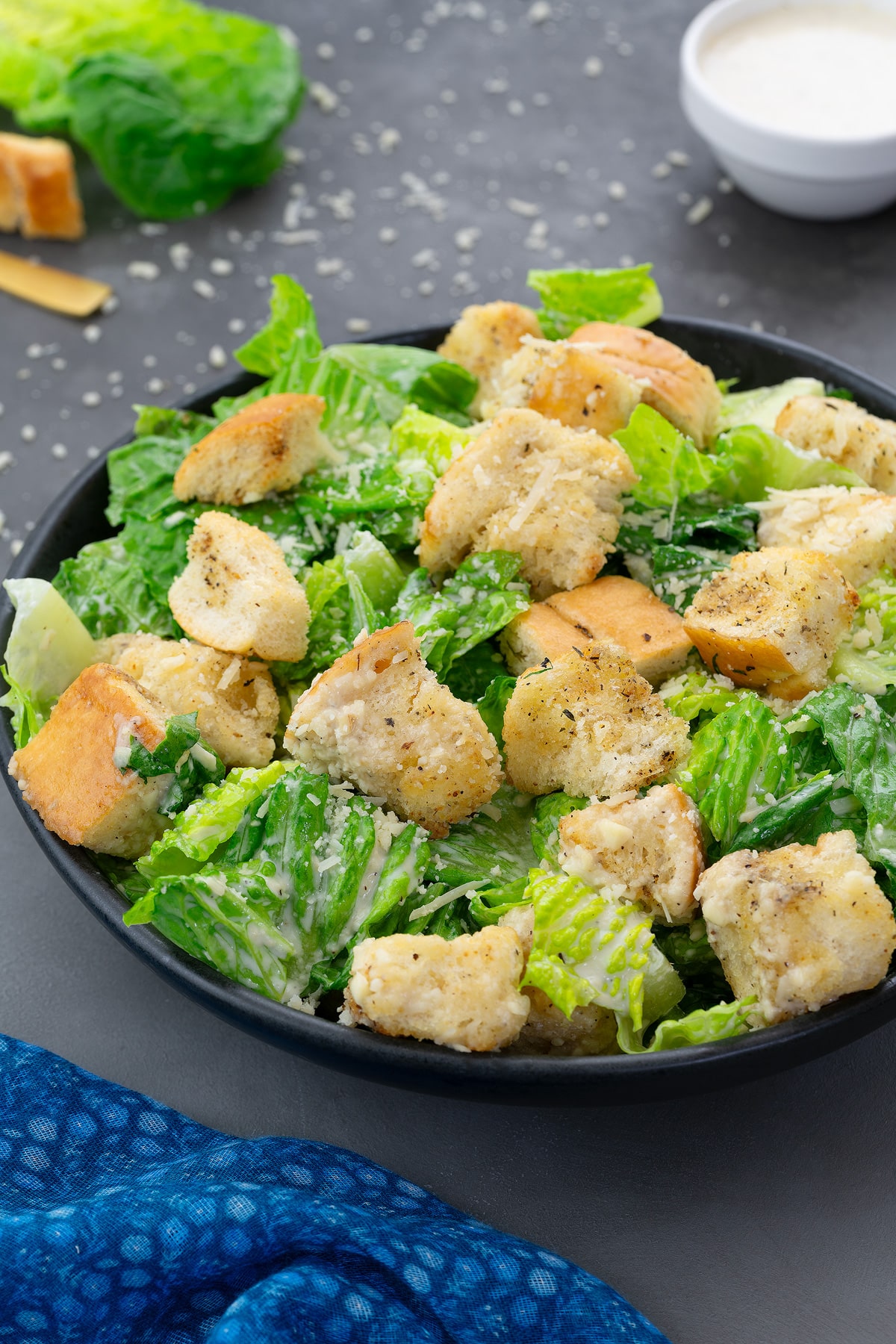 Jump to:
What is Caesar Salad?
Caesar Salad is renowned for its crisp, refreshing, and crunchy nature, delivering a delightful blend of textures and flavors. The salad features fresh romaine lettuce paired with crispy croutons, all enveloped in a velvety Caesar dressing. It's an ideal choice for diverse occasions, offering the flexibility to relish it as a light lunch or as a side dish for dinner, perfectly complementing roasted or baked veggies, meats, and seafood.
Caesar Salad is a classic that's loved by many for a reason. People have been enjoying it for years, and it's a dish that never goes out of style. It's often seen as something you might find in upscale restaurants, but you can easily make a gourmet-style Caesar Salad at home. With careful attention to the dressing's ingredients, layering fresh lettuce, and adding high-quality croutons, you can create a restaurant-worthy dish in your own kitchen.
Whether you're having a casual family dinner, hosting a friendly gathering, or celebrating a special occasion, Caesar Salad is a crowd-pleaser. It's a versatile option that goes well with different types of meals. The way the dressing blends with the other components, giving you a mix of creaminess and freshness, makes it a standout choice.
Ingredients & Substitutions
The ingredients you will need to make this Caesar Salad consist of a combination of fresh produce and essential, as well as distinctive, elements that are readily accessible in retail grocery markets. Let's take a look at these components below: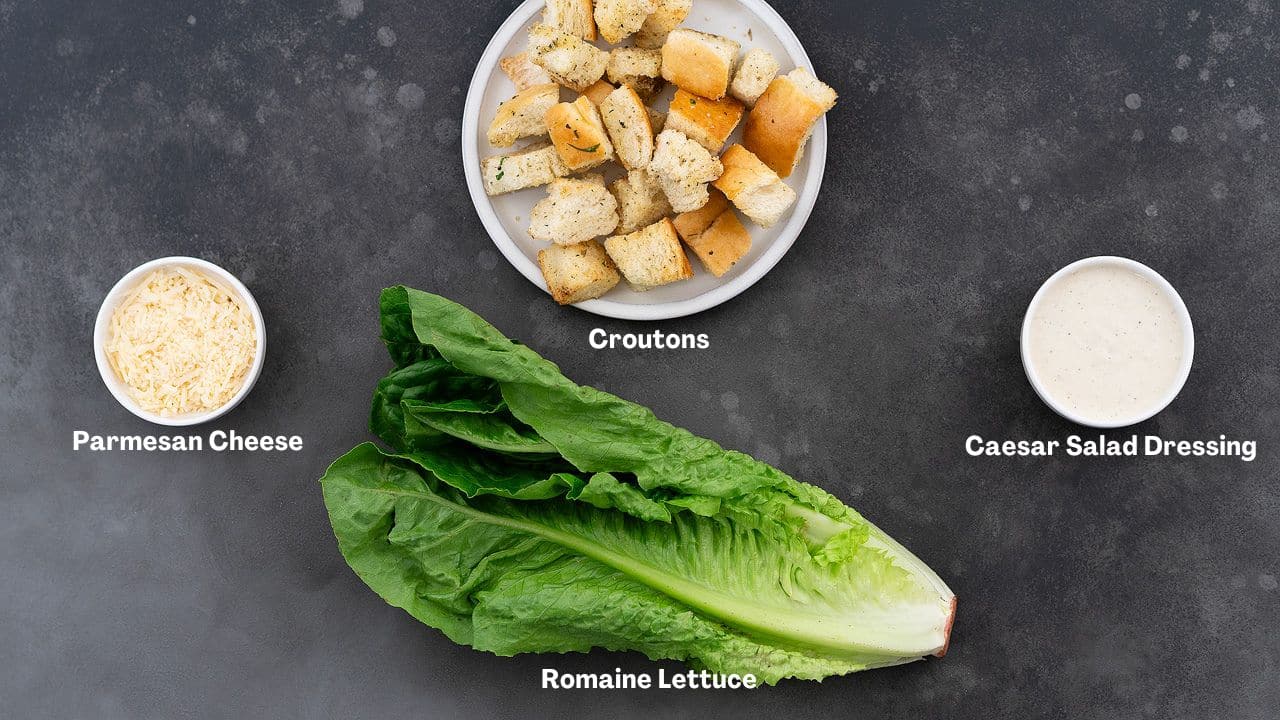 For a detailed ingredients list, please check out the recipe card below.
How to Make Caesar Salad at Home?
The recipe I shared here is for Caesar Salad, a classic dish known for its rich flavors and delightful textures. This salad features crisp romaine lettuce, crunchy croutons, and grated Parmesan cheese for added savory goodness. Coated in a creamy Caesar dressing, crafted from a blend of mayo, anchovies, Worcestershire sauce, garlic, lemon juice, and Parmesan, it promises a well-rounded and flavorful experience that is cherished by many.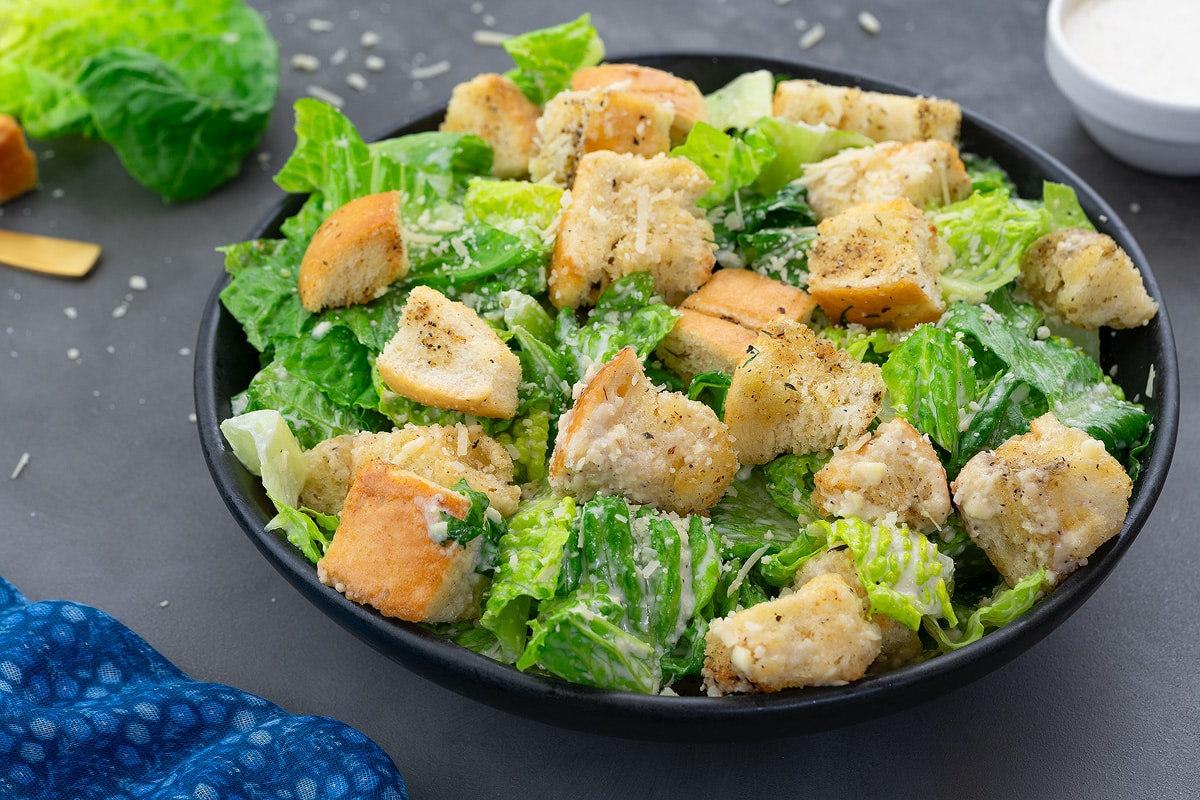 Below are the high-level instructions for this recipe, but for detailed step-by-step instructions with photos and a video, please see the recipe card below.
Tips
Storage Suggestions
Caesar Salad is a quick and convenient option with smart storage strategies. Prepare croutons beforehand, ensuring they're fully cooled before sealing in an airtight container at room temperature for 1-2 weeks. For the dressing, store it in a sealed container in the fridge, allowing it to stay good for 3-4 days. Keep lettuce dry, placing it in a breathable container lined with a paper towel, and storing it in the refrigerator for 2-3 days. When ready to assemble, combine these components for a hassle-free and tasty Caesar Salad experience.
Serving Suggestions
Caesar Salad is a classic dish that combines crisp romaine lettuce, creamy dressing, croutons, and grated Parmesan cheese. When serving Caesar Salad, you might want to consider pairing it with complementary dishes that provide a balanced and satisfying meal. Here are some ideas:
Related Recipes
You can also find similar salad recipes below and more at summer recipes.
Caesar Salad Recipe Video
I have also shared a detailed video of this Caesar Salad Recipe below that I hope will help you make a gourmet-style meal at home. You can also find this recipe in a story format.
📖 Recipe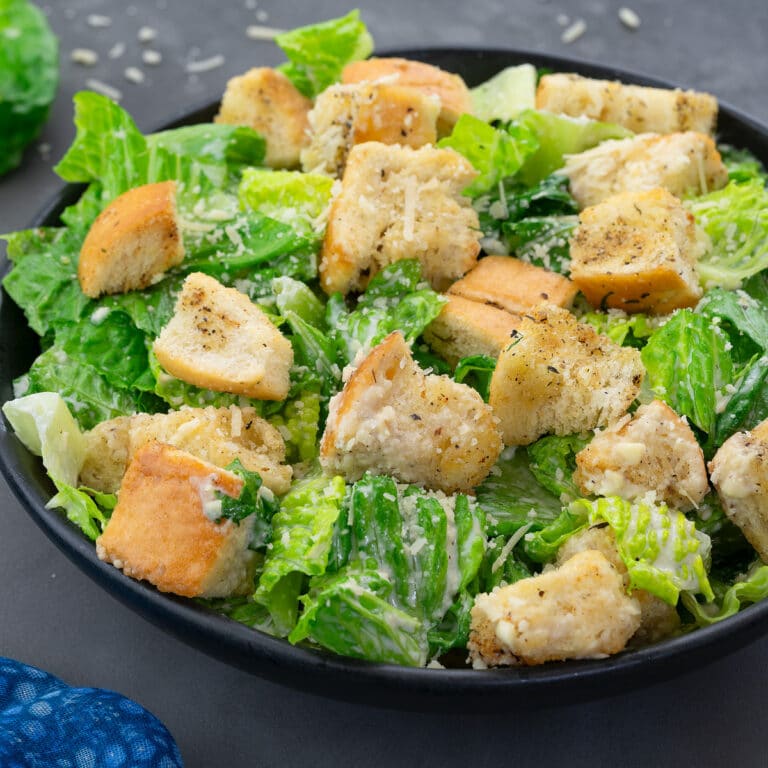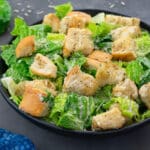 Caesar Salad
Caesar Salad is a timeless classic, popular for its distinct and refreshing flavors. This salad is created from a medley of fresh romaine lettuce, croutons, grated Parmesan cheese, and a luscious Caesar salad dressing, this homemade version stands as an exceptional summer dish. It pairs with a variety of dishes such as chicken, salmon, shrimp, and soups.
Subscribe
print (text-only)
email
pin
review
save
saved!
Ingredients
For Caesar Salad
2

Romaine Lettuce Hearts

,

medium size

3

cups

Croutons

3

tbsp

Parmesan Cheese
For Caesar Salad Dressing
1½

cup

Mayonnaise

1

tbsp

Dijon Mustard

2

tbsp

Garlic

,

chopped

1

tsp

Worcestershire Sauce

1

tsp

Anchovy Paste

2

tbsp

Lemon Juice

½

tsp

Black Pepper Powder

½

cup

Parmesan Cheese

3

tbsp

Water

,

or adjust to the preferred consistency
More on Unit Conversions »
Instructions
To make Caesar Salad Dressing
To prepare the dressing combine all the ingredients except for the Parmesan cheese and water. Mix thoroughly. Once well combined, add the Parmesan cheese and water. Mix again and set aside for later use. Explore the dedicated post for a more detailed Caesar salad dressing recipe.
To make Caesar Salad
Next, take two medium-sized hearts of romaine lettuce. Trim the thick stalk ends and chop them into bite-sized pieces. Wash the lettuce thoroughly with water and ensure it's completely dry

Place the chopped lettuce in a large mixing bowl. Add grated Parmesan cheese and croutons

Gently pour the Caesar salad dressing over the ingredients in the bowl. Begin by adding a little dressing along the sides of the bowl, then gradually move towards the center. This way, the dressing spreads evenly across the leaves, giving them a nice coating. Remember not to pour all of the dressing at once. It's better to add a bit, mix, and then add more if needed. As you do this, it's a good idea to taste a bit as you go along. Serve immediately to enjoy the refreshing and crunchy flavors. (Note: If not serving immediately, add the croutons just before serving to prevent them from becoming soggy)
Notes
Fresh Ingredients: Use fresh and crisp romaine lettuce for the base of the salad. Freshness contributes to the salad's overall texture and taste
Dry the Lettuce: After washing the lettuce, ensure that it's completely dry before assembling the salad. Excess water can dilute the dressing and make the salad soggy
Crunchy Croutons: If you're making croutons at home, ensure they are properly toasted and crunchy. This adds a satisfying texture to the salad
Freshly Grated Parmesan: Grate Parmesan cheese just before using it. Freshly grated cheese has a more intense flavor compared to pre-packaged grated cheese
Add Croutons Just Before Serving: If you're not eating the salad right away, wait until just before serving to add the croutons. This helps maintain their crunchiness
Taste as You Go: Since Caesar salad dressing contains ingredients like Parmesan cheese, mayo, and Worcestershire sauce that can be salty, it's important to taste the salad as you add the dressing. This allows you to control the saltiness and adjust accordingly
Don't Overload the Dressing: Avoid adding all of the dressing at once. Start with a small amount and toss the salad. Add more dressing if needed, but be cautious not to make the salad too wet or overly dressed
Variations: Feel free to customize the salad by adding grilled chicken, shrimp, or other protein sources to make it a complete meal
Balance Flavors: While the dressing is a key element, balance is key. Ensure that the other ingredients, such as lettuce, cheese, and croutons, are in harmony with the dressing's flavors
Presentation: When serving, aim for an appealing presentation. Layer the lettuce, cheese, and croutons nicely before adding the dressing
Chilling: If you like your salad cold, you can refrigerate the washed and dried lettuce before assembling the salad. This adds a refreshing element
Nutrition
Serving:
1
serving
|
Calories:
494
kcal
|
Carbohydrates:
13
g
|
Protein:
7
g
|
Fat:
46
g
|
Saturated Fat:
9
g
|
Polyunsaturated Fat:
25
g
|
Monounsaturated Fat:
11
g
|
Trans Fat:
0.1
g
|
Cholesterol:
32
mg
|
Sodium:
712
mg
|
Potassium:
73
mg
|
Fiber:
1
g
|
Sugar:
1
g
|
Vitamin A:
125
IU
|
Vitamin C:
3
mg
|
Calcium:
154
mg
|
Iron:
1
mg
FAQ
Can I skip anchovies while making Caesar Salad?
Yes, you can skip anchovies in your Caesar salad. Anchovies are a traditional part of the dressing for their flavor, but you can omit them for a vegetarian version or personal preference. You can enhance the taste with alternatives like Worcestershire sauce or miso. The salad will still be delicious without anchovies.
Is Caesar Salad healthy?
Caesar Salad can vary in healthiness based on ingredients and portions. While romaine lettuce offers vitamins, classic dressing can be high in calories, fat, and sodium. Opting for lighter dressings, portion control, lean proteins, and fresh produce can make Caesar salad a healthier choice.
Which is better homemade croutons or store-bought?
Both homemade and store-bought croutons have their advantages. Homemade croutons allow you to control ingredients and flavors, ensuring freshness. Store-bought ones offer convenience. Choose based on your preference and time availability.
I hope you found the recipe enjoyable and I would appreciate hearing about your experience with it.
If you have any further questions, please do not hesitate to leave a comment and I will do my best to respond promptly. Thank you for reading and happy cooking!