Garlic Butter Shrimp, a classic Italian seafood dish, perfectly balances the richness of garlic butter sauce with the delicate taste of shrimp, enhanced by aromatic spices and fresh Italian herbs. Easy and quick to prepare, often in less than 30 minutes with pre-cleaned shrimp, it's ideal for a flavorful appetizer or a hearty side dish.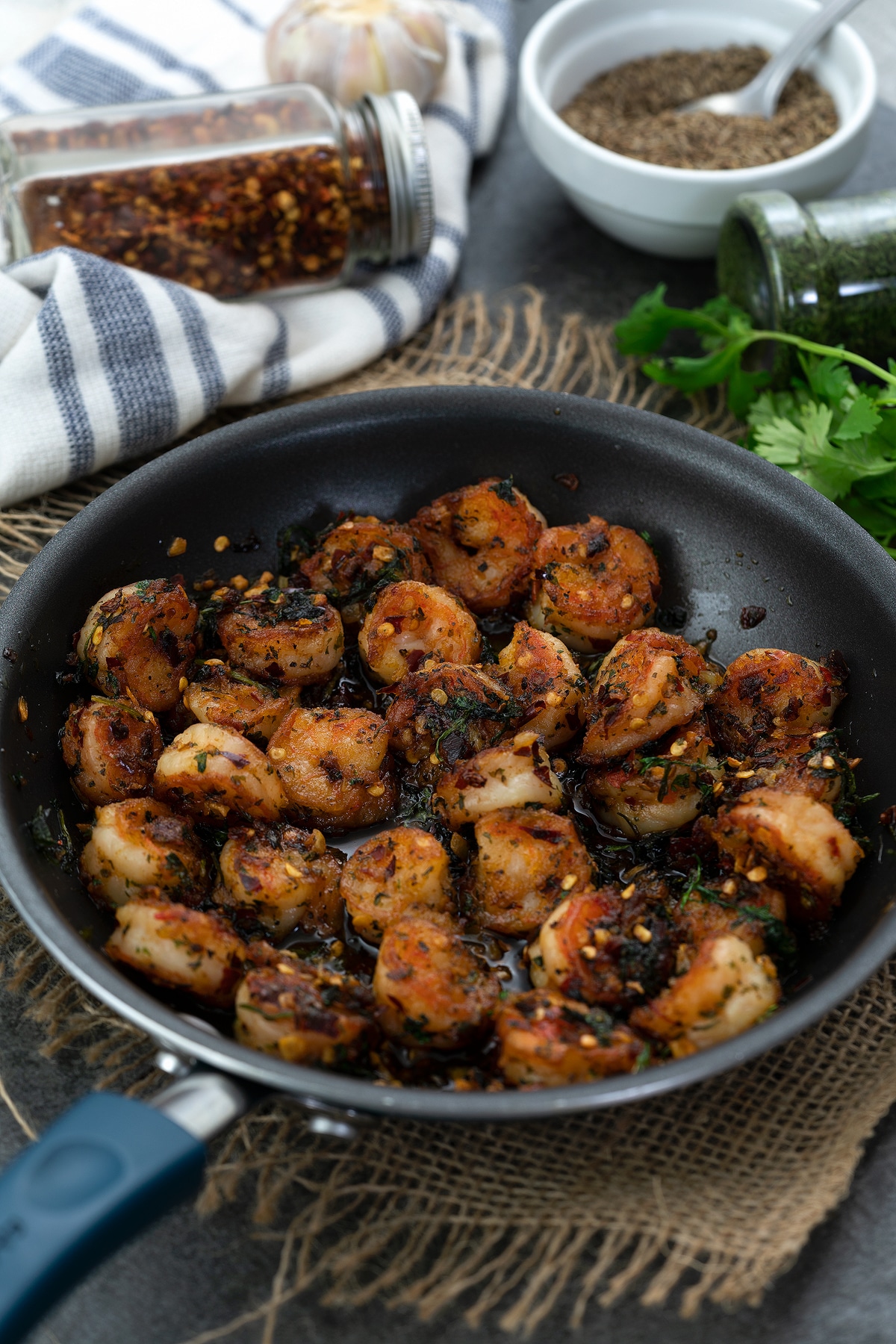 Jump to:
The shrimp are seasoned, pan-fried, and then stir-fried in a savory mix of garlic, butter, and herbs, with a hint of pepper flakes for a slight spicy edge. This dish pairs beautifully with rice, pasta, or even fried rice, making it a versatile addition to any lunch or dinner menu.
Discover More Delicious Garlic and Butter Infused Recipes:
Ingredients Overview
The ingredients to make the garlic butter shrimp are straightforward and easy to find in most supermarkets. Here's what you'll need to create this tasty dish: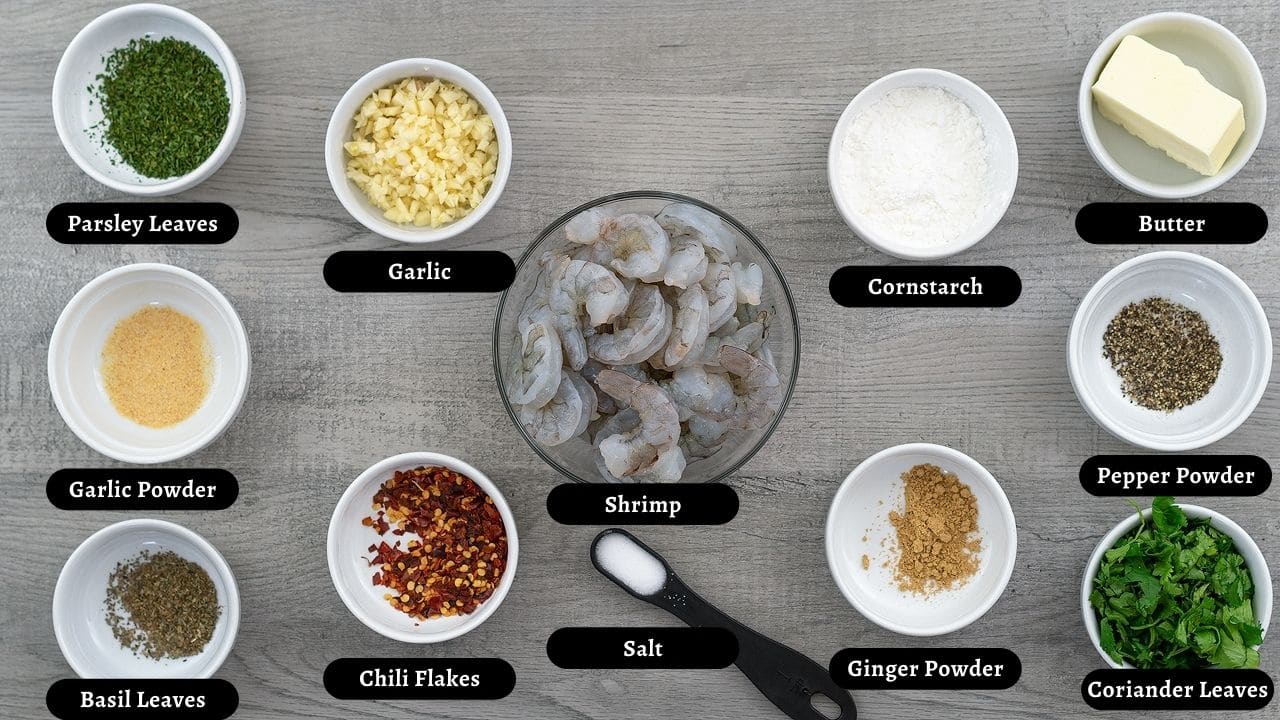 Shrimp: Extra-large, cleaned, and deveined shrimp are ideal, but feel free to use your preferred type.
Seasoning Marinade: A blend of ginger, garlic, pepper powder, and chili flakes to infuse the shrimp with robust flavors.
Flour Coating: Cornstarch is used for a light coating, ensuring the shrimp turn out juicy and crispy after frying.
Butter: Unsalted butter is recommended, though salted butter can be used with adjusted seasoning.
Garlic: A generous amount of fresh garlic is key to achieving that signature garlicky taste.
Fresh Herbs: Dried Italian herbs like basil and parsley are great, but fresh herbs can further enhance the dish.
How to make Garlic Butter Shrimp?
Let's start cooking Garlic Butter Shrimp! Follow these easy steps, with photos and video for guidance, through marinating, frying, and making the garlic butter sauce.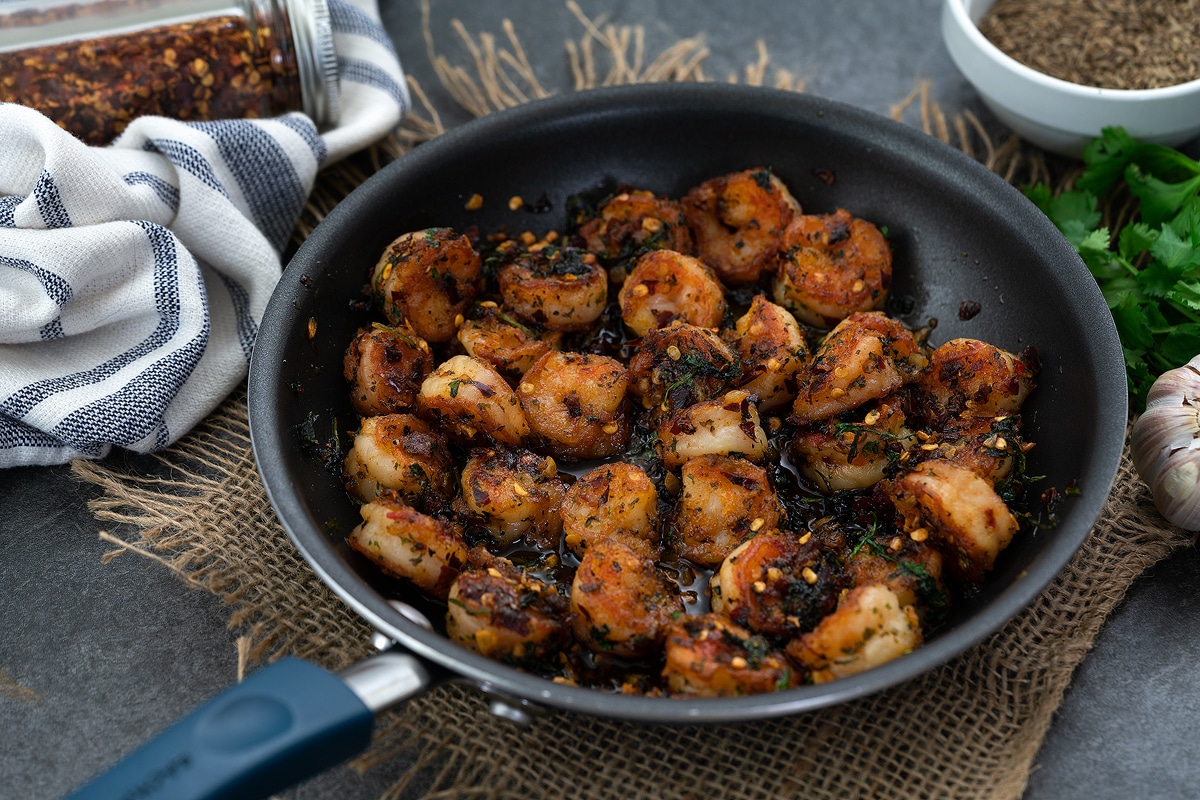 Enjoy More Delightful Shrimp Recipes: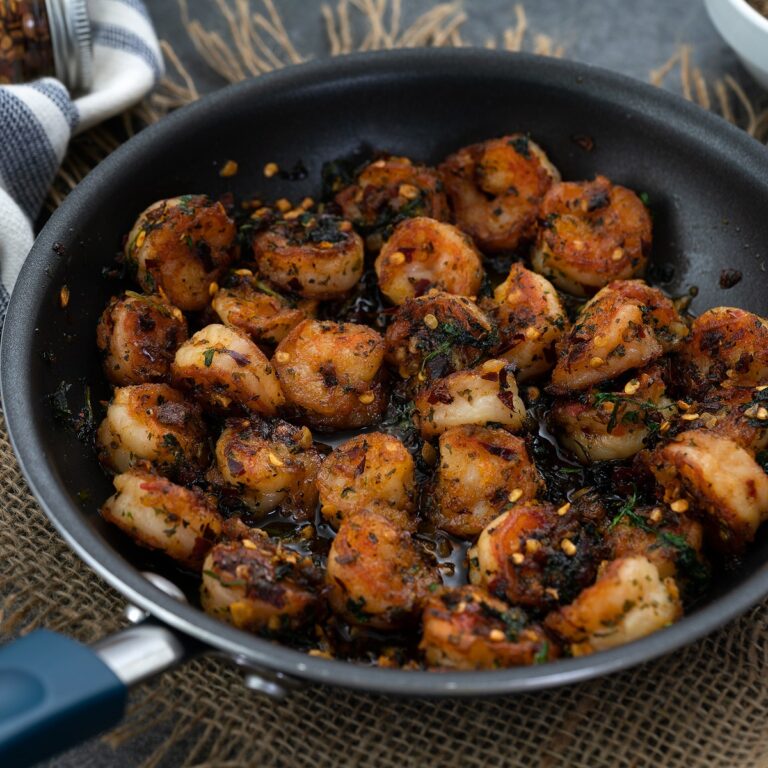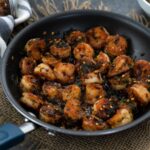 Garlic Butter Shrimp
Savor the rich flavors of Italy with Garlic Butter Shrimp, a quick, aromatic dish blending juicy shrimp and garlicky butter sauce. In under 30 minutes, enjoy it as a chic appetizer or a sumptuous side with rice or pasta.
Subscribe
print (text-only)
email
pin
review
save
saved!
Ingredients
1

lb

Shrimp

,

cleaned & deveined

1

tsp

Garlic Powder

1

tsp

Ginger Powder

1

tsp

Pepper Powder

1

tsp

Chili Flakes

1

tsp

Salt

3

tsp

Cornstarch

2

tbsp

Oil

2

tbsp

Butter

2

tbsp

Garlic

,

minced

1

tsp

Basil Leaves

,

dried

1

tsp

Chili Flakes

1½

tsp

Parsley

,

dried

2

tbsp

Coriander Leaves
More on Unit Conversions »
Instructions
To Marinate the Shrimp
Combine shrimp, garlic, ginger, pepper powder, chili flakes, salt, and cornstarch in a bowl.

Mix thoroughly, ensuring the shrimp are well-coated. While resting the shrimp for 15 minutes is optional, I've chosen to fry them immediately.
To Fry the Shrimp
Heat oil in a pan over medium heat and place the shrimp in it one by one. Fry for 2 to 3 minutes.

Flip the shrimp and continue frying until they turn golden, being careful not to overcook.

Once fried, remove the shrimp and set them aside for later use.
To Make Garlic Butter Shrimp
Start by melting butter in the same pan, then add garlic and sauté until it becomes fragrant.

Next, mix in basil, parsley, and chili flakes for added flavor.

Toss in the previously fried shrimp, ensuring they're well coated with the mixture.

Finally, sprinkle fresh coriander leaves on top. Your Garlic Butter Shrimp is now deliciously ready to serve and savor!
To Serve
Enjoy this spicy Garlic Butter Shrimp as a flavorful appetizer or as a perfect side dish with your choice of rice or pasta.
Chef's Notes and Tips
Here are some essential tips for making Garlic Butter Shrimp:
Marinating for Flavor: To really bring out the flavors, marinate the shrimp in basic spice powders. This simple step can make a big difference in taste.
Keeping Shrimp Succulent: Be careful not to overcook the shrimp. A quick 2-3 minute fry will keep them juicy and tender.
Customizing the Garlic Butter Sauce: If you enjoy a bit of heat, the chili flakes in the sauce are perfect. But for a classic taste, feel free to leave them out.
Herbs for Aroma and Taste: While I've used dried herbs, fresh ones can add an even more delightful aroma and flavor. Use them if you have them on hand.
A Zesty Touch with Lemon: A little lemon juice can elevate the dish with a fresh, zesty flavor. It's great if you like a bit of tang in your seafood.
Oven-Baked Variation: If you prefer baking, mix the shrimp with butter, garlic, and herbs, then bake at 400°F for 8-10 minutes on a greased baking sheet. A final garnish of herbs adds the perfect touch.
Vegetable Options: For a complete meal, try stir-frying your favorite vegetables along with the shrimp. This adds nutrition and variety, making it a perfect and balanced dish.
Nutrition Info
Serving:
1
serving
|
Calories:
305
kcal
|
Carbohydrates:
6
g
|
Protein:
31
g
|
Fat:
18
g
|
Saturated Fat:
6
g
|
Polyunsaturated Fat:
3
g
|
Monounsaturated Fat:
8
g
|
Trans Fat:
0.4
g
|
Cholesterol:
263
mg
|
Sodium:
1039
mg
|
Potassium:
485
mg
|
Fiber:
1
g
|
Sugar:
0.3
g
|
Vitamin A:
931
IU
|
Vitamin C:
2
mg
|
Calcium:
116
mg
|
Iron:
1
mg
Disclaimer: We're not nutrition experts. Nutritional info is estimated and should be used as a guide. For precise details, consult a professional.
Crave Italian or shrimp dishes? Our collection offers simple, delicious recipes from classic Italian pasta to flavorful shrimp meals, perfect for satisfying your culinary desires. Explore!
Storage and Serving Suggestions
Storage: Keep the Garlic Butter Shrimp fresh and delicious by storing it in an airtight container in the refrigerator, where it'll stay good for up to 2 days. When you're ready to enjoy it again, gently warm it to preserve its flavor and texture.
Serving: This dish shines as a versatile appetizer or as a complement to rice or your favorite pasta. Elevate your meal by pairing it with a variety of roasted vegetables like green beans or broccoli, creating a delightful and balanced platter perfect for any occasion.