Indulge in an elegant flavors of Garlic Butter Shrimp Pasta, a true Italian masterpiece that brings together Fettuccine Pasta, a luxurious Garlic Butter Sauce, succulent shrimp, and a harmonious blend of Italian seasoning. This versatile dish is a delightful fusion of textures and tastes, making it a perfect choice for both lunch and dinner.
Jump to:
At the heart of this classic Italian creation lies the sumptuous Garlic Butter Sauce, which lovingly envelops the tender shrimp and al dente pasta in a velvety, garlic-infused embrace. Elevating the experience are the vibrant notes of fresh Italian herbs and the rich creaminess of grated cheese.
In this version, we've added a subtle touch of spice, transforming it into an ideal comfort food for chilly winter evenings. But fear not, as you have complete control over the spice level, allowing you to tailor it to your family's palate.
Beyond its gastronomic appeal, this Garlic Butter Shrimp Pasta recipe is a beacon of convenience, requiring just under 30 minutes from start to finish. It's a crowd-pleaser, beloved by adults and children alike, making it the perfect addition to your family's menu rotation.
Discover the Versatility of Garlic Butter Based Dishes:
Ingredients Overview
Creating Garlic Butter Shrimp Pasta is a breeze with these readily available ingredients. Here's what you'll need:
Main Ingredients: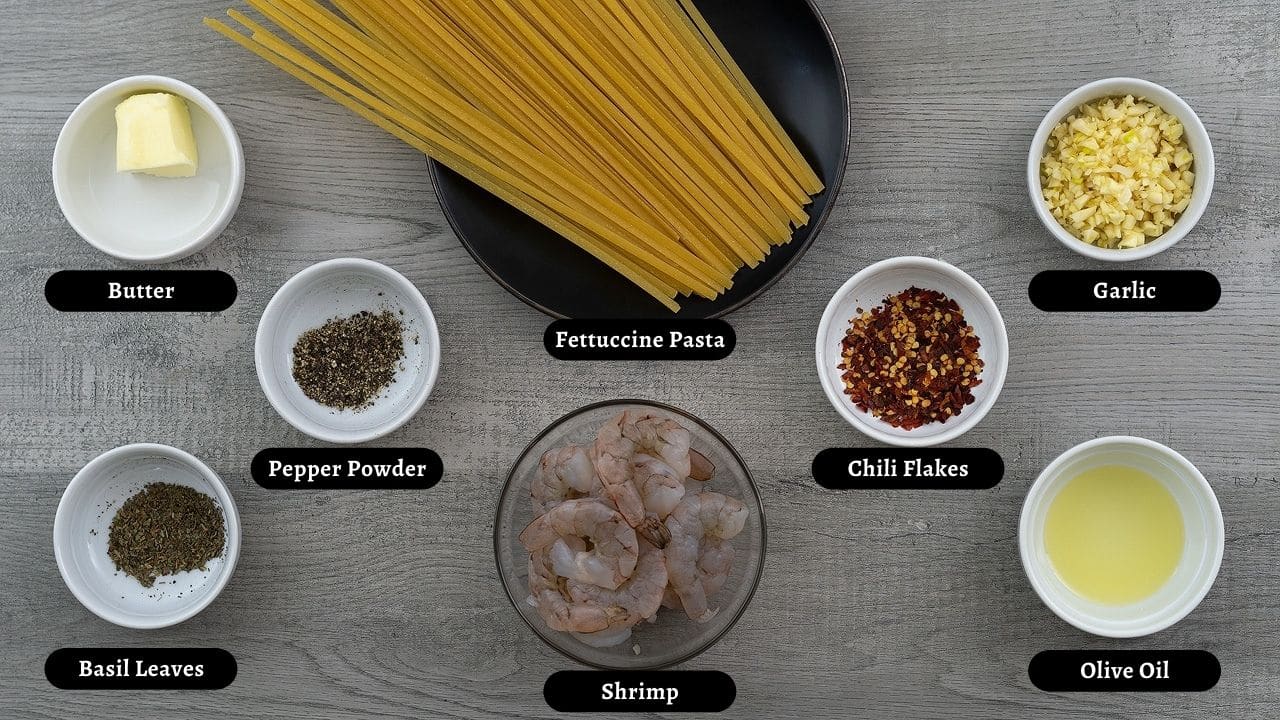 Butter: I've used extra creamy salted butter, but unsalted butter works too.
Olive Oil: Optional for an extra hint of flavor.
Shrimp: Brings that classic seafood flavor, but you can also opt for other proteins.
Pasta: I've gone with Fettuccine Pasta, but you're free to choose spaghetti, angel hair pasta, rotini, or your favorite pasta.
Garlic: Freshly minced garlic infuses the sauce with a wonderful aroma and taste. Garlic powder can be a handy substitute.
Italian Seasonings: For seasoning, I've used dried basil and parsley leaves, but feel free to experiment with other seasonings.
Chili Flakes: To add a touch of spiciness, I've included paprika, chili flakes, and pepper powder. Adjust the quantity to suit your spice level.
Other Ingredients: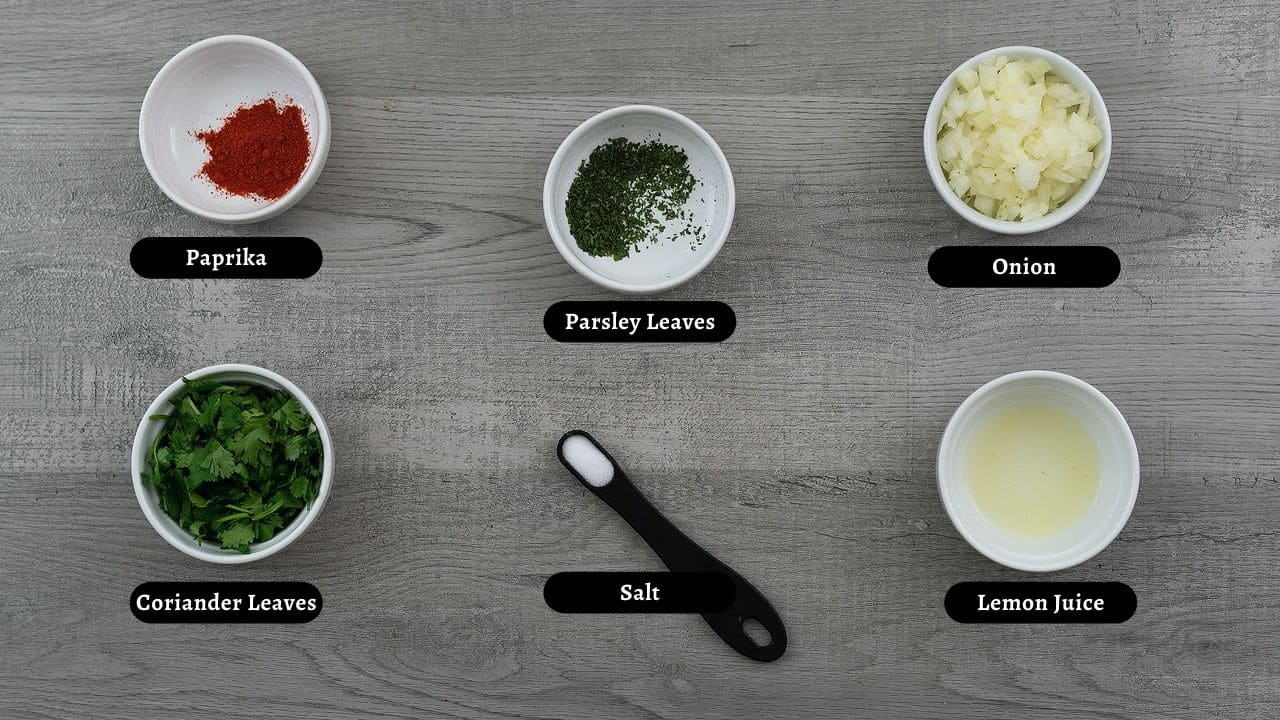 Onion: Imparts a delightful flavor to the pasta.
Paprika: Optional for color and a subtle heat.
Lemon Juice: A tablespoon of lemon juice provides a zesty kick.
Cilantro/Coriander Leaves: Garnishing with fresh cilantro leaves not only adds aroma but also enhances the dish's flavor.
Enjoy More Shrimp Delights:
How to make Garlic Butter Shrimp Pasta?
Prepare to embark on a culinary journey that will tantalize your taste buds and leave you craving more. Let's dive into the step-by-step preparation of this mouthwatering dish with photos and video, and get ready to savor every delectable bite.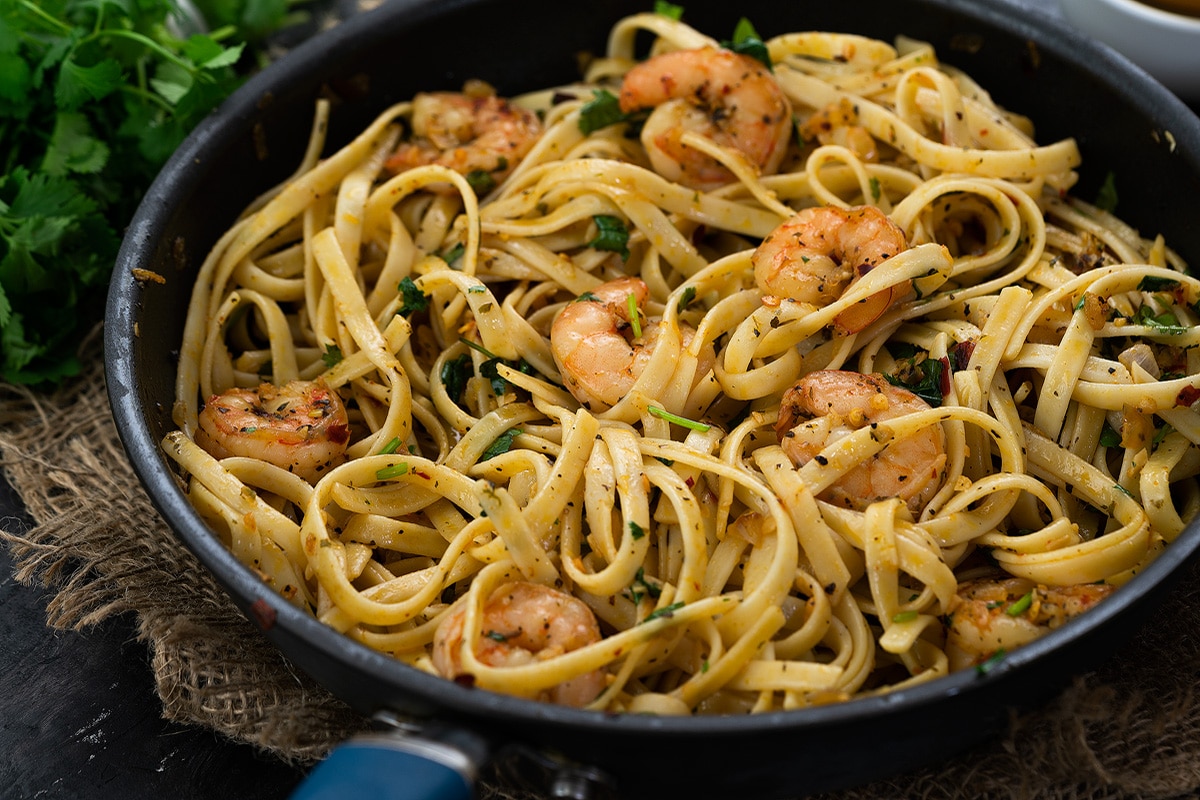 Enjoy a World of Pasta Dishes: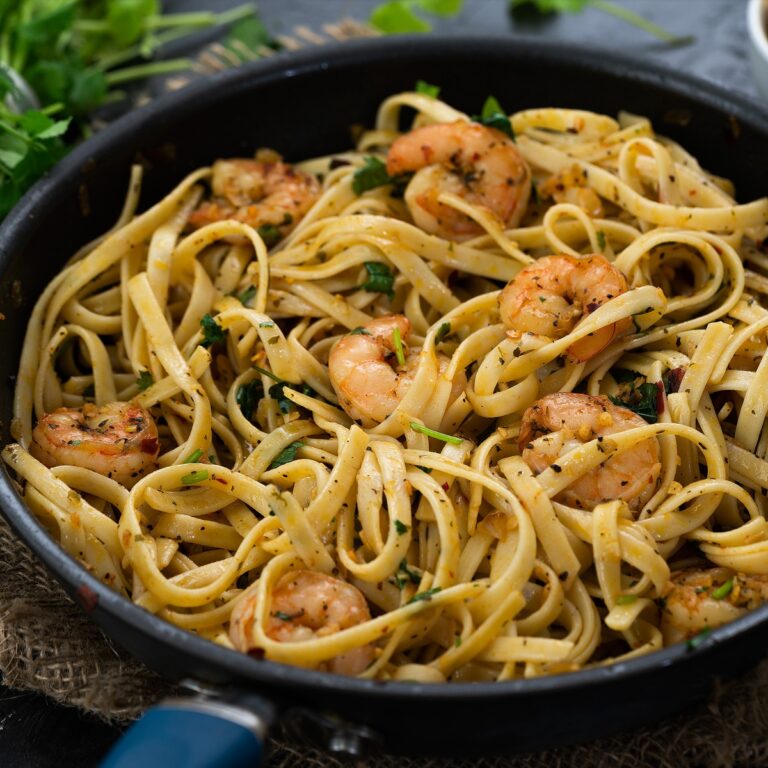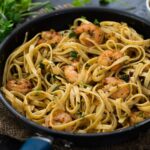 Garlic Butter Shrimp Pasta
Experience the allure of Garlic Butter Shrimp Pasta, a rich and mildly spiced Italian delight. This dish, featuring succulent shrimp, Fettuccine Pasta, and a flavorful garlic butter sauce, offers comfort for lunch or dinner.
Subscribe
print (text-only)
email
pin
review
save
saved!
Ingredients
8

oz

Fettuccine Pasta

2

tbsp

Butter

,

salted

1

tbsp

Olive Oil

2

tbsp

Garlic

,

minced

¼

cup

Onion

,

chopped

½

tsp

Chili Flakes

½

tsp

Pepper Powder

½

tsp

Oregano

,

dried

½

tsp

Basil

,

dried

1

tbsp

Lemon Juice

1

tsp

Paprika

¼

cup

Shrimp

,

cleaned and deveined
More on Unit Conversions »
Instructions
To Cook Pasta
In a wide-bottomed pan over medium heat, add water, salt, and a dash of oil. Cook the Fettuccine Pasta according to the package instructions.

Drain the pasta and set it aside for later use.
To Make Garlic Butter Pasta
Heat a pan over medium heat and add olive oil and butter. Allow them to melt, then add the garlic and sauté until its aroma fills the air.

Toss in the onions and cook until they become soft and translucent.

Mix in chili flakes, paprika, dried basil leaves, parsley, pepper powder, and salt. Stir well.

Add the shrimp and sauté for 2 to 5 minutes until they are cooked but tender. Be careful not to overcook to avoid toughness.

Sprinkle with lemon juice and give it a quick mix.

Incorporate the reserved pasta, ensuring it's well coated with the flavorful seasoning.

Finish with a handful of fresh coriander leaves, remove from heat, and there you have it - spicy Garlic Butter Shrimp Pasta ready to tantalize your taste buds!
To Serve
Enjoy this delectable Garlic Butter Shrimp Pasta as is, or elevate the flavor by sprinkling some Parmesan cheese or pairing it with roasted vegetables.
Chef's Notes and Tips
Some basic tips to get perfect Garlic Butter Shrimp Pasta:
Garlic Butter Sauce: I've included both olive oil and butter in the sauce, but for the classic Garlic Butter Sauce, you can skip the oil.
Heat Level: While I've used paprika, pepper, and chili flakes to add some heat, don't hesitate to adjust the spice levels to your taste.
Pasta Options: Feel free to experiment with different pasta varieties like rotini, angel hair pasta, spaghetti, linguine, or any similar options for a unique twist on this recipe.
Nutrition Info
Serving:
1
serving
|
Calories:
143
kcal
|
Carbohydrates:
4
g
|
Protein:
5
g
|
Fat:
13
g
|
Saturated Fat:
5
g
|
Polyunsaturated Fat:
1
g
|
Monounsaturated Fat:
5
g
|
Trans Fat:
0.3
g
|
Cholesterol:
52
mg
|
Sodium:
91
mg
|
Potassium:
121
mg
|
Fiber:
1
g
|
Sugar:
1
g
|
Vitamin A:
530
IU
|
Vitamin C:
7
mg
|
Calcium:
35
mg
|
Iron:
0.5
mg
Disclaimer: We're not nutrition experts. Nutritional info is estimated and should be used as a guide. For precise details, consult a professional.
Looking for more? Whether you're craving the comforting embrace of pasta, the richness of Italian cuisine, or the delightful flavors of shrimp, our recipes promise to delight your taste buds with easy-to-follow yet delicious dishes.
Storage and Serving Suggestions
To preserve the freshness of your Garlic Butter Shrimp Pasta, store it in an airtight container in the refrigerator for up to 2 days. When reheating, use either the microwave or a pan to retain the delicious taste and flavor.
While this Pasta is delightful on its own, consider enhancing the experience by adding grated cheese for an extra layer of flavor. For a more wholesome meal, serve it alongside roasted or baked vegetables.