One-Pot Garlic Parmesan Pasta offers a creamy, satisfying Italian experience with a luscious garlic parmesan sauce. This dish, perfect for both lunch or dinner, boasts a preparation time of under 30 minutes, making it ideal for quick meals.
This dish features your pasta of choice luxuriously cooked in a blend of chicken broth and milk, enriched with parmesan cheese and aromatic Italian herbs. The result is a pasta that's coated in a velvety, cheesy sauce.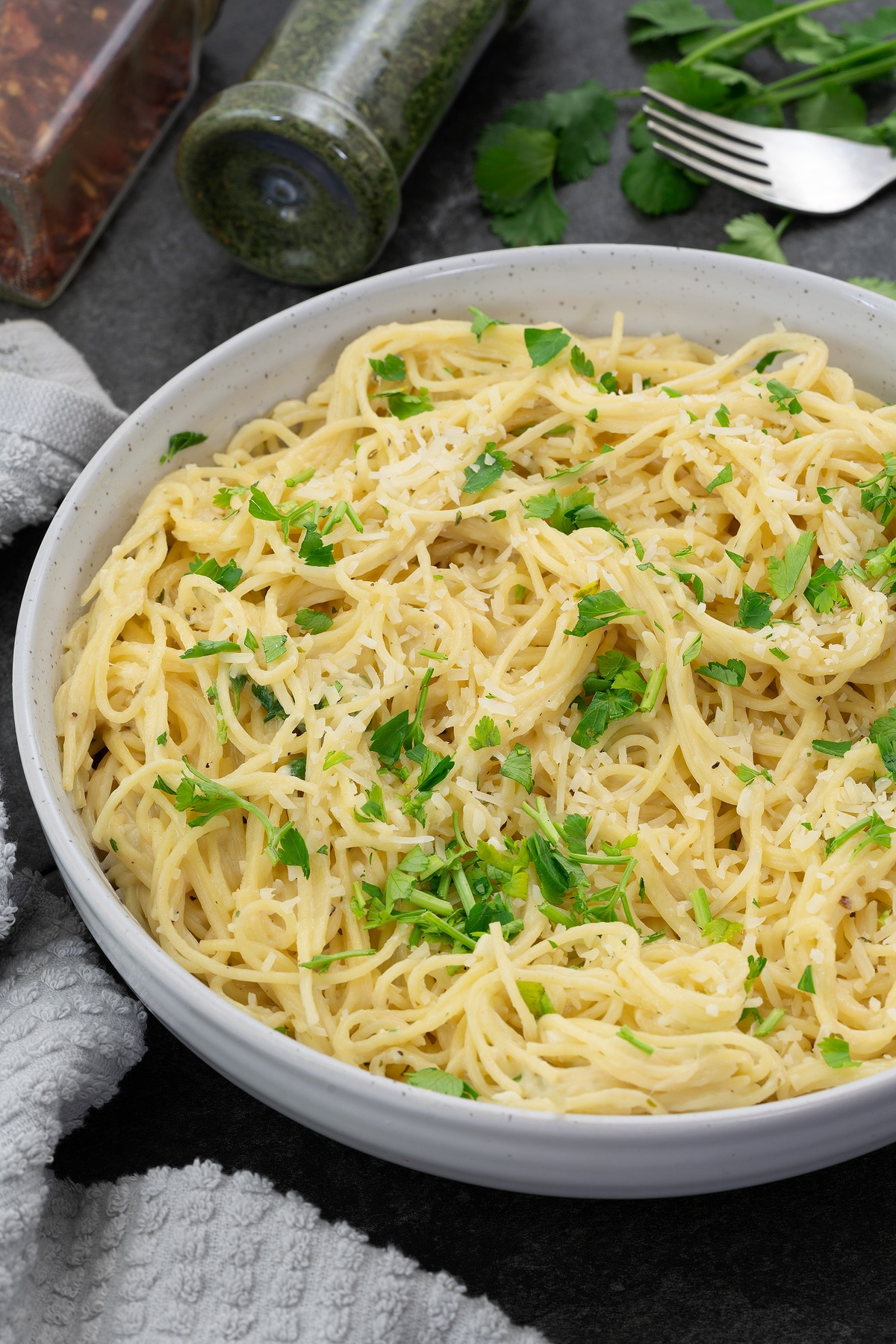 Jump to:
While this recipe is designed for one-pot simplicity, the sauce can be prepared in advance, making it even more convenient. It's a family-friendly meal, sure to be a hit with kids, and a perfect choice for busy weekdays or relaxed weekends.
Explore More Ways to Enjoy Garlic Parmesan:
Ingredients and Substitutions Overview
This Garlic Parmesan Pasta recipe is made with easily accessible ingredients, each contributing to the dish's flavor and texture: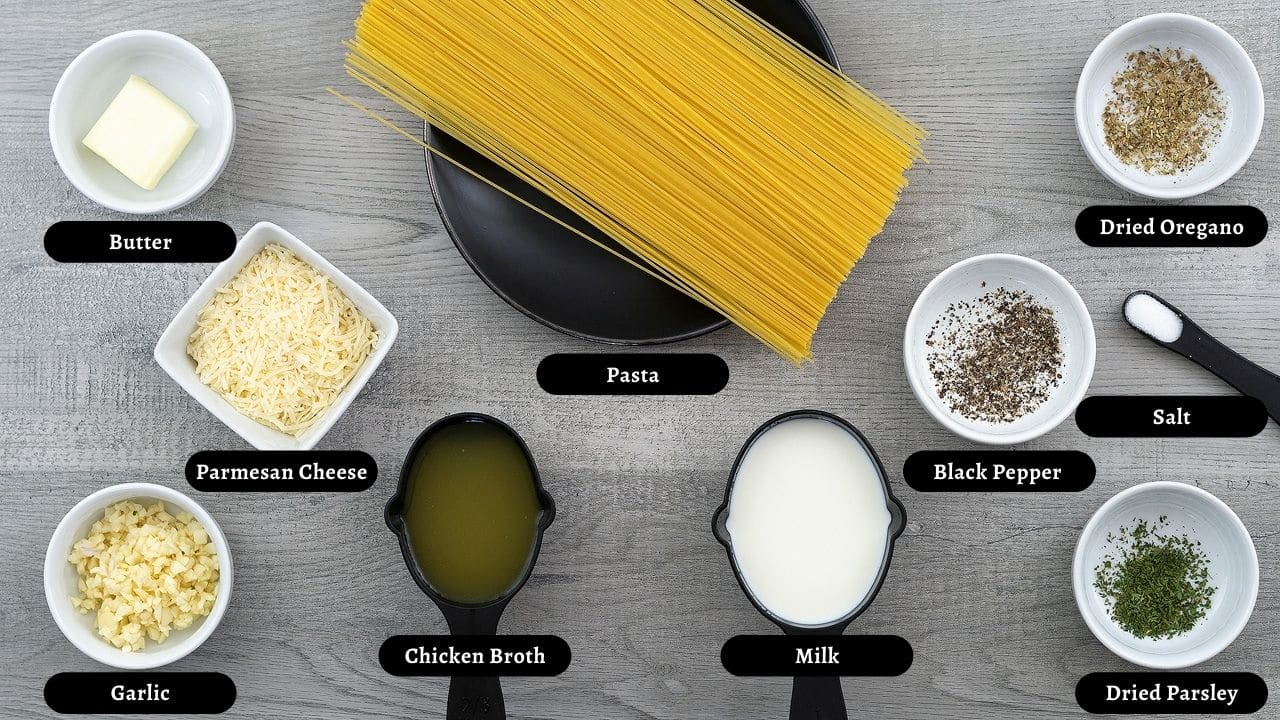 Pasta: Angel Hair Pasta is recommended, but feel free to use fettuccine, rotini, penne, or other types of pasta.
Chicken Broth: This adds a unique flavor, but vegetable broth can be used for a similar taste.
Milk: Full-fat milk for a richer, creamier texture.
Herbs: Basic Italian herbs for aroma, plus black pepper powder for a hint of heat.
Parmesan Cheese: Essential for a deep, savory cheesy flavor.
Herbs and Spices: A blend of butter, garlic, oregano, parsley, and black pepper powder enhances the dish with richness, aromatic depth, and a touch of heat.
These ingredients come together to create a dish that's rich in flavor and texture, and the substitutions offer flexibility to suit different dietary needs or preferences.
How to make One-pot Garlic Parmesan Pasta?
Dive into the world of comforting flavors with this easy-to-follow visual guide of Garlic Parmesan Pasta recipe. Perfect for any day of the week, this dish promises a delightful culinary experience. Here's how you can make it: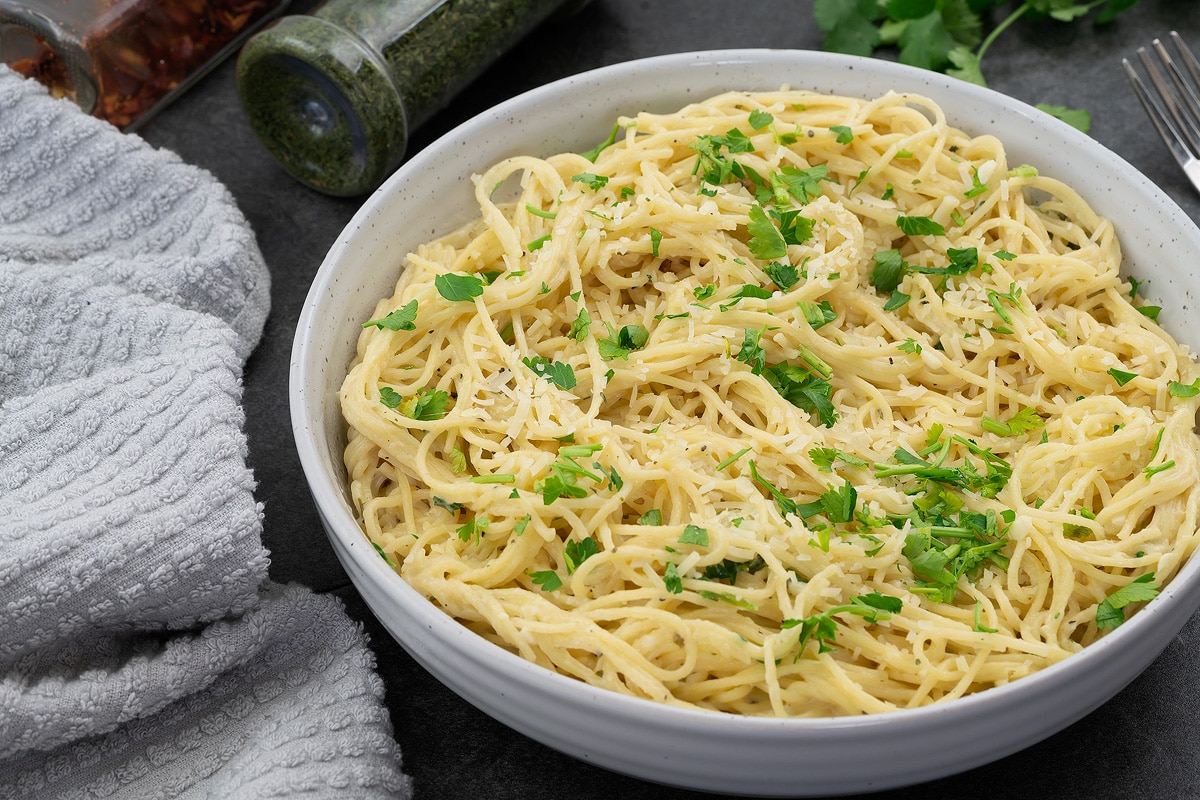 Experience the Richness of Pasta Delights: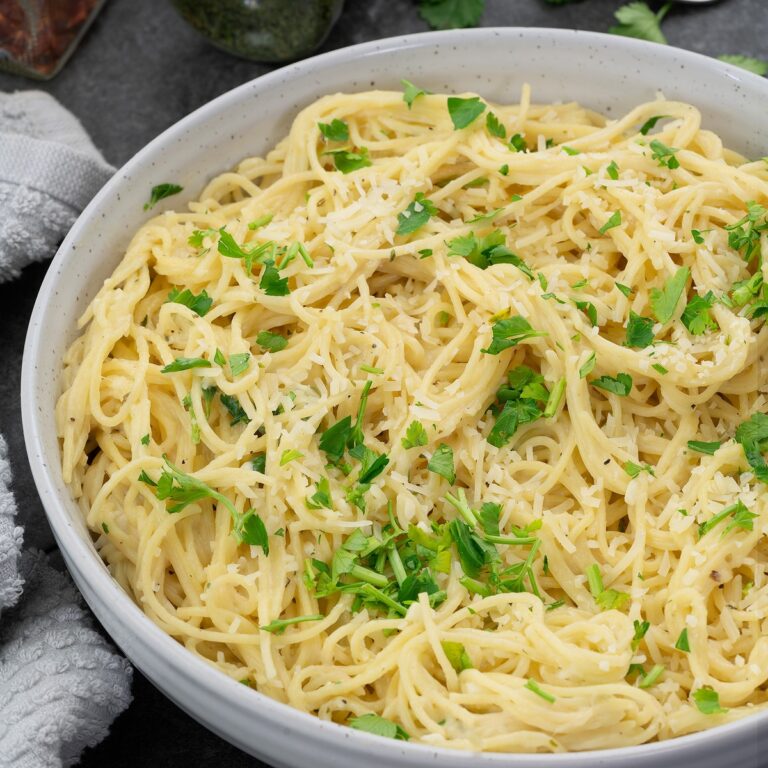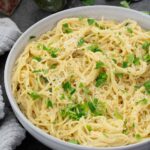 One-Pot Garlic Parmesan Pasta
One-Pot Garlic Parmesan Pasta presents a luxurious and creamy Italian culinary experience, featuring a smooth garlic parmesan sauce that's simply irresistible. It's an easy-to-prepare meal, perfect for both lunch and dinner. The highlight of this dish is its quick preparation, ready in just under 30 minutes, making it ideal for a satisfying meal without the wait.
Subscribe
print (text-only)
email
pin
review
save
saved!
Ingredients
8

oz

Angel Hair Pasta

3

tbsp

Butter

,

unsalted

3

tbsp

Garlic

,

minced

2

cup

Chicken Broth

,

or veg broth

1

cup

Milk

,

full fat

Salt

,

as needed

½

tsp

Oregano

,

dried

½

tsp

Parsley

,

dried

½

tsp

Pepper Powder

¼

cup

Parmesan Cheese

,

grated

Parsley

,

to garnish
More on Unit Conversions »
Instructions
To make Garlic Parmesan Pasta
Start by heating 3 tablespoons of unsalted butter in a large pot over medium heat until it's melted and spread evenly.

Add 3 tablespoons of minced garlic and sauté until it turns aromatic.

Pour in 2 cups of your choice of chicken or vegetable broth, giving it a good stir to combine.

Gently mix in 1 cup of full-fat milk to the pot, blending it well for a rich texture. Alternatively, half-and-half can be used for added creaminess.

Season with dried oregano, parsley, and black pepper. Add a cautious amount of salt, keeping in mind the broth's sodium content.

Bring your sauce to a gentle boil before adding the angel hair pasta into the mix.

Cook the pasta until it's tender and the sauce has thickened, stirring occasionally, which should take about 12 to 15 minutes.

Mix in the Parmesan cheese, adjusting the sauce's thickness with a bit of warm milk if necessary.

Finish off with a sprinkle of fresh parsley, and your delicious Garlic Parmesan Pasta is ready to be enjoyed!
To Serve
Enjoy this creamy Garlic Parmesan Pasta with roasted green beans, garlic butter chicken, parmesan wings, or your chosen sides.
Chef's Notes and Tips
Here are some helpful tips to enhance your Garlic Parmesan Pasta experience:
Sauce Flexibility: Prepare the garlic parmesan sauce in advance for convenience. It blends perfectly with any pasta variety.
Protein Options: Elevate the basic recipe by adding proteins like chicken, shrimp, or a selection of vegetables for added nutrition and flavor.
Broth Choices: While chicken broth is traditional, vegetable broth is a great alternative for a different yet delicious taste.
Dairy-Free Alternative: For a lactose-free version, use coconut milk instead of regular milk.
Oven-Baked Variation: Create an oven-baked version by combining uncooked pasta, garlic, butter, broth, milk, and herbs in a baking dish. Bake at 360°F for 30-35 minutes, then stir in cheese and parsley.
Pasta Salad Idea: Transform leftovers into a refreshing Garlic Parmesan Pasta Salad. Just add vegetables like spinach, mushrooms, carrots, broccoli, lettuce, bell peppers, onions, and shredded chicken, and enjoy it cold.
Nutrition Info
Serving:
1
serving
|
Calories:
364
kcal
|
Carbohydrates:
48
g
|
Protein:
13
g
|
Fat:
13
g
|
Saturated Fat:
8
g
|
Polyunsaturated Fat:
1
g
|
Monounsaturated Fat:
3
g
|
Trans Fat:
0.3
g
|
Cholesterol:
36
mg
|
Sodium:
631
mg
|
Potassium:
280
mg
|
Fiber:
2
g
|
Sugar:
5
g
|
Vitamin A:
522
IU
|
Vitamin C:
2
mg
|
Calcium:
183
mg
|
Iron:
1
mg
Disclaimer: We're not nutrition experts. Nutritional info is estimated and should be used as a guide. For precise details, consult a professional.
For an extensive selection of mouthwatering pasta and Italian recipes, explore our complete collection. From classic favorites to modern twists, there's a dish for every palate and occasion!
Storage and Serving Suggestions
Storage: Keep the pasta in an airtight container in the refrigerator, where it will remain fresh for up to two days. When reheating, whether in the microwave or on the stovetop, add a little milk to restore its creamy texture.
Serving Suggestions: Complement this creamy pasta with sides like roasted green beans, garlic butter chicken, or garlic butter shrimp for a complete meal. Feel free to pair it with other preferred side dishes to enhance the dining experience.