Garlic Parmesan Wings, a crispy and cheesy delight, are a perfect representation of Italian culinary excellence. Made from tender chicken wings and coated in a mouth-watering Garlic Parmesan Sauce, these wings are not only easy to prepare but also incredibly delicious. They're an ideal choice for an appetizer or snack, whether it's for a party or just a cozy evening at home.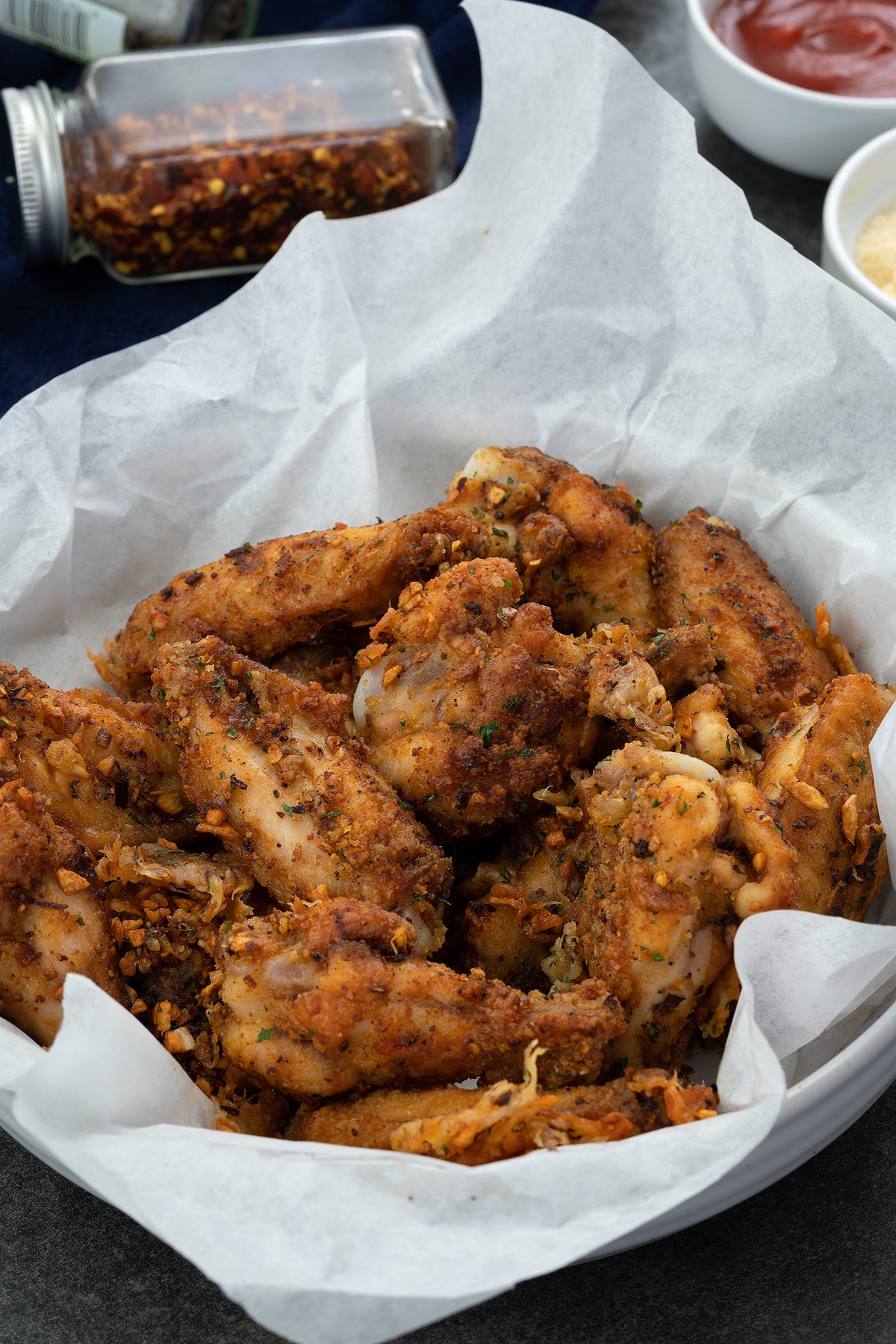 Jump to:
Renowned for their crispy, garlicky flavor, these wings are a common sight in fast-food chains worldwide, similar to Fried Shrimp. They're a beloved treat among kids, making them a family-friendly snack option.
Although many enjoy these wings at restaurants, preparing them at home is surprisingly easy and quick. In less than 30 minutes, you can recreate this fast-food favorite in your own kitchen. Let's dive into the recipe!
Discover More Ways to Enjoy Garlic Parmesan:
Ingredients Overview
Most ingredients for these Garlic Parmesan Wings are probably already in your pantry, and if not, they're easily found at any local grocery store. Let's take a look what they are!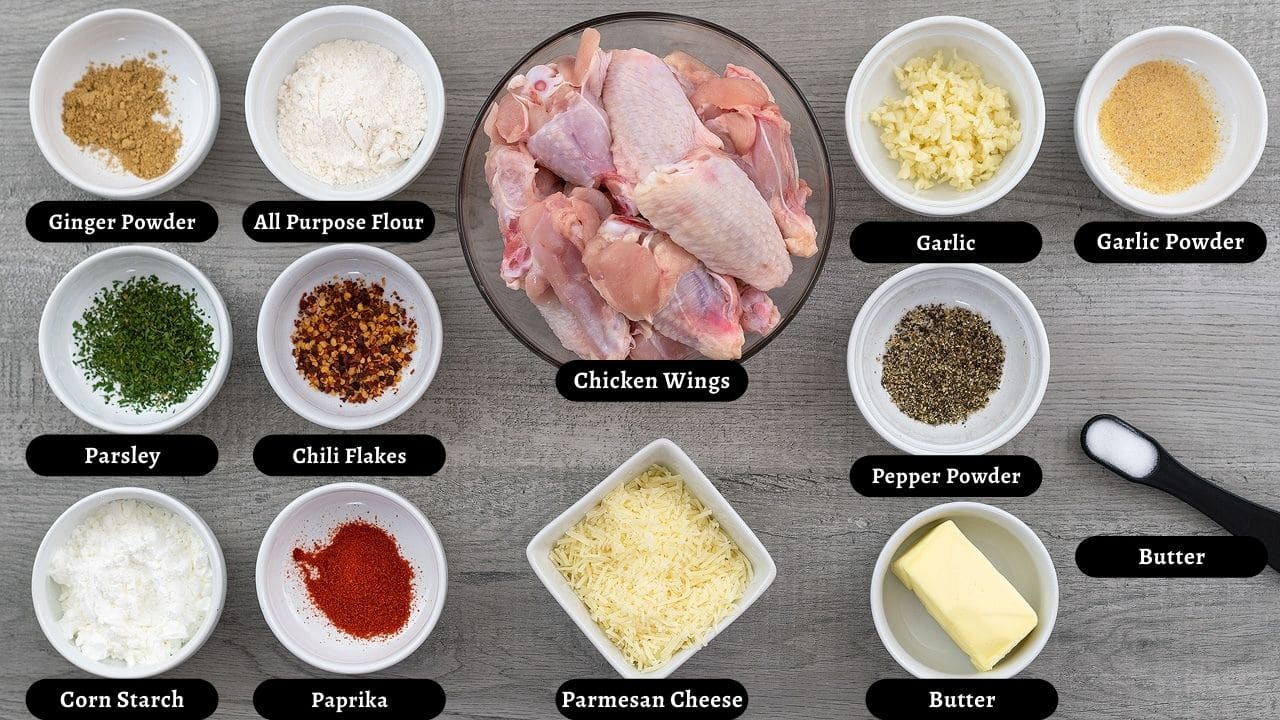 Chicken Wings: Preferably with skin for added crispiness, but boneless pieces work if wings aren't available.
Seasoning Powders: A blend of ginger, garlic, pepper, paprika, and salt for a flavorful seasoning.
Corn Starch and All-Purpose Flour: These are used for coating the wings. The corn starch helps in achieving a light and crispy texture, while the all-purpose flour ensures a crunchy exterior.
Flours: A mix of corn starch and all-purpose flour to coat the wings, ensuring a crispy and crunchy exterior.
Butter: Essential for a rich and flavorful sauce.
Garlic: Adds a distinct garlicky flavor and fresh aroma.
Parmesan Cheese: Brings a unique cheesy taste to the dish.
Parsley: Used as a garnish, it provides a fresh, herby touch that balances the rich flavors.
How to make Garlic Parmesan Wings?
Dive into the world of Italian-inspired culinary delight with my Garlic Parmesan Wings recipe. Accompanied by step-by-step photos and a detailed video, this guide makes cooking these savory treats a breeze. Let's get started on this crispy, cheesy adventure!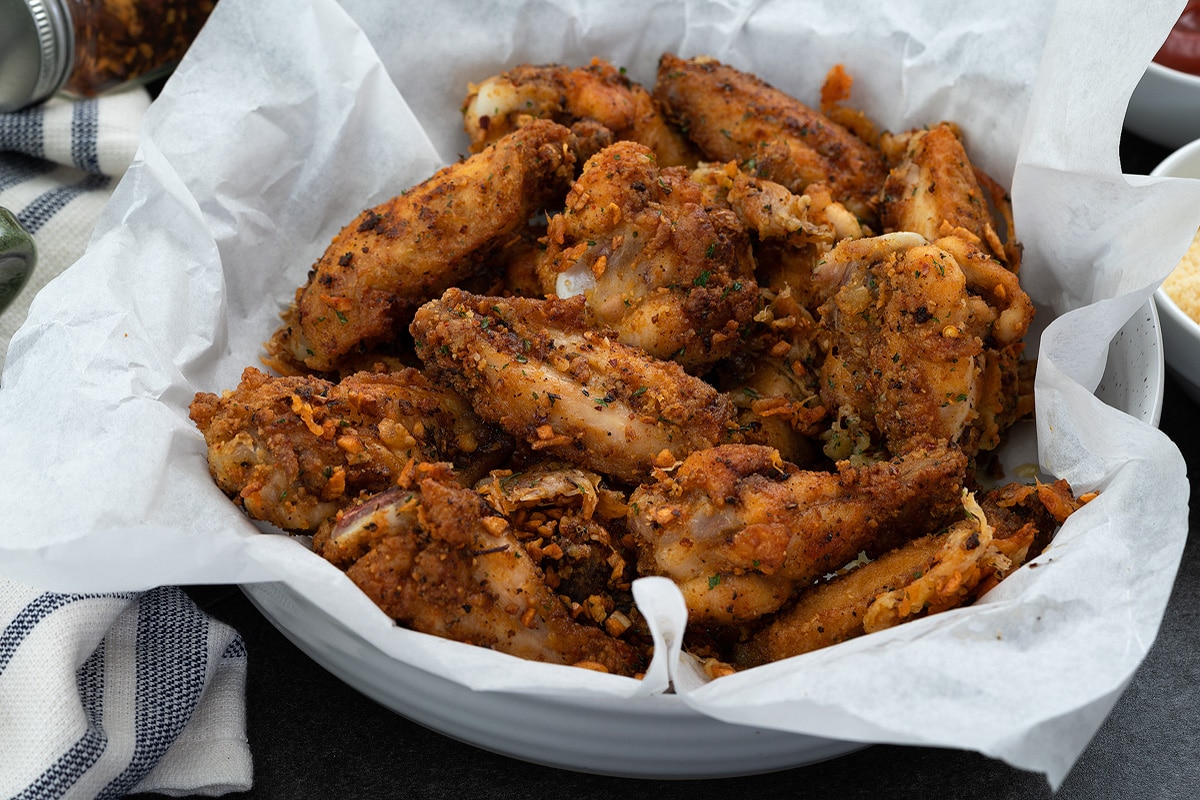 More Chicken Wing and Fried Recipes await you!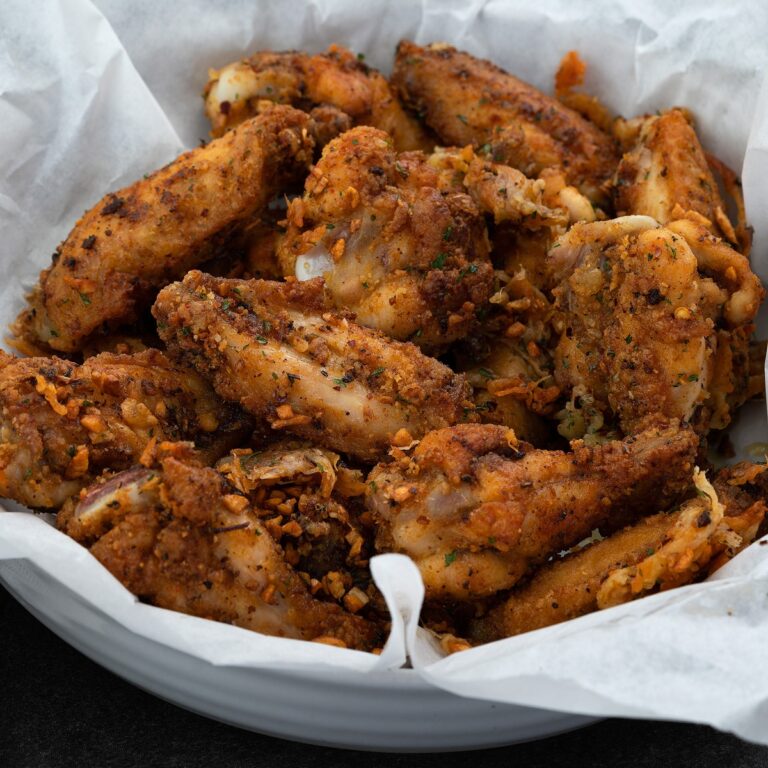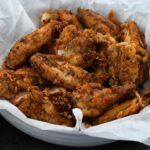 Garlic Parmesan Wings
Garlic Parmesan Wings are a delightful Italian creation, known for their crispy texture and rich, cheesy garlic butter flavor. Crafted with chicken wings and coated in a scrumptious Garlic Parmesan Sauce, these wings are not just easy to make but are also a taste sensation. Perfect as a party appetizer or a casual snack, they're a top pick for any occasion.
Subscribe
print (text-only)
email
pin
review
save
saved!
Ingredients
1½

lb

Chicken Wings

1

tsp

Ginger Powder

1

tsp

Garlic Powder

1

tsp

Paprika

1

tsp

Pepper Powder

3

tbsp

Corn Starch

2

tbsp

All Purpose Flour

Salt

,

as needed

¼

cup

Oil

2

tbsp

Garlic

,

minced

3

tbsp

Butter

1

tsp

Chili Flakes

¼

cup

Parmesan Cheese

,

grated

1

tsp

Parsley

,

dried
More on Unit Conversions »
Instructions
To make Garlic Parmesan Wings
In a bowl, add chicken wings with ginger, garlic, chili or paprika powder, pepper powder, salt, corn starch, and all-purpose flour.

Mix thoroughly until the wings are evenly coated with the seasoning.

Heat oil in a pan over medium heat and carefully add the wings one by one.

Fry the wings for 5 to 7 minutes on each side, or until they turn a golden brown color.

Once fried, remove the wings from the oil and set them aside.

In a separate pan, melt butter. Add garlic and sauté until aromatic. Then, add chili flakes and stir well.

Stir in the Parmesan cheese until it's thoroughly incorporated into the mixture.

Add the fried chicken wings to the sauce. Toss them to coat evenly, then garnish with parsley leaves and remove from heat.
To Serve
Enjoy these crunchy Garlic Parmesan Wings with garlic parmesan sauce or your favorite dips. Perfect as a starter, snack, or appetizer, they're ideal for parties or to satisfy any day's cravings.
Chef's Notes and Tips
Here are some expert tips to elevate your Garlic Parmesan Wings:
Crispy and Crunchy Texture: The combination of corn starch and all-purpose flour for coating the wings is key to achieving that irresistible crispy and crunchy texture when fried.
Optimal Taste and Flavor: Season the wings with a mix of garlic, ginger, pepper powder, and paprika. Using plenty of garlic in the Parmesan sauce significantly enhances the dish's overall taste and flavor.
Cooking Flexibility: Although I've used a minimal amount of oil for frying in this recipe, feel free to adapt the cooking method. The wings can be deep-fried, air-fried, or baked, depending on your preference.
Adding Parmesan Cheese: For the best results, sprinkle Parmesan cheese on the wings right before serving. This ensures a perfectly crunchy coating on the outer layer.
Nutrition Info
Serving:
1
serving
|
Calories:
637
kcal
|
Carbohydrates:
15
g
|
Protein:
27
g
|
Fat:
52
g
|
Saturated Fat:
15
g
|
Polyunsaturated Fat:
10
g
|
Monounsaturated Fat:
23
g
|
Trans Fat:
1
g
|
Cholesterol:
130
mg
|
Sodium:
327
mg
|
Potassium:
280
mg
|
Fiber:
1
g
|
Sugar:
0.4
g
|
Vitamin A:
1125
IU
|
Vitamin C:
5
mg
|
Calcium:
132
mg
|
Iron:
2
mg
Disclaimer: We're not nutrition experts. Nutritional info is estimated and should be used as a guide. For precise details, consult a professional.
Craving more? Dive into our enticing collection of chicken wings and fried chicken recipes, each bursting with unique flavors and textures. Perfect for any occasion, these dishes promise to satisfy your taste for something deliciously crispy and savory.
Storage and Serving Suggestions
Storage: For the best experience, I recommend enjoying these Garlic Parmesan Wings freshly made to fully appreciate their crispy and crunchy texture.
Serving: Pair these savory wings with a variety of dips and sauces like ranch, garlic Parmesan sauce, or garlic butter to enhance their flavor. Alternatively, you can serve them alongside garlic Parmesan pasta for a fulfilling lunch or dinner meal. These versatile wings are sure to complement a range of dishes and preferences
Garlic Parmesan Wings: Air Fryer Method
For a healthier twist, try making Garlic Parmesan Wings in an air fryer.
Preparation: Arrange the seasoned chicken wings in a single layer in the air fryer basket. Be careful not to overcrowd them.
Temperature Setting: Set your air fryer to a temperature range of 375 to 380 degrees Fahrenheit.
Cooking Time: Air fry the wings for about 20 to 30 minutes. The exact time may vary depending on the air fryer, so keep an eye on them.
Flipping: Every five minutes, flip the wings. This ensures they cook evenly and achieve a perfect crispy texture.
Final Step: Once the wings are thoroughly cooked, remove them from the air fryer. Toss them with garlic Parmesan sauce and garnish with parsley leaves, similar to the oil-fried version.
This air fryer method offers a healthier alternative while still delivering delicious, crispy Garlic Parmesan Wings.