Aioli, a creamy and savory sauce from the Mediterranean, is a staple in French and Spanish cuisine. Traditionally made with garlic, salt, and olive oil, this Homemade Garlic Aioli gets a twist with the addition of mayonnaise. Some aioli recipes include egg yolk and lemon juice for extra flavor. This versatile dip enhances seafood, meats, vegetables, and fried dishes with its rich, garlic essence.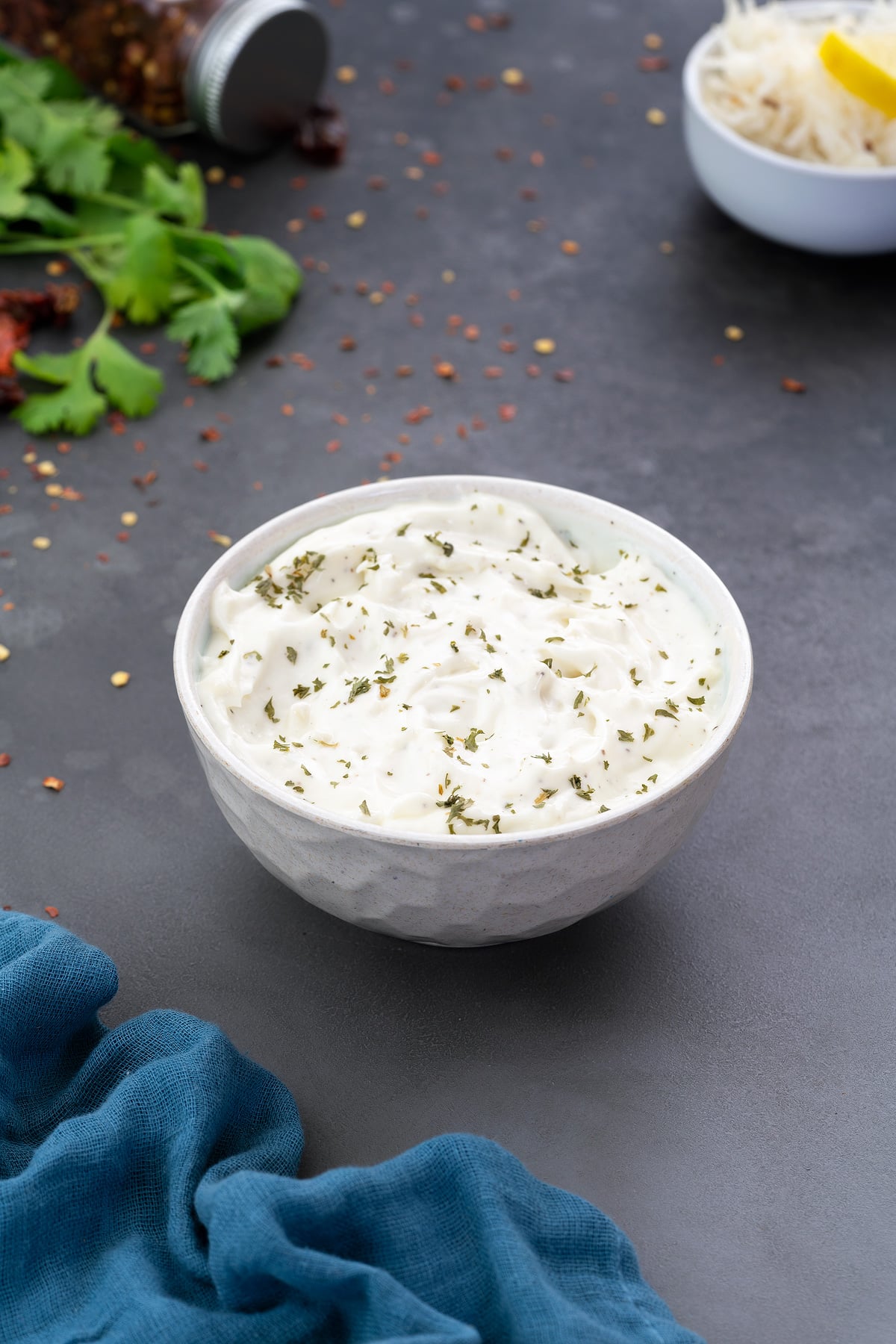 Jump to:
Our recipe features a Westernized Aioli, combining mayonnaise, garlic, olive oil, lemon juice, and seasonings for a smoother texture and milder garlic taste. Ideal as a spread for sandwiches and burgers or as a dip for fries and veggies, this version differs from traditional Aioli, which is a robust garlic and olive oil emulsion, offering a stronger garlic flavor.
Additionally, I've also provided recipes for Authentic Aioli, both with and without egg yolk, to cater to different preferences and dietary needs.
Easy to prepare, Aioli enriches your meals with its delightful and diverse flavors. Try this simple recipe and bring a touch of Mediterranean flair to your dishes.
Ingredients and Substitutions Overview
For your Garlic Aioli, gather these everyday ingredients, easily found in your kitchen or at any local grocery store: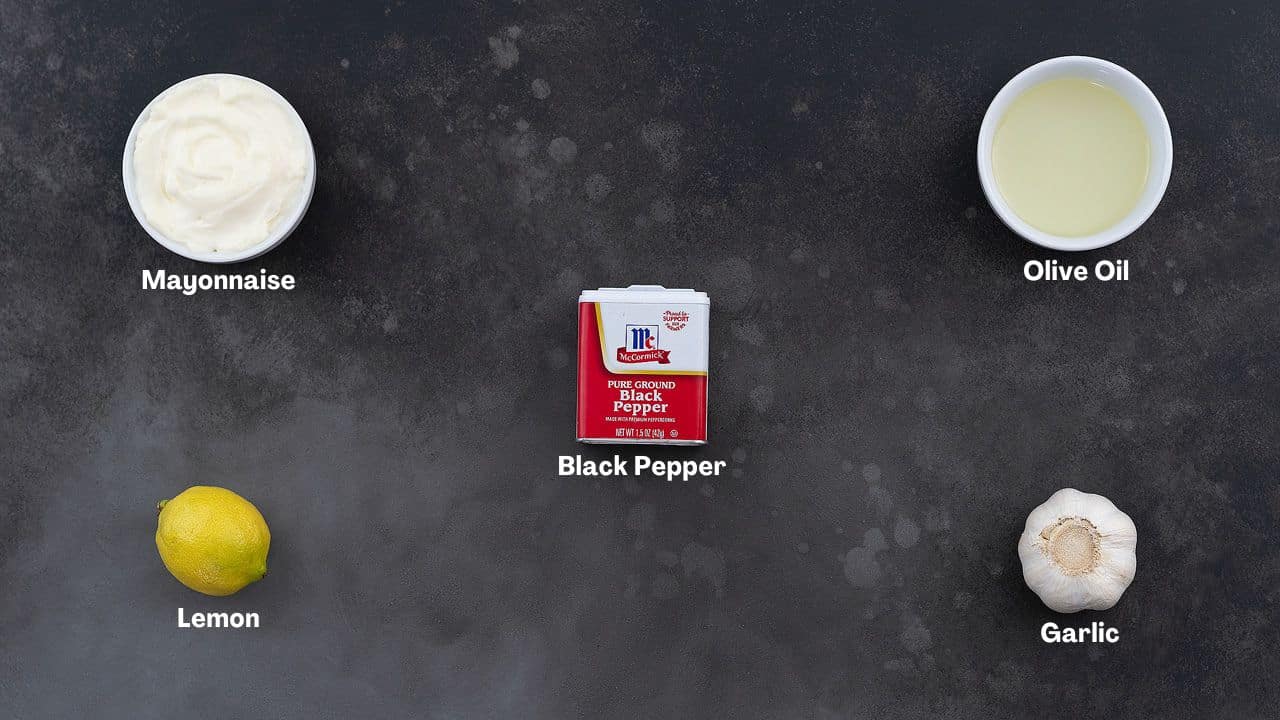 Mayonnaise: The base of your Aioli, providing a creamy and slightly tangy flavor.
Garlic: Key for that unmistakable, savory garlic punch. Feel free to mince or turn it into a paste.
Lemon Juice: A splash for some zesty, tangy brightness.
Black Pepper: Just a bit to add a gentle kick and depth.
Olive Oil: Rounds off the sauce with a smooth texture and a hint of fruity flavor.
How to Make Garlic Aioli at Home?
Dive into the world of flavors with our step-by-step Garlic Aioli recipe. Follow along with our detailed photos and video to master this delicious sauce with ease. Now, let's get started on the recipe: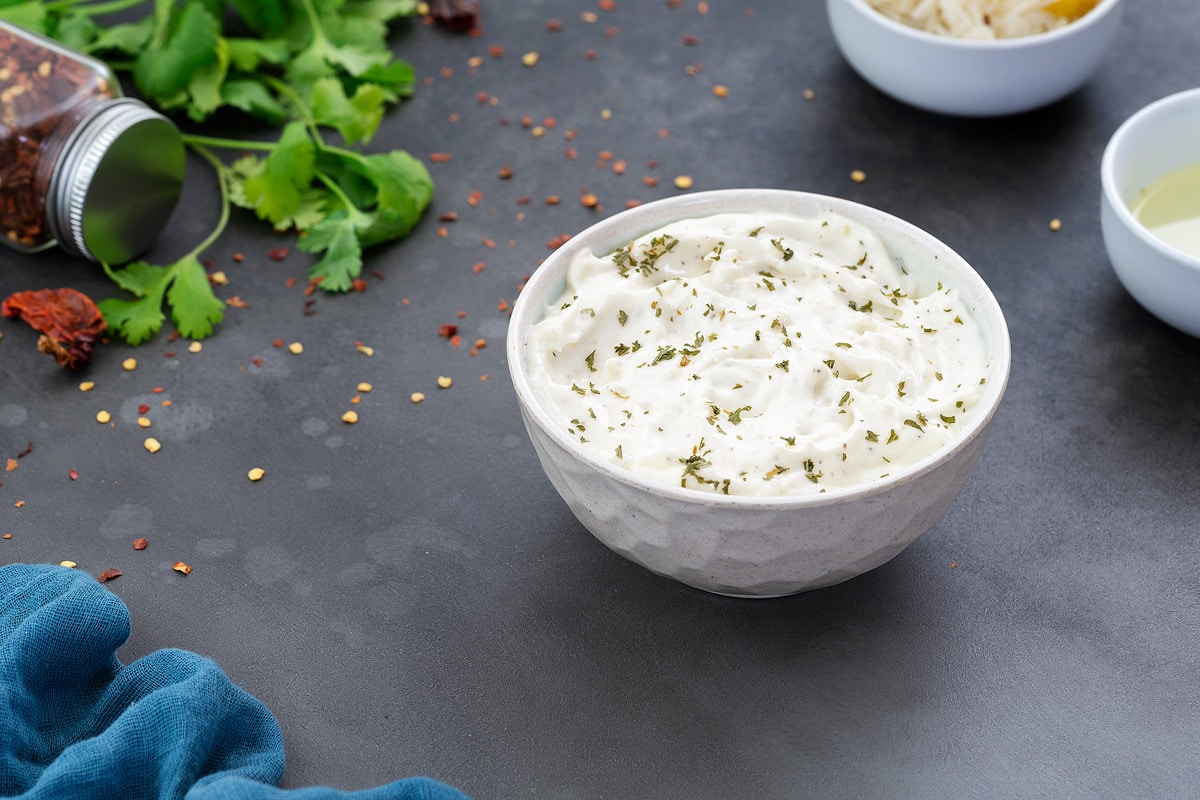 Explore More Delectable Dips and Condiments: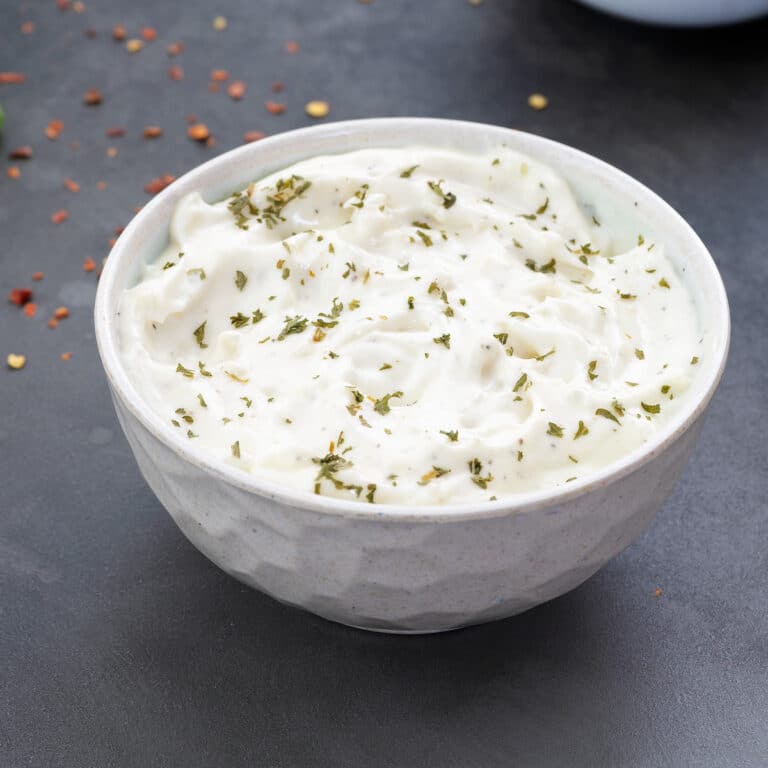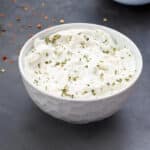 Aioli
Explore a culinary journey with our Aioli, featuring both the rich Westernized and bold Authentic versions. Our Homemade Garlic Aioli elevates a variety of dishes, offering the best of both worlds in every bite.
Subscribe
print (text-only)
email
pin
review
save
saved!
Ingredients
1

cup

Mayonnaise

1

tbsp

Garlic

,

minced or paste

1

tbsp

Lemon Juice

1

tbsp

Olive Oil

¼

tsp

Black Pepper Powder
More on Unit Conversions »
Instructions
To Make Aioli (Western Version)
Start by combining mayonnaise, minced garlic, olive oil, lemon juice, and black pepper in a bowl. For a smoother Aioli, you can use garlic paste or soak minced garlic in lemon juice for 10 minutes, then strain and add to the sauce.

Mix all ingredients thoroughly and allow the aioli to rest for 15-30 minutes before serving to enhance the flavors.
To Serve
Enjoy this creamy Garlic Aioli as a perfect dip for fried chicken, oven-fried chicken tenders, roasted veggies, and French fries. It's also a delightful spread for burgers and sandwiches.
Chef's Notes and Tips
Oil: Using extra-virgin olive oil delivers an authentic robust and fruity flavor. So I would recommend not compromising on it.
Westernized Aioli: Use mayonnaise as a base instead of starting from scratch with garlic and oil. Add other flavorings like herbs, spices, or lemon juice to customize the Aioli to your liking. Adjust the consistency with a little bit of water or more mayo if needed.
Rest the Aioli Sauce: To allow the flavors to meld together, it is important to let the Aioli rest for at least 30 minutes before serving, regardless of whether it is authentic, westernized, or made without egg yolk. This step is crucial to achieving the best possible flavor and texture of the Aioli.
Aioli With and Without Egg Yolk: For Authentic Aioli recipes, both with and without egg yolk, please refer to the following sections below.
Nutrition Info
Serving:
1
tbsp
|
Calories:
104
kcal
|
Carbohydrates:
0.3
g
|
Protein:
0.2
g
|
Fat:
11
g
|
Saturated Fat:
2
g
|
Polyunsaturated Fat:
6
g
|
Monounsaturated Fat:
3
g
|
Trans Fat:
0.03
g
|
Cholesterol:
6
mg
|
Sodium:
89
mg
|
Potassium:
6
mg
|
Fiber:
0.01
g
|
Sugar:
0.1
g
|
Vitamin A:
9
IU
|
Vitamin C:
1
mg
|
Calcium:
2
mg
|
Iron:
0.04
mg
Disclaimer: We're not nutrition experts. Nutritional info is estimated and should be used as a guide. For precise details, consult a professional.
Discover our diverse range of sauces, dips, and condiments, meticulously crafted to elevate your culinary creations. Our collection blends timeless classics with modern delights, inviting you to indulge in a world of flavors.
Authentic Aioli without Egg Yolk
Crush Garlic: Create a paste with 3 to 4 garlic cloves and ¼ tsp of salt using a mortar and pestle. This helps to release the oils and flavors from the garlic. Alternatively, mince the garlic and mash it with the salt using your knife's side.
Mix Oil and Juice: Whisk together the olive oil and lemon juice in a small bowl.
Drizzle the Oil-Juice Mixture: Gradually pour the olive oil mixture into the garlic paste while whisking constantly. Continue until the mixture emulsifies and thickens. For this version, ½ cup of olive oil is sufficient.
Adjust Consistency: If the Aioli is too thick, thin it out with a bit of water or lemon juice.
Adjust Seasoning: Taste and adjust the seasoning as needed, adding more salt or lemon juice if necessary.
Rest and Serve: Allow the Aioli to rest for at least 30 minutes before serving, giving time for the flavors to blend.
Note: You can double or triple the quantity according to your preferences.
Aioli with Egg Yolk
Crush Garlic: Combine 3 to 4 cloves of garlic with ¼ tsp of salt in a mortar and pestle to form a paste. Alternatively, finely mince the garlic and mash it with salt as mentioned previously.
Whisk Egg: In a different bowl, whisk one egg yolk with ½ tsp of Dijon mustard until well mixed.
Drizzle Olive Oil: Gradually add 1 cup of olive oil, continuously whisking, until the mixture becomes thick and emulsified. This step requires patience and can be made easier with an immersion blender or food processor.
Add Garlic and Lemon Juice: Incorporate the garlic paste and lemon juice into the thickened mixture. Adjust with more salt or lemon juice to taste.
Rest and Serve: Allow the Aioli to sit for at least 30 minutes before serving, letting the flavors blend.
Serving Suggestions
Aioli, a versatile condiment, enhances a variety of dishes. Explore these pairing ideas:
Seafood: An ideal dipping sauce for fried or grilled seafood like calamari, shrimp, salmon patties, fish fry or raw oysters.
Bread & Wraps: Elevate sandwiches, burgers, or wraps with its creamy and flavorful essence.
Roasted and Baked Meats: Enhance roasted chicken, oven-baked chicken drumsticks, or baked chicken thighs as a condiment.
Fried Chicken Dishes: Perfect as a dip for fried chicken, chicken wings, oven-fried tenders, or oven-fried chicken.
Salads: Transform salads with its rich and tangy dressing.
Roasted or Baked Vegetables: Enjoy as a dip for French fries, roasted asparagus, zucchini, or cauliflower. Drizzle over baked potatoes or sweet potatoes for a savory twist.
Storage Suggestions
For optimal storage, transfer your Garlic Aioli into an airtight container and store it in the refrigerator. This will help to extend the shelf life of the dip for up to a week.