Whip up a quick and nutritious side dish with Oven-Roasted Asparagus, ready in under 30 minutes. This one-pan recipe involves fresh asparagus seasoned with olive oil, garlic, lemon juice, salt, and pepper, and then roasted to crispy perfection. Rich in fibers, antioxidants, and essential nutrients, it's a healthful addition to any meal.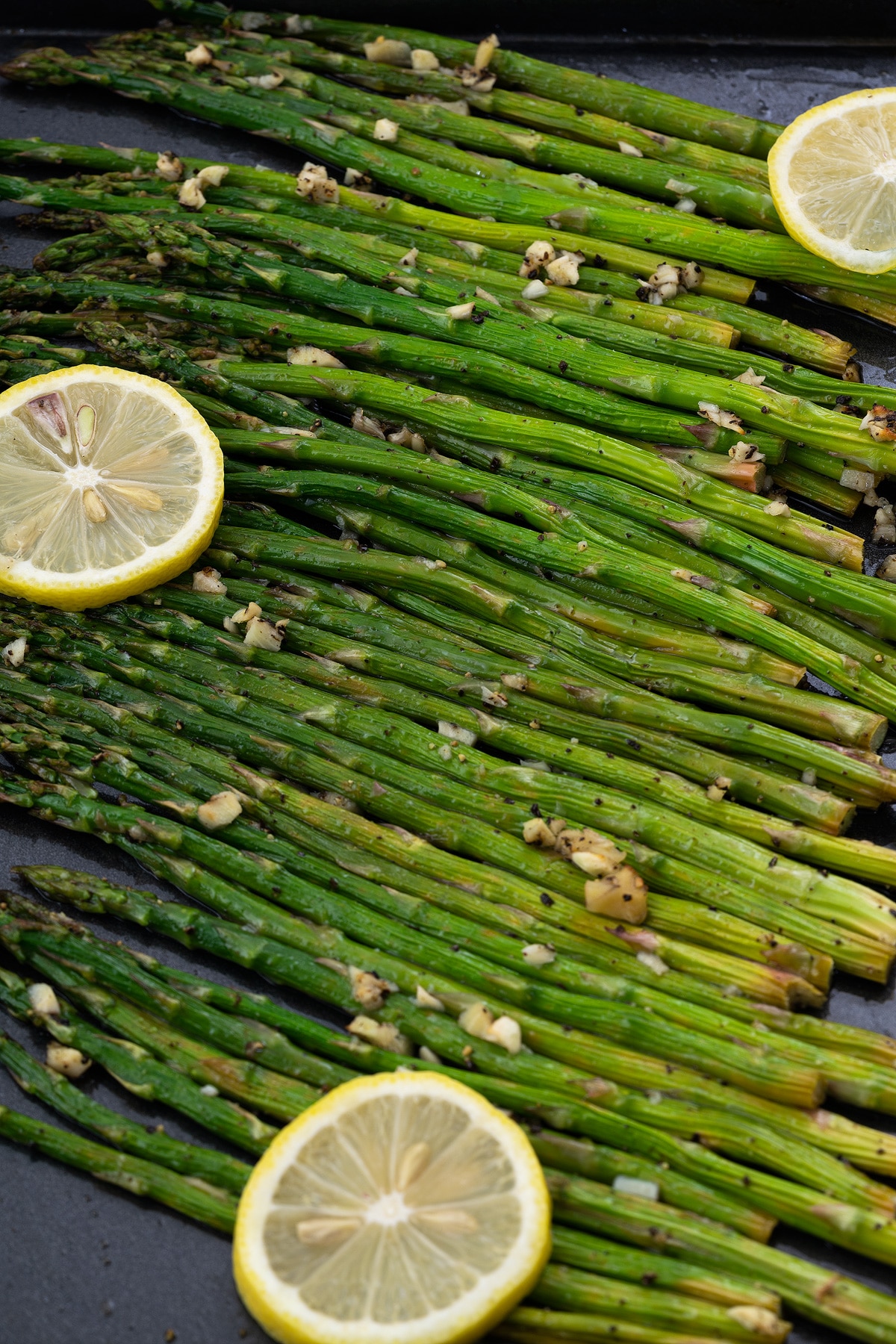 Jump to:
For those looking to explore different cooking methods, I've also included five alternative ways to prepare asparagus, each taking less than 30 minutes. This dish pairs excellently with a variety of mains like brown rice or baked salmon, making it a versatile choice for vegan and vegetarian diets.
Ingredients Overview
For this simple and delicious Oven-Roasted Asparagus recipe, you'll need a handful of basic ingredients, easily available at most grocery stores. Here's what you'll need: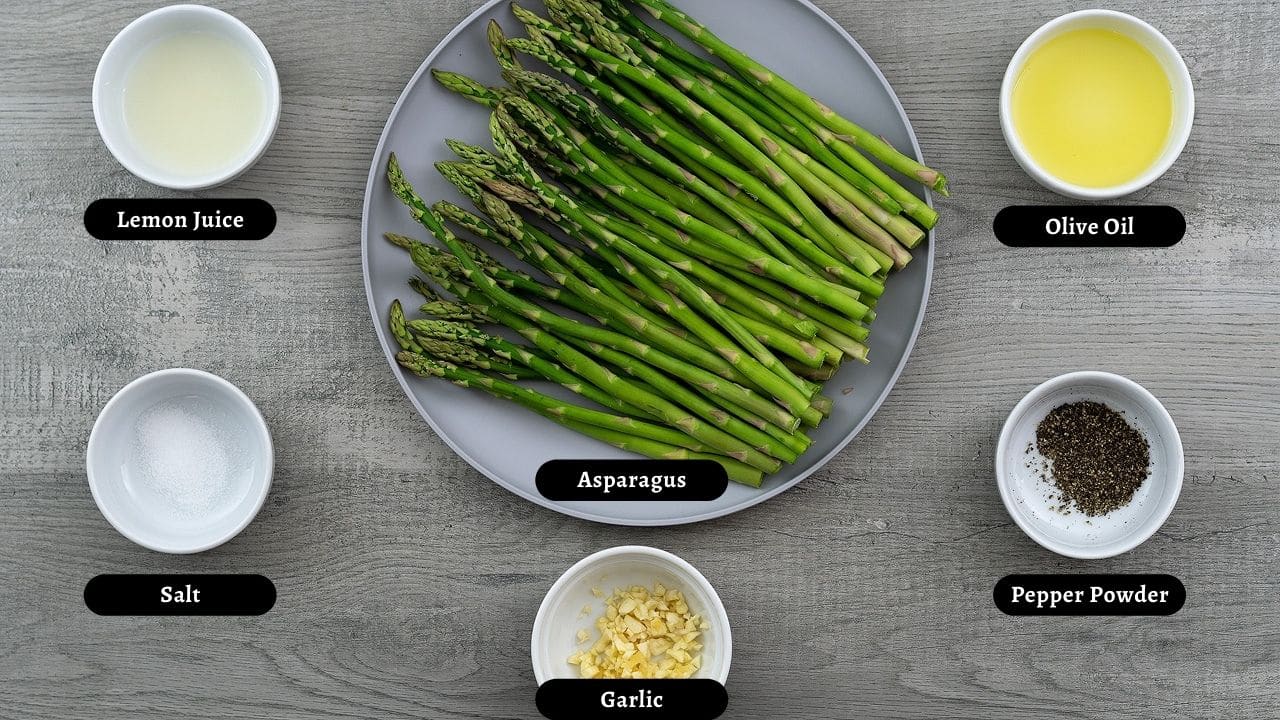 Asparagus: I've used organic asparagus with a slight purple hue for this recipe, but feel free to choose from green or white varieties.
Olive Oil: Ideal for its neutral flavor, though any regular cooking oil that you prefer can work well.
Garlic Powder or Fresh Garlic: Essential for adding a fresh taste and aroma.
Lemon Juice: Brings a zesty, tangy flavor that complements the asparagus beautifully.
Pepper Powder and Salt: These seasonings add a mild spice. If you like a bit more heat, chili flakes are a great alternative.
How to make Oven Roasted Asparagus?
Get ready to transform simple ingredients into a delightful dish with our Oven-Roasted Asparagus recipe. Below, you'll find step-by-step instructions accompanied by photos and a video to guide you through each stage of the preparation. Let's begin!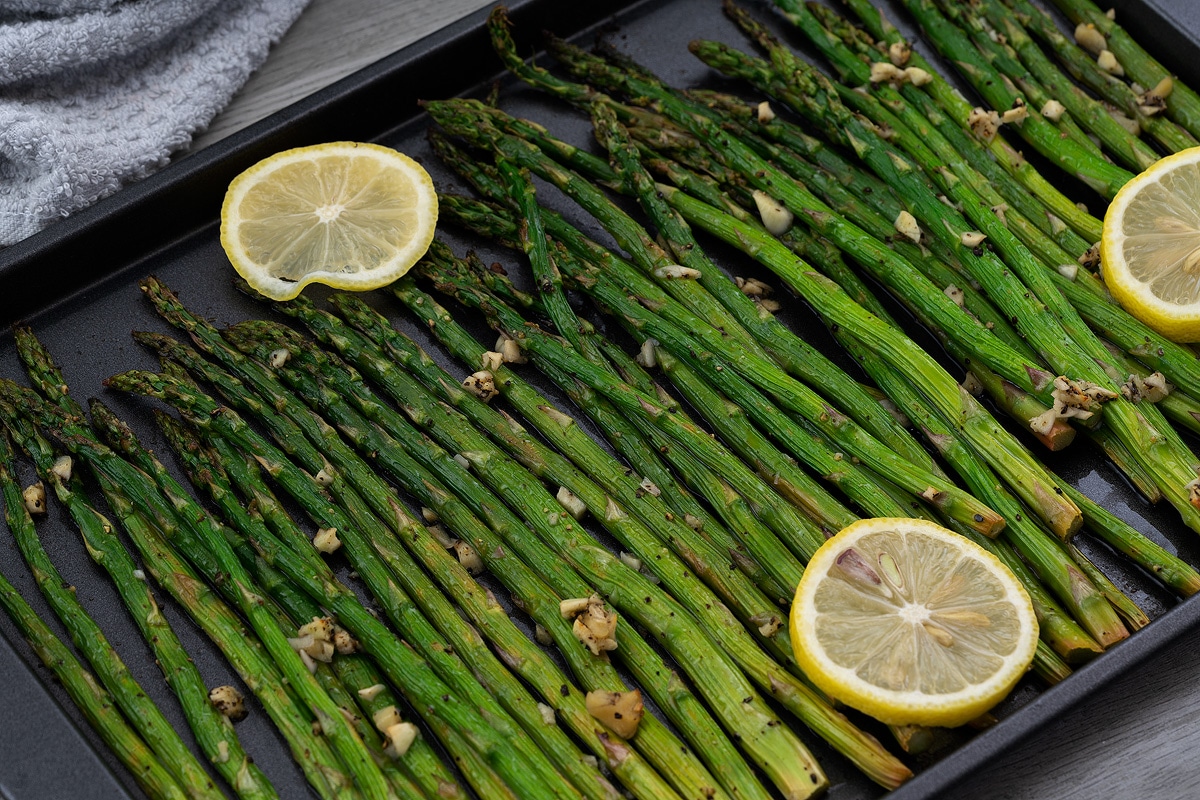 Explore our range of nutritious vegetables, featuring asparagus and other roasted and baked options below.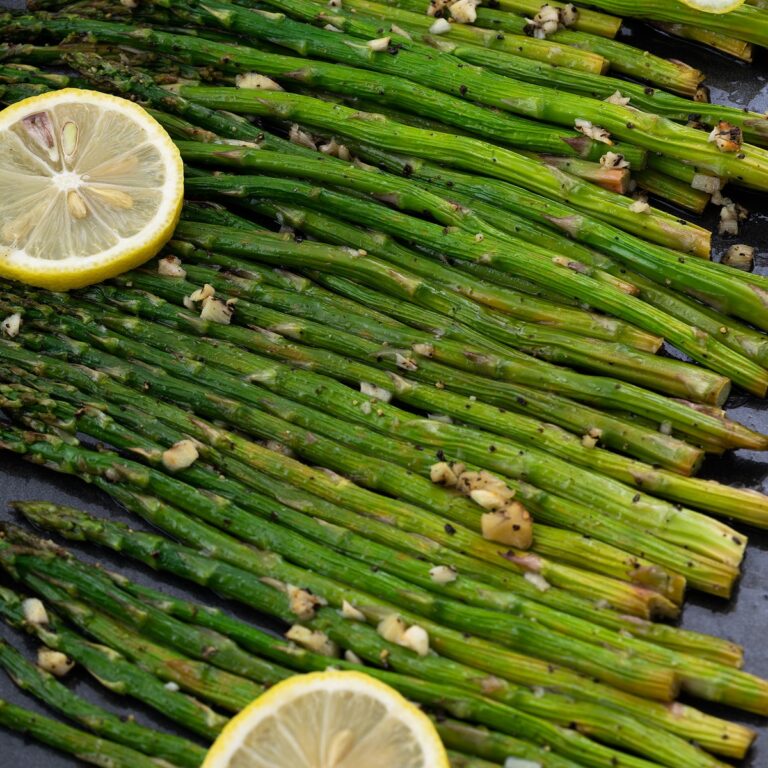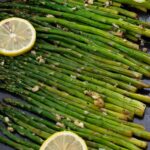 Oven Roasted Asparagus
Enjoy a healthy and delicious Oven Roasted Asparagus, ready in under 30 minutes. This simple one-pan dish combines fresh asparagus with olive oil, garlic, lemon juice, salt, and pepper. It's an easy, vegan-friendly option perfect for a nutritious lunch or dinner.
Subscribe
print (text-only)
email
pin
review
save
saved!
Ingredients
1

bunch

Asparagus

1

tsp

Garlic

,

minced

½

tsp

Salt

1

tbsp

Lemon Juice

1

tsp

Pepper

1

tbsp

Olive Oil
More on Unit Conversions »
Instructions
To Prepare the Asparagus
Wash the asparagus, trim off woody ends, and pat dry. Combine oil, garlic, lemon juice, salt, and pepper in a bowl.

Toss the asparagus in the mixture to coat evenly.

Place the seasoned asparagus on an oil-greased baking sheet.
To Oven Roast the Asparagus
Place the baking sheet with the asparagus in a preheated oven at 400 degrees Fahrenheit. Bake for 12 to 15 minutes. For extra crunch and a smoky flavor, broil for the final 2 minutes.

Once done, remove the asparagus from the oven. It's now ready to be savored and enjoyed.
To Serve
Serve this healthy Oven Roasted Asparagus with your choice of rice, Baked Salmon, Grilled Salmon, or other complementary dishes for a well-rounded meal.
Chef's Notes and Tips
Tips for Perfect Oven-Roasted Asparagus:
Preparing Asparagus: Trim or snap off the woody ends of asparagus spears before cooking. They're tough and fibrous, making them unpleasant to eat. This ensures a better texture in your dish.
Seasoning Variations: While I've opted for a simple blend of olive oil, salt, pepper, and garlic, feel free to get creative! Parmesan cheese and chili flakes can add an extra layer of flavor and zest.
Achieving Crispiness: While baking is my go-to method, consider broiling the asparagus for the last two minutes. This little trick yields a wonderfully crispy and slightly smoky finish.
Temperature Tweaks: I usually roast the asparagus at 400 degrees Fahrenheit for 8-10 minutes. However, you can adjust the temperature between 375 to 400 degrees Fahrenheit to find your perfect level of tenderness.
Nutrition Info
Serving:
1
serving
|
Calories:
76
kcal
|
Carbohydrates:
7
g
|
Protein:
3
g
|
Fat:
5
g
|
Saturated Fat:
1
g
|
Polyunsaturated Fat:
1
g
|
Monounsaturated Fat:
3
g
|
Sodium:
391
mg
|
Potassium:
321
mg
|
Fiber:
3
g
|
Sugar:
3
g
|
Vitamin A:
1138
IU
|
Vitamin C:
11
mg
|
Calcium:
41
mg
|
Iron:
3
mg
Disclaimer: We're not nutrition experts. Nutritional info is estimated and should be used as a guide. For precise details, consult a professional.
Explore our collection of delicious recipes featuring roasted and baked vegetables, succulent salmon fillets, and flavorful vegetable sides, each crafted to elevate your dining experience.
Storage and Serving Suggestions
Storage: For the best experience, enjoy the oven-roasted asparagus fresh out of the oven to savor its full flavor and freshness. If you do have leftovers, store them in an airtight container in the refrigerator, and consume within a couple of days.
Serving: This dish pairs wonderfully with a variety of meals. Try serving it alongside rice dishes like brown or white rice. It also complements protein-rich foods beautifully, such as roasted chicken, garlic butter chicken, baked tilapia, and various preparations of salmon like baked, grilled, or air-fried. The versatility of this asparagus makes it a fantastic side for an array of main courses.
Enjoy crafting your perfect meal combination with this deliciously roasted asparagus!
Different Ways to Cook Asparagus
Asparagus is a wonderfully versatile vegetable that can be cooked in various ways. While this post highlights the oven-roasting method, let's dive into five other simple yet delicious techniques you can try at home:
Steaming Asparagus: Ideal for a Quick, Healthy Side
Effortless Preparation: On days when your kitchen is bustling, steaming asparagus is a convenient choice. Just place the asparagus in a steamer over a pot of boiling water.
Timely Cooking: Let it steam for about 5-10 minutes, depending on your preferred tenderness.
Flavor Enhancement: Once done, a light sprinkle of salt and pepper is all it takes to enhance the asparagus's natural flavors.
Versatile Pairing: This method is wonderfully efficient when you're preparing multiple dishes, as it requires minimal attention.
Steamed asparagus is not only easy but also retains more nutrients, making it a healthy addition to any meal.
Boiling Asparagus: A Simple and Timeless Method
Quick Start: Begin by boiling salted water in a large pot. This simple preparation sets the stage for perfectly cooked asparagus.
Cooking Time: Add the asparagus and let it boil for 3-5 minutes. The key is to achieve that 'just right' texture — tender but not overly soft.
Texture Preservation Tip: If you're not serving the asparagus immediately, immerse it in cold water right after boiling. This step halts the cooking process, ensuring the asparagus retains its ideal texture.
Serving Suggestion: Serve the boiled asparagus hot as a classic side dish. It pairs beautifully with a variety of main courses, adding a nutritious and flavorful touch to your meals.
Sautéing Asparagus: A Quick and Crunchy Delight
Start with the Base: Heat your choice of oil or butter in a pan. Begin by sautéing garlic until it becomes fragrant, which lays the foundation for flavor.
Add the Asparagus: Cut the asparagus into medium-sized pieces for even cooking. Add them to the pan and sauté.
Cook to Perfection: Let the asparagus cook for 7-10 minutes. You're aiming for a texture that's tender on the inside but crispy on the outside.
Season and Serve: Once cooked, season the asparagus to your liking. This method is a fantastic way to quickly add a crunchy, flavorful side to your meal.
For a more detailed sautéed asparagus recipe, be sure to check out the dedicated post on this blog!
Pan Roasting Asparagus: Easy and Flavorful
Initial Preparation: Start by lightly coating the asparagus in oil in a pan. This step ensures even cooking and adds a subtle richness to the flavor.
Cooking Process: Cover the pan and let the asparagus cook for a few minutes. This helps in steaming and softening the asparagus slightly.
Finishing Touch: Then, uncover the pan and increase the heat. Continue cooking until the asparagus becomes slightly browned and crisp, bringing out a delightful texture.
Season and Serve: Finally, season the asparagus with salt and pepper to taste. This simple seasoning enhances the natural flavors of the asparagus.
Pan roasting is a fantastic way to achieve a rich flavor and a pleasing combination of tender and crispy textures in your asparagus.
Broiling Asparagus: Crispy and Smoky Perfection
Preparation: Start by preheating your oven to the broil setting. This step is crucial for achieving the perfect crispy texture.
Seasoning: Lightly coat the asparagus with your preferred seasonings, ensuring each spear is evenly flavored.
Broiling: Arrange the seasoned asparagus on a sheet pan and place it in the oven. Broil for approximately 10 minutes, but keep an eye on it to avoid over-browning.
Enjoy the Crunch: Once done, the asparagus will have a delightful crispy exterior with a hint of smokiness, making it a real treat for the taste buds.
Broiling asparagus is a wonderful way to add a unique twist to this versatile vegetable, creating a side dish that's both delicious and visually appealing.