Rice is a staple ingredient in many cuisines around the world and can be enjoyed in a variety of dishes. From classic comfort foods like fried rice and chicken and rice to aromatic and flavorful biryani dishes, there are endless possibilities for incorporating rice into your meals.
In this post, we will explore a range of rice recipes for dinner, including dishes like Spanish rice, pudina rice, and matar pulao. Whether you prefer simple and easy rice recipes or more complex and flavorful dishes, there is something for everyone on this list.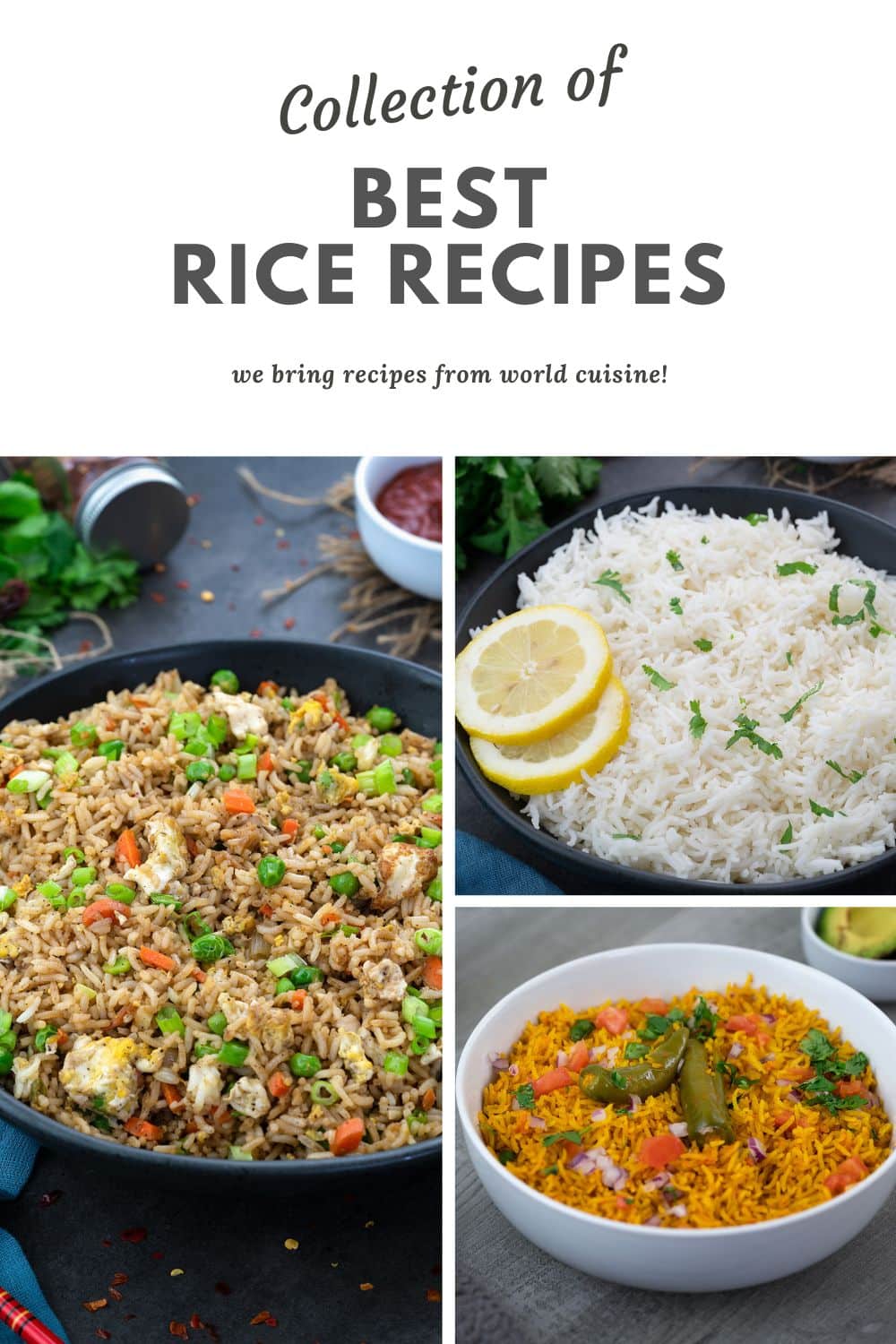 Jump to:
When it comes to choosing the best rice for your recipes, there are many options to consider. White rice, brown rice, jasmine rice, and basmati rice are just a few of the many types of rice available. Each type of rice has its own unique flavor and texture, and some are more suitable for certain dishes than others.
For example, jasmine rice is a popular choice for stir-fries and fried rice dishes, while basmati rice is often used in biryani and other aromatic dishes. It is important to consider the carb content of different types of rice, such as basmati rice carbs, when planning your meals.
In addition to the wide range of rice recipes listed here, there are many other delicious and creative ways to enjoy rice. From hearty and satisfying bowls of baked chicken and rice to refreshing and colorful dishes like vegetable biryani, there is no shortage of inspiration for your next meal.
In addition to the wide range of rice recipes featured in this post, we also have different collections of curries, chicken, shrimp, stir-fry dishes, paneer, and roasted and baked recipes that go well with the rice recipes. These rice dishes can be served for parties or any regular day, making them versatile options for any occasion.
Whether you're looking for easy and quick rice recipes for a busy weeknight or more complex and flavorful dishes for a special occasion, you'll find plenty of inspiration and ideas in this post. So, take some time to explore the different rice recipes and discover new and delicious ways to enjoy this versatile ingredient. The recipes shared in this post have simple steps with supporting images and videos that will definitely help you to prepare satisfying dishes at home to enjoy with your family.
You can also find a different collection of recipes below and more at recipe collections.