Schezwan fried rice is also called Szechuan fried rice is a delicious and appetizing Indo-Chinese style food. This Schezwan rice is prepared with cold rice, vegetables, eggs, succulent fried chicken pieces with homemade Szechuan sauce that makes it flavorful and appealing. Schezwan fried rice is one of the best quick stir fry meals that one could easily prepare at home. This is a simple and flavorful meal that can be served for lunch and dinner.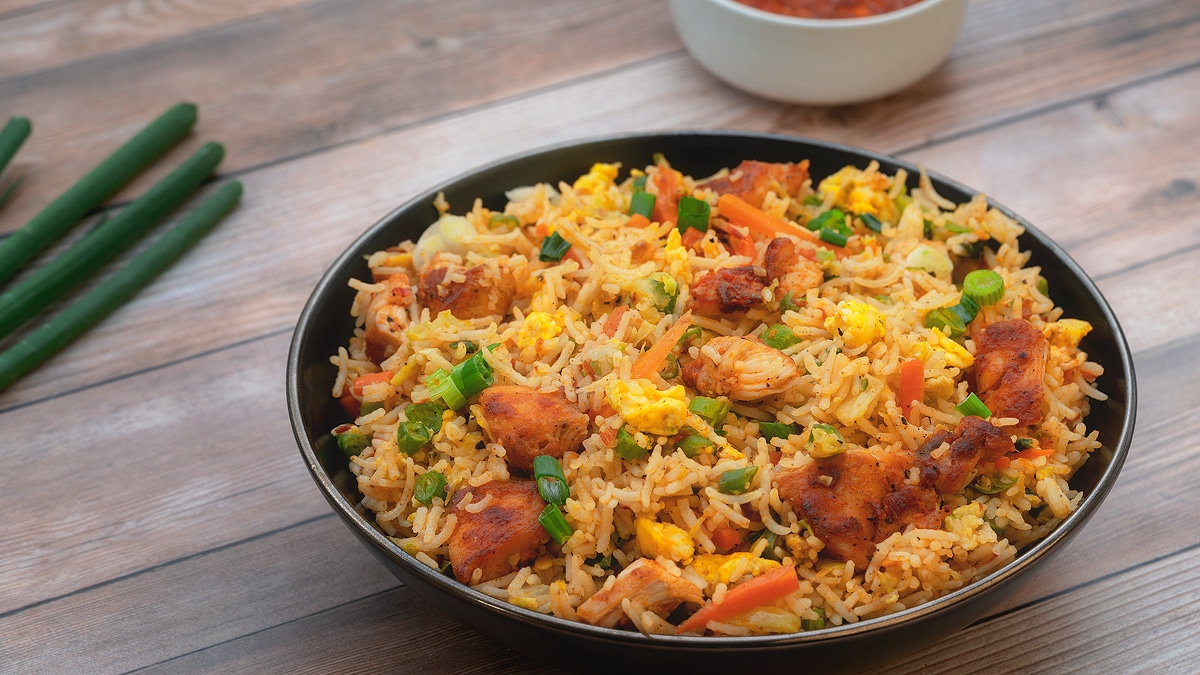 Jump to:
What is Schezwan Fried Rice?
Fried rice is an easy one-pot rice meal with a combination of chicken, eggs, and vegetable and Chili Sauce. Whereas schezwan fried rice is a similar recipe that uses Schezwan sauce for seasoning instead of chili sauce. This is one of the most popular sauce recipes from Indo-Chinese cuisine. The Indo-Chinese fried rice made with schezwan sauce is popular in the Asian Continent. It is a common food in restaurants, street food carts, and even at home.
How to make Schezwan Fried Rice?
The recipe I have shared here is simple yet delicious Schezwan Fried rice with chicken, eggs, and vegetables. I used homemade Schezwan sauce for marination and seasoning. I hope to share the recipe for the same in the future post for you to make at home. The process of making this fried rice involves three steps marination, frying of chicken, and preparation of fried rice.
Marination - marinate the bite-size cut boneless chicken with sauces, chili powder, pepper powder, salt, and corn starch. The corn starch helps the chicken to stay juicy
Frying the Chicken - pan-fry the chicken pieces until they turn reddish-brown and drain them for later use.
Seasoning - In a pan with medium-high heat, season the garlic, green spring onions along with fresh veggies, and eggs
Toss in the rice and chicken - Finally, I add cold moisture-free basmati rice, Schezwan sauce, soy sauce, fried chicken pieces, and spring onion, and combine everything well. You could also replace Schezwan sauce with chili sauce if it is not handy. And the recipe still tastes great too.
Garnish and Serve - Garnish with spring onions and serve hot with your favorite side dish
This fried rice can be made without eggs, and chicken to make a Vegetable Fried Rice. But feel free to make your own variations by mixing and matching available veggies, proteins, seafood, and meat. So long as the main fried rice ingredients do not change, the variation of the recipes should taste good. So, enjoy the exploration of new flavors and tastes of Indo-Chinese fried rice.
Tips
Usually, a fried rice recipe uses cold cooked rice, giving the best results for restaurants like Chinese fried rice. The cold rice does not turn mushy or clumpy when it is fried. So I highly suggest preparing rice ahead if you are planning to make fried rice for lunch or dinner. You could also use leftover rice that works perfectly great for this special rice dish.
In restaurants and street stalls, the large iron wok is usually preferred to make this fried rice recipe, giving a unique exotic flavor. So if you have an iron pan, Kadai, or skillet handy at home, feel free to use it. I believe you could feel the difference in the flavor and taste of the recipe. Using sesame oil, an extra handful of green onions and garlic gives a nice punch to this Indo-Chinese chicken fried rice.
Variations
Fried rice is one of the easiest and popular meals that has endless variations. Usually, traditional Chinese fried rice uses sesame flavor, soy sauce, oyster sauce, and chili sauce to enhance the flavor and taste. And they add chicken, beef, egg, shrimp along with other vegetables for a different flavor and taste.
There are many variations that include even fruits like pineapple, apple, and mangoes as part of the fried rice recipe. These variations are most common in Asian countries. Though it is popular Asian food it got its unique place in the food world for its special and unique taste.
In the Indian version, people use masala powders to accommodate their taste buds. To make it extra delicious they also use onion to spruce the taste and flavor. To make a vegan-friendly meal, use vegan sauces and alternate meat protein instead of chicken and other Chinese sauces.
Serving Suggestions
This fried rice recipe is an absolute finger-licking meal that you can relish with your family and loved ones. This can be served warm as it is or tastes even better with Chicken 65, Chicken Manchurian, Chilli Chicken, Dragon Chicken, Chicken Lollipop, and Garlic Chili Chicken.
Related Recipes
You could also find similar recipes below and more at Rice Recipes and Street Food recipes.
More Szechuan Recipes.
More Chinese Recipes.
To make your life easy, I have also created a collection of Indo-Chinese Recipes at one place for both vegetarian and nonvegetarian lovers and I believe it will help you explore and try different recipes at home. Take a peek!
Schezwan Fried Rice recipe video
I have also shared video instructions for this recipe below. And I believe these quick and easy steps will help you to make/prepare the dish at home. Also, you could find this recipe in story format for a quick reference.
📖 Recipe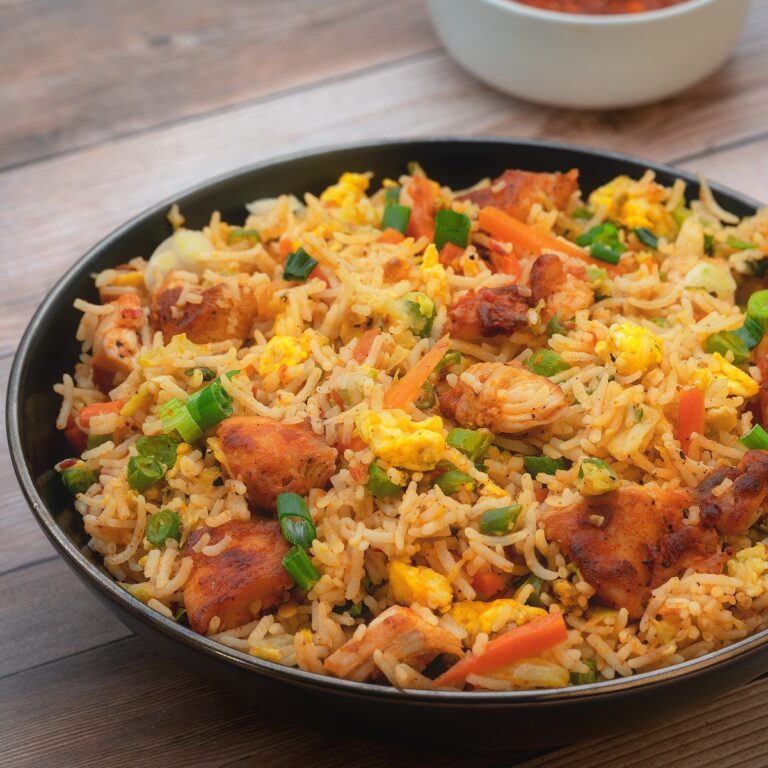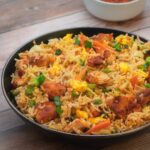 Schezwan Fried Rice
Schezwan fried rice is a flavorful one pan Indo-Chinese rice meal that is made of basmati rice, veggies, eggs, and chicken. This recipe uses Szechuan sauce and soy sauce which is unique from regular fried rice recipes. It can be served for lunch and dinner.
Subscribe
print (text-only)
email
pin
review
save
saved!
Ingredients
To Marinate Chicken
0.55

lb

Chicken

,

boneless, bite-size

1

tsp

Ginger-Garlic Paste

½

tsp

Chili Powder

¼

tsp

Pepper Powder

Salt

,

as needed

1

tsp

Szechuan Sauce

1

tsp

Soy Sauce

2

tsp

Cornstarch
Other Ingredients
2

cup

Rice

,

basmati, cooked

1

tbsp

Garlic

,

minced

¼

cup

Spring Onion

,

chopped

¼

cup

Green Beans

,

chopped

¼

cup

Carrots

,

chopped

¼

cup

Green Bell Pepper

,

chopped

¼

cup

Cabbage

,

chopped

Salt

,

as needed

2

Egg

,

beaten

2

tbsp

Szechuan Sauce

1

tbsp

Soy Sauce

1

tsp

Pepper Powder

1

tbsp

Spring Onion

2

tbsp

Oil
More on Unit Conversions »
Instructions
To Marinate Chicken
In a glass bowl, add bite-size cut boneless chicken, ginger-garlic paste, chili powder, pepper powder, schezwan sauce, soy sauce, corn starch, and salt

Mix until all the masala and sauces coat thoroughly on the chicken pieces and set aside to fry(we can fry the chicken immediately)
To Fry the Chicken
In a pan with medium heat, pour oil and add the marinated chicken pieces one by one

Allow the chicken to fry until it turns a golden color on both sides. Make sure to flip the chicken pieces on and off

Drain the pan-fried chicken from the oil, and reserve them for later use
To Prepare Chicken Fried Rice
In a pan with medium heat, pour 2 tbsp of oil and add garlic, spring onion, and saute until it turns aromatic. Make sure not to burn the garlic which may alter the flavor of the fried rice

Add green beans, carrots, green bell pepper, cabbage, salt, and stir fry them for 2 minutes

Now make a space in the middle of the pan by pushing the veggies outwards and add the beaten frothy eggs

Scramble the eggs until it turns soft and fluffy

Add the cooked basmati rice, schezwan sauce, soy sauce, pepper powder, spring onion, and fried chicken

Mix everything gently. Now the delicious chicken fried rice is ready for you to taste and enjoy
To Serve
Serve the warm chicken fried rice with any veg, nonveg dry dishes or just with ketchup

Notes
I have added corn starch to the chicken while marinating, which helps the chicken pieces to stay juicy and succulent
Make sure not to overcook or burn the garlic which may alter the flavor of the fried rice
Sauteing veggies too long will not give a crunchy output, so try to saute until they are half cooked to maintain the crunchiness
I have used homemade schezwan sauce and soya sauce in the recipe, but it can also be skipped or replaced with chili sauce, sriracha sauce to get a different flavor to the dish
This dish was prepared with Basmati rice but it can also be replaced with jasmine rice and day-old leftover plain white rice that works best for chicken fried rice
Nutrition
Serving:
1
serving
|
Calories:
693
kcal
|
Carbohydrates:
105
g
|
Protein:
22
g
|
Fat:
19
g
|
Saturated Fat:
4
g
|
Polyunsaturated Fat:
5
g
|
Monounsaturated Fat:
10
g
|
Trans Fat:
0.1
g
|
Cholesterol:
139
mg
|
Sodium:
540
mg
|
Potassium:
422
mg
|
Fiber:
3
g
|
Sugar:
2
g
|
Vitamin A:
2660
IU
|
Vitamin C:
18
mg
|
Calcium:
82
mg
|
Iron:
3
mg
FAQ
What is chicken fried rice?
Chicken fried rice is a wholesome Chinese meal made with cooked rice, vegetables, eggs, chicken, and sauces.
What is Schezwan fried rice?
Schezwan fried rice is made with rice, veggies, meat, or seafood seasoned with Schezwan sauce. Schezwan sauce is made with garlic, onion, Sichuan peppers, and dry red chili paste.
Is Schezwan fried rice healthy?
Though the recipe uses healthy ingredients like fresh veggies and eggs, it also uses sauces and extra oil for frying. Hence, this is not considered to be healthy food. So consuming it in moderate quantity is the key to good health.
Can I make Schezwan fried rice without sesame oil?
It is preferred to use sesame oil for this recipe as it adds a unique taste to the dish. But you can replace sesame oil with other cooking oil as well.
What is an alternate for Schezwan sauce in fried rice?
You could replace Schezwan sauce with red chili sauce.
What should I do to convert this as Vegetable fried rice?
Skip eggs and chicken from this recipe to make vegetable fried rice.
How to make egg-fried rice from this recipe?
Just skip the chicken from this recipe to make egg-fried rice.
Is it necessary to add eggs to this recipe?
Not really. Please feel free to skip it if you don't like eggs to be part of this dish. The taste should still be good.
I really hope you enjoyed the recipe that I have shared here and I would love to hear from you on how it turned out for you. Please let me know.
If you have any other questions, feel free to post them in the comment section below and I will try to get back to you as soon as This possible.

Happy Cooking!