Discover the vibrant taste of Kung Pao Shrimp, a classic dish from the heart of Szechuan Cuisine. This dish transforms the traditional Kung Pao Chicken into a seafood delight, featuring fried shrimp enveloped in a smooth, rich Kung Pao Sauce.
Ideal for any meal, this homemade Kung Pao Shrimp is a feast for your taste buds, pairing seamlessly with various rice types or noodles, whether for a comforting dinner or a hearty lunch.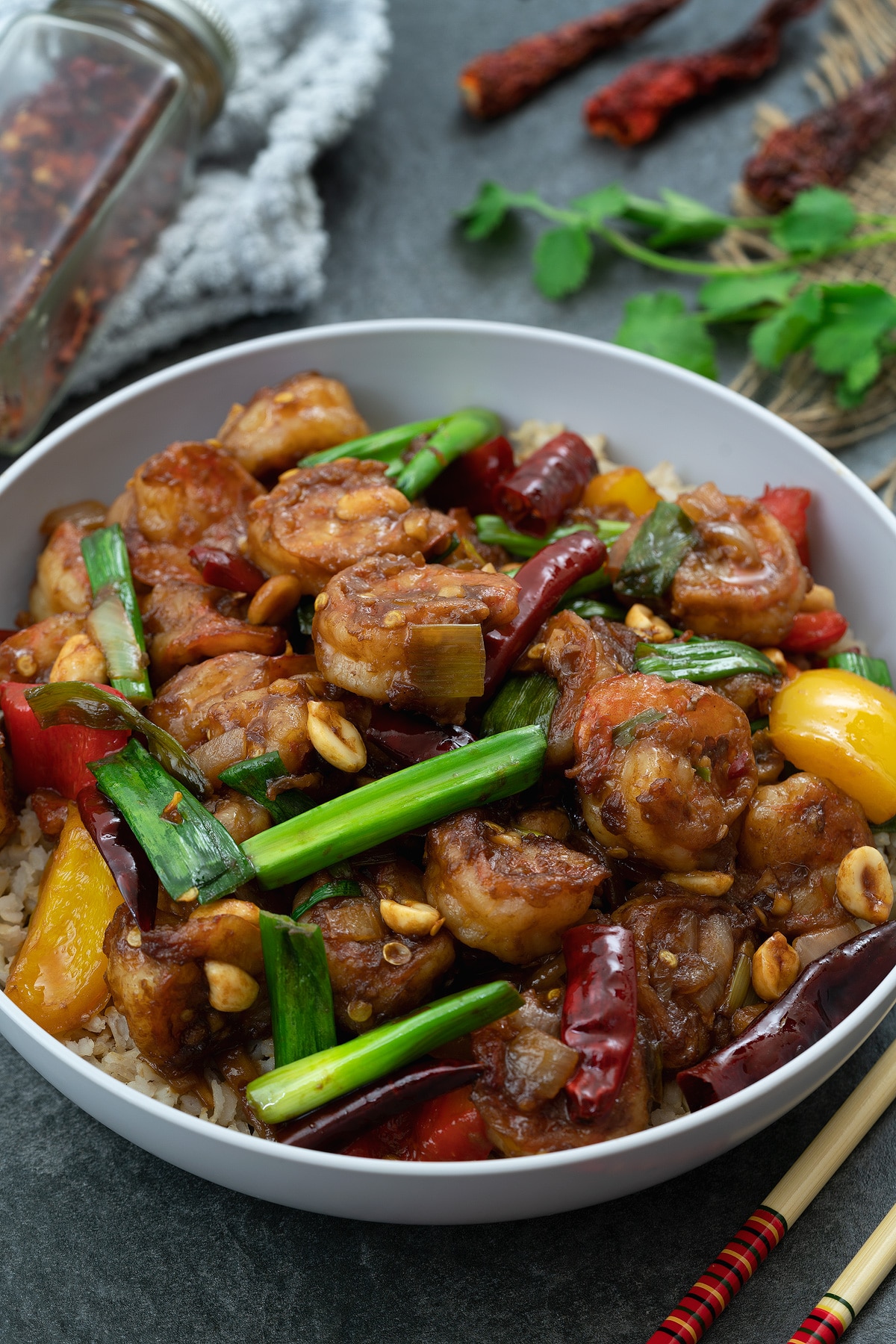 Jump to:
In this recipe, large shrimp merge with the bold flavors of Sichuan peppercorns, vegetables, and peanuts, all brought together in a tangy Kung Pao sauce. Not just a treat for the palate, Kung Pao Shrimp delivers a unique sensory experience with its citrusy notes and the distinctive numbing sensation from Sichuan peppercorns, a hallmark of Szechuan cuisine.
While the ingredients list may seem extensive, the preparation is straightforward and takes less than 30 minutes, especially with pre-arranged ingredients. This dish is a perfect choice for adding excitement to your weeknight dinner or weekend meals.
Explore More Asian Delights:
Ingredients
Our Kung Pao Shrimp recipe calls for common Asian pantry staples, easily found at most Asian or Chinese grocery stores. Let's explore these vibrant ingredients.
For the Sauce: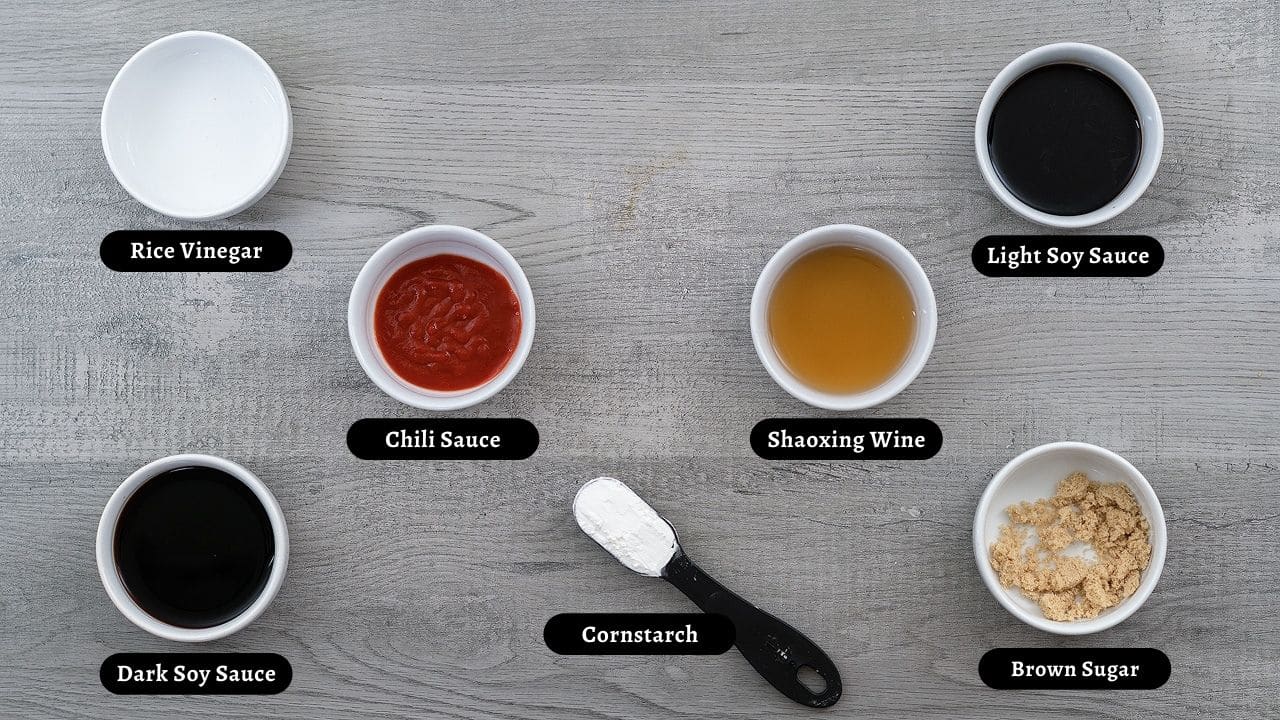 Dark Soy Sauce: Infuses a deep, rich color.
Light Soy Sauce: Essential for a full-flavored seasoning, a staple in Chinese cooking.
Shaoxing Wine: Imparts an authentic, nuanced taste.
Sriracha Sauce: Adds a spicy kick.
White or Chinese Black Vinegar: Introduces a balance of acidity and sweetness, perfect for enhancing meats and seafood.
Brown Sugar: Softens the heat with its sweetness.
This sauce is a blend of boldness and depth, akin to Szechuan and General Tso's sauces.
For the Shrimp Stir-Fry: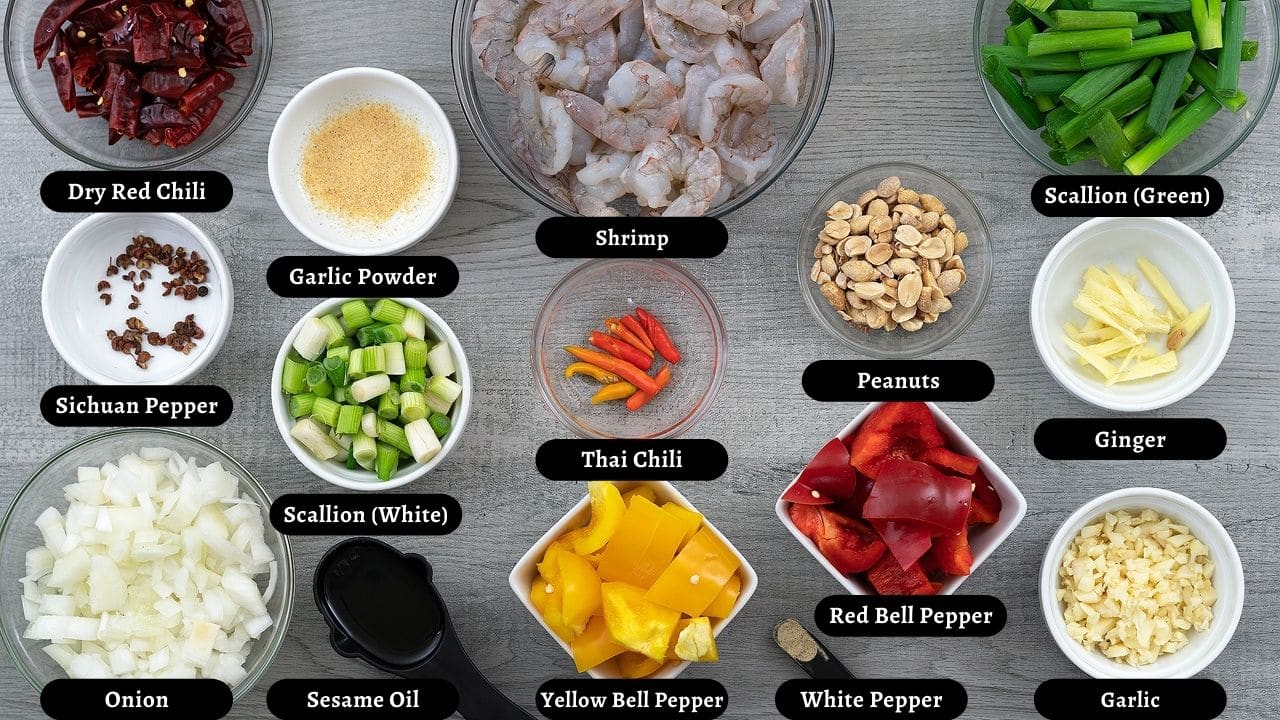 Shrimp: Large or jumbo, cleaned and deveined. Use fresh or bring frozen shrimp to room temperature before cooking.
Ginger and Garlic: Lends a burst of freshness.
Sesame Oil: A key ingredient for an authentic Chinese stir-fry, enriching the dish with its earthy flavor.
Onion: Adds a hint of sweet spiciness.
Cornstarch: Used both for marinating the shrimp and thickening the sauce.
Seasoning Powders: White Pepper and Garlic Powder, perfect for marinating.
Bell Peppers: Red and yellow for a splash of color. Feel free to include your preferred veggies.
Dry Red Chilies: Brings the traditional Szechuan heat. Remove seeds for less spice.
Scallions: Use the white part for cooking and green tops for garnish.
Sichuan Peppercorns: Create the unique numbing sensation. Substitute with white pepper powder if unavailable.
Peanuts: Toasted for a final crunchy touch.
This delightful mix of ingredients makes Kung Pao Shrimp not just a dish, but an experience of tantalizing flavors and textures. The special sauce and Sichuan peppercorns are what make this dish stand out, so try not to skip them if they're available.
How to make Kung Pao Shrimp?
Learn how to make delicious Kung Pao Shrimp, just like in Chinese restaurants. This stir-fry needs to be cooked quickly, so it's best to prepare all your ingredients in advance. Follow along with my easy-to-understand photos and video for a perfect dish every time.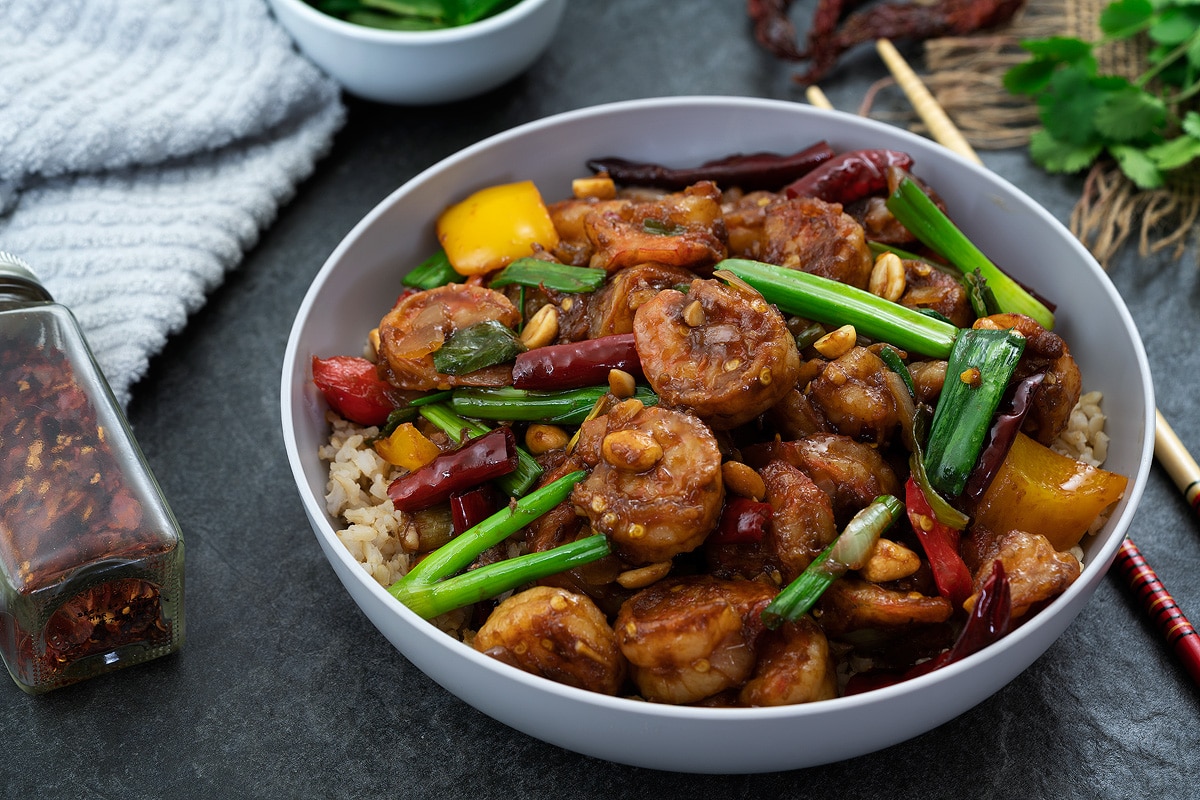 Taste the World of Shrimp Sensation!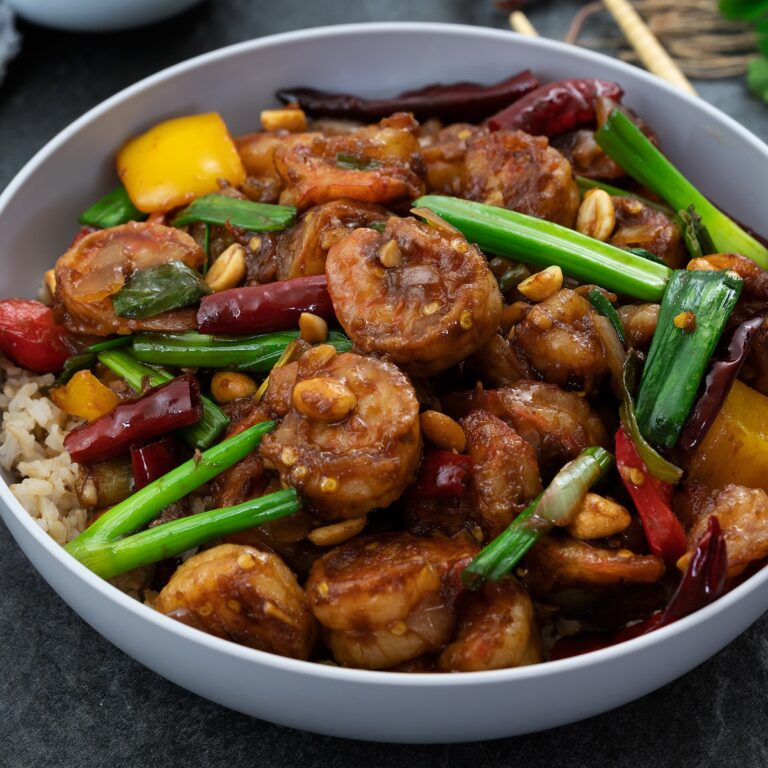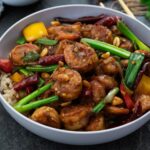 Kung Pao Shrimp
Kung Pao Shrimp, an authentic and vibrant dish from Szechuan Cuisine. This recipe highlights succulent fried shrimp coated in a silky smooth Kung Pao Sauce. Ideal for any meal, this homemade creation delivers a burst of flavor and pairs beautifully with rice or noodles. Savor it as a hearty lunch or delicious dinner.
Subscribe
print (text-only)
email
pin
review
save
saved!
Ingredients
For Sauce
3

tbsp

Dark Soy Sauce

2

tbsp

Light Soy Sauce

2

tbsp

Shaoxing Wine

1

tbsp

Vinegar

1

tbsp

Chili Sauce

1

tbsp

Brown Sugar
For Kung Pao Shrimp
2

lb

Shrimp

,

cleaned and deveined

1

tsp

Garlic Powder

Salt

,

as needed

1

tbsp

Ginger

,

julienned

2

tbsp

Garlic

,

minced

7

Thai red chili

,

optional

15

Red Chili

,

dry, halved

½

cup

Onion

,

chopped

1

tsp

Szechuan Peppercorn

,

crushed (use ½ tsp if it is too strong for your taste buds)

¼

cup

Red Bell Pepper

¼

cup

Yellow Bell Pepper

1

tsp

Cornstarch

,

for thickening the sauce

¼

tsp

Pepper Powder

,

white

2

bunch

Scallion

,

both white and green part

2

tbsp

Peanuts

,

roasted

1

tbsp

Cornstarch

,

for marination
More on Unit Conversions »
Instructions
Marinating the Shrimp
In a glass bowl, place the cleaned and deveined shrimp. Add garlic powder, white pepper powder, salt, and 1 tablespoon of cornstarch.

Stir the shrimp until they are evenly coated with the seasoning. Let them rest for 5 minutes to absorb the flavors.
Making the Sauce
In a bowl, combine dark soy sauce, Shaoxing wine, light soy sauce, rice vinegar, hot chili sauce, and brown sugar. Mix well to ensure all ingredients are well blended. Reserve this sauce for later use in the recipe.
Frying the Shrip
Heat oil in a pan over medium heat, then add the marinated shrimp. Fry them for 2 to 3 minutes.

Turn the shrimp over and continue frying for another 2 to 3 minutes. Be cautious not to overcook them, as they can become hard and rubbery.

Once fried, remove the shrimp from the pan and set them aside for later use in the dish.
Preparing Kung Pao Shrimp
Heat sesame oil in a wok over high heat. Add garlic, ginger, Thai red chilies, dry red chilies, and the white part of scallions. Sauté until they become aromatic.

Introduce onions and sauté until soft. Then, stir in crushed Sichuan peppercorns. (Adjust the amount to ½ tsp if you find the flavor too strong.)

Toss in the bell peppers and stir-fry them for 2 minutes.

Pour in the reserved Kung Pao Sauce, mix well, and let it boil for 1 to 2 minutes.

Add 1 tablespoon of cornstarch to thicken the sauce. You can use it directly or as a cornstarch slurry.

Once the sauce has thickened, add the fried shrimp and stir well.

Finish by adding roasted peanuts and the green parts of the scallions. Stir well. Your delicious Kung Pao Shrimp is now ready to be enjoyed.
Serving
Enjoy this authentic Kung Pao Shrimp with a variety of rice options to suit your taste. Pair it perfectly with white rice, brown rice, Schezwan fried rice, or fried rice, or noodles to make excellent accompaniments.
Chef's Notes and Tips
Top Tips for Perfect Kung Pao Shrimp:
Prepare Ahead of the Ingredients: Since Chinese stir-frying happens quickly, it's a good idea to have all your ingredients ready beforehand.
Kung Pao Sauce: The sauce is key in giving your dish its bold, in-depth flavor, so make sure not to compromise on its quality.
Velveting the Shrimp: Marinating the shrimp with cornstarch ensures they remain moist and juicy, with a velvety finish after frying.
Temperature: For the traditional taste and flavor of Chinese stir-frying recipes, always stir-fry the veggies and other ingredients on high heat.
Good Quality Wok: A high-quality iron wok or skillet imparts an earthy, hearty flavor to your dish, similar to Chinese restaurant-style dishes.
Peanuts and Sichuan Pepper: Traditional recipes call for Sichuan peppercorns and roasted peanuts. However, you can substitute Sichuan peppercorns with white pepper powder and peanuts with fried cashew nuts.
Nutrition Info
Serving:
1
serving
|
Calories:
358
kcal
|
Carbohydrates:
29
g
|
Protein:
52
g
|
Fat:
5
g
|
Saturated Fat:
1
g
|
Polyunsaturated Fat:
2
g
|
Monounsaturated Fat:
1
g
|
Trans Fat:
0.01
g
|
Cholesterol:
365
mg
|
Sodium:
846
mg
|
Potassium:
1373
mg
|
Fiber:
4
g
|
Sugar:
14
g
|
Vitamin A:
2177
IU
|
Vitamin C:
290
mg
|
Calcium:
204
mg
|
Iron:
4
mg
Disclaimer: We're not nutrition experts. Nutritional info is estimated and should be used as a guide. For precise details, consult a professional.
Discover a diverse range of stir-fry, Chinese, and Asian recipes on our site. Each dish offers a unique blend of flavors and health benefits, catering to all palates and dietary preferences!
Storage and Serving Suggestions
Storage: Kung Pao Shrimp can be stored for up to a day in the refrigerator. Just make sure to keep it in an airtight container. However, to fully savor its spicy and hot flavors, it's best enjoyed fresh, right after cooking.
Serving: Serve this scrumptious dish with a variety of rice options like white, basmati, or brown rice for a classic meal. Or, for an indulgent Chinese feast, pair it with fried rice, Schezwan fried rice, or noodles. These combinations make for a truly mouth-watering platter.