Szechuan Sauce is a fiery and savory Chinese condiment known for its unique citrusy flavor, thanks to the Sichuan pepper. Made with chili, sesame oil, soy sauce, vinegar, and sugar, this sauce is a key component in various Indo-Chinese dishes, including stir-fries, noodles, fried rice, and serves as an excellent dipping sauce for appetizers.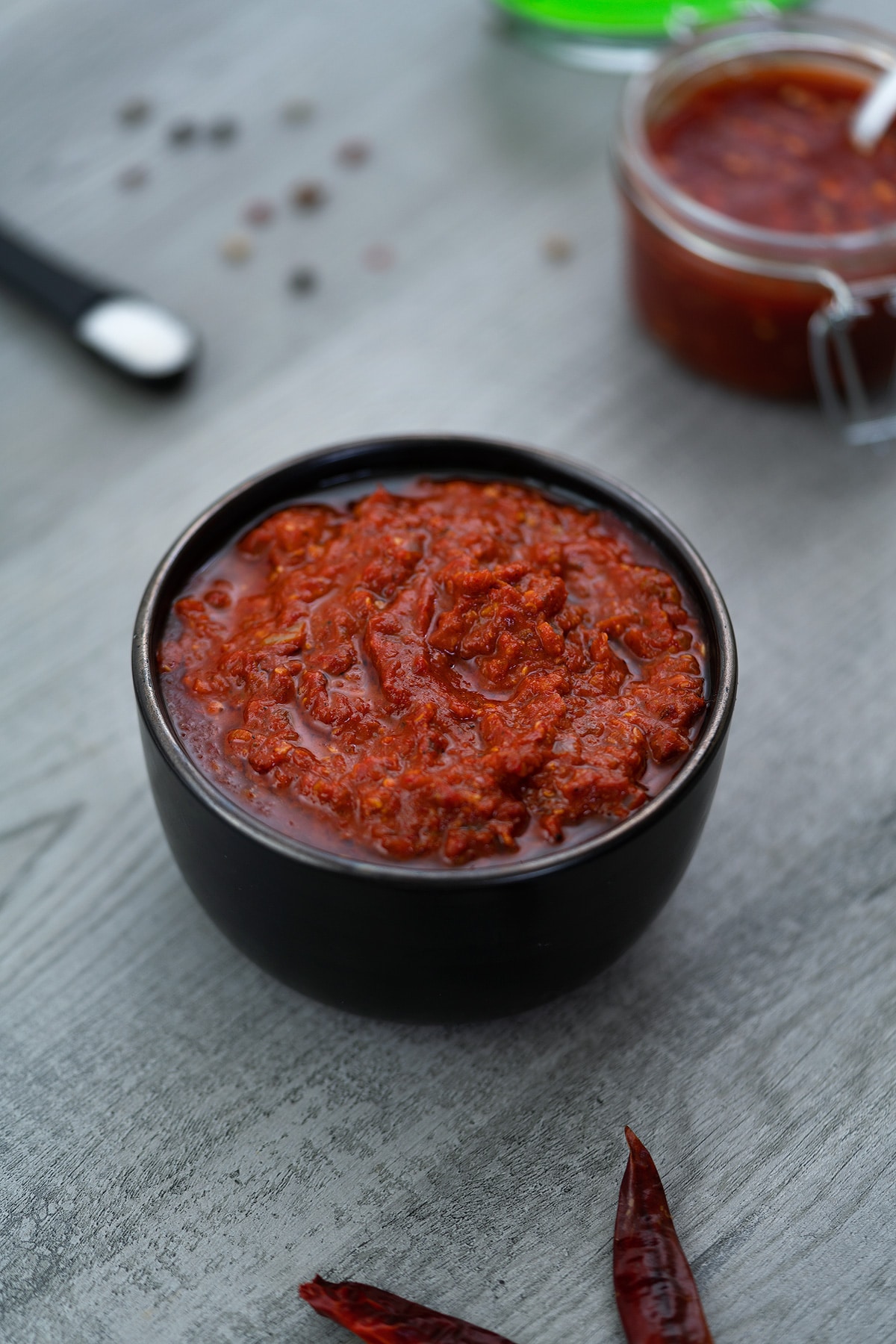 Jump to:
Its unique flavor profile, characterized by a distinctive citrus note from the Sichuan pepper, has made it popular in Sichuan cuisine and a global sensation, especially in fusion Indo-Chinese cooking. This sauce is often used as a marinade for meats and tofu.
In this post, I share recipes for both the authentic Schezwan Sauce and its Indo-Chinese variant, as well as the Szechuan Sauce style popularized by eateries like McDonald's.
Explore More Szechuan Special Recipes!
Ingredients and Substitutions Overview
Find the key ingredients for this flavorful Szechuan Sauce in most Asian stores, each carefully chosen to bring out its unique taste.
Red Chilies: Sanam chilies are preferred for their ideal spice level, adding heat and intensity to the sauce. For a milder version, remove the seeds before soaking.
Sesame Oil: This oil is crucial for its authentic, earthy, and rustic flavor, which is a signature of traditional Szechuan Sauce.
Sichuan Pepper: This ingredient is the heart of the sauce, offering a bold, zingy flavor. While it's essential for authenticity, if it's unavailable, omitting it will result in a less zingy but still tasty sauce.
Onion, Ginger, and Garlic: These aromatics contribute depth and a strong flavor profile, forming the base of the sauce's aroma and taste.
Dark Soy Sauce: Dark soy sauce is selected for its rich, deep flavor and color. If you prefer, vegan or vegetarian-friendly soy sauces are excellent alternatives that maintain the sauce's richness.
Rice Vinegar: Essential for adding a subtle tanginess to the sauce. If rice vinegar is unavailable, apple cider vinegar is a good substitute, offering a similar tangy flavor.
Sugar and Salt: These basic seasonings are vital for enhancing and balancing the flavors of all other ingredients, ensuring the sauce is well-rounded and flavorful.
Method 1: Schezwan Sauce from Scratch
Dive into the vibrant world of Schezwan Sauce with our easy-to-follow recipe, complete with photos and video for each step. Get ready to create this iconic sauce from scratch, infusing your dishes with its unmistakable spicy and bold flavors.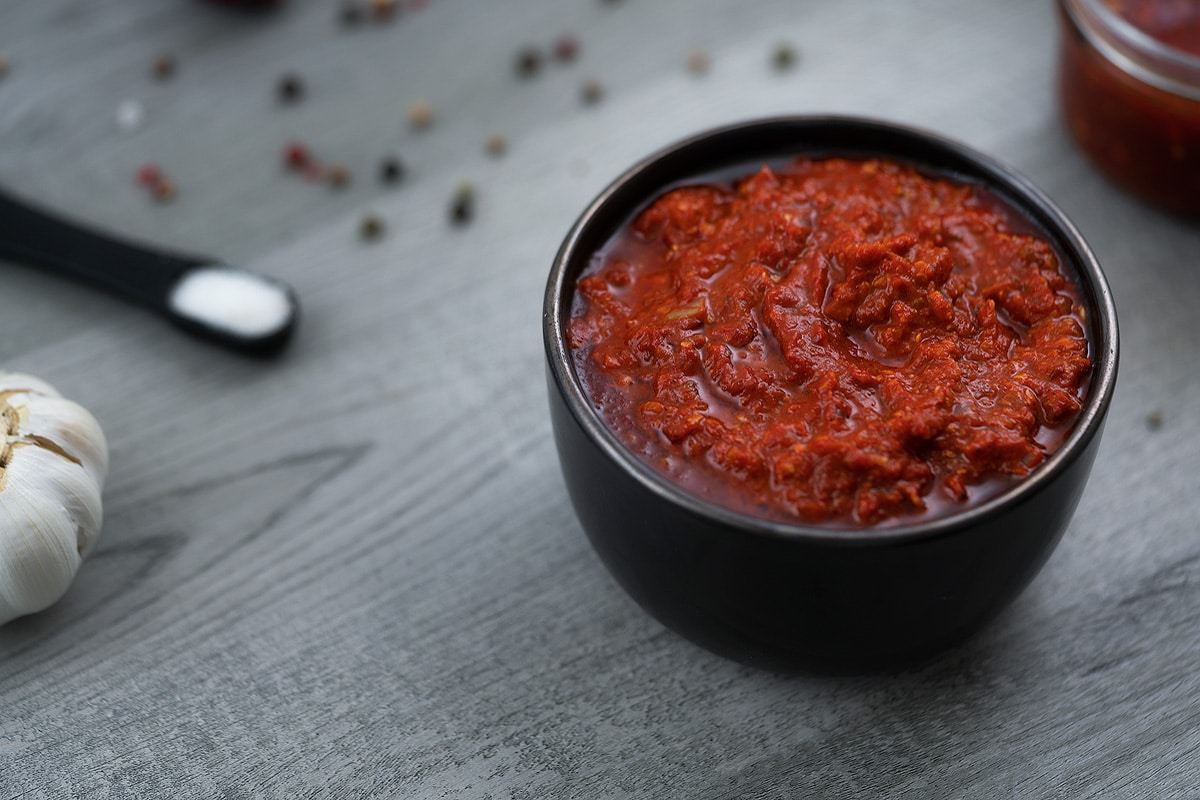 Discover a Variety of Similar Sauce Recipes: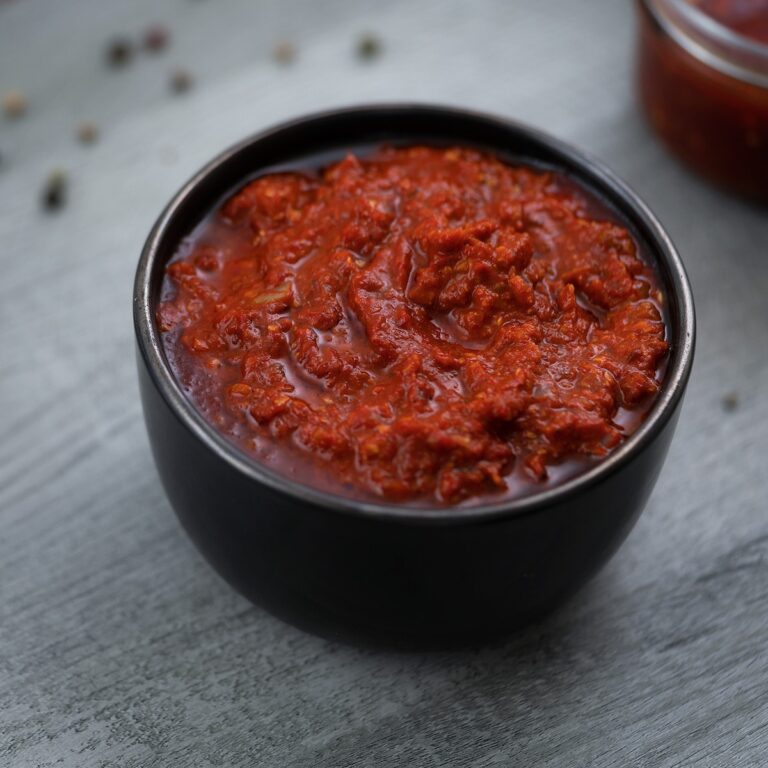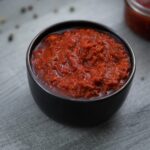 Szechuan Sauce (Schezwan Sauce)
Szechuan (or Schezwan) Sauce is a harmonious mix of sweet and spicy flavors, a Chinese condiment crafted from fresh ingredients. The traditional recipe includes red chili, Sichuan Pepper, sesame oil, vinegar, soy sauce, and sugar. This versatile sauce is commonly used in stir-fries, fried rice, noodles, or as a delightful dipping sauce.
Subscribe
print (text-only)
email
pin
review
save
saved!
Ingredients
28

Dry Red Chili

,

soaked in hot water

¼

cup

Onion

,

finely chopped

1

tsp

Ginger

,

chopped

1

tsp

Garlic

,

chopped

1

tsp

Szechuan Pepper

1

tbsp

Vinegar

¼

tsp

Pepper Powder

2

tsp

Sugar

1

tbsp

Dark Soy Sauce

¼

cup

Sesame Oil
More on Unit Conversions »
Instructions
To Prepare Szechuan (Schezwan) Sauce
Begin by steeping the dry red chilies in hot water for two hours, which will soften them and intensify their flavor.

After soaking, drain the chilies and blend them into a fine paste. If it's too thick, a splash of water can help. For a milder sauce, you can remove the seeds at this stage.

Heat a drizzle of oil in a pan on medium and sauté minced garlic and ginger, until they're fragrant and golden.

Stir in the chopped onions, and Szechuan peppercorns and continue to sauté until they're just softened, releasing their distinctive citrusy aroma.

Fold in the chili paste you prepared earlier and cook it for a couple of minutes, allowing the flavors to meld.

Add a touch of water to the mixture, stirring to combine all the ingredients well.

Cover the pan and let the sauce simmer for 5 to 7 minutes, which will help all the spices to infuse beautifully.

Lift the lid and sprinkle in the black pepper, sugar, and salt, then pour in the rice vinegar and dark soy sauce, stirring thoroughly.

Keep cooking until the sauce thickens and the oil begins to separate. Your Szechuan Sauce is now ready to enhance your dishes!
To Serve
Incorporate this Szechuan or Schezwan sauce into your stir-fries, mix it into your fried rice, or serve it as a tangy dipping sauce to add a burst of flavor to your meals.
Chef's Notes and Tips
Essential Tips to Make the Perfect Schezwan Sauce:
Sesame Oil: Essential for its authentic flavor, sesame oil shouldn't be skipped. It's key to achieving the sauce's signature taste.
Red Chilies: I use red chilies with seeds to enhance the heat. For a milder sauce, feel free to remove the seeds before soaking.
Sichuan Pepper: The authentic flavor and taste of the sauce primarily stem from Sichuan peppers. However, if they're not readily available, regular peppercorns can serve as a substitute, although the distinctive Sichuan zing will be less pronounced.
Uses: This Schezwan Sauce is perfect for adding a balanced, hot, spicy, and pungent flavor to stir-fries, fried rice, and other dishes.
Nutrition Info
Serving:
1
tbsp
|
Calories:
34
kcal
|
Carbohydrates:
1
g
|
Protein:
0.2
g
|
Fat:
3
g
|
Saturated Fat:
0.5
g
|
Polyunsaturated Fat:
1
g
|
Monounsaturated Fat:
1
g
|
Sodium:
63
mg
|
Potassium:
8
mg
|
Fiber:
0.1
g
|
Sugar:
1
g
|
Vitamin A:
13
IU
|
Vitamin C:
0.3
mg
|
Calcium:
1
mg
|
Iron:
0.04
mg
Disclaimer: We're not nutrition experts. Nutritional info is estimated and should be used as a guide. For precise details, consult a professional.

Delve into the rich mosaic of Asian cuisine with our curated collection of stir-fry sauces, fusing time-honored tastes with modern kitchen artistry. Whether you're craving the vibrant kick of a stir-fry or the warm embrace of a curry, our selection is designed to delight diverse tastes!
Method 2: Simplified Szechuan Sauce
Experience the ease of creating a quick yet flavorful Szechuan Sauce, similar to the dipping sauce found in popular eateries like McDonald's. This simplified recipe is perfect when you're short on time but crave that authentic taste.
Ingredients
1 teaspoon Szechuan Peppercorns
3 tablespoons sugar (brown sugar or honey)
¼ cup soy sauce
2 teaspoons fresh garlic, finely chopped
1 tablespoon sesame oil
2 teaspoons fresh ginger, finely chopped
1 tablespoon rice vinegar
1 tablespoon garlic chili paste (or sambal oelek)
½ teaspoon Chinese Five Spice (a blend of fennel seeds, star anise, Sichuan pepper, cinnamon, cloves)
Process
Roasting: Gently roast the Szechuan Peppers over medium heat for about 2 minutes, then crush them into a coarse powder.
Combining: Mix all the other ingredients listed above with the crushed Szechuan peppercorns.
And there you have it – a straightforward and quick recipe! This sauce is perfect as a dipping sauce for your favorite snacks right away.
For stir-fries, or if you prefer a thicker sauce, feel free to add cornstarch during cooking. This versatile sauce is sure to add a burst of flavor to your dishes.
Storage and Serving Suggestions
The sauce recipes provided here can be stored in the refrigerator for up to 2 weeks. For optimal freshness, ensure they are kept in an airtight container.
These versatile sauces are perfect for enhancing stir-fries, noodles, and fried rice, and they make an excellent dipping sauce for your favorite snacks. Their rich flavor profile adds depth and zing to a variety of dishes.