Create the perfect meal with this easy Homemade Stir Fry Sauce, ideal for a variety of dishes. This sweet, savory, and slightly spicy Asian stir fry sauce recipe enhances everything from chicken stir fry to tofu and vegetable dishes. Made with simple ingredients like soy sauce, rice vinegar, brown sugar, and honey, it's the best choice for an authentic, flavorful addition to your weeknight dinners.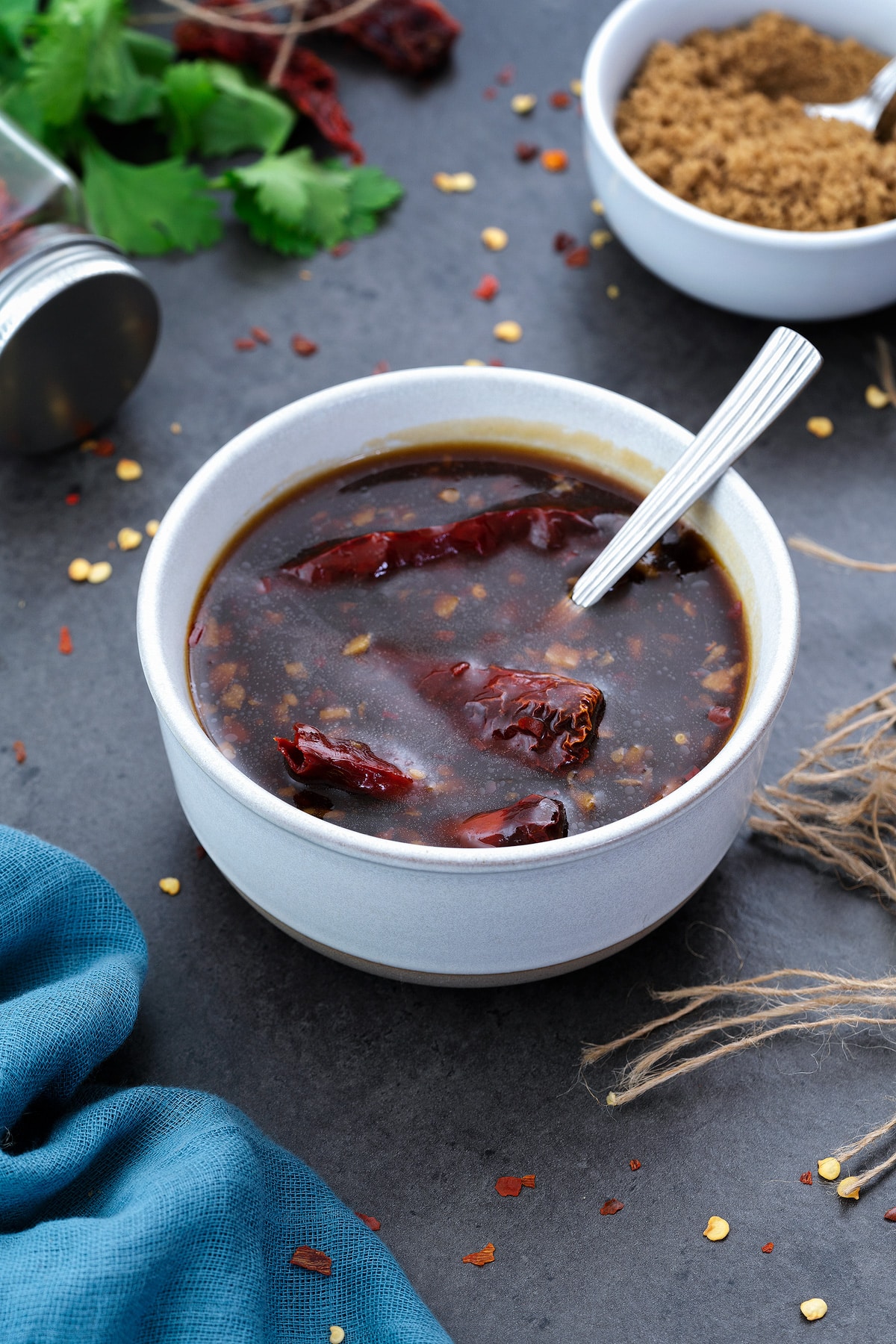 Jump to:
Explore More Chinese Delights:
Ingredients and Substitutions Overview
To create this Homemade Stir Fry Sauce, you'll need some essential Asian pantry items, readily available in most Asian grocery stores. Here's a look at the key ingredients: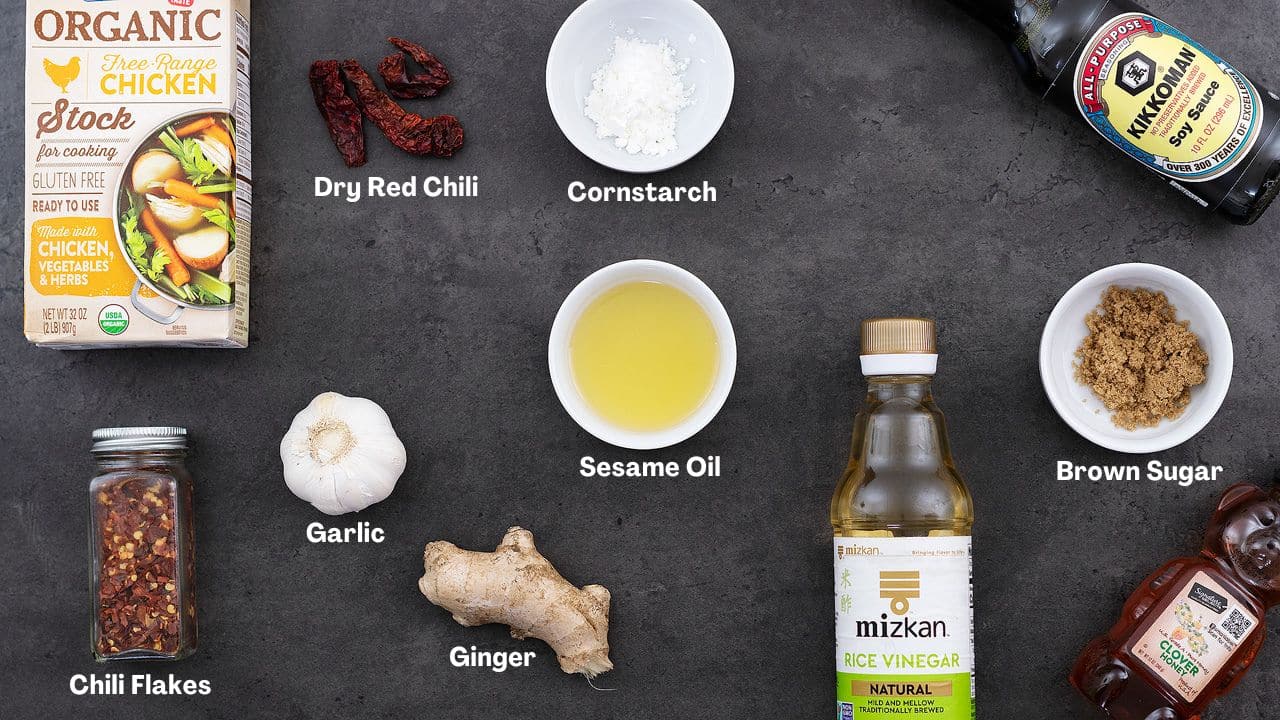 Ginger and Garlic: Fresh ginger and garlic are key for their robust flavor in this sauce. If you're planning to store the sauce for an extended period, consider using ginger and garlic powders as a longer-lasting alternative.
Soy Sauce: Opt for low-sodium soy sauce to reduce the sodium content without compromising taste.
Rice Vinegar: Adds a pleasant sourness and tang to the sauce.
Chili Flakes: For a spicy kick. Alternatively, black pepper powder can be used for a milder heat with earthy notes.
Brown Sugar and Honey: Use either or both. Honey provides a glazed look and sweetness, while brown sugar offers a caramel-like, earthy sweetness.
Chicken or Veggie Stock: This enhances the sauce's flavor depth. If unavailable, water is a suitable substitute.
Sesame Oil: Contributes a rustic, nutty flavor. Soybean oil or peanut oil can be used for similar effects.
How to make Stir Fry Sauce easily at home?
Dive into the world of flavorful Asian cuisine with our Homemade Stir Fry Sauce. Follow along with our step-by-step photos and video to effortlessly bring this delicious sauce to life in your kitchen. Now, let's get started with the recipe!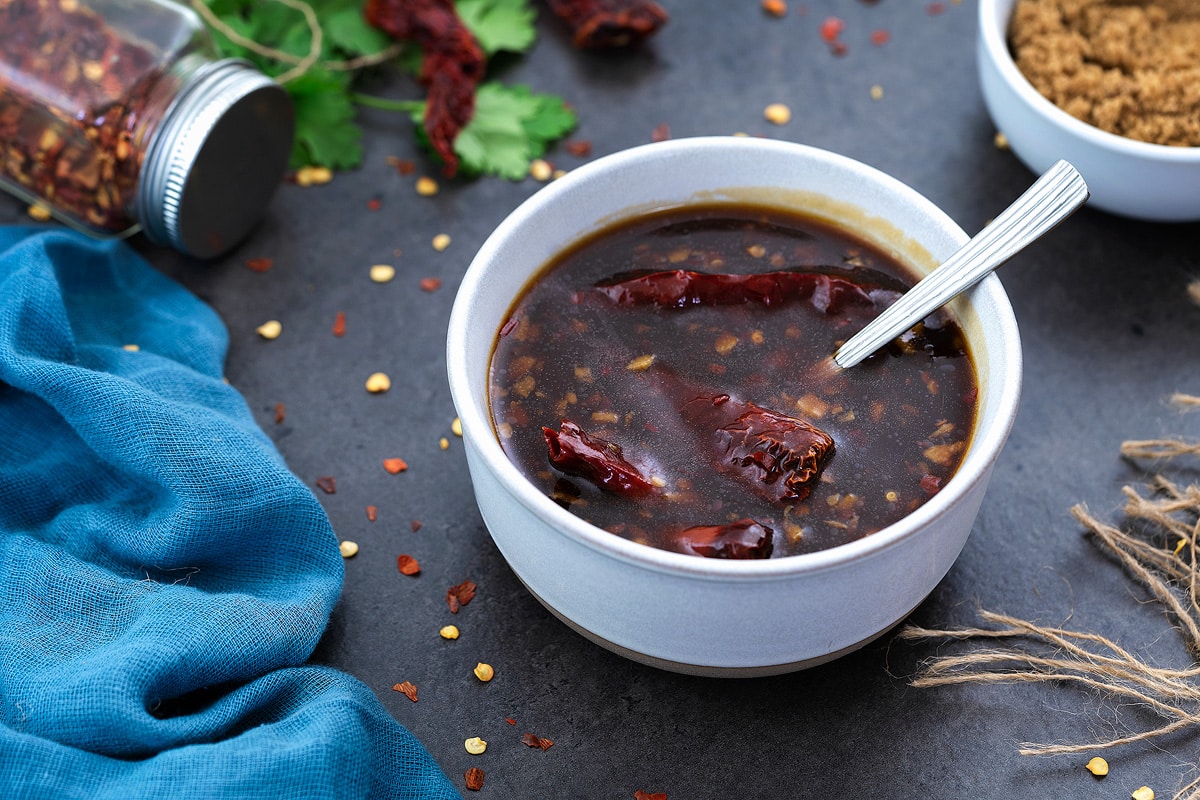 Discover More Delectable Asian Sauce Recipes: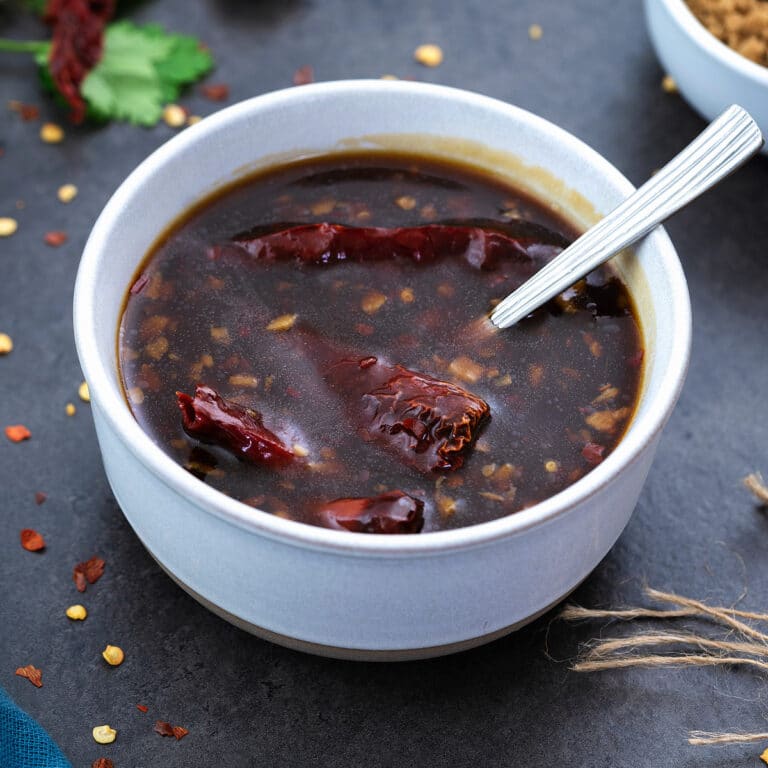 Stir Fry Sauce
Stir Fry Sauce, blending sweet, savory, and moderate spice, is a staple in Asian cuisine. Made with soy sauce, rice vinegar, brown sugar, honey, chicken or vegetable stock, and aromatics, this homemade sauce is perfect for quick stir-fries with vegetables, chicken, shrimp, fish, tofu, or red meats.
Subscribe
print (text-only)
email
pin
review
save
saved!
Ingredients
1

tbsp

Ginger

,

chopped

1

tbsp

Garlic

,

chopped

4

Dry Red Chili

1

tbsp

Rice Vinegar

2

tbsp

Honey

2

tbsp

Brown Sugar

1

cup

Chicken Stock

,

or Vegetable Stock

¼

cup

Soy Sauce

,

low sodium

1½

tsp

Chili Flakes

2

tbsp

Sesame Oil

1

tbsp

Cornstarch

,

diluted in 3 tbsp water
More on Unit Conversions »
Instructions
To make Stir Fry Sauce
Begin by heating oil in a pan on medium. Add ginger, garlic, and dry red chilies, sautéing until they release their aroma.

Next, stir in the soy sauce, chili flakes, brown sugar, honey, rice vinegar, and your choice of chicken or vegetable stock. Stir everything together well.

Let the sauce come to a gentle boil, simmering for about 3 to 4 minutes.

Mix in the cornstarch slurry, stirring well to ensure it's evenly incorporated.

Reduce the heat and let the mixture simmer until it achieves a thick, glossy, and saucy consistency.

Once thickened, remove the sauce from the heat. Your Stir Fry Sauce is now ready to be used in your favorite recipes.
To Serve
Use this Stir Fry Sauce to enhance a variety of stir-fry dishes, such as chicken stir fry, vegetable stir fry, or shrimp stir fry.
Chef's Notes and Tips
Tips for Perfecting Your Stir Fry Sauce:
Spice Level: Customize the heat to your preference. Begin with 1 teaspoon of chili flakes for a milder taste and increase as desired for more heat. I've used 1½ teaspoons, which suits our family's palate.
Sweetness: The amounts of honey and brown sugar in the recipe provide a balanced sweetness. If you prefer a sweeter sauce, I recommend taste-testing and adjusting these ingredients to your liking.
Flavor Depth: Opt for chicken or vegetable stock instead of water to enhance the sauce's flavor. This simple switch makes a significant difference in taste.
Nutrition Info
Serving:
4
tbsp
|
Calories:
108
kcal
|
Carbohydrates:
14
g
|
Protein:
2
g
|
Fat:
5
g
|
Saturated Fat:
1
g
|
Polyunsaturated Fat:
2
g
|
Monounsaturated Fat:
2
g
|
Cholesterol:
1
mg
|
Sodium:
607
mg
|
Potassium:
91
mg
|
Fiber:
0.3
g
|
Sugar:
10
g
|
Vitamin A:
150
IU
|
Vitamin C:
1
mg
|
Calcium:
11
mg
|
Iron:
0.5
mg
Disclaimer: We're not nutrition experts. Nutritional info is estimated and should be used as a guide. For precise details, consult a professional.
Explore our curated range of Asian stir-fry sauces and recipes, perfectly blending traditional flavors with modern culinary styles. From the tangy thrill of classic stir-fries to the deep flavors of traditional Asian dishes, our collection caters to all tastes, making each cooking experience richer.
How to Use this Sauce?
This versatile sauce is suitable for a variety of Asian stir fry dishes. The recipe yields about 1½ cups of sauce. For individual servings of vegetable, chicken, shrimp, or fish stir fries, add approximately 3 to 4 tablespoons of the sauce. Enhance your favorite chicken, shrimp vegetable and tofu stir fries, or any Asian-inspired recipe with this homemade sauce for a burst of flavor.
Storage Suggestions
Keep the sauce in an airtight container in the refrigerator; it remains fresh for up to 1 week. For longer storage, up to 3 weeks, use ginger and garlic powders instead of fresh to maintain quality.