Orange Sauce, a delightful blend of sweet and tangy flavors, infuses dishes with the zest of oranges. Crafted with ingredients like ginger, garlic, soy sauce, and either vegetable or chicken broth, it's enriched with fresh orange juice and zest for that signature taste.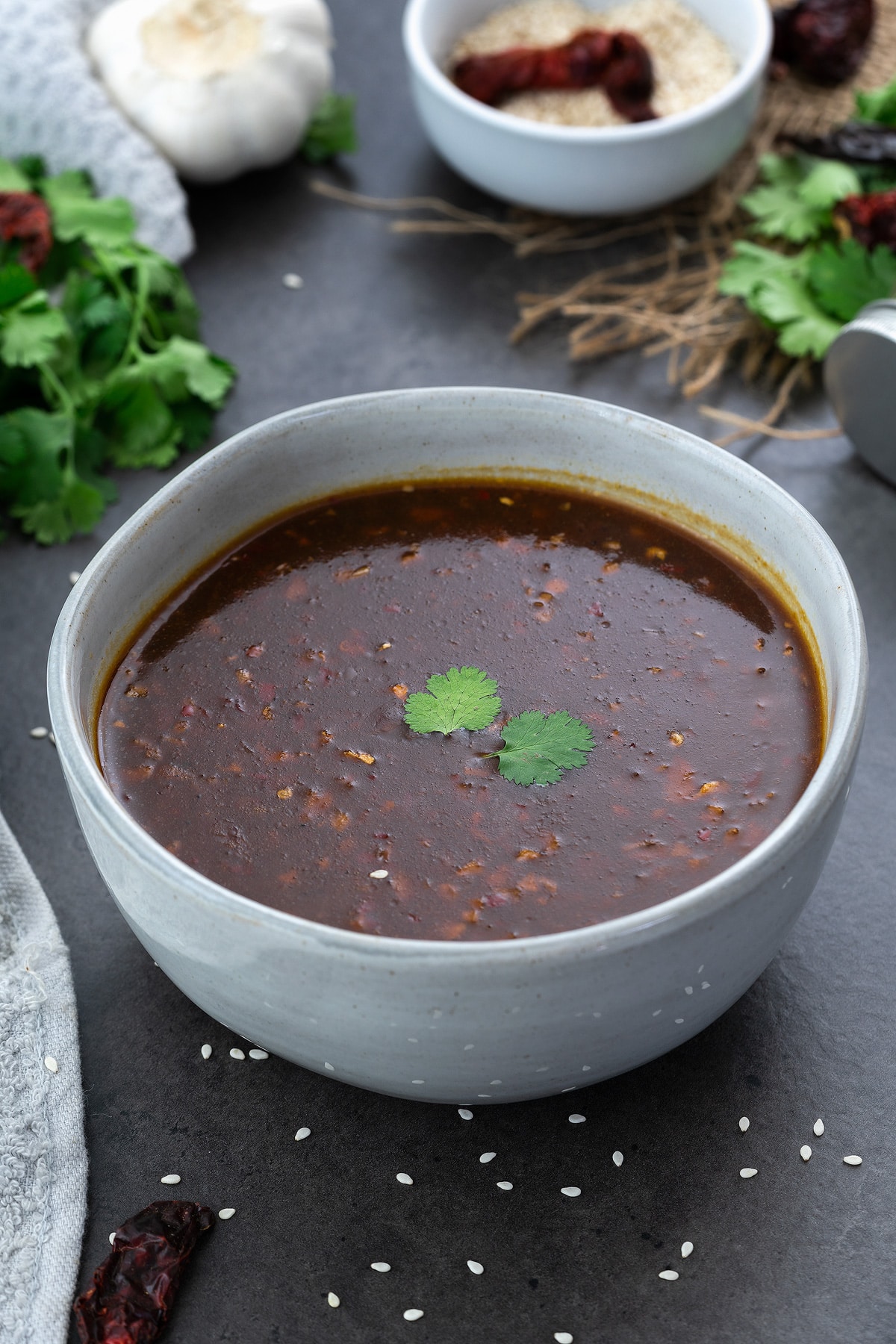 Jump to:
This versatile sauce is not just for creating the classic Orange Chicken; it's also perfect for adding a zesty twist to vegetables, shrimp, salmon, tofu, and more.
Whether you're stirring up a stir-fry or seeking a unique dipping sauce, this homemade Orange Sauce is a must-try in your culinary adventures.
Explore More Delectable Chinese Dishes:
Ingredients and Substitutions Overview
To prepare this Orange Sauce, you'll need readily available Asian pantry staples, typically found in the Asian section of most grocery stores. Here's a breakdown of the ingredients: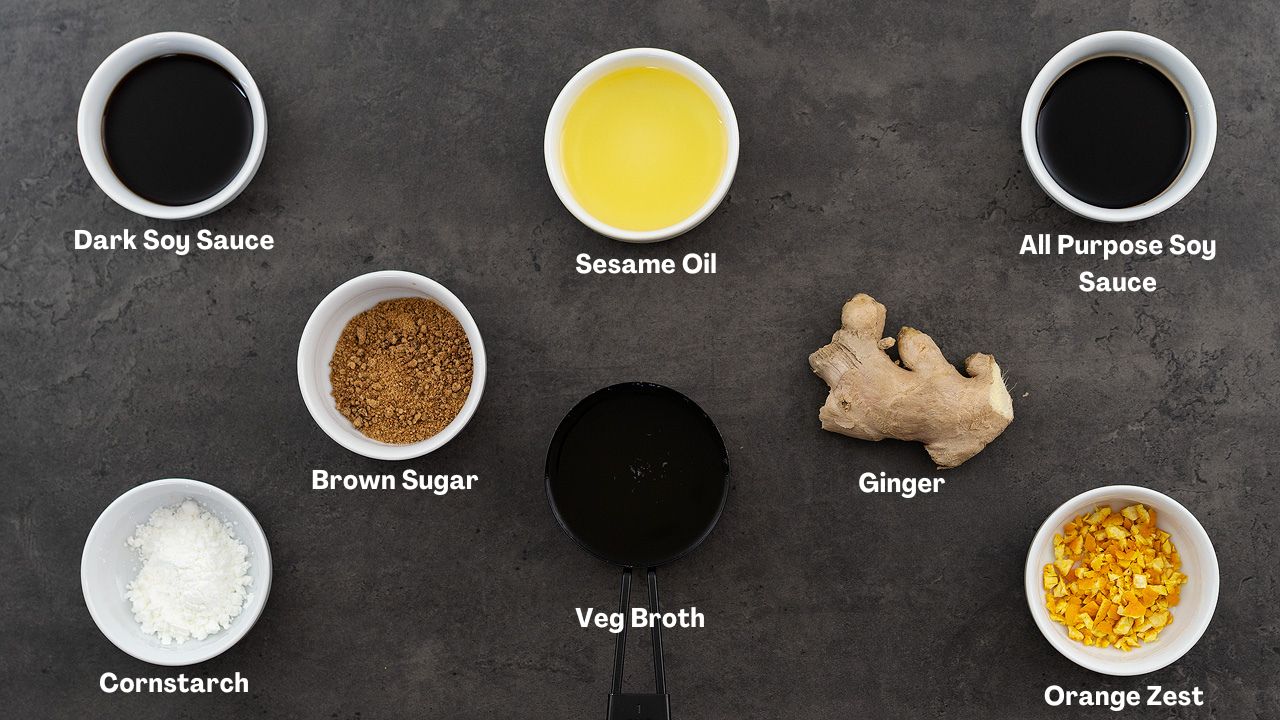 Sauces: Use Dark Soy Sauce and all-purpose soy sauce as the base. For a spicy kick, chili sauce is optional.
Sesame Oil: Delivers rich, earthy and rustic flavors to your sauce that is popular in Chinese Cooking.
Aromatics: Generous amounts of ginger and garlic for a fresh aroma and taste.
Orange Zest: Infuses the sauce with a vibrant, tropical flavor.
Brown Sugar: Balances the sweet, sour, and spicy elements of the sauce.
Cornstarch Slurry: Acts as a thickening agent to give the sauce the right consistency.
Vegetable Broth: Vegetable or chicken broth can be used to enhance the flavor of the sauce.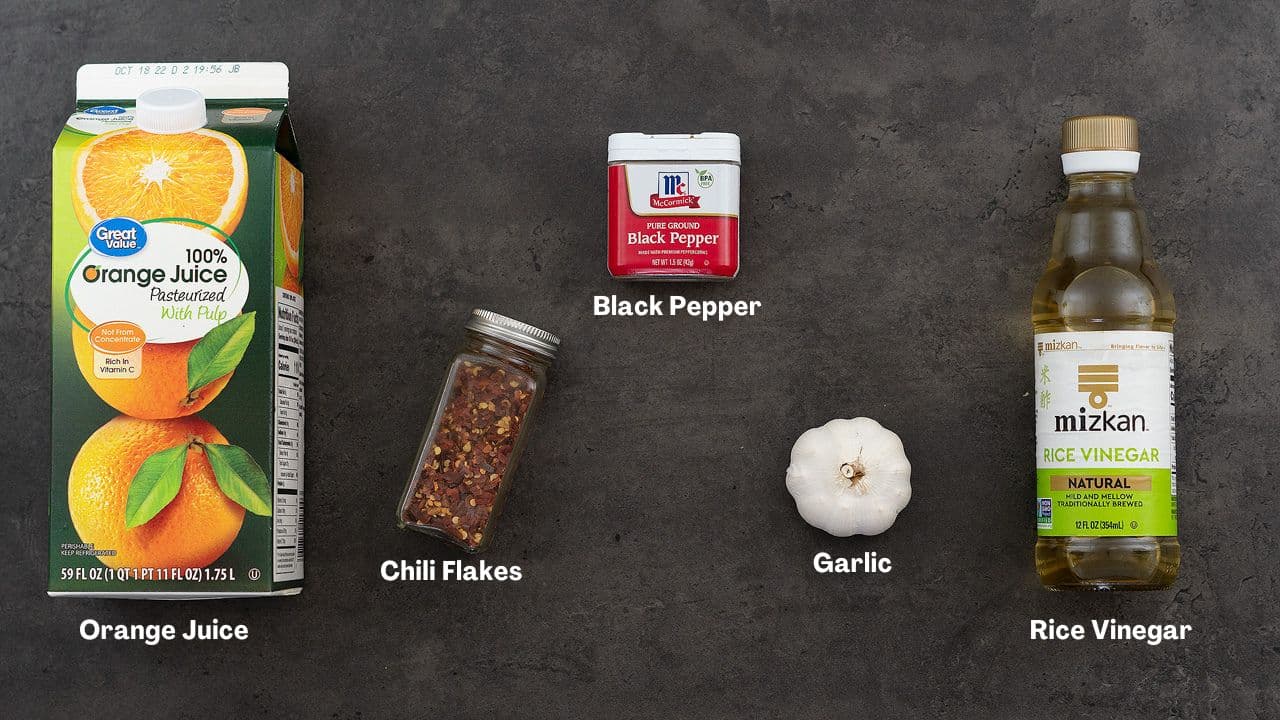 Orange Juice: Use fresh, 100% orange juice for a vibrant and refreshing flavor.
Vinegar: Rice vinegar is preferred for its milder tang and acidity. If unavailable, substitute with regular white vinegar.
Additional Flavorings: Enhance the sauce with chili flakes, black pepper powder, and a pinch of salt to taste.
These ingredients give Orange Sauce its distinctive taste. Adjust them as desired for a customized flavor experience.
How to make Orange Sauce?
Get ready to elevate your culinary creations with this homemade Orange Sauce, a versatile and flavor-packed condiment. Follow these simple steps, accompanied by photos and a video guide, to effortlessly bring this zesty sauce to your table. Let's begin: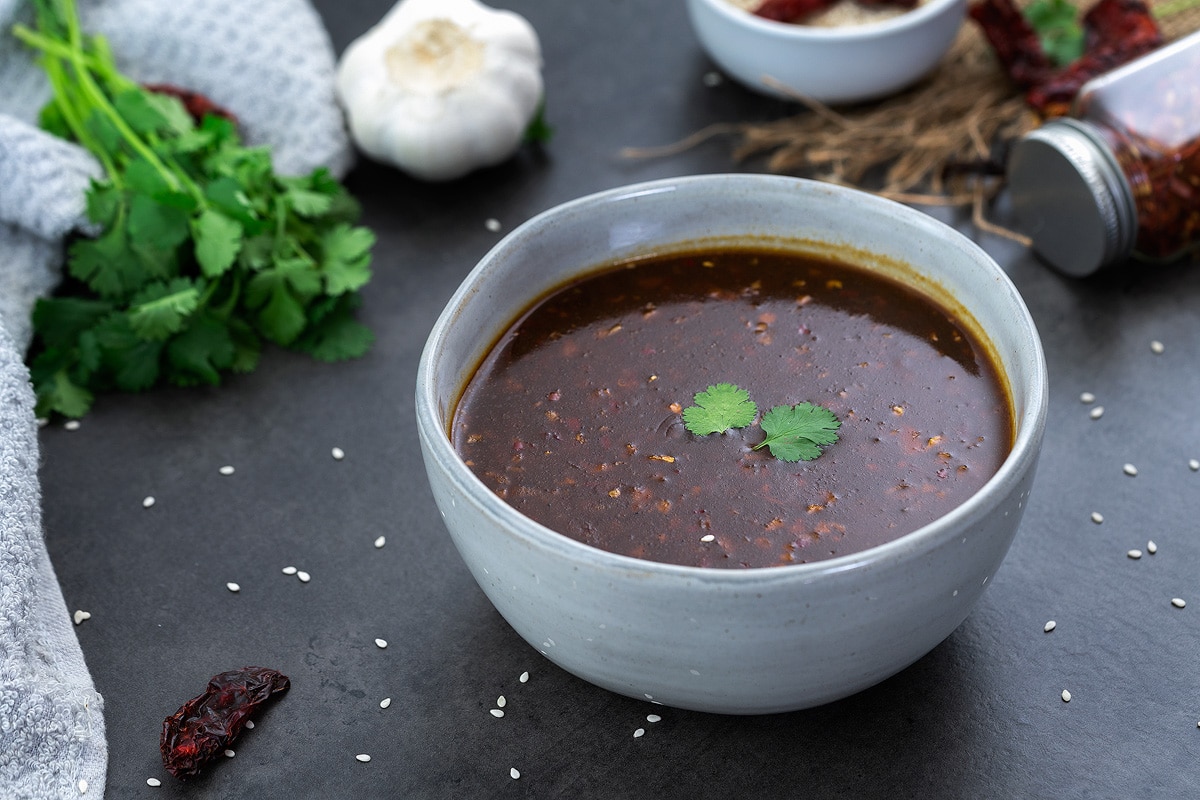 Explore a World of Delicious Asian Sauce Recipes: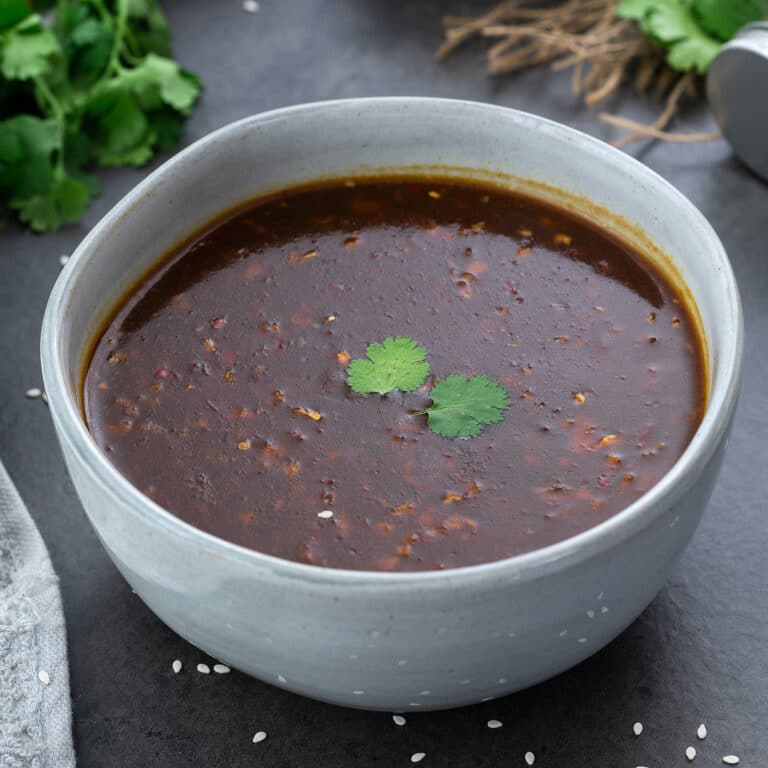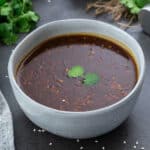 Orange Sauce
Discover the zesty magic of homemade Orange Sauce, a perfect blend of sweet, tangy, and orange flavors. Ideal for stir-fries and the star in Orange Chicken, it also wonderfully enhances veggies, shrimp, salmon, and tofu. Elevate your meals with this versatile, flavor-packed sauce.
Subscribe
print (text-only)
email
pin
review
save
saved!
Ingredients
1½

cup

Orange Juice

2

tbsp

Dark Soy Sauce

,

optional

2

tbsp

Soy Sauce

1

cup

Vegetable Broth

,

or chicken broth

1

tsp

Rice Vinegar

2

tbsp

Brown Sugar

2

tbsp

Chili Sauce

½

tsp

Pepper Powder

,

black or white pepper

2

tbsp

Orange Zest

,

chopped

2

tsp

Ginger

,

chopped

2

tbsp

Garlic

,

chopped

2

tbsp

Sesame Oil

2

tsp

Cornstarch

,

diluted in 4 tbsp water

½

tsp

Chili Flakes
More on Unit Conversions »
Instructions
To make Orange Sauce
Start by heating sesame oil in a pan on medium heat. Add ginger and garlic, sautéing until they release their aroma.

Toss in the chopped orange peels, and continue to sauté until they're fragrant.

Now, add in the chili flakes, chili sauce, both dark and all-purpose soy sauces, and black pepper powder. Stir everything well.

Next, pour in the brown sugar, orange juice, rice vinegar, and your choice of broth (vegetable or chicken), along with a pinch of salt. Mix all the ingredients thoroughly.

Let the sauce come to a gentle boil, and then simmer for about 2 to 3 minutes.

Finally, whisk in the cornstarch slurry. Keep cooking over low heat until the sauce thickens and takes on a glossy appearance. And there you have it, your delicious Orange Sauce is ready to be enjoyed!
To Serve
This versatile Orange Sauce is perfect for creating mouth-watering Orange Chicken or duck dishes. It also serves as an excellent dipping sauce for your favorite chicken recipes, adding a zesty, flavorful twist to each bite.
Chef's Notes and Tips
Tips for Perfecting Your Orange Sauce:
Enhance the Orange Flavor: To capture that signature citrusy tang, use both fresh orange peels or dried orange powder along with orange juice. This combination deepens the orange essence in your sauce.
Use Broth for Depth: While water is an option, opt for vegetable or chicken broth instead. It's a simple switch that elevates your sauce to a restaurant-quality level.
Achieving the Ideal Color: The recipe as is will give you a light brown-orange hue due to dark soy sauce. For a more vibrant orange color, consider omitting the dark soy sauce. Adding a pinch or two of ground turmeric can also enhance the sauce's color, giving it a bright orange appeal.
Balance the Saltiness: Be mindful with salt. The combination of soy sauces and broth already brings saltiness to the sauce. Taste as you go to ensure the seasoning is just right.
Nutrition Info
Serving:
1
cup
|
Calories:
320
kcal
|
Carbohydrates:
45
g
|
Protein:
5
g
|
Fat:
15
g
|
Saturated Fat:
2
g
|
Polyunsaturated Fat:
6
g
|
Monounsaturated Fat:
6
g
|
Sodium:
2057
mg
|
Potassium:
527
mg
|
Fiber:
1
g
|
Sugar:
34
g
|
Vitamin A:
1074
IU
|
Vitamin C:
97
mg
|
Calcium:
54
mg
|
Iron:
1
mg
Disclaimer: We're not nutrition experts. Nutritional info is estimated and should be used as a guide. For precise details, consult a professional.
Explore the diverse flavors of Asian cuisine with our handpicked selection of stir-fry sauces. Blending traditional flavors with contemporary culinary techniques, our range caters to every palate, from the zesty zing of a classic stir-fry to the comforting richness of traditional Asian recipes. Delight in our variety, crafted to enhance every meal!
Storage and Serving Suggestions
Store the Orange Sauce in the fridge in an airtight container for up to a week. It's perfect for enhancing fried chicken to make classic Orange Chicken, or as a zesty dip. Try it with fried cauliflower too for a delicious, veggie-friendly version of Orange Chicken.