Mango Chutney, a classic Indian condiment, combines sweet, spicy, and tangy flavors. Made with ripe mangoes, traditional Indian spices, sugar, and vinegar, it's a versatile addition to a variety of dishes. Perfect for enhancing roasted meats like chicken and lamb, it also pairs well with fish and popular snacks such as samosas.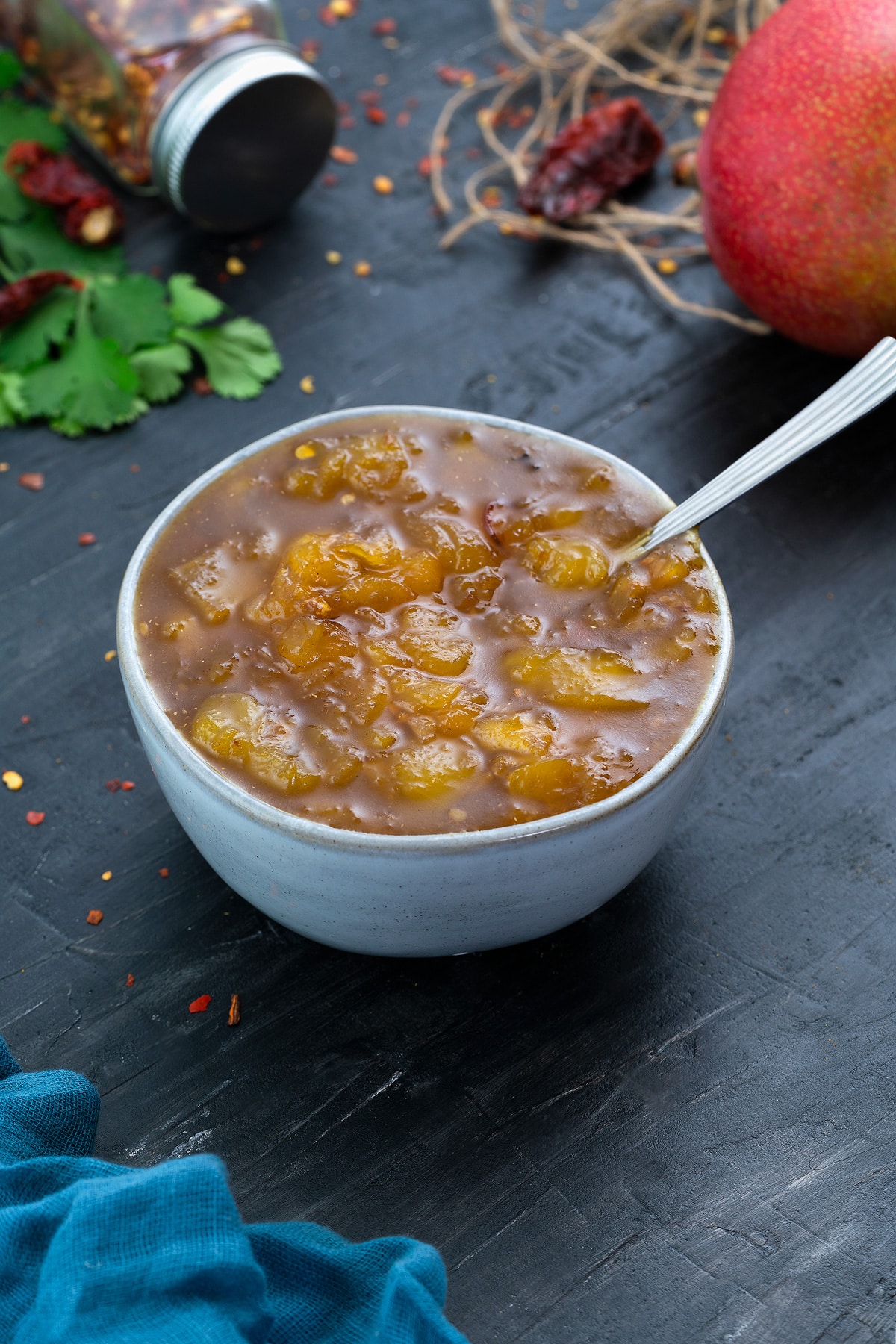 Jump to:
This chutney adds a flavorful twist to rice dishes, and can be used as a glaze for chicken. Plus, it's great as a spread on sandwiches or as a burger topping, bringing a burst of flavor to your meals.
Explore Additional Mango Delights:
Ingredients and Substitutions Overview
To create this flavorful Mango Chutney, you'll need some basic Indian spices and common pantry items available at most grocery stores and supermarkets. Here's what you'll need: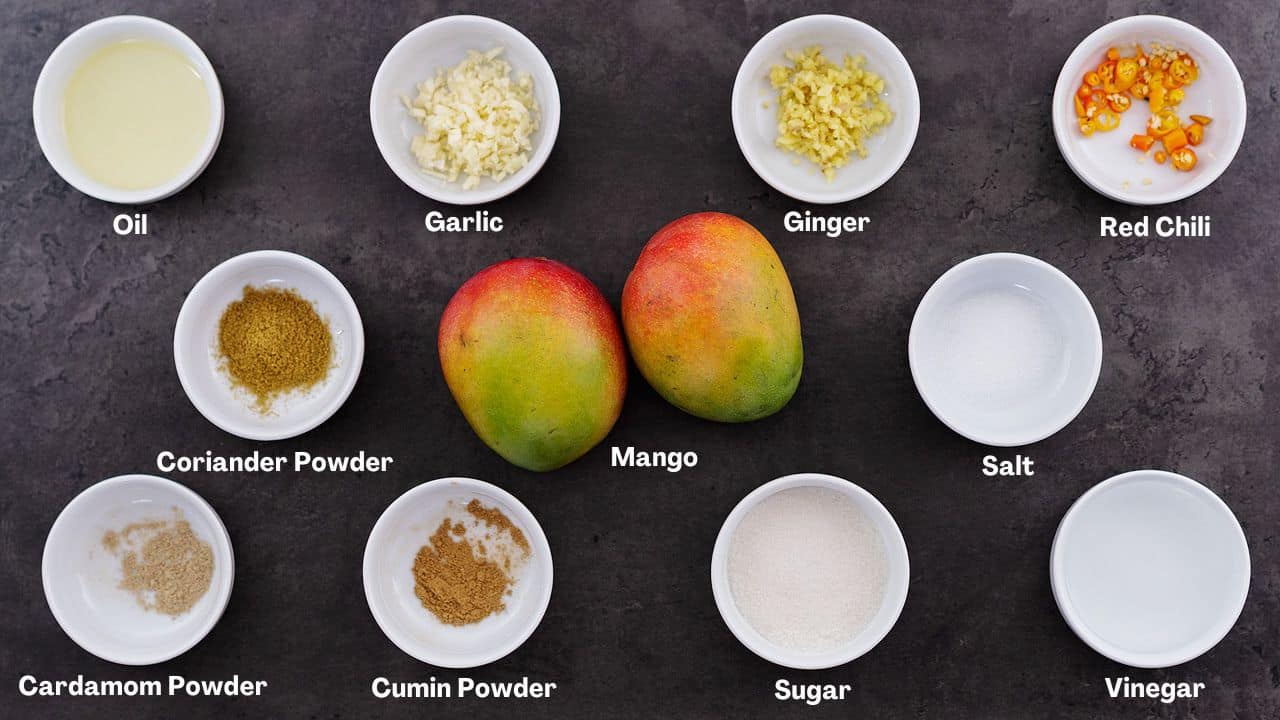 Mango: Opt for ripe mangoes for the best sweetness. This recipe uses the Kent variety, common in winter, but feel free to use any available variety. If fresh mangoes aren't available, canned or frozen ones are suitable substitutes.
Aromatics: Fresh ginger and garlic add a warm and spicy aroma. If unavailable, dried ginger and garlic powder are good alternatives.
Red Chili: Fresh red chili peppers provide heat. For a milder flavor, chili flakes can be a substitute.
Seasoning Powders: Essential to this recipe are coriander, cumin, and cardamom powders for authentic Indian taste. Fresh red chili adds a nice heat, but if you prefer something milder, chili flakes are a great alternative.
Sugar: This balances the sourness of vinegar and helps preserve the chutney, offering a sweet flavor profile.
Vinegar: Essential for preservation and preventing fungal growth. Regular vinegar is used here, but apple cider or rice vinegar are also great options.
How to Make Mango Chutney at Home?
Delve into the vibrant world of Indian cuisine with our step-by-step Mango Chutney recipe. Accompanied by detailed photos and a helpful video, these instructions will guide you through the process of creating this flavorful condiment with ease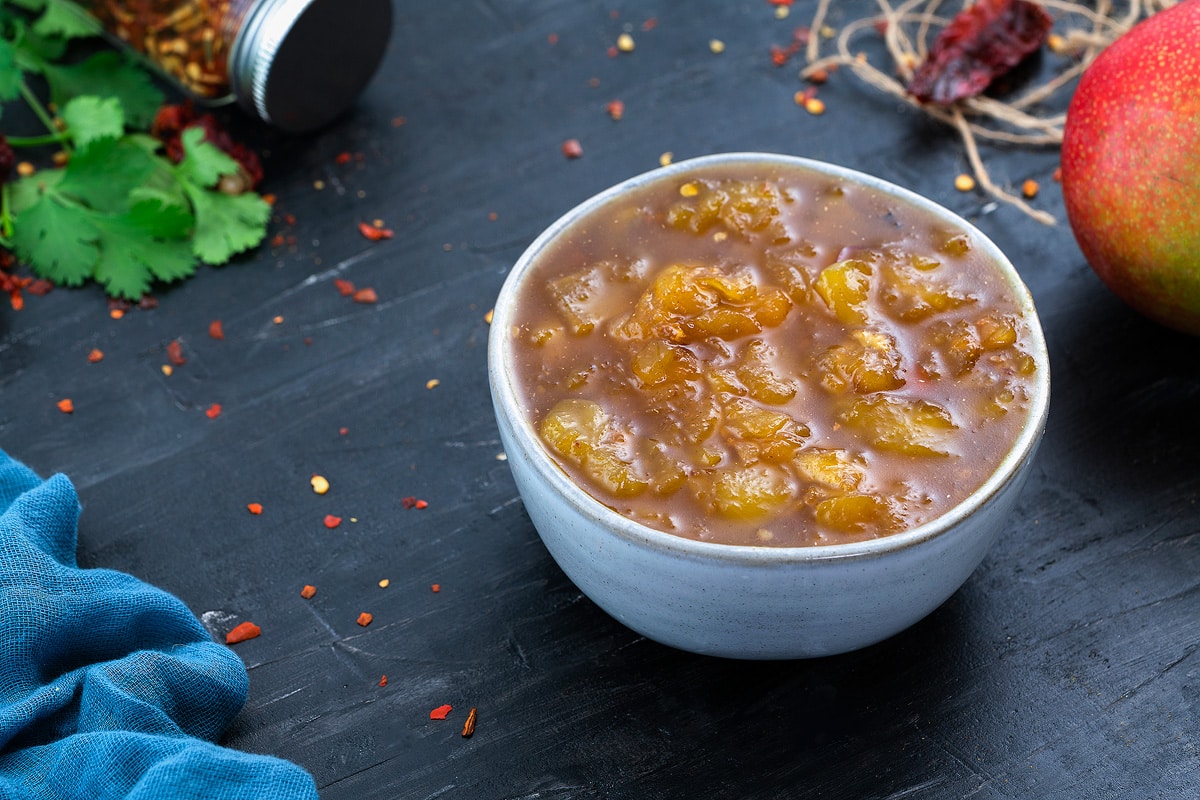 Discover Delectable Dips from Around the World.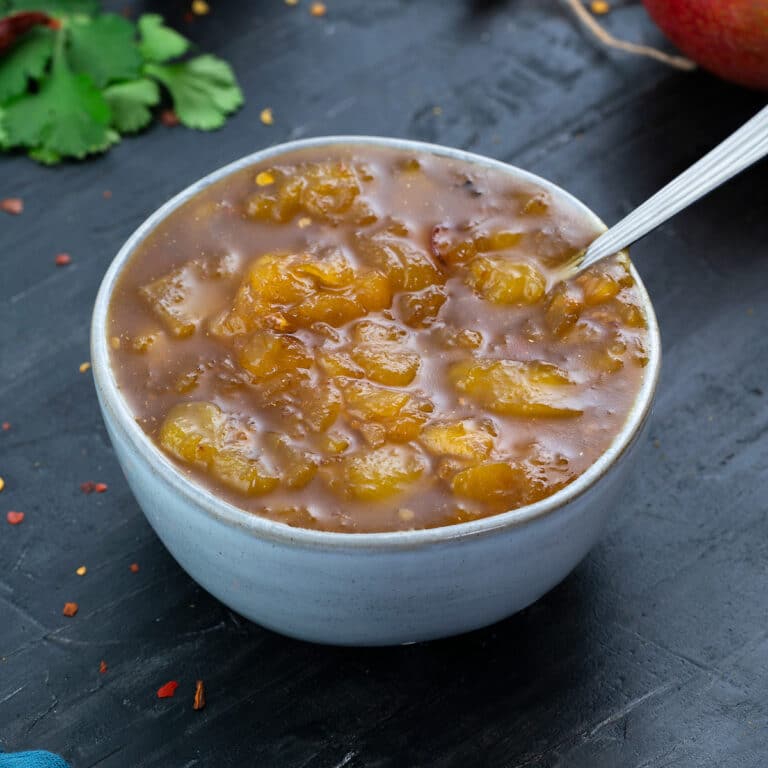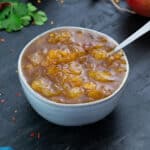 Mango Chutney
Indulge in the rich, sweet, and tangy flavors of our Mango Chutney, a perfect blend of ripe mangoes and aromatic Indian spices. Ideal for enhancing roasted meats or as a flavorful dip for snacks like samosas and chicken pakora, it's a versatile addition to any meal.
Subscribe
print (text-only)
email
pin
review
save
saved!
Ingredients
4

Ripe Mangoes

,

skin peeled and pulp chopped

1

tbsp

Oil

1

tbsp

Ginger

1

tbsp

Garlic

1

tsp

Coriander Powder

¾

tsp

Cumin Powder

½

tsp

Cardamom Powder

2

Fresh Red Chili

,

or 1 tsp chili flakes

1

cup

Sugar

½

cup

Vinegar

Salt

,

as needed
More on Unit Conversions »
Instructions
To make Mango Chutney
Begin by heating oil in a pan over medium heat. Sauté finely chopped ginger, garlic, and red chili until they emit a fragrant aroma.

Next, add coriander, cumin, and cardamom powder to the pan, seasoning with salt to your liking. Stir the mixture until the spices are well combined.

Add diced ripe mangoes to the pan, mixing them thoroughly with the seasoned aromatics.

Pour in 1 cup of sugar and ½ cup of vinegar into the pan, blending well with the mango mixture.

Bring the contents of the pan to a boil, then lower the heat to let it simmer for 10-15 minutes, or until the mixture reaches a slightly sticky consistency.

Using a food masher, mash the mangoes to achieve your desired consistency. For a smoother chutney, mash completely, or leave some chunks for a more textured feel.

Continue to simmer the mixture for an additional 15 minutes, or until the chutney thickens and the mangoes turn a golden color.

Once done, remove the pan from heat and allow the chutney to cool. After cooling, the Mango Chutney is ready to be served or stored for later use.
To Serve
Enjoy this Mango Chutney, a sweet and spicy treat that pairs beautifully with a range of dishes. It's an ideal complement to meats and vegetables, and equally delicious as a spread on sandwiches or a burger topping, enhancing any meal with its unique flavor.
Chef's Notes and Tips
Tips for Perfect Mango Chutney:
Choosing Mangoes: Opt for ripe mangoes to ensure a sweet and rich flavor. Fresh mangoes are ideal, but canned or frozen mangoes can be used for convenience. If using canned mangoes, remember to drain them first. For frozen mangoes, thaw them to room temperature before use.
Sour Taste - The sour taste in this chutney comes from vinegar, which also helps preserve the chutney for a longer time
Nutrition Info
Serving:
2
tbsp
|
Calories:
59
kcal
|
Carbohydrates:
13
g
|
Protein:
0.1
g
|
Fat:
1
g
|
Saturated Fat:
0.1
g
|
Polyunsaturated Fat:
0.3
g
|
Monounsaturated Fat:
1
g
|
Trans Fat:
0.004
g
|
Sodium:
1
mg
|
Potassium:
8
mg
|
Fiber:
0.1
g
|
Sugar:
12
g
|
Vitamin A:
1
IU
|
Vitamin C:
0.2
mg
|
Calcium:
4
mg
|
Iron:
0.1
mg
Disclaimer: We're not nutrition experts. Nutritional info is estimated and should be used as a guide. For precise details, consult a professional.
Explore our collection of party dips, fried chicken dishes, and Indian recipes, each bursting with unique flavors and spices. From classic dips to crispy chicken and authentic Indian dishes, discover the perfect flavors for any gathering.
Storage Suggestions
Refrigerator: Place the chutney in clean, airtight glass jars and refrigerate for up to 3 weeks.
Freezer: For extended storage, use freezer-safe bags or containers and freeze for up to 2 months. Remember to label and date them.
Before Storing: Ensure the chutney cools to room temperature to avoid condensation.
Before Use: Always check for signs of spoilage like mold or unusual odors before consumption.
Serving Suggestions
Enjoy the sweet and spicy Mango Chutney as a flavorful addition to a variety of dishes. It pairs excellently with:
Meats: Enhance roasted chicken, baked drumsticks, chicken thighs, breasts, wings, tandoori chicken, or grilled salmon with its unique flavor.
Roasted Vegetables: Complement roasted carrots, zucchini, and cauliflower for a flavorful, balanced meal.
Sandwiches and Burgers: Use as a spread on sandwiches or topping on burgers for an extra zing.
Fried Chicken Dishes: Enhance a variety of fried chicken dishes like crispy fried chicken, wings, tenders, and nuggets with the sweet and tangy taste of Mango Chutney for a delightful fusion of flavors.
This chutney's versatility makes it a perfect accompaniment to both meat and vegetable dishes, elevating the taste of any meal.