Tamarind Sauce, with its irresistible sweet and tangy taste, is your ticket to authentic Indian flavor! Infused with the zest of ginger and the warmth of cumin, this beloved dip is crafted from the richness of dried seedless tamarind and the sweetness of jaggery, seasoned with the classic spices of India.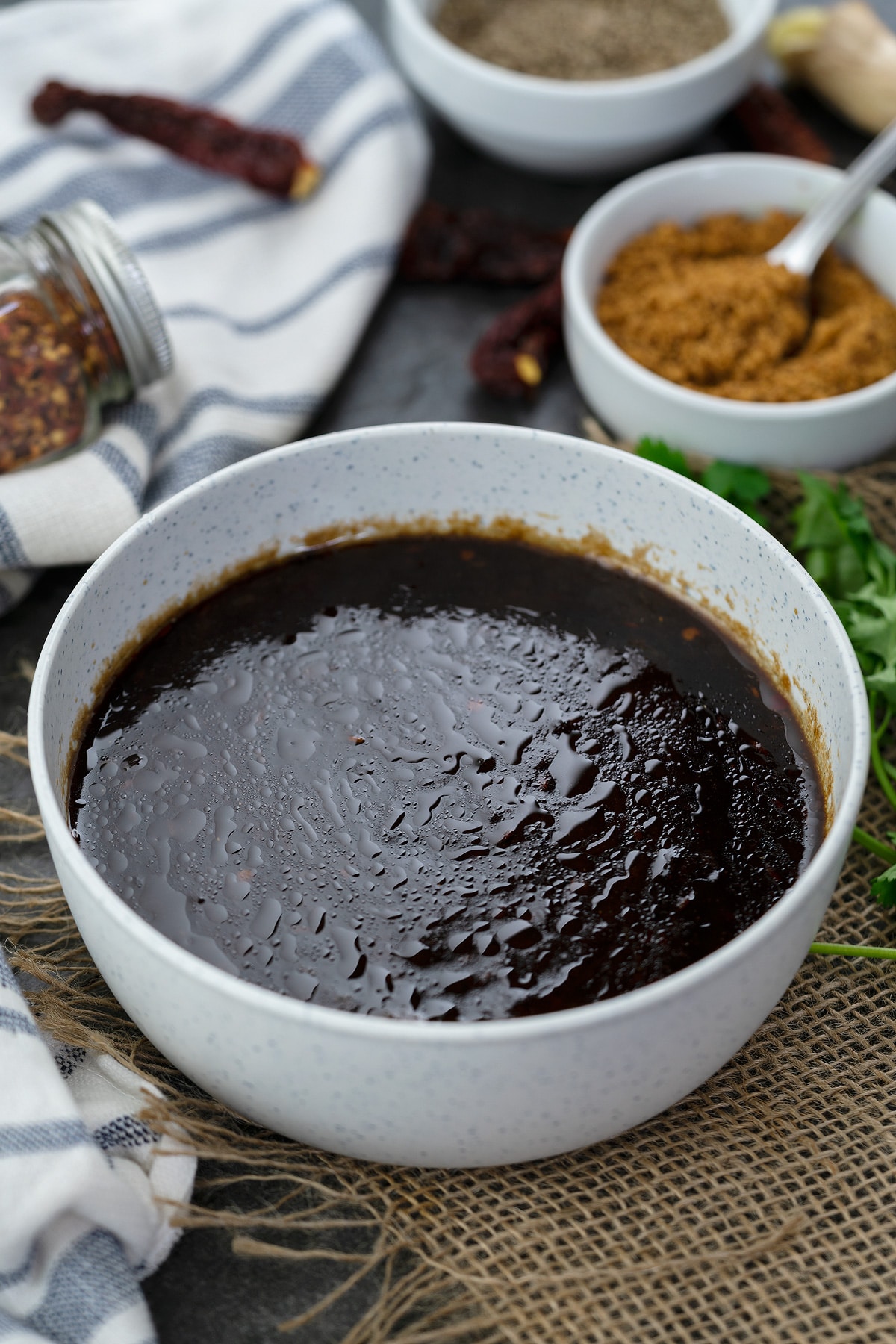 Jump to:
Diverse Sauce Creations to Elevate Your Meals:
Ingredients and Substitutions Overview
You'll need simple ingredients for this Tamarind Sauce, readily available at most Indian grocery stores.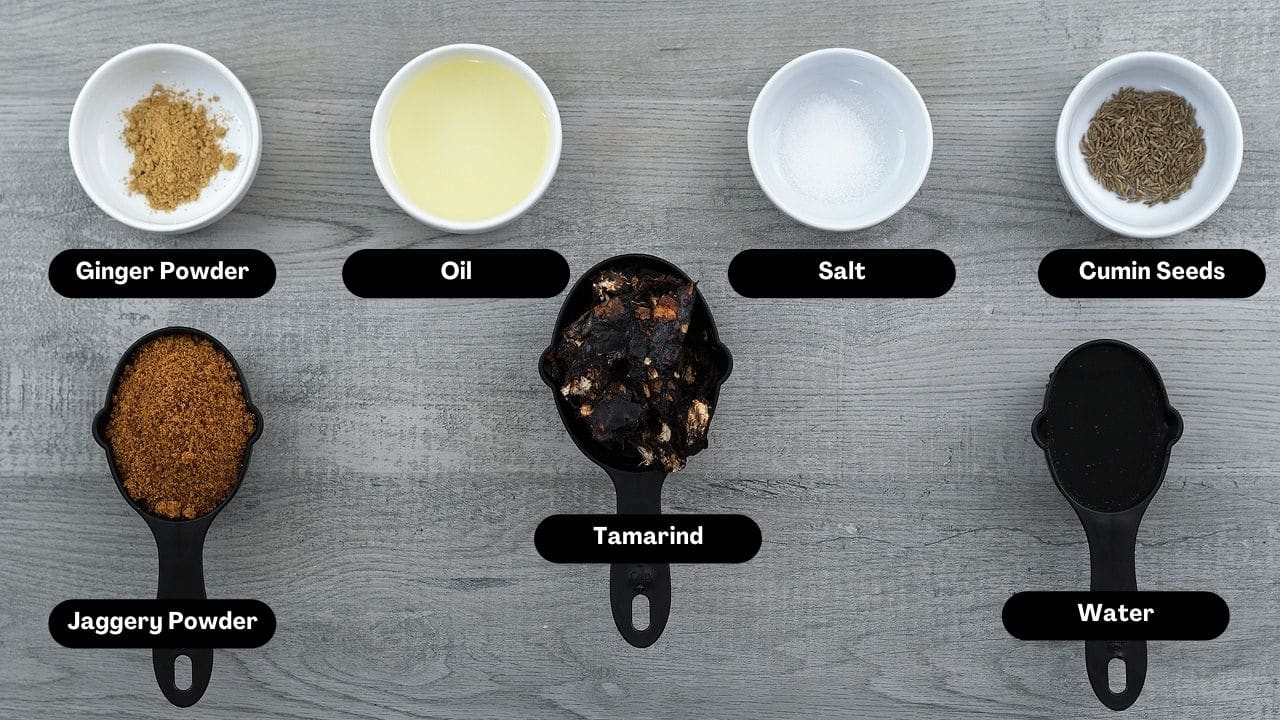 Tamarind: I've used dried seedless tamarind, but feel free to use tamarind with seeds if that's what you have on hand.
Jaggery: Jaggery Powder provides the sauce with its sweetness and stickiness.
Ginger Powder: Adds warmth to the sauce and aids in digestion. For extra heat, I've included chili flakes, which are optional.
Cumin Seeds: They infuse the sauce with a fresh aroma and also help in digestion.
Oil: Used for tempering the sauce. Choose any cooking oil you prefer.
How to make Tamarind Sauce?
Get ready to add a tangy twist to your meals with our simple tamarind sauce recipe. We've got you covered with easy-to-follow instructions, helpful images, and a handy video guide in our recipe below.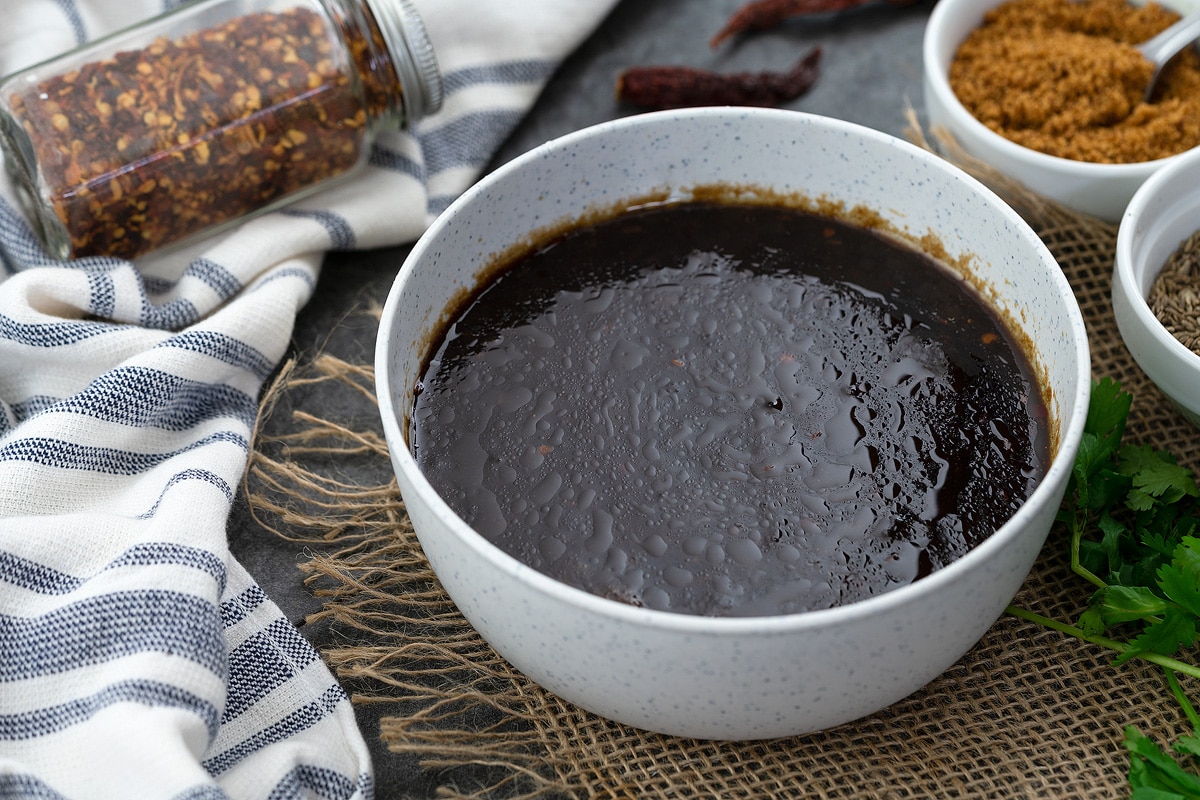 Dive Into More Sauce Collection: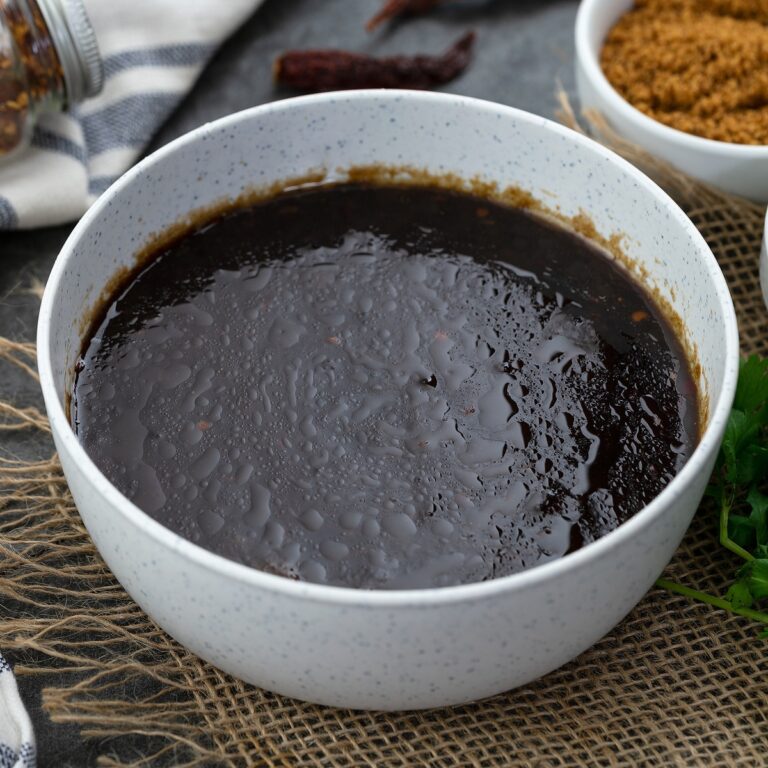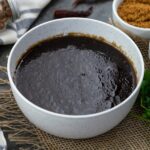 Tamarind Sauce
Tamarind Sauce, with its sweet and tangy profile, is a genuine Indian dip enriched by the zesty notes of ginger and cumin. Crafted from dried seedless tamarind, jaggery, and select spices, it's the ideal accompaniment for Indian street foods like samosas. Additionally, it adds a burst of flavor to both veg and non-veg curries.
Subscribe
print (text-only)
email
pin
review
save
saved!
Ingredients
½

lb

Tamarind

,

seedless

2

cups

Water

2

tsp

Oil

½

cup

Jaggery Powder

½

tsp

Cumin Seeds

1

tsp

Ginger Powder

½

tsp

Chili Flakes

,

optional

Salt

,

as needed
More on Unit Conversions »
Instructions
To make Tamarind Sauce
On medium heat, combine seedless tamarind and water in a pan and stir well.

Let the mixture boil until the tamarind softens.

Mash the softened tamarind until it becomes mushy, then continue cooking for an additional 2 minutes.

Take the pan off the heat and strain the mixture, collecting the tamarind liquid in a bowl. Don't discard the leftover pulp—see the recipe notes for more uses.

In a separate pan over medium heat, heat some oil and add cumin seeds until they sizzle.

Add the saved tamarind liquid, ginger powder, salt, and jaggery powder, stirring thoroughly.

Let the mixture boil for 3 to 5 minutes. Optionally, you can add chili flakes at this point.

Reduce to a simmer and cook until the sauce becomes thick and sticky. Once done, remove from heat.
To Serve
Enjoy this sweet and tangy Tamarind Sauce as a dip with Indian street foods like Samosa and Aloo Chaat. It's also a perfect condiment for traditional dishes like sambar, and rasam. Give your Indian recipes an authentic touch with this versatile sauce!
Chef's Notes and Tips
Here are some expert tips to perfect your Tamarind Sauce:
Tamarind Choice - While I've used dried seedless tamarind, you can opt for tamarind concentrate. If using concentrate, dilute with water and then blend with jaggery and other ingredients until you achieve a thick, sticky consistency.
Sweetness Factor - For the authentic flavor of Indian Tamarind Sauce, jaggery powder is the best choice.
Heat Intensity - This versatile sauce is designed for both dipping and cooking. As a result, I've omitted chat masala, chili powder, and amchur powder which are typically included in a dipping variant.
Using Leftover Tamarind - Don't discard any remaining tamarind concentrate or pulp. Store it in the refrigerator and use it in recipes like rasam, sambar, chutney, and other curries that require tamarind.
Nutrition Info
Serving:
1
serving
|
Calories:
157
kcal
|
Carbohydrates:
36
g
|
Protein:
2
g
|
Fat:
2
g
|
Saturated Fat:
0.3
g
|
Polyunsaturated Fat:
1
g
|
Monounsaturated Fat:
1
g
|
Trans Fat:
0.01
g
|
Sodium:
26
mg
|
Potassium:
372
mg
|
Fiber:
3
g
|
Sugar:
22
g
|
Vitamin A:
94
IU
|
Vitamin C:
2
mg
|
Calcium:
49
mg
|
Iron:
2
mg
Disclaimer: We're not nutrition experts. Nutritional info is estimated and should be used as a guide. For precise details, consult a professional.
How to Use this Sauce?
Storage Suggestions
For lasting freshness, keep this sauce in an airtight container and refrigerate. It'll stay delectable for up to 4 months.