Indulge in a burst of flavors with these easy-to-make Samosa Dipping Sauces. From the tang of tamarind to the freshness of mint and the sweetness of jaggery, these colorful sauces range from green and red to vibrant yellow. Perfect for elevating your samosa experience, this guide provides simple instructions for creating a variety of authentic Indian sauces.
Whether you prefer sweet, sour, or a bit spicy, these homemade dips are the ideal companions for your samosas and other snacks. Discover your favorite sauce and make your next bite unforgettable.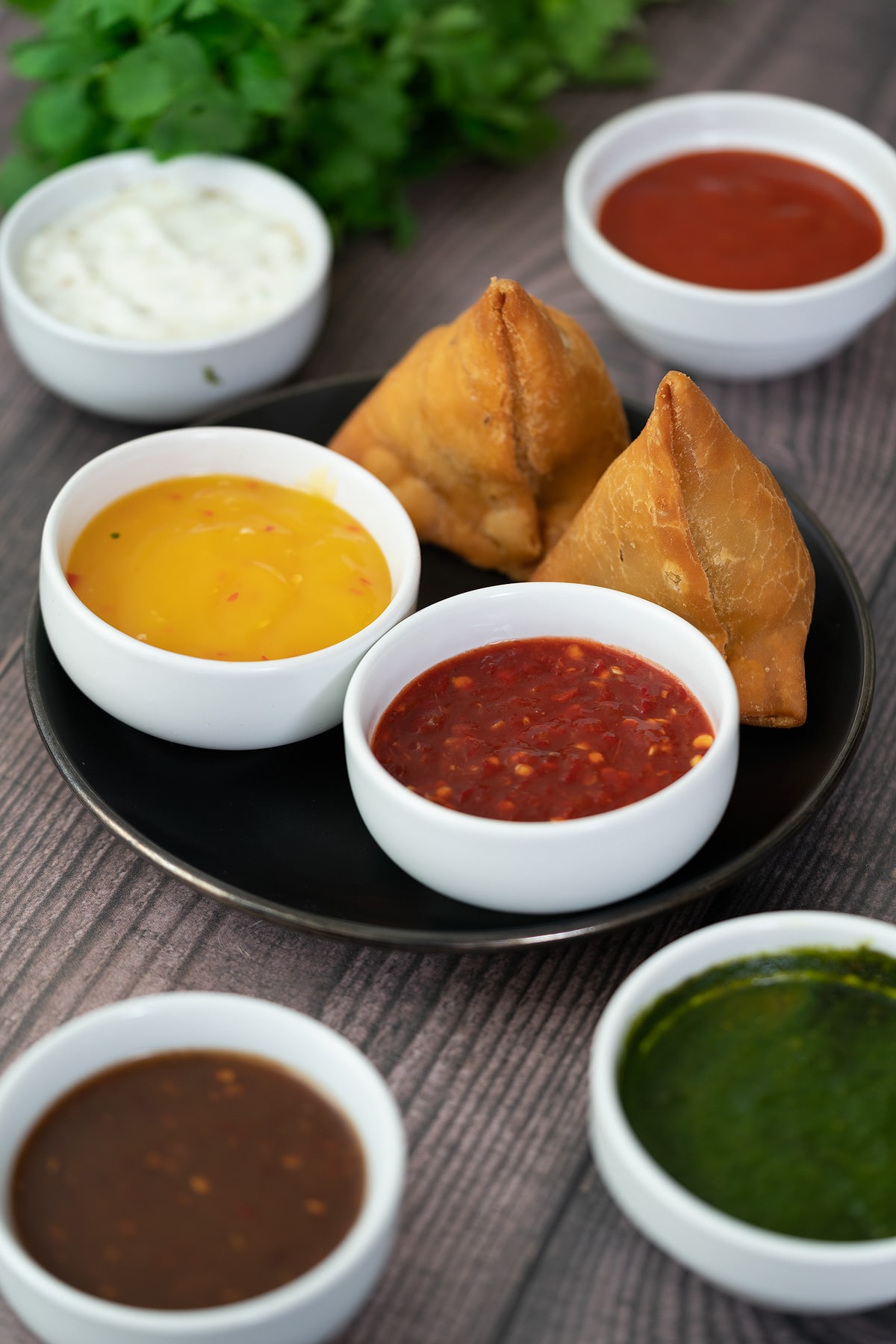 Jump to:
Uncover More Sauce and Dip Wonders:
Samosa Sauce Varieties
Tamarind Sauce: A classic sweet and tangy dip, essential for Indian street food, made from tamarind, jaggery, and spices.
Mint Chutney: A vibrant green, herby sauce that adds a zesty kick to samosas.
Tomato Chutney: A versatile red sauce with a base of tomatoes, onions, and ginger, perfect for a range of Indian snacks beyond samosas.
Mango Chutney: A sweet and spicy condiment that combines ripe or unripe mangoes with spices for a uniquely flavorful dip.
Chili Garlic Sauce: A fiery red sauce offering a spicy heat complemented by the health benefits of garlic for digestion.
Scezhuan Sauce: Dive into the fusion of Indo-Chinese flavors with this rich, bold sauce.
Yogurt Dip: A quick and creamy sauce with yogurt, mint, and cumin, offering a refreshing contrast to the deep flavors of samosas.
Making Each Sauce: Step-by-Step
Explore how to whip up a delectable variety of Samosa Sauces, from tangy tamarind to zesty green chutney and a creamy simple yogurt dip in the section below.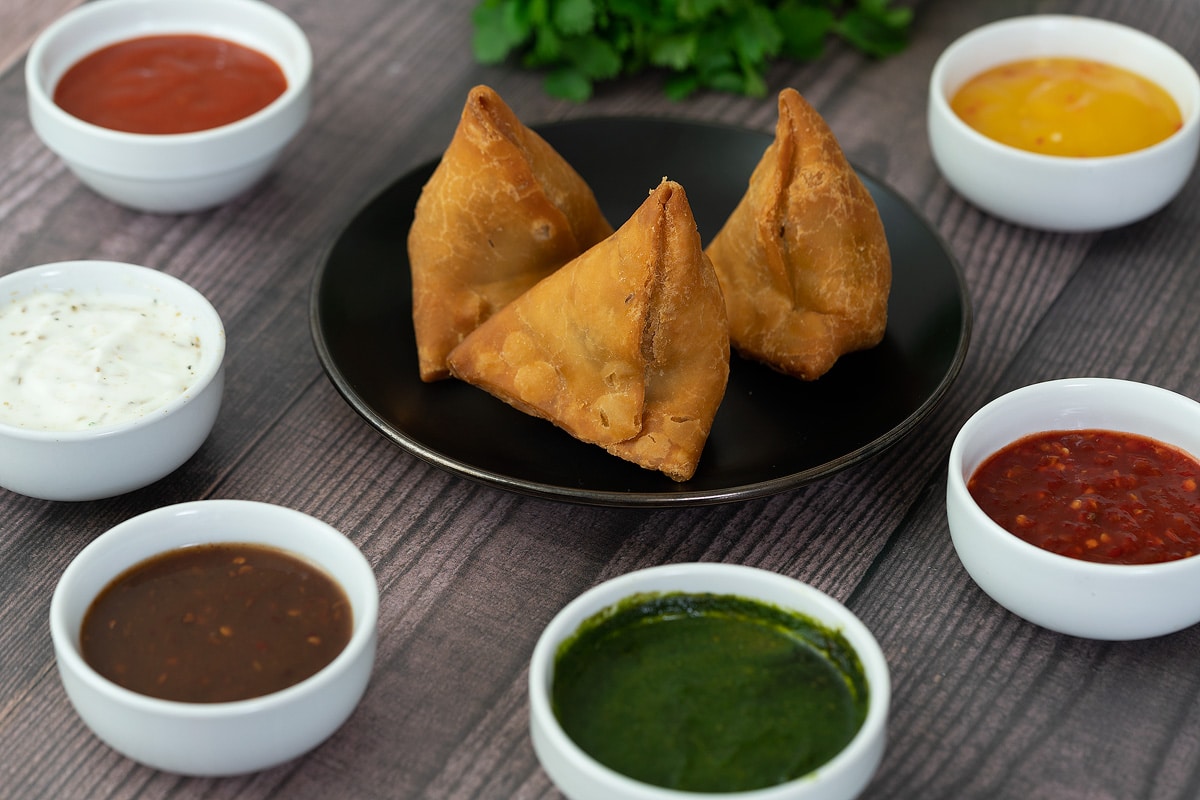 Pair This Sauce Perfectly With: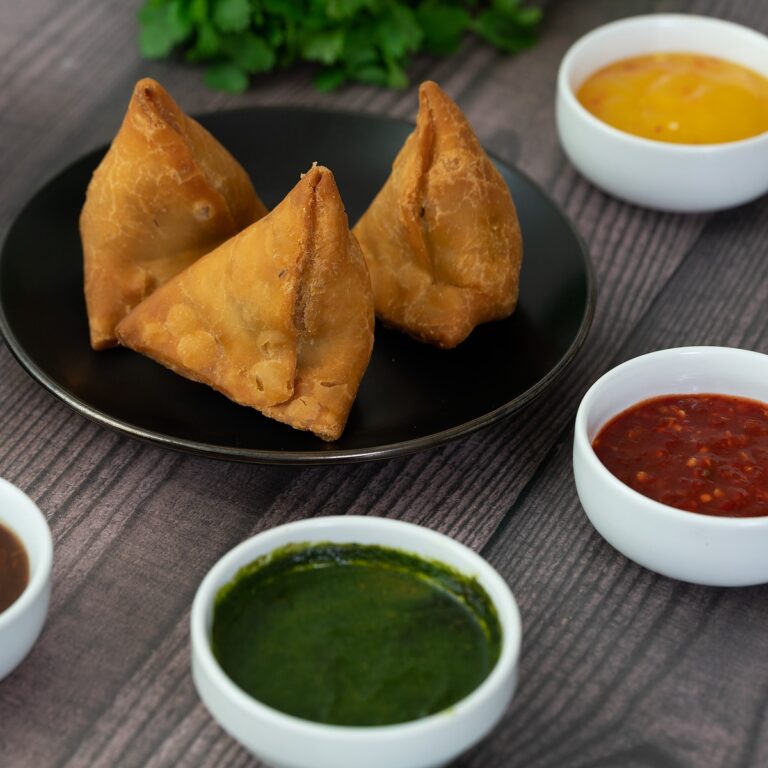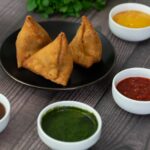 Samosa Dipping Sauces
Savor the vibrant fusion of sweet, sour, and spicy with our Samosa Dipping Sauces. Available in an array of colors like green, red, yellow, and brown, they pair perfectly with samosas and have a good shelf life in the fridge.
Subscribe
print (text-only)
email
pin
review
save
saved!
Ingredients
For Tamarind Sauce
2

cup

Water

½

cup

Tamarind

½

cup

Jaggery Powder

½

tsp

Cumin Seeds

1

tsp

Ginger
For Green Sauce
½

cup

Mint Leaves

½

cup

Coriander Leaves

1

tsp

Ginger Garlic

,

chopped

1

tsp

Gram Dal

,

roasted

½

tsp

Amchur Powder

½

tsp

Chaat Masala

Salt

,

as needed

Water

,

for grinding
For Mango Chutney
½

cup

Mango Puree

½

cup

Jaggery Powder

½

tsp

Chili Powder

½

tsp

Coriander Powder
For Chili Garlic Sauce
15

Red Chili

,

dry

2

tbsp

Garlic Powder

2

tbsp

Brown Sugar

2

tbsp

Oil
For Yogurt Dip
½

cup

Yogurt

1

tsp

Cumin Seeds

3

tbsp

Mint Leaves

Salt

,

as needed
More on Unit Conversions »
Instructions
To make Tamarind Sauce
Begin by boiling ½ cup of tamarind in 2 cups of water until it becomes mushy. Use a fine-mesh strainer to strain the mixture, keep the tamarind water, and discard the pulp. Then, in a pan, briefly sizzle cumin seeds and chopped ginger. Stir in the reserved tamarind water, ½ cup of jaggery, a pinch of salt, and 1 tsp of chili powder. Allow it to boil until the sauce thickens and takes on a glossy appearance. For the complete method with step-by-step guidance, please refer to the detailed recipe of Tamarind Sauce.
To make Green Sauce
To create the green dipping sauce, combine ½ cup each of fresh mint and coriander leaves, 1 tsp of roasted gram dal, 1 tsp each of chopped ginger and garlic, a pinch of salt, some amchur (dried mango) powder, chaat masala to taste, and a little water in a blender. Blend these ingredients until you achieve a smooth consistency.
To make Mango Chutney
For mango chutney, heat ½ cup of mango puree and ½ cup of jaggery or brown sugar in a pan. Cook until the mixture thickens. Then, stir in ½ teaspoon each of chili and coriander powder and cook for an additional 2 to 5 minutes. Once done, turn off the heat and enjoy this delightful sauce with your chosen snacks.
To make Chili Garlic Chutney
For the chili garlic sauce, begin by soaking 15 to 20 dried red chilies in hot water for 3 hours after deseeding them. Drain and blend the chilies into a puree. In a pan over medium heat, add oil, 2 tablespoons of garlic powder, and the chili puree. Sauté until the oil begins to separate. Then, stir in 2 tablespoons of sugar or brown sugar until well combined. Your spicy chili garlic sauce is now ready to accompany your samosas.
To make Yogurt Dip
To prepare the yogurt dip, crush 1 teaspoon of cumin seeds and 3 tablespoons of fresh mint leaves using a mortar and pestle. Then, combine the crushed mixture with ½ cup of yogurt, add salt to taste, and stir until everything is well incorporated. Your flavorful yogurt dip is now ready to be served with samosas or your snack of choice.
To make Szechuan Sauce
For the Szechuan sauce, I've provided an in-depth recipe with specific instructions and additional tips on my blog. To get the complete recipe with all the details you need for a perfect result, please visit Szechuan Sauce
Nutrition Info
Serving:
2
tsp
|
Calories:
147
kcal
|
Carbohydrates:
24
g
|
Protein:
2
g
|
Fat:
6
g
|
Saturated Fat:
1
g
|
Polyunsaturated Fat:
1
g
|
Monounsaturated Fat:
3
g
|
Trans Fat:
0.02
g
|
Cholesterol:
3
mg
|
Sodium:
28
mg
|
Potassium:
286
mg
|
Fiber:
2
g
|
Sugar:
15
g
|
Vitamin A:
667
IU
|
Vitamin C:
11
mg
|
Calcium:
72
mg
|
Iron:
2
mg
Disclaimer: We're not nutrition experts. Nutritional info is estimated and should be used as a guide. For precise details, consult a professional.
Storage Suggestions
For Tamarind, Mango, and Chili Garlic Sauces: Keep in airtight containers in the fridge for up to 3 weeks.
For Green and Yogurt Sauces: Best consumed within a day; refrigerate in sealed containers as they are uncooked.
Serving Suggestions