Pasta Sauce, a staple of Italian cuisine, is a delightful blend of sweet and savory flavors. This authentic tomato-based sauce is crafted with olive oil, crushed tomatoes, carrot, onion, garlic, and a mix of Italian herbs. Not only is it vegan-friendly, but it's also incredibly easy to prepare, taking less than 30 minutes. Versatile in its use, this sauce pairs excellently with pasta, pizza, lasagna, and polenta, making it an ideal choice for both lunch and dinner.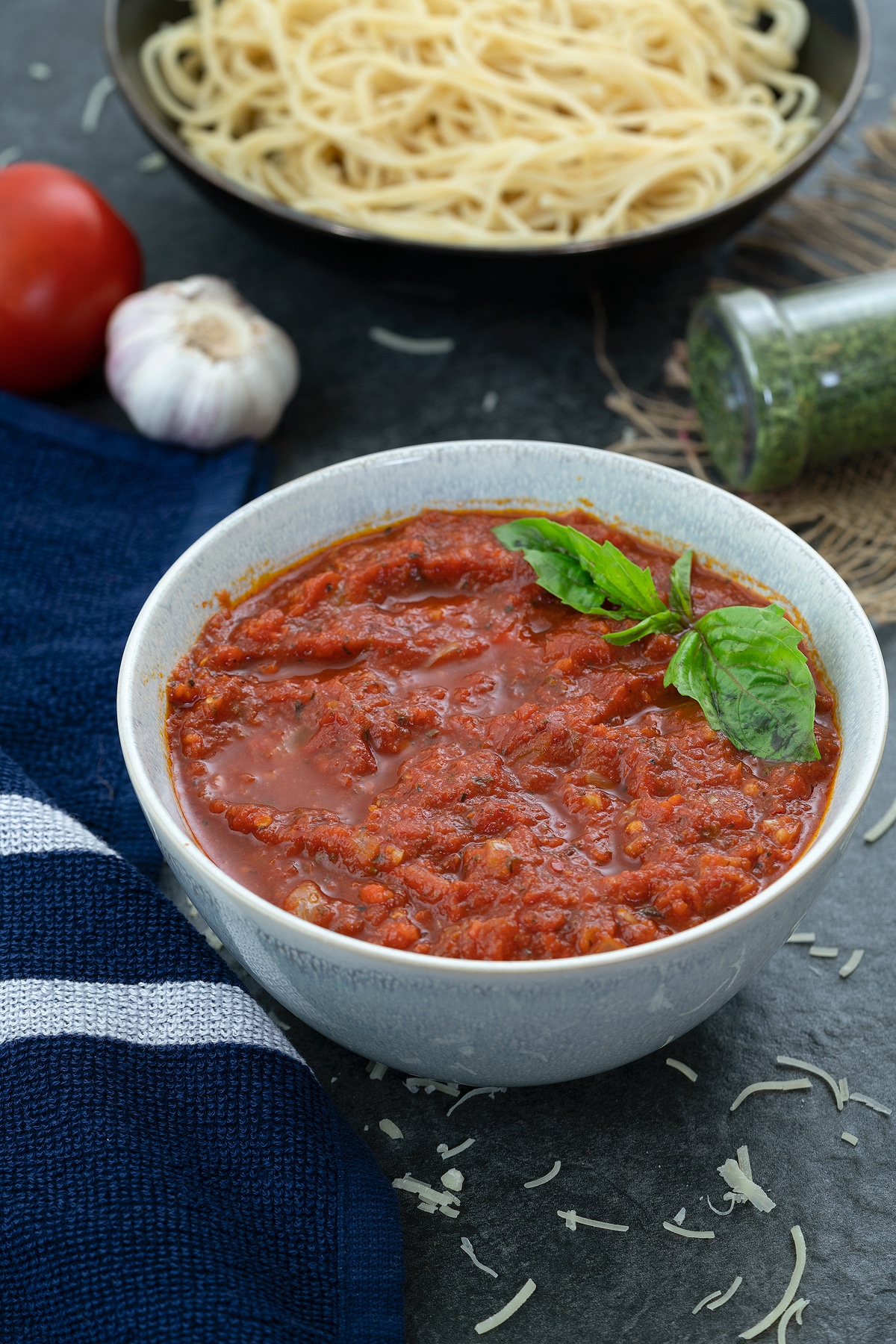 Jump to:
In Italian cooking, there's a wide variety of pasta sauces, each uniquely suited to certain types of pasta. For example, light tomato sauces complement thinner pasta varieties, whereas richer, creamier sauces are a match for pasta like fettuccine and penne.
While traditional recipes often require hours of simmering, this homemade version delivers exceptional taste and flavor in a fraction of the time, making it perfect for those looking for a quick yet delicious meal option.
Explore Some Delectable Pasta Recipes:
Ingredients Overview
This Pasta Sauce recipe calls for simple, readily available ingredients, including essential Italian herbs. You can find these in most supermarkets.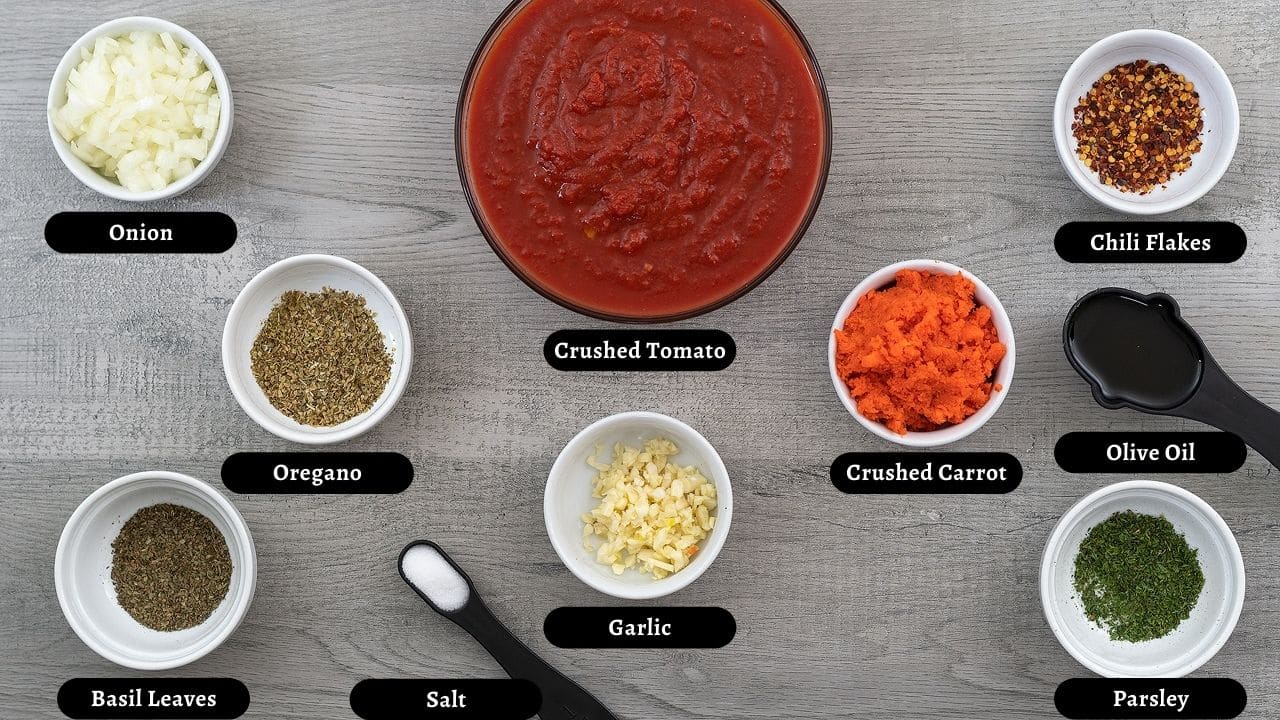 Crushed Tomatoes: Store-bought crushed tomatoes work well, but for a fresher twist, you can use fresh tomatoes. If opting for fresh, crush them in a blender and simmer the sauce for at least an hour to enhance the flavor.
Olive Oil: Olive oil is used for sautéing onions and garlic, imparting a delightful flavor to the sauce. For a richer taste, consider adding a bit of butter.
Crushed Carrot: Incorporate some grated or crushed carrot for natural sweetness and to thicken the sauce.
Onion and Garlic: The sautéed onions and garlic are key for achieving an authentic taste and aroma.
Italian Herbs: Dried Italian herbs like oregano, basil, and parsley are used here, but feel free to substitute with fresh herbs if available.
Chili Flakes (Optional): Add chili flakes if you prefer a bit of heat in your sauce, though this is entirely optional.
How to make Pasta Sauce?
Dive into the authentic flavors of Italy with our easy-to-follow Pasta Sauce recipe. Accompanied by detailed photos and a step-by-step video, this guide ensures you can recreate this classic sauce with ease. Let's get started: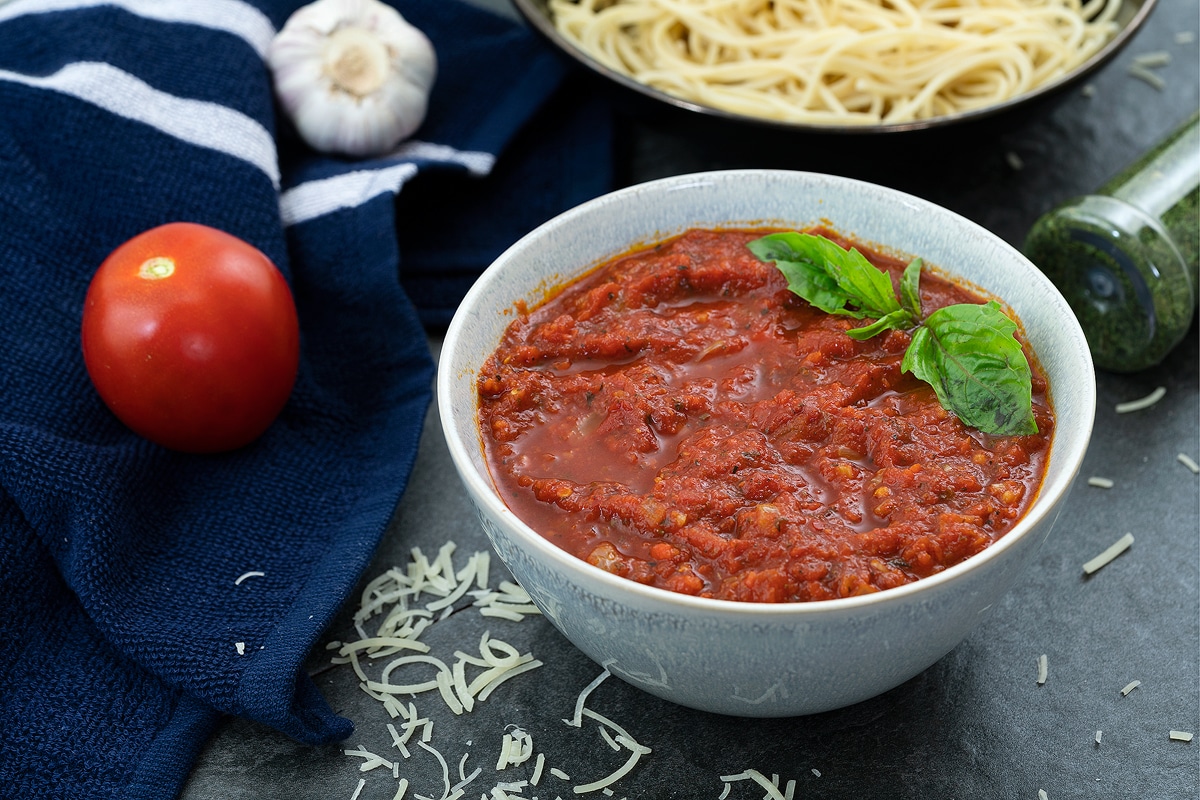 Discover More Pasta Sauce Recipes: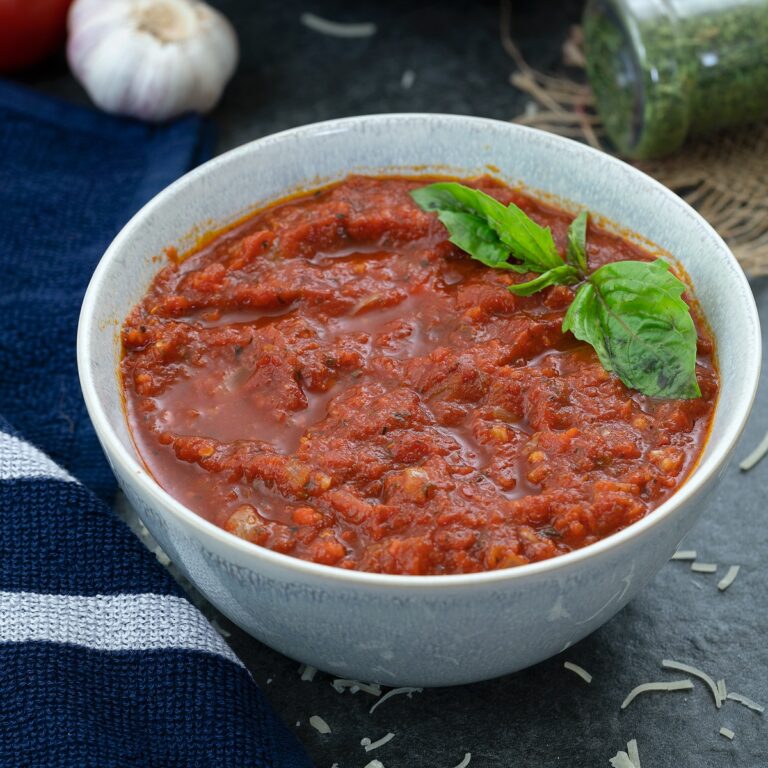 Pasta Sauce
Pasta Sauce is a sweet and savory Italian condiment, made with olive oil, crushed tomatoes, carrots, onions, garlic, and Italian herbs. Easy to make and vegan-friendly, this homemade sauce takes less than 30 minutes to prepare. It's perfect for pasta, pizza, lasagna, or polenta, ideal for lunch or dinner.
Subscribe
print (text-only)
email
pin
review
save
saved!
Ingredients
28

oz

Tomato

,

crushed

¼

cup

Olive Oil

¼

cup

Carrot

,

crushed

¼

cup

Onion

,

white, chopped

1

tbsp

Garlic

,

minced

2

tsp

Oregano

,

dried

2

tsp

Basil Leaves

,

dried

1 ½

tsp

Parsley

,

dried

1 ½

tsp

Chili Flakes

,

optional

Salt

,

as needed
More on Unit Conversions »
Instructions
To make Pasta Sauce
Begin by heating olive oil in a pan over medium heat. Once hot, add garlic and sauté until it releases its aroma.

Stir in onions and cook until they become soft and translucent.

Add the crushed carrots to the pan, cooking them for 2 to 3 minutes until they start to soften.

Next, add the crushed tomatoes, blending them well with the other ingredients.

Season the sauce with oregano, basil, parsley, chili flakes, and a pinch of salt. If you have fresh herbs, they're a great alternative.

Cover the pan with its lid, allowing the sauce to simmer gently for about 7 to 10 minutes.

Once the sauce has thickened and melded its flavors together, it's ready to be served.
To Serve
Serve this sauce over your favorite pasta, mixing it well, to enjoy a delightful lunch or dinner. Enjoy your homemade Pasta Sauce!
Chef's Notes and Tips
Here are some essential tips for perfect Pasta Sauce:
Tomato Selection: Opt for store-bought crushed tomatoes for convenience and a thick texture. Alternatively, fresh tomatoes can be used for a more authentic taste, just ensure they are crushed well in a blender.
Adding Carrots: Carrots are key for their fresh flavor and natural sweetness. They greatly enhance the overall taste and flavor of the sauce.
Herb Choices: While dried Italian herbs are used in this recipe, fresh herbs are also a great option if they're available to you, offering a more intense flavor.
Thickness Without Cream: This sauce gains its thickness from simmering, not from cream. Avoid adding water to quicken the thickening process.
Nutrition Info
Serving:
1
serving
|
Calories:
113
kcal
|
Carbohydrates:
7
g
|
Protein:
2
g
|
Fat:
9
g
|
Saturated Fat:
1
g
|
Polyunsaturated Fat:
1
g
|
Monounsaturated Fat:
7
g
|
Sodium:
19
mg
|
Potassium:
364
mg
|
Fiber:
2
g
|
Sugar:
4
g
|
Vitamin A:
2157
IU
|
Vitamin C:
19
mg
|
Calcium:
31
mg
|
Iron:
1
mg
Disclaimer: We're not nutrition experts. Nutritional info is estimated and should be used as a guide. For precise details, consult a professional.
Dive into our rich culinary collection, where you'll find an array of Italian recipes, diverse pasta, pasta sauce variations, and unique condiments. Each recipe is carefully curated to enhance and enrich your cooking journey, adding a touch of Italian flair to every meal!
Storage and Serving Suggestions
Storage: Keep the sauce fresh in the fridge for up to 3 days by storing it in an airtight container. For longer storage, freeze it in individual freezer-friendly bags or containers, where it can last for months. Remember to thaw it to room temperature before use.
Serving: Versatile in its use, this sauce is perfect over pasta, as a topping for pizza, in lasagna, with polenta, as a complement to Chicken Parmesan, or alongside grilled sausages.