Marinara Sauce, a staple in Italian cuisine, is versatile and easy to prepare. Primarily crafted from tomatoes, this sauce incorporates onions, garlic, and a blend of Italian herbs like basil, oregano, and chili flakes. Our Homemade Marinara Sauce is an essential component in many Italian-American dishes, including classics like eggplant parmesan, chicken parmesan, and lasagna.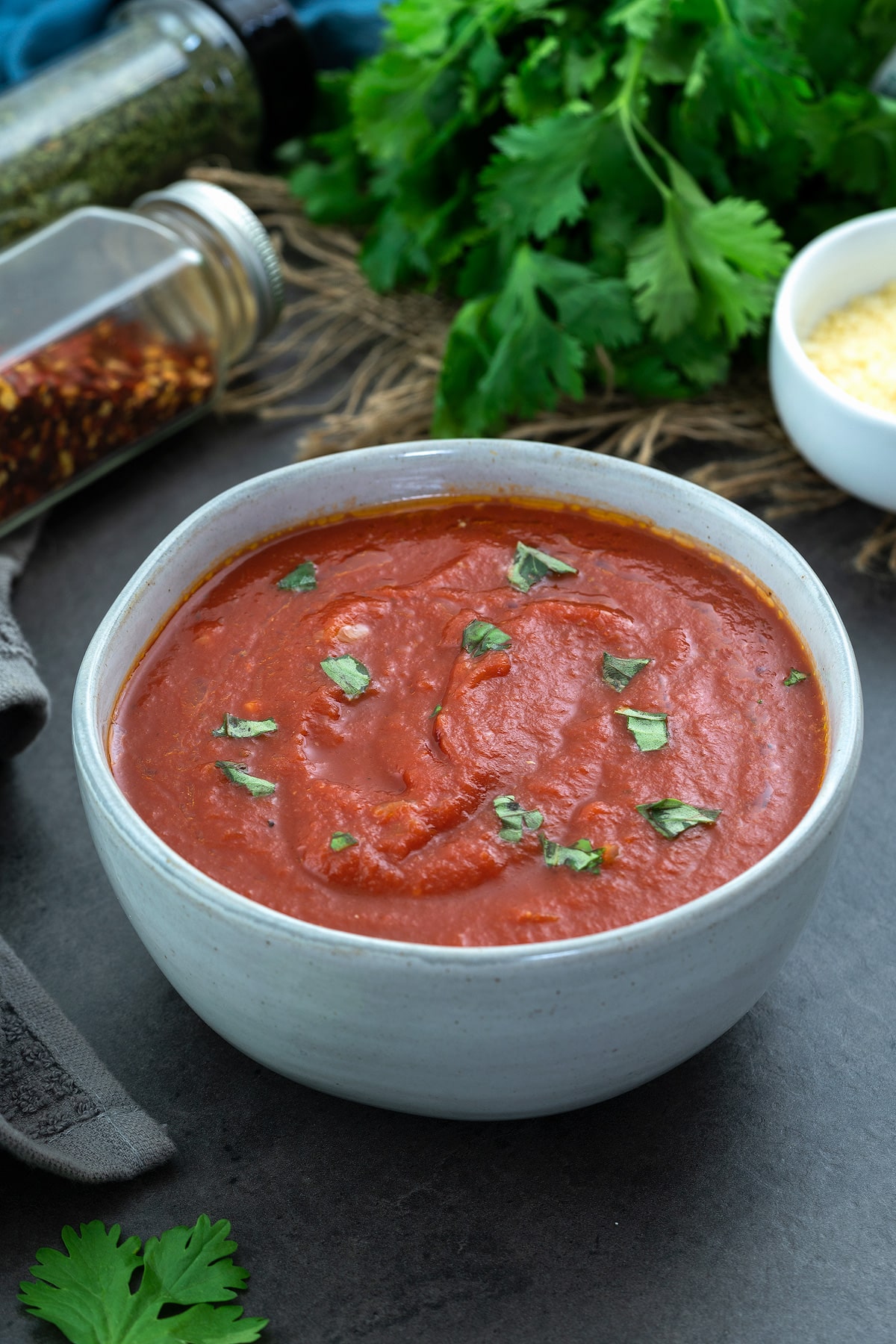 Jump to:
While traditional recipes may involve hours of simmering with fresh tomatoes, our version offers a quick and delicious alternative, ready in just 20 minutes. Enjoy this classic sauce over your favorite pasta, on pizza, or as a delightful dip for snacks, bringing a touch of Italy to your table in various ways.
Discover Delicious Pasta Recipes:
Ingredients Overview
To make this classic Marinara Sauce, you'll need simple Italian pantry staples, readily available in most grocery stores. Here's what you'll need: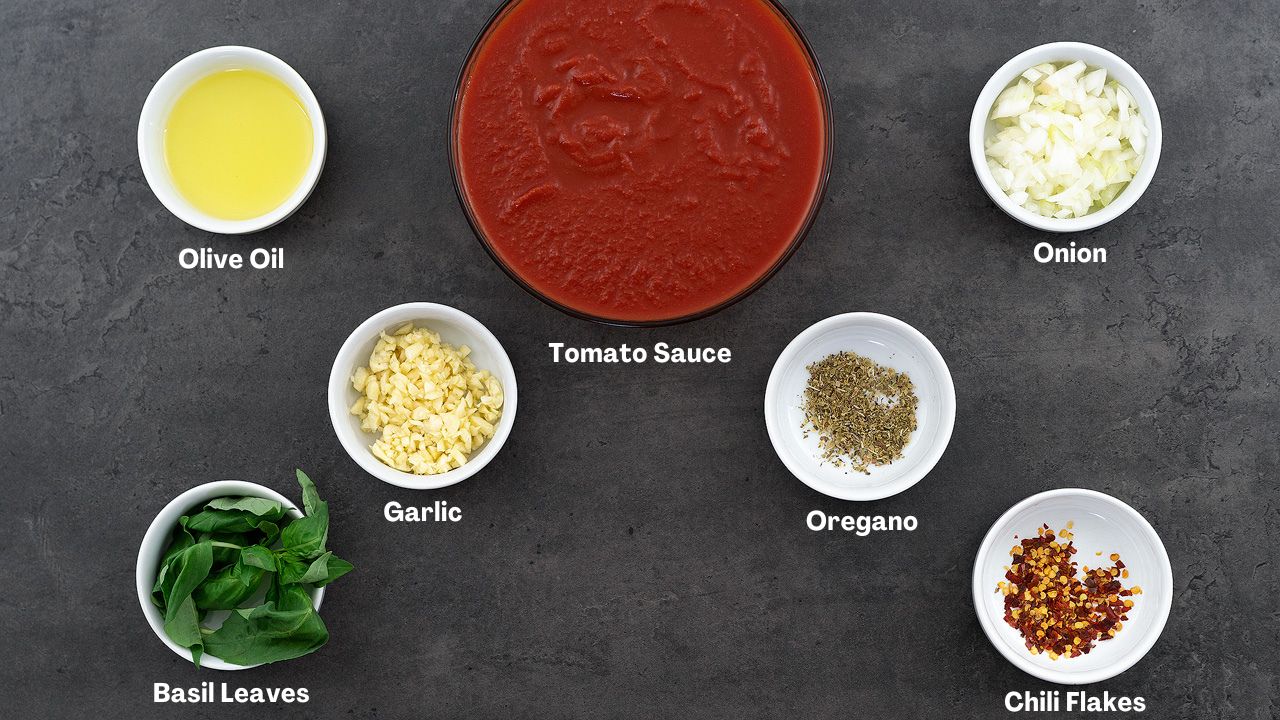 Tomatoes: Opt for fresh homemade tomato puree, or store-bought options like canned whole tomatoes, crushed tomatoes, or tomato sauce.
Garlic and Onion: Finely chopped for that fresh aroma and taste.
Seasonings: Basic Italian seasonings like oregano and chili flakes add depth.
Olive Oil: Provides a neutral taste and enriches the sauce's flavor.
Fresh Herbs: Basil leaves, parsley, or oregano, to enhance the sauce's freshness and aroma.
How to make Marinara Sauce?
Dive into the flavors of Italy with our step-by-step Marinara Sauce recipe, complete with photos and a video guide to help you master this classic dish. Follow along for a culinary journey that brings the essence of Italian cooking right to your kitchen. Let's get started: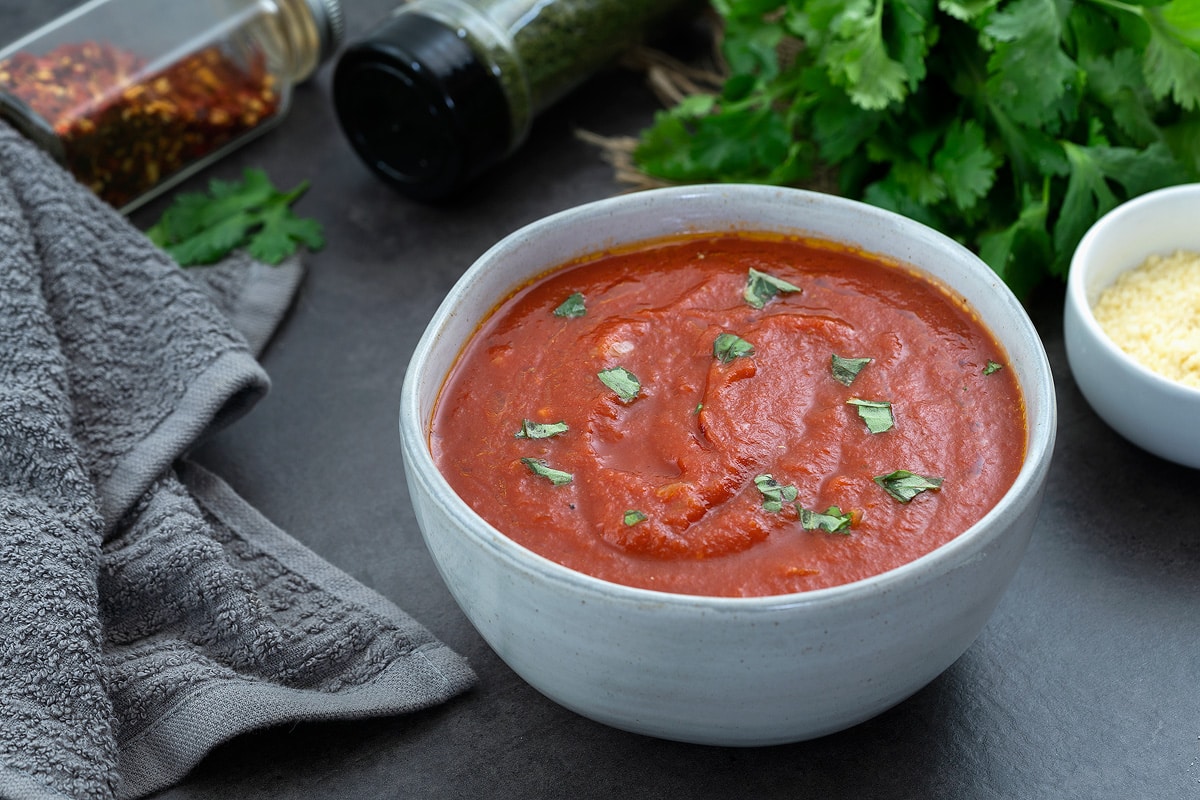 Discover More Delicious Pasta Sauce Recipes: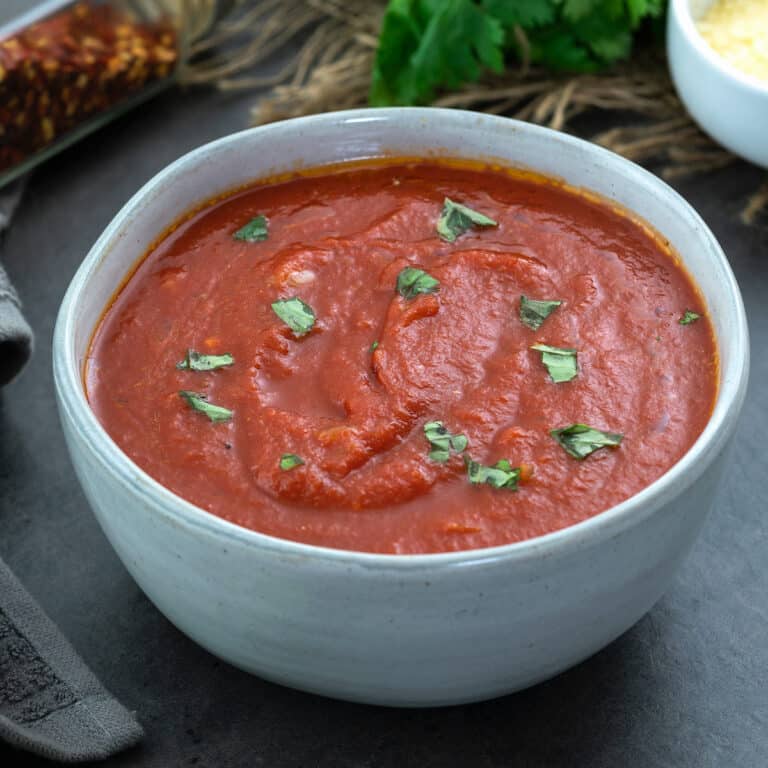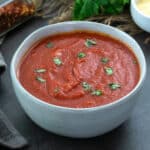 Marinara Sauce
Marinara Sauce is a straightforward and effortless Italian tomato sauce, traditionally prepared with crushed or whole tomatoes, onions, garlic, basil leaves, and various Italian seasonings. Our Homemade Marinara Sauce, rich in flavor, complements spaghetti, rotini, and a variety of recipes that require a robust pasta sauce.
Subscribe
print (text-only)
email
pin
review
save
saved!
Ingredients
2

tbsp

Garlic

,

minced

3

tbsp

White Onion

,

chopped

30

oz

Tomato Sauce

,

or crushed tomato

½

tsp

Oregano

½

tsp

Chili Flakes

Fresh Basil Leaves

,

to garnish

1

tsp

Olive Oil

Salt

,

as needed
More on Unit Conversions »
Instructions
To make Marinara Sauce
Start by heating olive oil in a pan over medium heat. Add garlic and sauté until aromatic.

Mix in onions and continue to sauté until they soften or caramelize.

Stir in the tomato sauce or crushed tomatoes, along with oregano and chili flakes, blending well.

Reduce the heat to a simmer and let the sauce cook for 7 to 10 minutes.

Finish by garnishing with basil leaves. Your Marinara Sauce is now ready to enhance your pasta dishes!
To Serve
Enjoy this Homemade Marinara Sauce with a variety of pasta, including spaghetti, rotini, and penne, or any pasta you prefer. It's also perfect for recipes requiring marinara sauce, such as eggplant parmesan, chicken parmesan, and other similar dishes.
Chef's Notes and Tips
Tips for Perfect Marinara Sauce:
Tomatoes: The heart of this sauce lies in its tomatoes. Opt for organic, high-quality tomatoes or tomato sauce to ensure an authentic taste.
Variety of Tomatoes: Feel free to use whole, crushed, pureed, or diced tomatoes based on your preference or availability.
Quick vs. Authentic Preparation: This recipe offers a speedy version of Marinara Sauce, cutting down on simmering time. For a more authentic flavor, use whole peeled tomatoes and simmer for 30 minutes to 1 hour.
Nutrition Info
Serving:
1
serving
|
Calories:
47
kcal
|
Carbohydrates:
9
g
|
Protein:
2
g
|
Fat:
1
g
|
Saturated Fat:
0.2
g
|
Polyunsaturated Fat:
0.3
g
|
Monounsaturated Fat:
1
g
|
Sodium:
675
mg
|
Potassium:
444
mg
|
Fiber:
2
g
|
Sugar:
5
g
|
Vitamin A:
666
IU
|
Vitamin C:
11
mg
|
Calcium:
29
mg
|
Iron:
2
mg
Disclaimer: We're not nutrition experts. Nutritional info is estimated and should be used as a guide. For precise details, consult a professional.
Delve into our rich culinary array, brimming with Italian recipes, a multitude of pasta creations, a wide range of pasta sauces, and distinctive condiments. Each recipe is meticulously designed to enhance your cooking journey, bringing the true flavors of Italy to your table!
How to Use this Sauce?
This versatile Marinara Sauce pairs perfectly with various pasta types, such as spaghetti, rotini, and penne. It's excellent as a pizza topping or as a dipping sauce for snacks. Additionally, incorporate it into dishes like eggplant parmesan and baked chicken parmesan for an authentic Italian flavor.
Storage Suggestions
Keep your sauce fresh by storing it in an airtight container in the refrigerator, where it will last up to a week. For longer storage, freeze the sauce in freezer-friendly bags, portioned into individual servings, for up to a month.