Condiments have the power to transform any dish and take it to the next level with just a few spoonfuls. They add flavor, texture, and depth to any meal, and are an essential part of many cuisines around the world. In this post, we'll be exploring the best homemade condiment recipes from different countries and cultures, to help you elevate your dishes to new heights.
Whether you're looking to add a touch of heat, a burst of flavor, or a tangy kick, we've got you covered. From Italian seasoning and Taco seasoning, to Cajun seasoning and chili seasoning, we'll take you on a flavor journey around the world. You'll find recipes for popular condiments like sweet and sour sauce, chili sauce, and sweet chili sauce, as well as traditional seasonings like garam masala and curry Powder.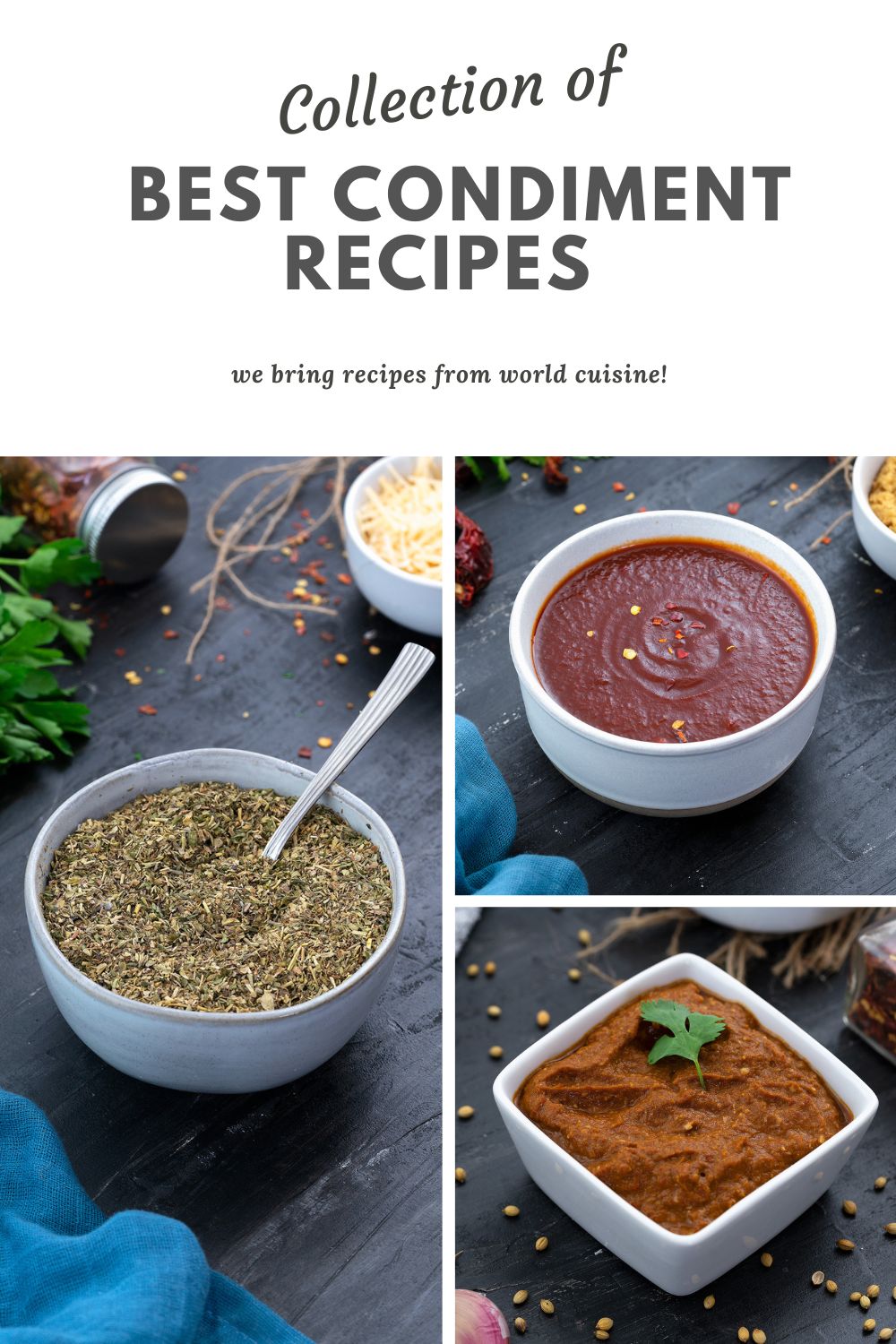 Jump to:
For those who love Asian cuisine, we've got you covered too. We've included recipes for classic sauces like stir fry sauce, teriyaki sauce, and orange sauce, as well as regional favorites like General Tso's sauce, Kung Pao sauce, and Szechuan sauce. And for those who like it spicy, we've included recipes for buffalo wings sauce, vindaloo sauce, and tamarind sauce.
In addition to the various seasoning blends and sauces, we also have a selection of pastes and sauces that can be used as a base for many dishes. Tamarind paste adds a tangy flavor to sauces and marinades, while Thai red and yellow curry pastes are the foundation of many Thai dishes. Ginger garlic paste is a staple in many Asian cuisines, providing a fresh and pungent flavor.
On the other hand, pasta sauces like marinara, bechamel (white sauce), and homemade alfredo sauce, add richness and creaminess to pasta dishes. Garlic parmesan and garlic butter sauces are perfect for adding a burst of flavor to vegetables, meats, and pasta. And lastly, garlic butter, can be used as a spread, a dipping sauce, or as a cooking oil to add a rich, buttery flavor to dishes. These recipes will surely add a new level of depth and flavor to your cooking.
With these essential homemade condiment recipes, you'll be able to add a world of flavor to your meals. Whether you're looking to impress guests with a fancy dinner party, or just want to elevate your everyday meals, these recipes will help you do just that. So let's get started and take your dishes to the next level!
You could also find different collections of recipes below and more at recipe collections.