Bechamel, commonly known as White Sauce, is a versatile staple in French and Italian cuisines, ideal for enhancing dishes like pasta, pizza, lasagna, casseroles, and soufflés. It's crafted from a blend of butter, flour, and milk, seasoned with Italian herbs to create a rich, smooth texture. This sauce's adaptability makes it perfect for enriching soups, pies, and baked vegetables as well.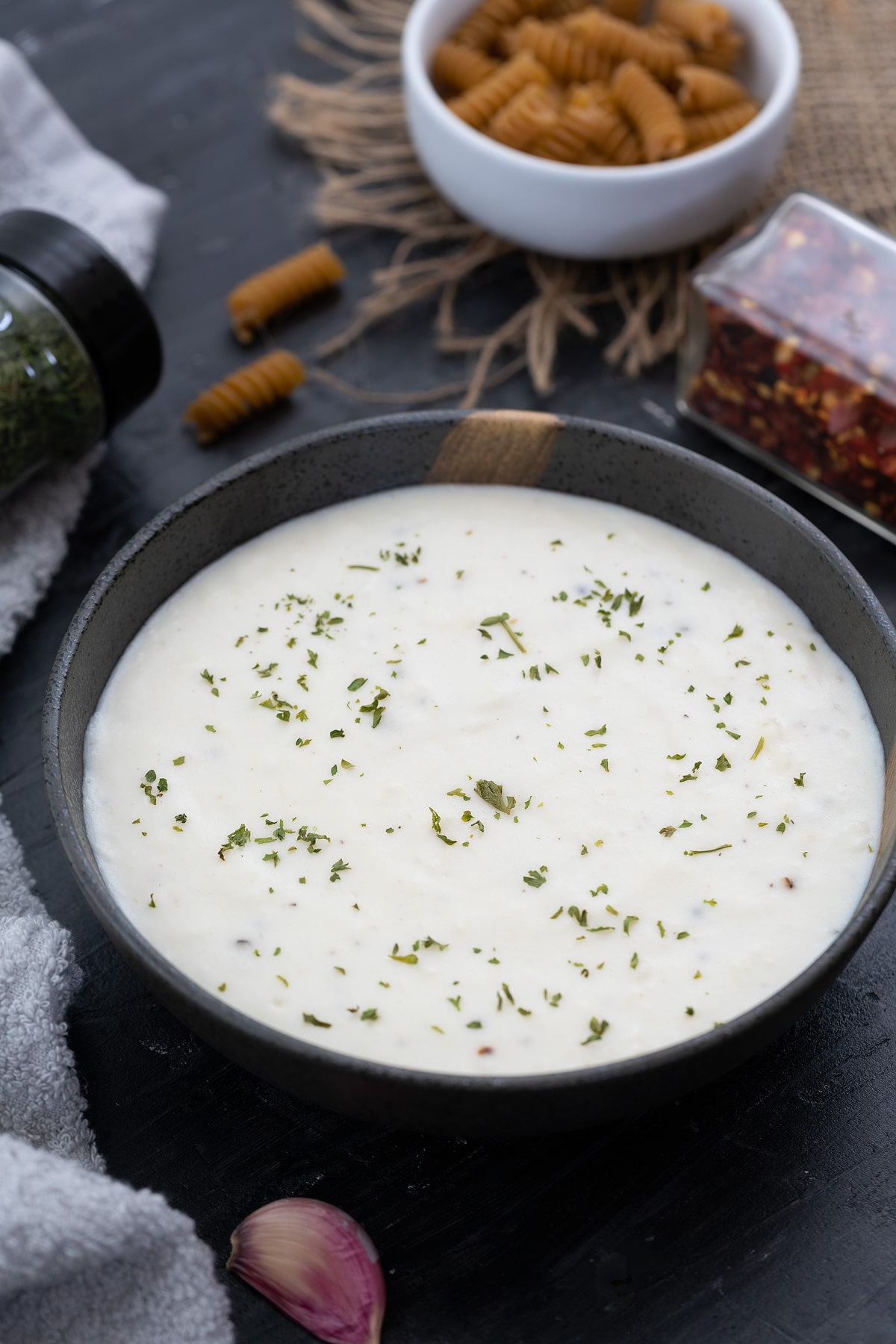 Jump to:
The process begins by creating a roux with butter and flour, followed by the gradual addition of milk, resulting in a thick, creamy sauce. A touch of seasonings and herbs are added to intensify its taste.
In my unique take, I've enriched this sauce with additional vegetables and flavors for my White Sauce Pasta recipe, featured on my blog. This adaptation offers a more fulfilling twist to the classic pasta dish. Check out the recipe for an enhanced pasta experience.
Explore Some Delicious Pasta Recipes:
Ingredients Overview
To create this classic Bechamel Sauce, you'll need a few simple pantry staples that are commonly found in most kitchens or readily available at local supermarkets. Here are the essentials: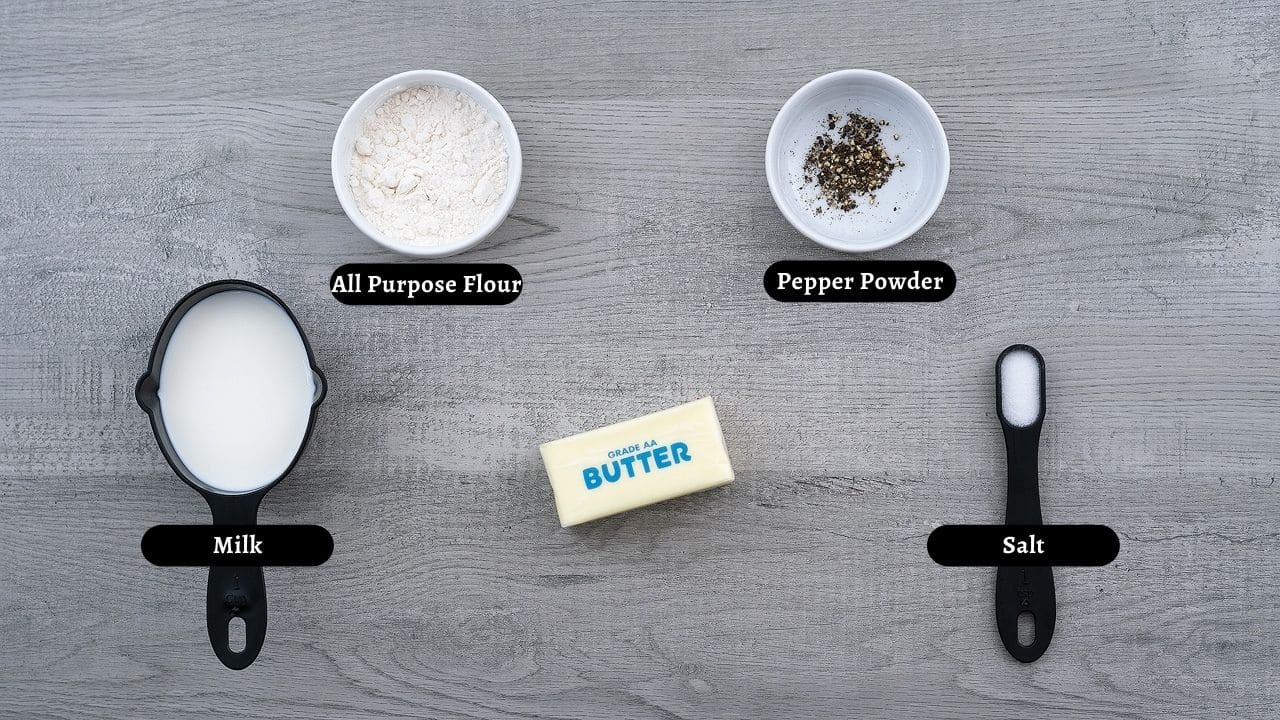 Butter: You can use either salted or unsalted butter. If opting for salted butter, be mindful of the additional salt you add to the sauce.
All-Purpose Flour: Essential for making the roux, plain white flour is ideal for achieving a smooth and silky sauce.
Milk: Whole milk is preferred to give the sauce a rich and creamy texture.
Basic Seasonings: Black pepper powder and salt are the primary seasonings used. However, you're encouraged to personalize the sauce with Italian seasonings such as basil leaves, chili flakes, dried garlic powder, and other Italian herbs for added flavor.
How to make Bechamel Sauce?
Dive into the world of classic Italian cooking with my step-by-step Bechamel Sauce recipe, complete with photos and a video guide to ensure perfection. Let's embark on this culinary journey together, creating a sauce that will elevate your dishes to new heights!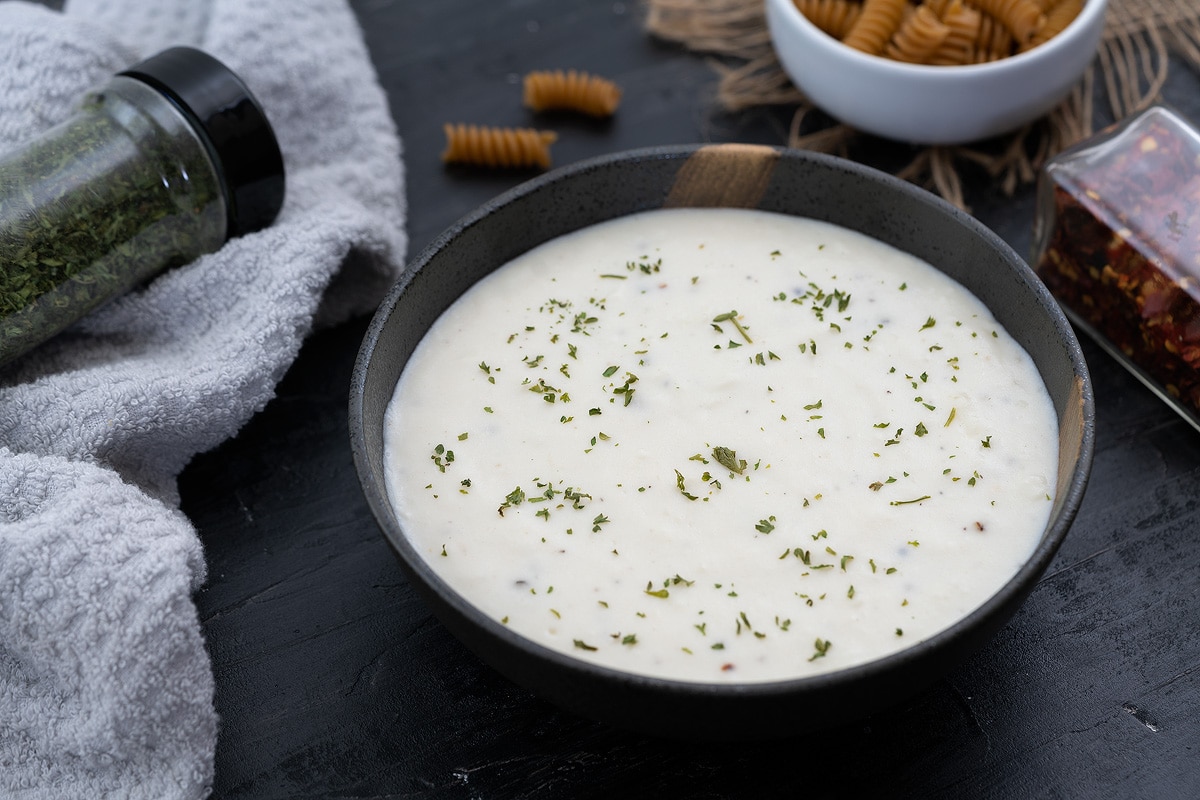 Discover More Delicious Pasta Sauce Recipes: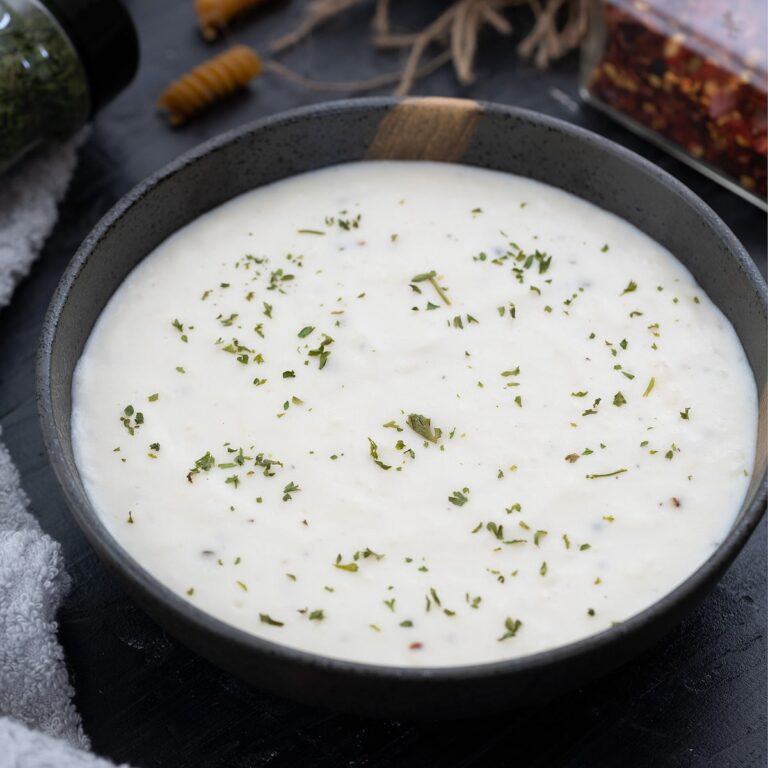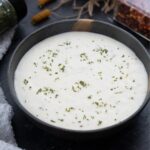 Bechamel Sauce (White Sauce)
Bechamel, also known as White or Cream Sauce, is a staple in French and Italian cuisines, recognized for its thick, creamy texture. Made with basic ingredients like butter, flour, milk, and seasonings, this versatile sauce is essential for enhancing pasta, pizza, lasagna, casseroles, and soufflés.
Subscribe
print (text-only)
email
pin
review
save
saved!
Ingredients
2

cups

Milk

3

tbsp

Butter

2

tsp

All Purpose Flour

½

tsp

Black Pepper Powder

Salt

,

as needed
More on Unit Conversions »
Instructions
To make Bechamel Sauce (White Sauce)
Start by melting the butter in a pan over medium heat.

Mix in 2 teaspoons of all-purpose flour, ensuring no lumps form, and stir continuously until it gives off a nice aroma.

Slowly pour in 2 cups of milk, whisking constantly with a hand whisk or spatula, until the sauce becomes thick.

Lower the heat and season with black pepper powder and salt to taste.

Your rich and creamy Bechamel Sauce, also known as White Sauce, is now ready to be used in your favorite recipes.
To Use
Incorporate this silky smooth Bechamel Sauce into your pasta, drizzle over pizza, layer in lasagna, or lavish it on your favorite veggies for a delectable culinary experience.
Chef's Notes and Tips
Tips for Perfect Bechamel Sauce:
Roast the Flour: Ensure to lightly roast the flour until it emits a fragrant aroma. This step is crucial for flavor but be careful not to burn it.
Manage the Heat: Cook both the flour and milk on medium heat to avoid scorching. If the sauce starts sticking, momentarily remove the pan from heat, stir, and then return it when it's cooled down.
Season to Taste: While the basic recipe uses salt and black pepper, you can elevate it with garlic powder, chili flakes, parsley, thyme, basil, or other Italian herbs for added zest.
Extra Creaminess: Introduce mozzarella or parmesan cheese for extra creaminess, or swap milk with heavy cream for a richer sauce.
Nutrition Info
Serving:
4
tbsp
|
Calories:
152
kcal
|
Carbohydrates:
6
g
|
Protein:
4
g
|
Fat:
12
g
|
Saturated Fat:
8
g
|
Polyunsaturated Fat:
0.5
g
|
Monounsaturated Fat:
3
g
|
Trans Fat:
0.3
g
|
Cholesterol:
37
mg
|
Sodium:
114
mg
|
Potassium:
187
mg
|
Fiber:
0.03
g
|
Sugar:
6
g
|
Vitamin A:
460
IU
|
Calcium:
153
mg
|
Iron:
0.1
mg
Disclaimer: We're not nutrition experts. Nutritional info is estimated and should be used as a guide. For precise details, consult a professional.
Explore our extensive culinary collection, featuring a variety of Italian recipes, diverse pasta dishes, assorted pasta sauce variations, and unique condiments. Every recipe is thoughtfully crafted to elevate your cooking experience, infusing each meal with authentic Italian essence!
Storage and Serving Suggestions
For storage, the sauce can be refrigerated for up to a day in an airtight container. However, for the best flavor and comfort, I recommend preparing it fresh, especially since it takes less than 15 minutes to whip up from scratch.
Serve this Bechamel Sauce with a variety of pasta such as angel hair, rotini, penne, and more for a delightful meal. It's also great as a base sauce for pizza, lasagna, casseroles, and soufflés.