Roasted Broccoli is a delightfully crisp and tender side dish, perfect for complementing a variety of meals. It's crafted using fresh broccoli, olive oil, and a blend of seasonings including garlic, pepper, chili flakes, and a splash of lemon juice.
This dish is not only vegan-friendly but also incredibly versatile, making it an ideal accompaniment for white rice, brown rice, salmon, chicken, or any main course you prefer for lunch or dinner.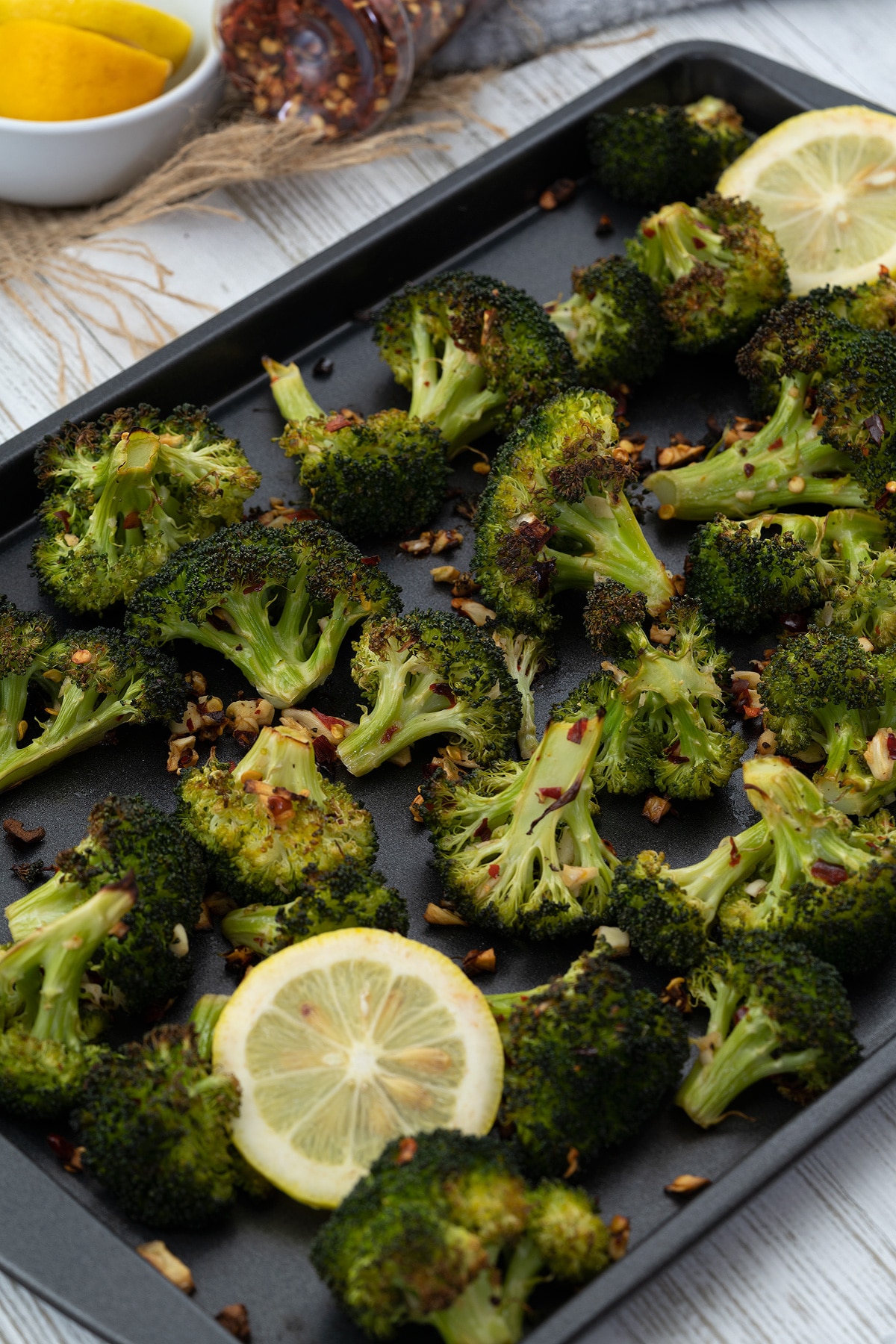 Jump to:
The process involves tossing the broccoli in a flavorful mix of olive oil, garlic, lemon juice, chili flakes, pepper, and salt, then roasting it at high heat until it achieves a crispy texture.
While oven-roasting is my preferred method, you can easily adapt this recipe for pan-roasting, yielding a similarly delicious result. This simple, one-pan dish can be prepared in under 30 minutes, offering a healthy and flavorful option for any meal.
Explore More Broccoli-Based Delights:
Ingredients Overview
Preparing Roasted Broccoli requires some basic pantry staples, easily found in most grocery stores. Here's what you'll need: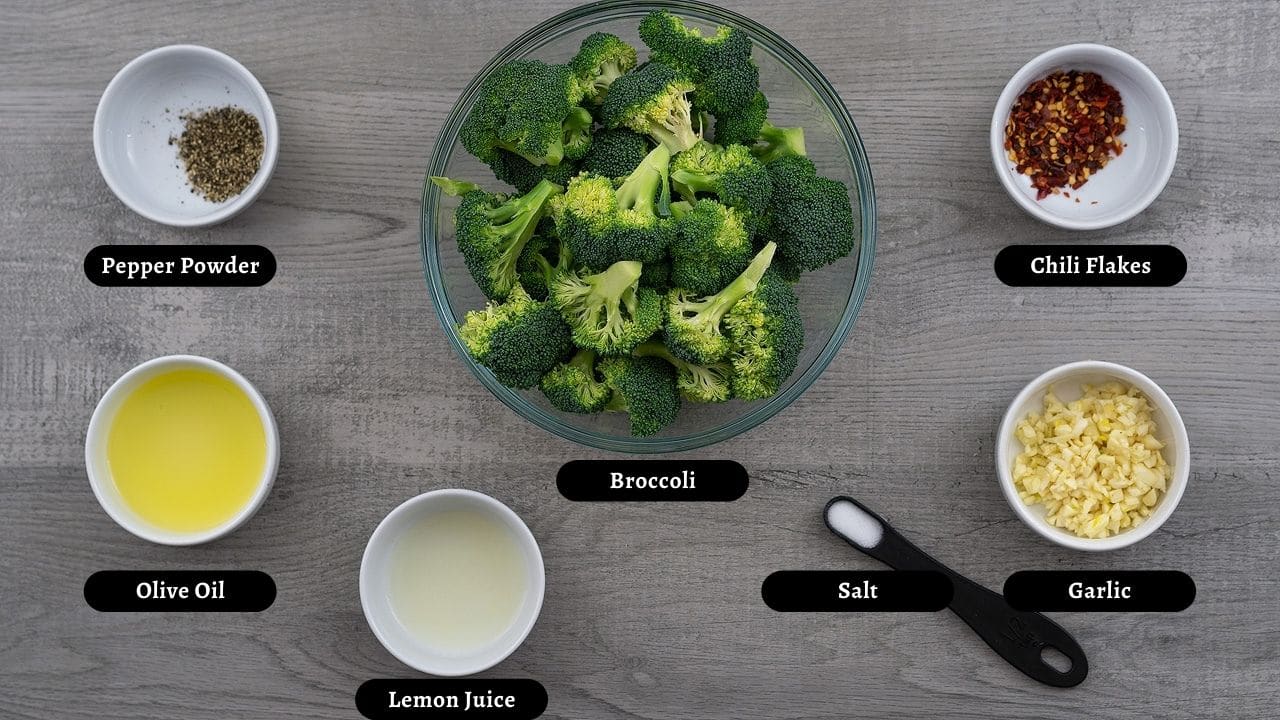 Broccoli: Fresh broccoli is ideal, but frozen broccoli works too. Just bring it to room temperature before roasting.
Garlic: Adds a delightful garlicky flavor and aids in digestion.
Olive Oil: Imparts a rich taste and aroma to the broccoli.
Chili Flakes and Pepper Powder: These add a nice heat to the dish. Feel free to adjust the chili flakes to suit your spice tolerance.
Lemon Juice: Provides a fresh, zesty flavor.
Salt: Season to your taste preference.
How to make Roasted Broccoli?
Get ready to elevate your side dish game with this Roasted Broccoli recipe! Follow these simple steps, accompanied by photos and video, to create a dish that's both healthy and delicious. Let's dive into the recipe: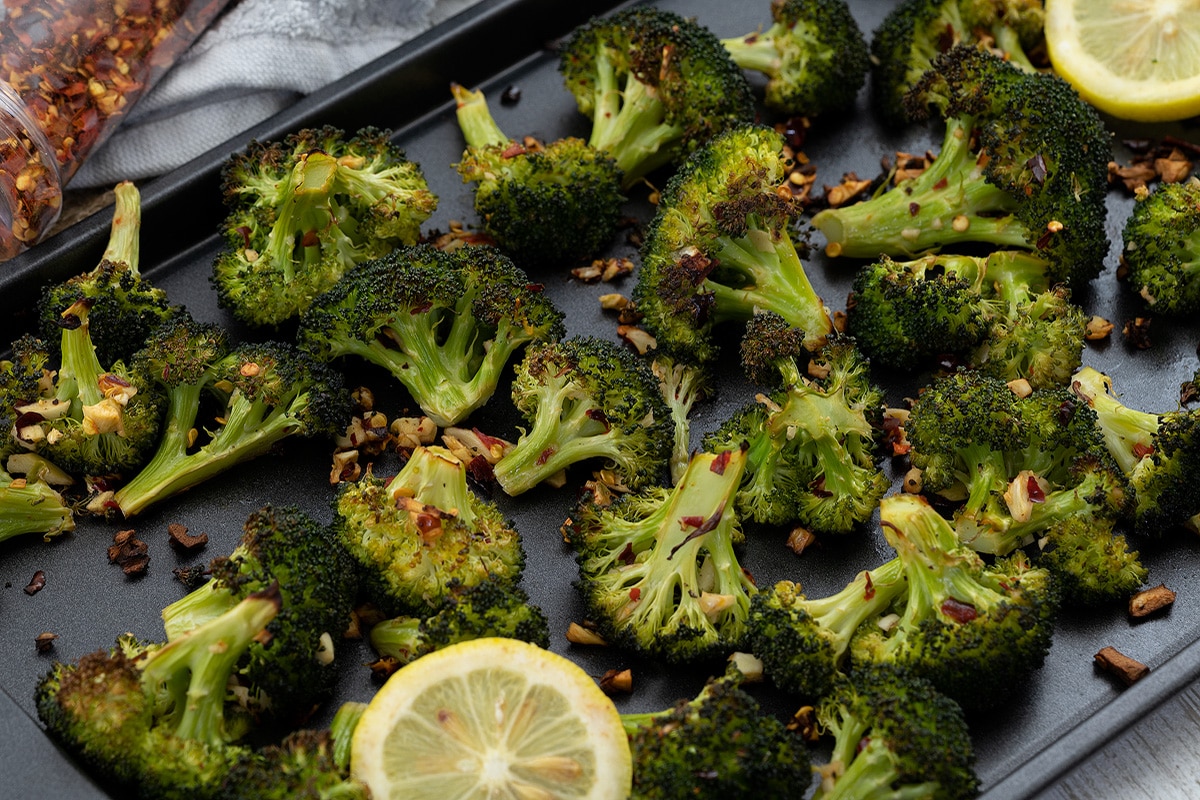 Explore more of our roasted and baked vegetables below: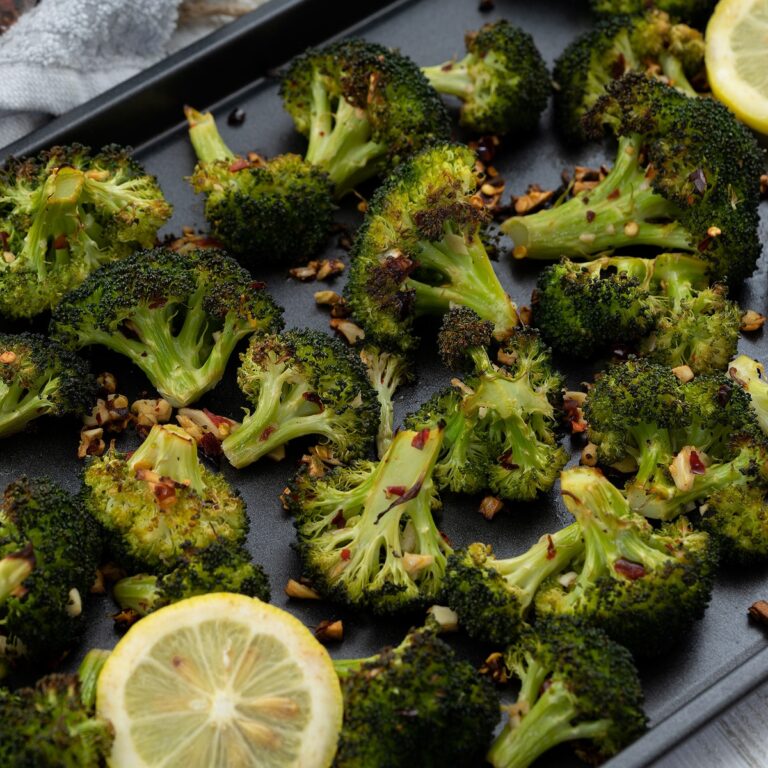 Roasted Broccoli
Enjoy the easy-to-make Roasted Broccoli, combining fresh broccoli with olive oil, garlic, pepper, chili flakes, and lemon juice. This oven-roasted dish is a perfect side for rice, seafood, chicken, or other main courses.
Subscribe
print (text-only)
email
pin
review
save
saved!
Ingredients
1 ½

lb

Broccoli

2

tbsp

Olive Oil

1

tbsp

Garlic

,

minced

1

tsp

Chili Flakes

,

optional

1

tsp

Pepper Powder

Salt

,

as needed

1

tbsp

Lemon Juice
More on Unit Conversions »
Instructions
To make Roasted Broccoli
Begin by cutting the broccoli into medium-sized florets and washing them thoroughly. Combine the broccoli in a bowl with olive oil, garlic, chili flakes, pepper powder, lemon juice, and salt.

Toss everything together until the broccoli florets are evenly coated with the seasonings.

Spread the seasoned broccoli florets on a non-stick or greased baking tray, ensuring they are evenly spaced without overcrowding.

Bake in a preheated oven at 400 degrees Fahrenheit for about 10 to 15 minutes, or until the broccoli is crispy and slightly golden in color.

Once done, remove the Roasted Broccoli from the oven. It's now ready to be savored and enjoyed!
To Serve
Enjoy this healthy and delicious Roasted Broccoli with white or brown rice, or pair it with your favorite main course meals for a well-rounded dining experience.
Chef's Notes and Tips
Tips for Perfect Roasted Broccoli:
Flavor Enhancement: The use of garlic and olive oil in this recipe significantly enhances the overall taste of the broccoli, infusing it with a rich and aromatic flavor that's sure to delight your taste buds.
Spicing it Up: While chili flakes and pepper powder are used for heat, you can adjust these spices according to your taste preferences.
Optimal Roasting Conditions: For the best results, roast the broccoli at 400 degrees Fahrenheit, although temperatures between 370 to 420 degrees Fahrenheit work well for varying textures. Typically, a baking duration of 10 to 15 minutes is ideal to achieve broccoli that is both crispy on the outside and tender inside.
Using Frozen Broccoli: Frozen broccoli can be used for this dish. Just ensure to thaw it to room temperature before roasting in the oven for optimal texture and even cooking.
Variations: Don't hesitate to get creative with additional ingredients for a unique twist. For example, sprinkling grated Parmesan over the roasted broccoli before serving adds a deliciously cheesy flavor.
Nutrition Info
Serving:
1
serving
|
Calories:
127
kcal
|
Carbohydrates:
13
g
|
Protein:
5
g
|
Fat:
8
g
|
Saturated Fat:
1
g
|
Polyunsaturated Fat:
1
g
|
Monounsaturated Fat:
5
g
|
Sodium:
65
mg
|
Potassium:
569
mg
|
Fiber:
5
g
|
Sugar:
3
g
|
Vitamin A:
1416
IU
|
Vitamin C:
154
mg
|
Calcium:
86
mg
|
Iron:
1
mg
Disclaimer: We're not nutrition experts. Nutritional info is estimated and should be used as a guide. For precise details, consult a professional.
Discover our curated selection of roasted and baked vegetable recipes, along with savory vegetable side dishes, all designed to enhance your meals with rich flavors and textures.
Storage and Serving Suggestions
Storage and Reheating: To maintain freshness, store the roasted broccoli in an airtight container in the refrigerator for up to a day. When ready to eat again, reheat it in a preheated oven at 350 degrees Fahrenheit for about 5 to 7 minutes. This reheating method helps retain the broccoli's crispiness and tenderness.
Serving: This versatile side dish pairs wonderfully with a variety of main courses. It complements rice dishes like white rice, brown rice, or other rice varieties beautifully. For a heartier meal, consider serving it alongside Roasted Chicken, Baked Tilapia, Garlic Butter Chicken, Oven-Baked Salmon, Air Fryer Salmon, or Grilled Salmon.