Alfredo Sauce, renowned for its richness and creamy texture, is a staple in Italian cuisine. This versatile sauce, made with butter, heavy cream, garlic, Parmesan cheese, and basic Italian seasonings, enhances a variety of dishes. It's not only perfect for classic Fettuccine Alfredo, but also wonderfully complements chicken, shrimp, and even roasted vegetables.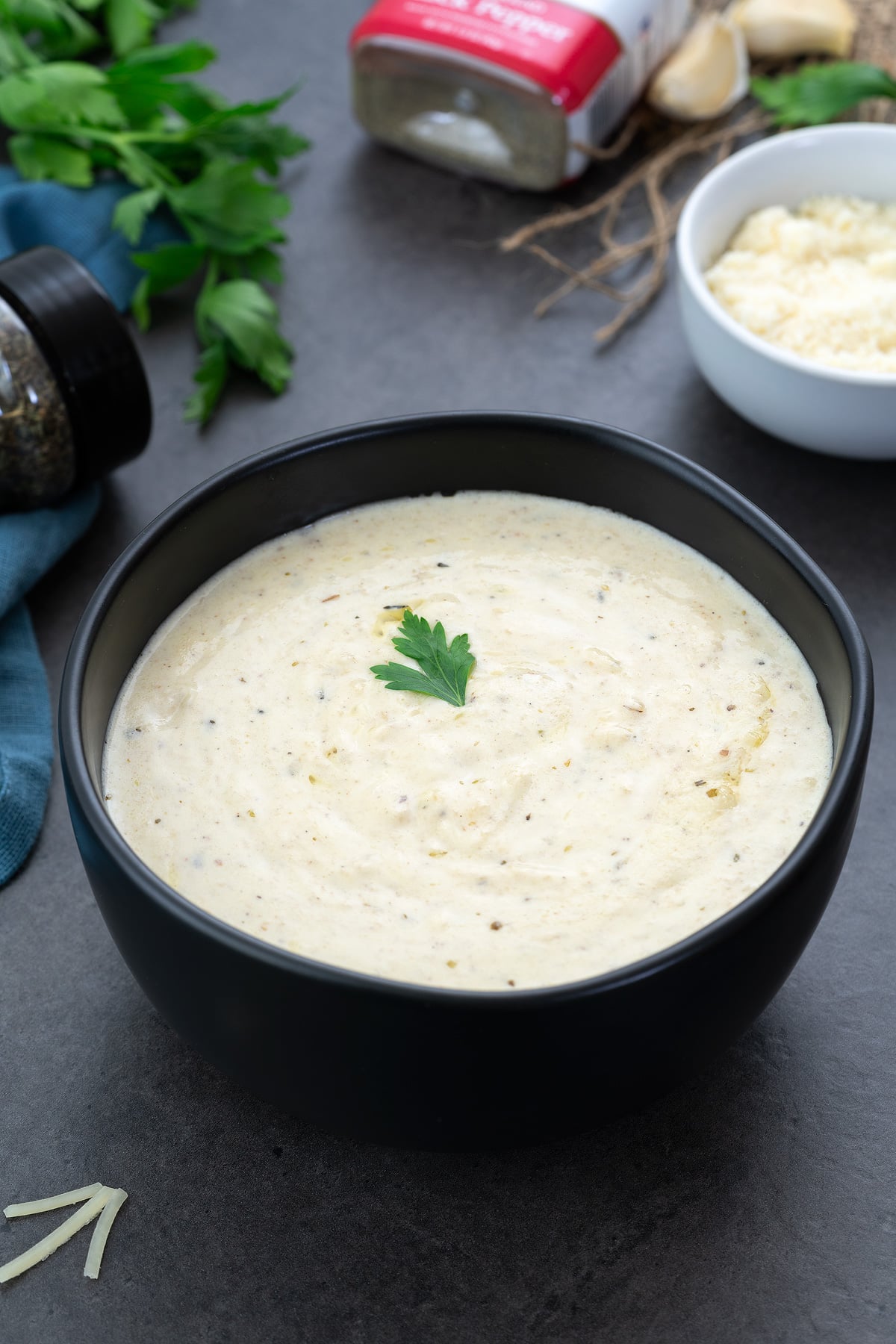 Jump to:
Discover Delectable Pasta Dishes:
This homemade version is simple and quick to prepare, offering a delicious addition to your meals. Its smooth, thick consistency pairs exceptionally well with various pastas, making it a must-try for pasta lovers. Like our beloved Parmesan recipes such as Chicken Parmesan, and Eggplant Parmesan, this Alfredo Sauce promises a comforting and satisfying dining experience.
Ideal for family dinners, gatherings, or just to enjoy a cozy meal on a chilly day, this sauce is a true culinary delight. Let's dive into how to make this exquisite Alfredo Sauce and bring a touch of Italian flavor to your table.
Ingredients and Substitutions Overview
To whip up this delicious Alfredo Sauce, you'll need a few basic Italian pantry items that are easy to find in most supermarkets. Here's what you'll be using: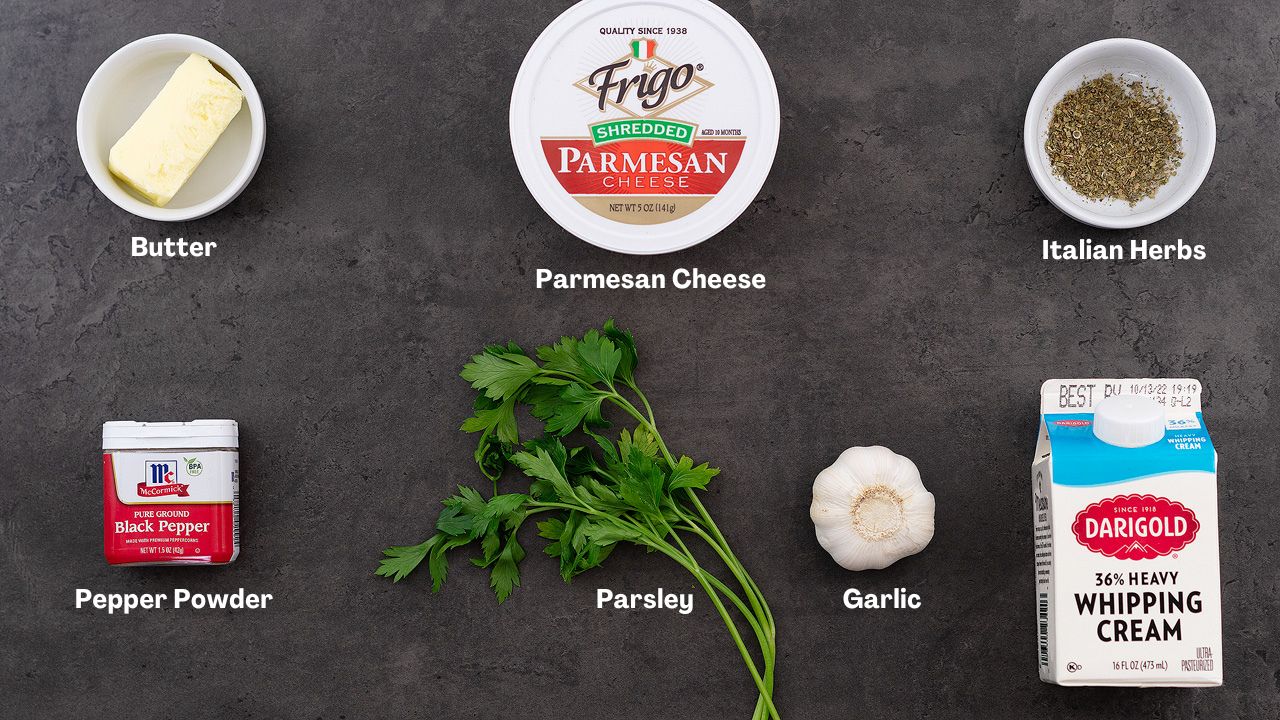 Butter: Unsalted butter is ideal for a rich, buttery base. If needed, you can substitute it with olive oil for a different but equally delicious taste.
Heavy Cream: The key to a thick, creamy texture. If heavy cream isn't available, you can use half and half, whole milk, or non-fat milk. Just remember, these alternatives might not provide the same richness, so consider adding a tablespoon of cream cheese or a cornstarch slurry to thicken the sauce.
Garlic: Essential for that signature garlicky flavor, especially when cooked in butter.
Parmesan Cheese: Crucial for achieving the authentic taste of Italian Alfredo sauce.
Seasoning: Dried Italian herbs and black pepper powder are my go-tos. If you're out of dried Italian seasoning, feel free to use fresh basil, parsley, or coriander leaves as a flavorful alternative.
How to make Alfredo Sauce?
Dive into the creation of this classic Alfredo Sauce with our easy-to-follow recipe steps. Check out the accompanying photos and video to guide you through each stage, ensuring a perfect sauce every time. Let's get started!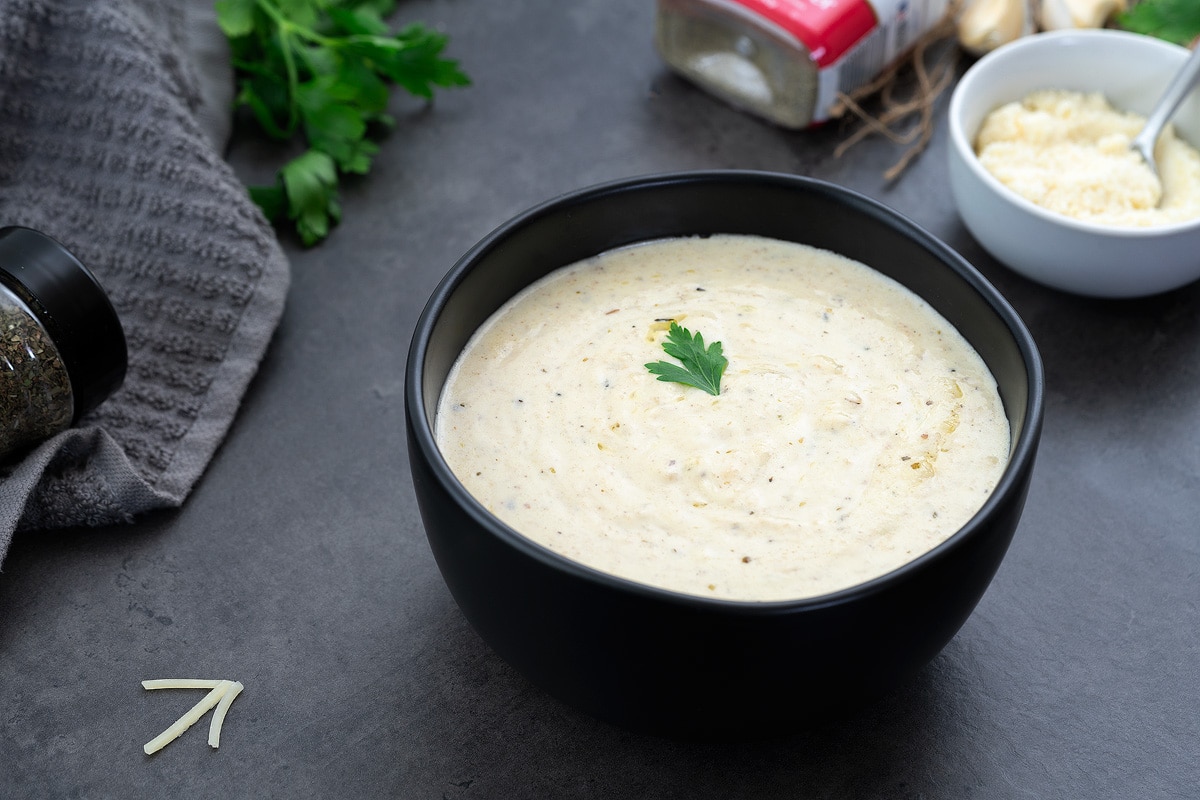 Discover a Variety of Pasta Sauce Recipes: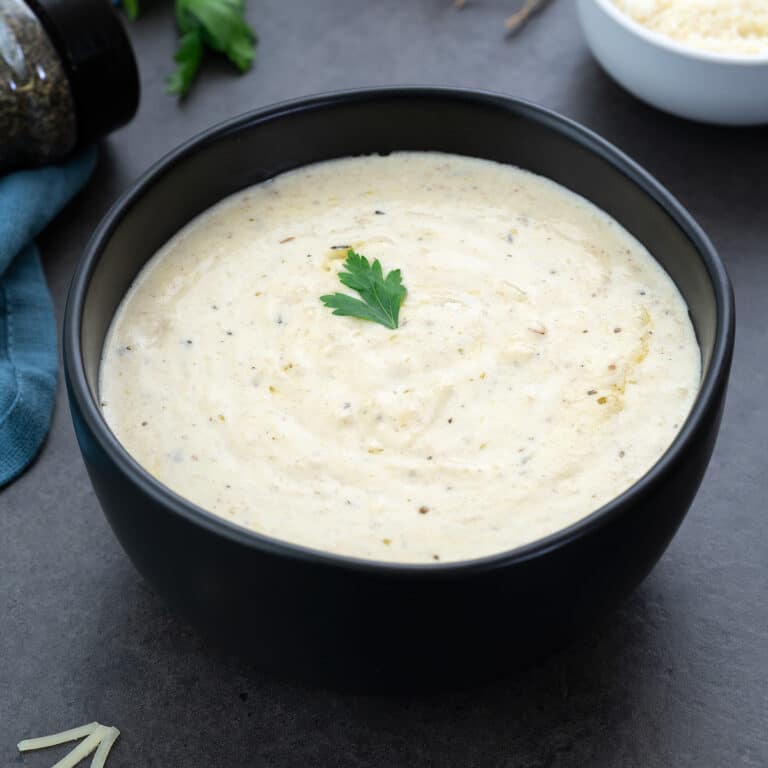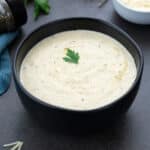 Homemade Alfredo Sauce
Alfredo Sauce, known for its richness and creamy texture, is a popular Italian pasta sauce. Made with butter, heavy cream, garlic, Parmesan cheese, and Italian seasonings, this homemade version is easy to make and wonderfully complements pasta, vegetables, chicken, shrimp, or salmon.
Subscribe
print (text-only)
email
pin
review
save
saved!
Ingredients
¼

cup

Butter

2

tsp

Garlic

,

finely chopped

2

cup

Heavy Whipping Cream

½

tsp

Salt

½

tsp

Pepper Powder

,

black

½

tsp

Italian Seasoning,

mixed

1½

cups

Parmesan Cheese

Parsley Leaves

,

to garnish
More on Unit Conversions »
Instructions
To make Alfredo Sauce
Begin by heating a pan over medium heat. Add the butter and let it melt. Once melted, sauté the garlic until it becomes aromatic.

Pour in 2 cups of heavy whipping cream and mix it well. Reduce the heat to a simmer and let it cook for 2 to 3 minutes. Remember to stir the cream frequently to prevent it from burning at the bottom.

Now, season the cream with a pinch of salt, Italian seasoning, and black pepper powder. Stir everything together well.

Add the Parmesan cheese to the pan and stir until it completely melts into the cream.

Continue to stir and cook the sauce until it turns thick and smooth. Once it reaches the desired consistency, remove the pan from heat and finish by garnishing the sauce with fresh parsley leaves.
To Serve
Utilize this Homemade Alfredo Sauce to create classic Fettuccine Alfredo, or enjoy its rich, creamy flavor over pasta, baked chicken, roasted asparagus. It also works wonderfully as a unique pizza topping for pizza pinwheels.
Nutrition Info
Serving:
1
serving
|
Calories:
706
kcal
|
Carbohydrates:
6
g
|
Protein:
22
g
|
Fat:
67
g
|
Saturated Fat:
43
g
|
Polyunsaturated Fat:
3
g
|
Monounsaturated Fat:
18
g
|
Trans Fat:
0.5
g
|
Cholesterol:
199
mg
|
Sodium:
1215
mg
|
Potassium:
177
mg
|
Fiber:
0.2
g
|
Sugar:
4
g
|
Vitamin A:
2603
IU
|
Vitamin C:
1
mg
|
Calcium:
681
mg
|
Iron:
1
mg
Disclaimer: We're not nutrition experts. Nutritional info is estimated and should be used as a guide. For precise details, consult a professional.
Explore our extensive collection of Italian recipes, featuring a variety of pasta dishes, an array of pasta sauces, and unique condiments. Each recipe is carefully crafted to elevate your culinary experience, delivering authentic Italian flavors right to your kitchen!
How to Use this Sauce?
Drizzle this Homemade Alfredo Sauce over your preferred pasta, especially delicious with Fettuccine Alfredo. It's also perfect with chicken, shrimp, salmon, or roasted veggies like asparagus, green beans, and broccoli. For a twist, try it on your pizza or pizza pinwheels as a creamy alternative to traditional pizza sauce.
Storage Suggestions
This homemade Alfredo Sauce can be refrigerated and remains fresh for up to a day. When reheating, avoid high temperatures as they can cause the cheese to separate. I suggest gently reheating on the stovetop at a low-medium setting or in the microwave at the lowest power. Remember to stir the sauce occasionally during reheating to maintain its creamy consistency.