Shrimp Alfredo Pasta, a classic Italian dish, is a delightful blend of Fettuccine pasta, succulent shrimp, and a luxurious Alfredo sauce. Known for its rich, creamy texture, this dish is a favorite for both lunch and dinner. It pairs wonderfully with roasted vegetables, simple salads, or other sides. The beauty of this recipe lies in its simplicity and the quick cooking time, taking only 30 minutes to prepare.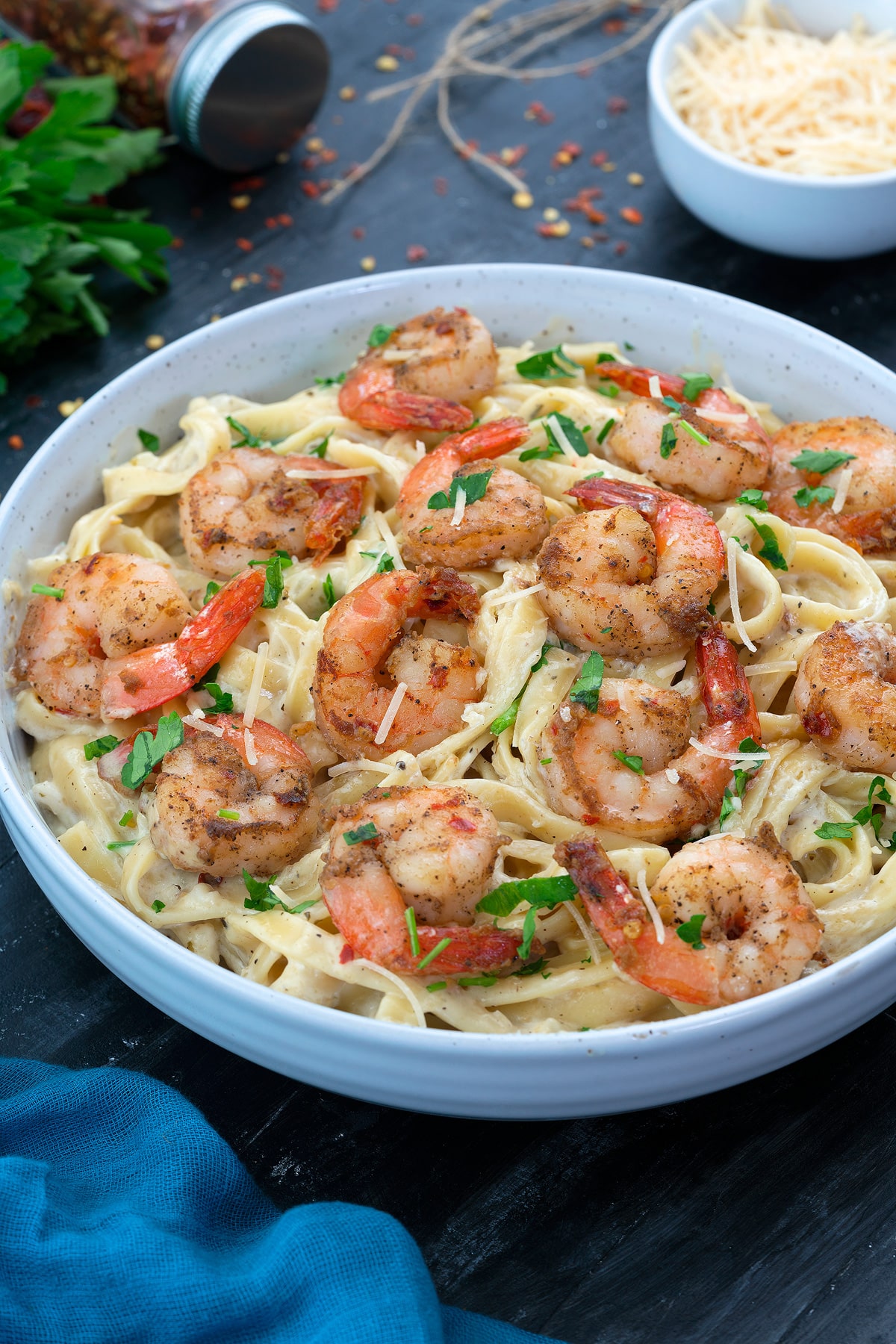 Jump to:
This pasta dish features shrimp perfectly cooked and tossed in a silky Alfredo sauce, made from pantry staples like butter, Parmesan cheese, heavy cream, and a mix of Italian seasonings. While traditional Alfredo sauce is typically made with just butter and Parmesan, the popular American version adds heavy cream and garlic for an extra creamy and indulgent texture.
Not limited to just shrimp, this versatile recipe can also be made with various seafood options like salmon, clams, mussels, or scallops, offering a delightful array of flavors. This Shrimp Alfredo Pasta is not just a meal but an experience to savor, perfect for impressing your family at dinner. Let's get started on creating this culinary delight!
Discover a Sea of Shrimp Recipes:
Ingredients and Substitutions Overview
To create this sumptuous Shrimp Alfredo Pasta, you'll need a few simple pantry staples that are readily available in most grocery stores. Here's what you'll need: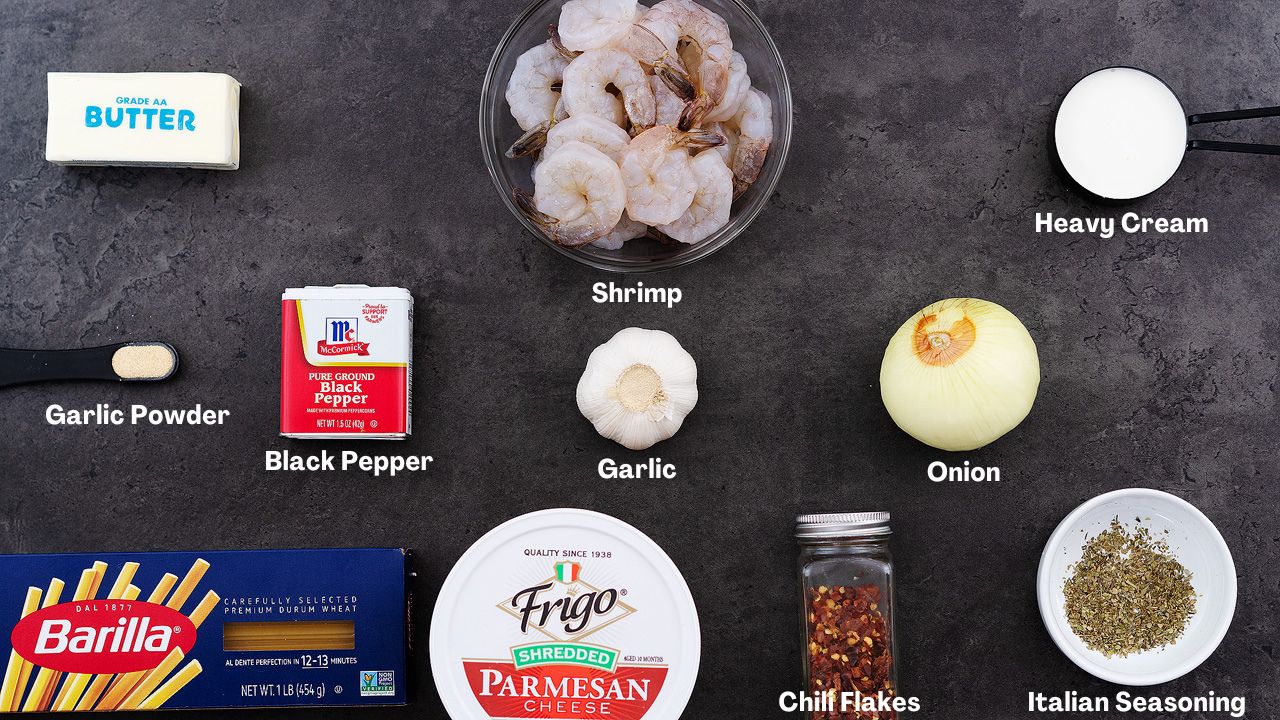 Fettuccine Pasta: Fettuccine is the preferred choice, but spaghetti, rotini, angel hair, linguine, or other pasta varieties work equally well.
Shrimp: For the best flavor, use raw large-sized shrimp. If you prefer convenience, cooked shrimp is an option; just skip the seasoning and frying steps. Using raw shrimp and cooking it in the same oil as the sauce will enhance the dish's flavor.
Seasonings: Garlic powder, ground black pepper, chili flakes, Italian seasoning, and salt are essential for enhancing the taste.
Heavy Cream: Key to achieving a rich, smooth restaurant-quality sauce. Alternatively, you can use a mix of half-and-half and cream cheese if heavy cream is not available.
Cheese: Fresh Parmesan cheese is ideal for authentic flavor, but packaged shredded Parmesan can be used if more convenient.
Aromatics: Onion and garlic add depth with their sweet and garlicky notes.
Herbs: Use fresh parsley for garnishing and dried herbs for seasoning the sauce.
How to make Shrimp Fettuccine Alfredo at home?
Start your culinary adventure with our Shrimp Alfredo Pasta recipe, featuring easy-to-follow steps, photos, and a video guide. We'll marinate the shrimp, cook the Fettuccine, and prepare the Alfredo sauce. Let's get cooking!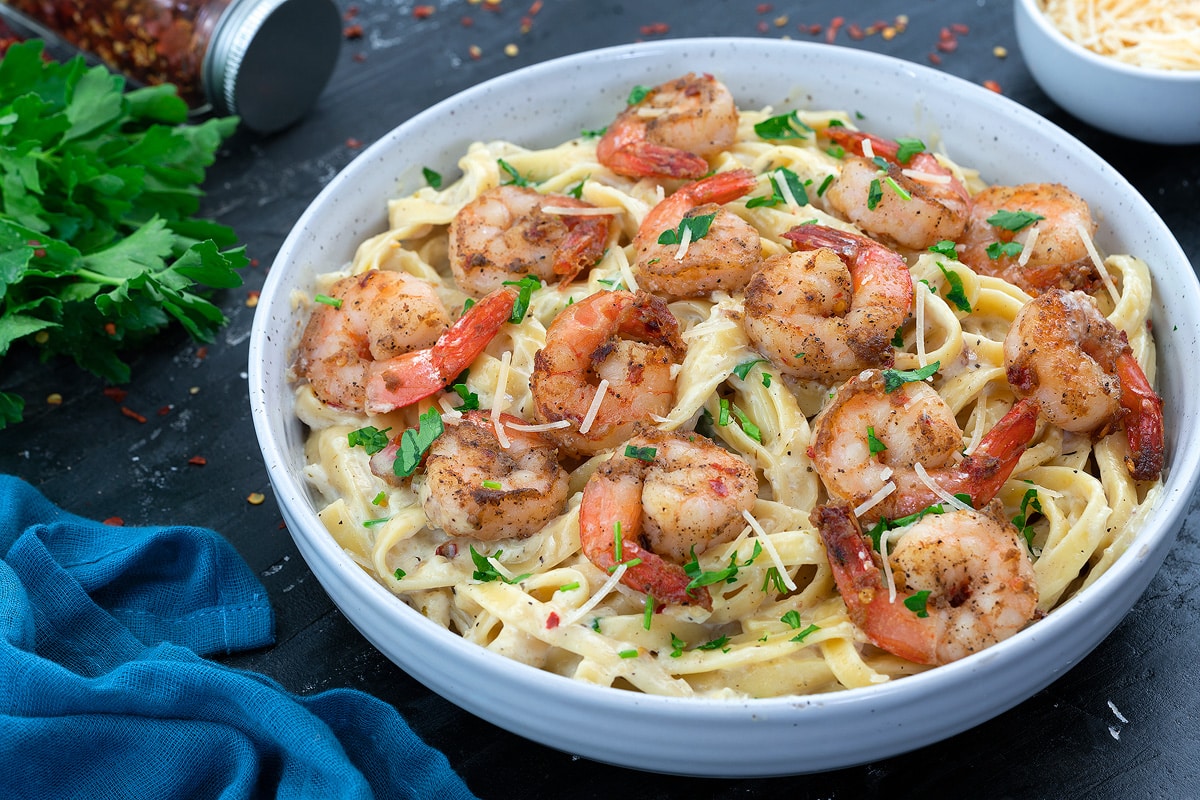 Explore and Enjoy a Variety of Pasta Dishes: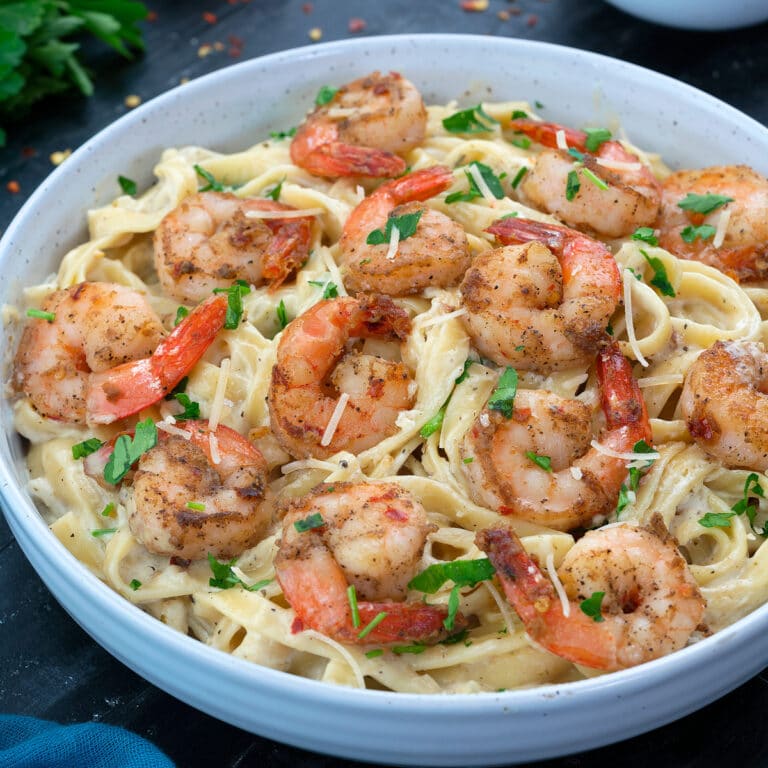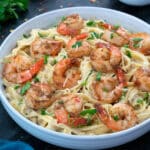 Shrimp Alfredo
Shrimp Alfredo Pasta, a rich and creamy Italian seafood delight, combines Fettuccine, shrimp, butter, and Italian seasonings in a luscious Alfredo sauce. This easy-to-make recipe, perfect with roasted vegetables or salads, is ideal for lunch or dinner and comes together in under 30 minutes.
Subscribe
print (text-only)
email
pin
review
save
saved!
Ingredients
1

lb

Shrimp

½

tsp

Ground Black Pepper

½

tsp

Chili Flakes

,

+½ tsp for sauce

½

tsp

Garlic Powder

½

tsp

Salt

12

oz

Fettuccine Pasta

2

tbsp

Oil

3

tbsp

Butter

3

tbsp

Onion

,

chopped

2

tsp

Garlic

,

minced

2

cups

Heavy Cream

½

tsp

Italian Seasoning

½

tsp

Ground Black Pepper

Salt

,

as needed

1

cup

Parmesan Cheese

Fresh Parsley Leaves

,

to garnish
More on Unit Conversions »
Instructions
To Marinate Shrimp
In a bowl, combine the shrimp with garlic powder, ground black pepper, chili flakes, and salt. Mix thoroughly, and optionally, let it rest for 10 minutes.
To Cook Fettuccine Pasta
In a large pot, bring water to a boil. Add a drizzle of oil and ½ tsp of salt to the boiling water.

Add the Fettuccine Pasta to the boiling water and cook according to the package instructions.

Once the pasta is cooked, drain it from the water and set it aside for later use.
To make Shrimp Alfredo
In a pan over medium heat, add oil and shrimp without overcrowding the pan.

Fry the shrimp for 3 to 5 minutes on both sides until they curl, turn pink, and become opaque. Remove the shrimp from the oil and set them aside.

In the same pan with the remaining oil, add butter and allow it to melt. Once melted, sauté the onion and garlic until aromatic.

Pour in 2 cups of heavy whipping cream and let it simmer.

Season the cream with salt, Italian seasoning, chili flakes, and black pepper powder. Stir the cream frequently to prevent burning and cook until it thickens.

Add Parmesan cheese and stir until it melts. The Alfredo Sauce is now ready.

Add the cooked Fettuccine Pasta to the Alfredo Sauce and gently stir until the pasta is well coated with the sauce.

Layer the pasta with the pan-fried shrimp, garnish with parsley, and remove it from the heat. Enjoy your Shrimp Alfredo Pasta!
To Serve
Pair this creamy Homemade Shrimp Fettuccine Alfredo Pasta with a side of roasted vegetables, such as broccoli, asparagus, potatoes, or carrots. Alternatively, enjoy it with a simple salad for a delightful and balanced meal.
Chef's Notes and Tips
Tips for Perfect Shrimp Alfredo Pasta:
Cream and Garlic: Although traditional Alfredo sauce doesn't include cream and garlic, adding them creates a rich, American restaurant-style sauce, enhancing the dish's flavor and taste.
Utilize Pasta Water: If your sauce thickens too much, add some pasta water to thin it to the desired consistency.
Cooking Temperature: Prepare the sauce over medium heat to prevent the cream and cheese from burning at the bottom of the pan.
Nutrition Info
Serving:
1
serving
|
Calories:
746
kcal
|
Carbohydrates:
6
g
|
Protein:
36
g
|
Fat:
66
g
|
Saturated Fat:
38
g
|
Polyunsaturated Fat:
5
g
|
Monounsaturated Fat:
19
g
|
Trans Fat:
0.4
g
|
Cholesterol:
357
mg
|
Sodium:
935
mg
|
Potassium:
479
mg
|
Fiber:
1
g
|
Sugar:
4
g
|
Vitamin A:
2362
IU
|
Vitamin C:
2
mg
|
Calcium:
462
mg
|
Iron:
1
mg
Disclaimer: We're not nutrition experts. Nutritional info is estimated and should be used as a guide. For precise details, consult a professional.
Discover a world of flavors with our expertly selected assortment of pasta, Italian, comfort food, and shrimp recipes. Whether you're craving traditional pasta favorites, authentic Italian dishes, or cozy comfort food, our collection offers a variety of options to delight your palate and suit any mood or occasion.
Serving Suggestions
Pair this creamy Homemade Shrimp Fettuccine Alfredo Pasta with a variety of sides, including roasted vegetables like broccoli, asparagus, potatoes, carrots, or simple salads, to create a delightful and balanced meal.
Storage Suggestions
While Shrimp Alfredo Pasta is best enjoyed fresh and warm, you can store leftovers in an airtight container in the refrigerator for up to a day.
To reheat, use a stovetop on low to medium heat or a microwave on the lowest power setting. Stir the pasta in between to prevent the cheese from separating. For added creaminess, a splash of milk can be used.