Are you looking for delectable and versatile side dishes to elevate your meals? Look no further! In this post, we have compiled a collection of mouthwatering recipes and ideas that are sure to impress your family and guests. From vibrant sautéed vegetables to crispy roasted delights, there's something here for everyone's palate.
Vegetables take center stage in many of these recipes, showcasing their natural flavors and textures. Whether you're a fan of classic favorites like Honey Glazed Carrots or are craving something more adventurous like Sauteed Kale, you'll find plenty of options to tantalize your taste buds. These dishes are not only delicious but also packed with essential nutrients, making them a healthy addition to any meal.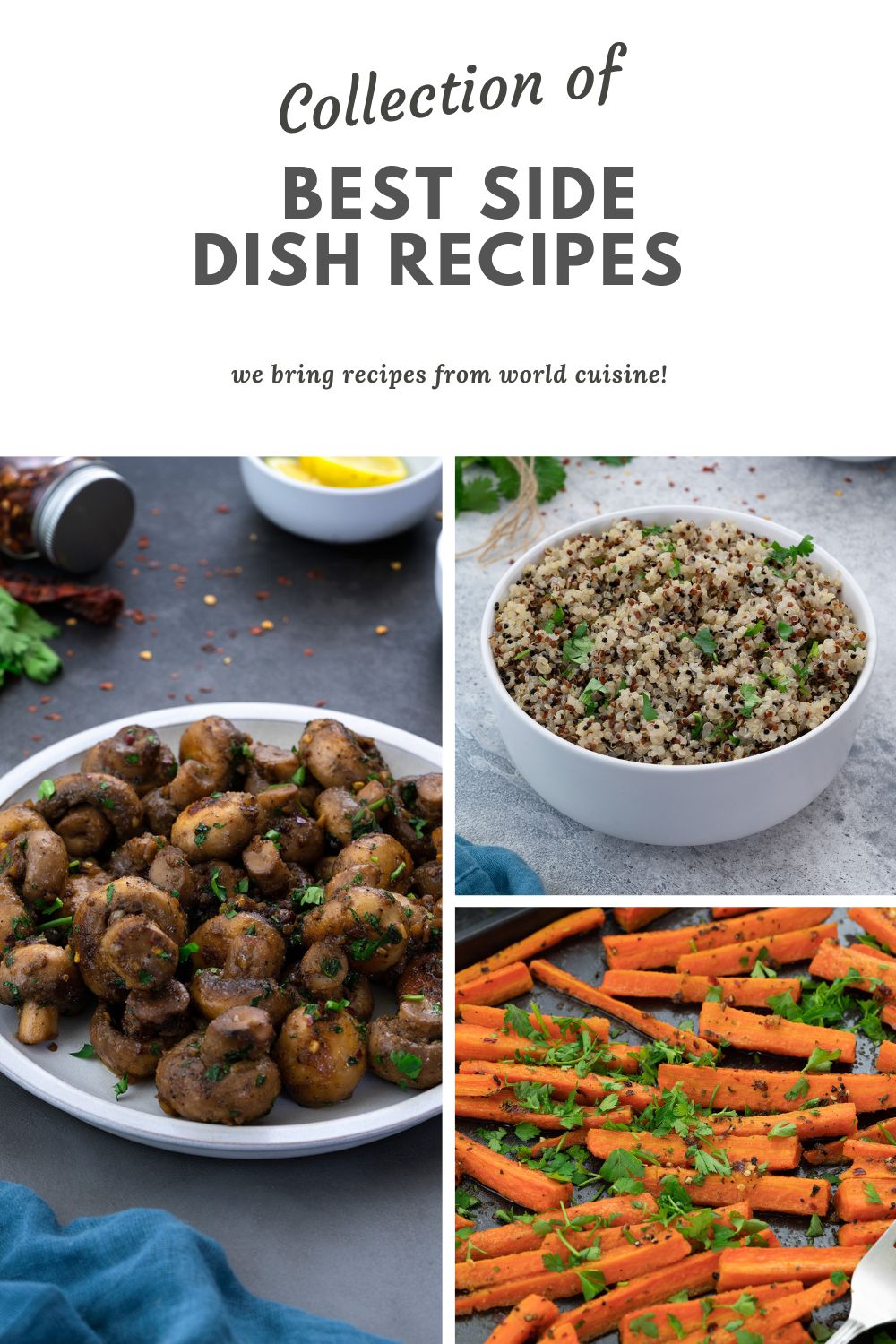 Jump to:
For those who enjoy the earthy and umami-rich flavors of mushrooms, we have Garlic Mushrooms and Sauteed Mushroom recipes that are sure to satisfy. The aromatic blend of garlic and mushrooms creates a tantalizing combination that can be enjoyed as a side or incorporated into other dishes. Additionally, the Air Fryer Brussels Sprouts and Sautéed Brussels Sprouts recipes present two delightful ways to enjoy this cruciferous vegetable. Whether you prefer the crispiness of air frying or the tenderness of sautéing, these Brussels sprouts are bound to become a favorite.
Seafood lovers will rejoice at the inclusion of Sauteed Shrimp, a quick and flavorful option that pairs well with various main courses. The tender shrimp are sautéed to perfection, offering a delightful burst of flavor that complements any meal. Meanwhile, Sauteed Asparagus, Sauteed Green Beans, and Sauteed Cabbage recipes offer a vibrant array of colorful and nutritious options. These dishes highlight the natural sweetness and crunch of the vegetables, providing a refreshing and health-conscious addition to your table.
To accompany these delicious sides, we've included tips on how to cook different varieties of rice, such as Basmati Rice, Jasmine Rice, and Brown Rice. These versatile grains serve as the perfect base for many meals and offer a wonderful complement to the flavors of the main dish and side dishes alike.
Lastly, the assortment of roasted vegetables, including Roasted Brussels Sprouts, Oven Roasted Potatoes, and Roasted Zucchini, adds a satisfyingly crispy and flavorful touch to your plate. With their golden-brown exteriors and tender interiors, these roasted delights are sure to be a hit at your table.
So, whether you're planning a family dinner, a festive gathering, a recipe idea or simply want to spruce up your everyday meals, these easy and best side dishes recipes and ideas are here to inspire you. Get ready to explore a world of flavors and elevate your dining experience with these fantastic recipes. Your taste buds will thank you!
You can also find different collections of recipes below and more at recipe collections.