If you're a fan of chicken, then chicken thighs should be on your radar. They are an inexpensive and versatile cut of chicken, that can be used in a wide range of recipes. Chicken thighs are juicy, tender, and full of flavor, making them an excellent choice for a variety of dishes. If you're looking to switch up your chicken dinner game, then you're in the right place!
In this post, we've got you covered with some delicious chicken thigh recipes. Whether you're cooking for yourself, family or hosting a dinner party, there's a recipe on this list for everyone. From the classic baked chicken thighs to the more exotic Tandoori Chicken, there's something for every taste bud.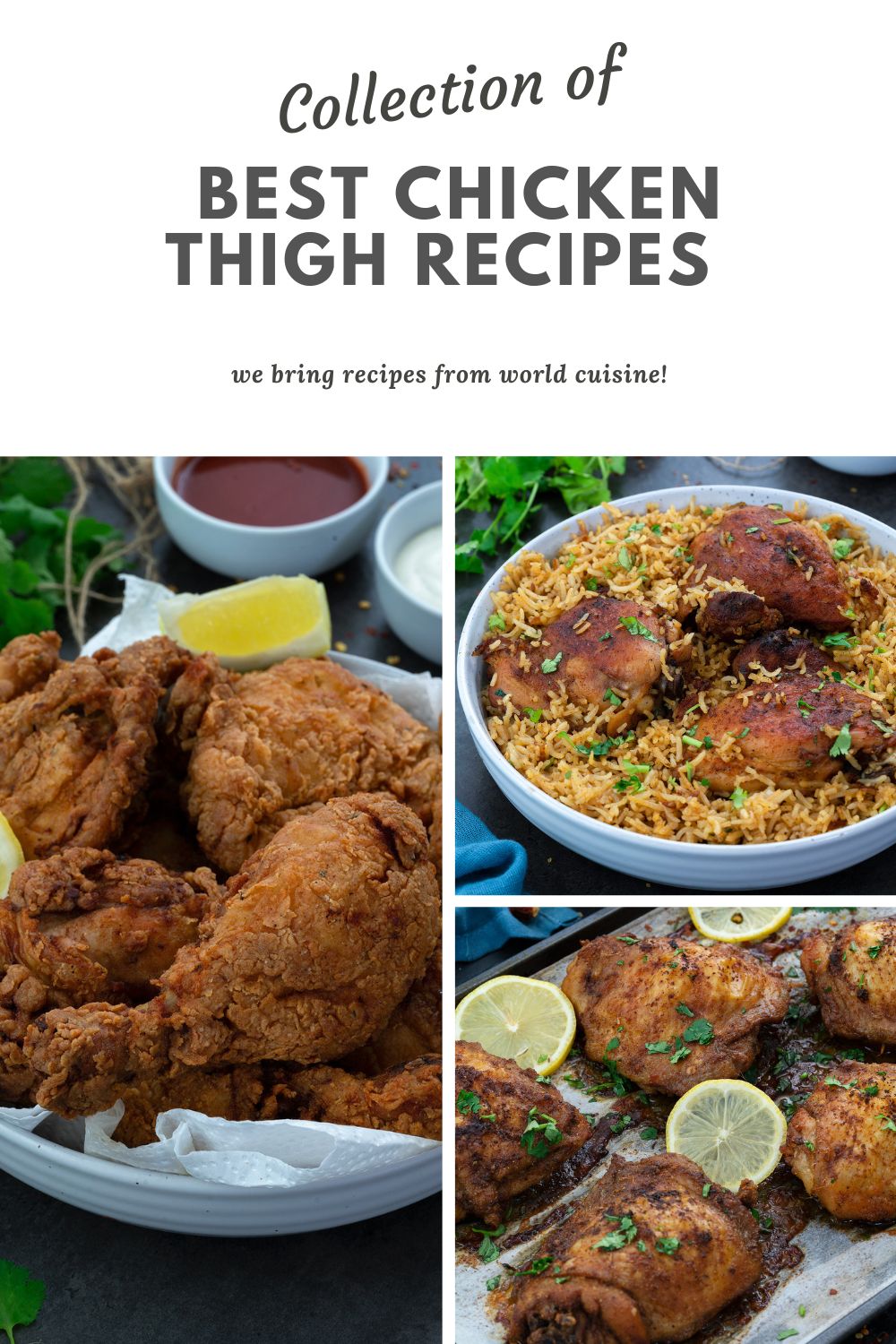 Jump to:
First up, we have baked chicken thighs. This recipe is a classic and a staple in many households. It's a straightforward and easy recipe that requires minimal prep and only a few ingredients. The result is a juicy and tender chicken thigh with a crispy skin that's sure to please everyone.
Next, we have air fryer chicken thighs. If you're a fan of crispy chicken, then this recipe is for you. Using an air fryer ensures that you get that crispy texture without the excess oil. It's a healthier alternative to traditional fried chicken and is just as delicious.
If you're in the mood for something more indulgent, then crispy fried chicken is the recipe for you. This recipe is perfect for those days when you're craving something comforting and satisfying. The chicken is marinated in a buttermilk mixture and coated in a seasoned flour mixture before being fried to perfection.
Chicken and rice is a classic combination that never disappoints. This recipe is easy to make and is perfect for a weeknight dinner. The chicken is cooked in a flavorful sauce, and the rice absorbs all the delicious flavors, making it a tasty and satisfying meal.
If you want to take your chicken and rice game up a notch, then baked chicken and rice is the recipe for you. This one-pan meal is a complete meal that requires minimal cleanup. The chicken and rice are cooked together in the oven, resulting in a flavorful and hearty dish.
Last but not least, we have Tandoori chicken. This recipe is perfect for those who love bold flavors and spices. The chicken is marinated in a mixture of yogurt and spices before being grilled or baked. The result is a juicy and flavorful chicken that's perfect for any occasion.
So, whether you're in the mood for something classic, indulgent, or exotic, there's a chicken thigh recipe on this list for you. Get ready to take your chicken dinner game to the next level!
You could also find a different collection of recipes below and more at recipe collections.