Get ready to elevate your cooking with our Garlic Parmesan Sauce, a culinary gem that's both simple and delicious. In just 15 minutes, you can create this smooth and flavorful sauce using everyday ingredients like butter, milk, chicken broth, Parmesan cheese, garlic, and all-purpose flour. Perfect for a variety of dishes, it's sure to become a favorite in your kitchen.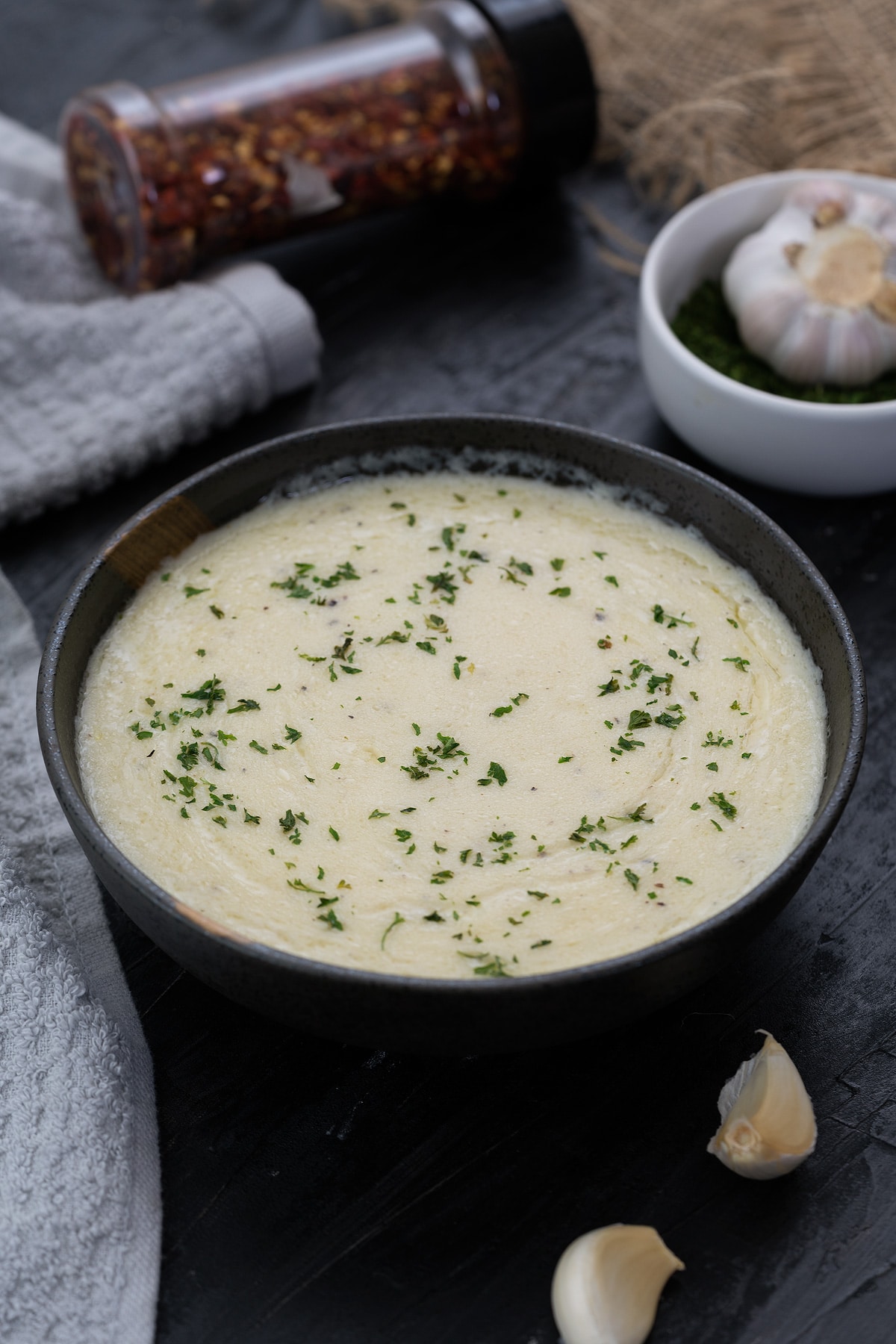 Jump to:
This versatile sauce is not just a rich dip for chicken wings, shrimp, and steak, but also an excellent topping for pizzas or a creamy base for pasta dishes. It can even bring baked vegetables to life with its cheesy goodness.
Whether you're dressing up a pizza, enhancing a pasta dish, or in search of the perfect dip, our Garlic Parmesan Sauce is a fantastic choice. For an extra layer of flavor, try it with our homemade Italian Seasoning in your next pasta creation or as a dip for our savory Chicken Wings. This sauce is sure to be a hit with everyone!
Explore More Ways to Enjoy Garlic Parmesan:
Ingredients Overview
Create a rich and flavorful Garlic Parmesan Sauce with these simple ingredients: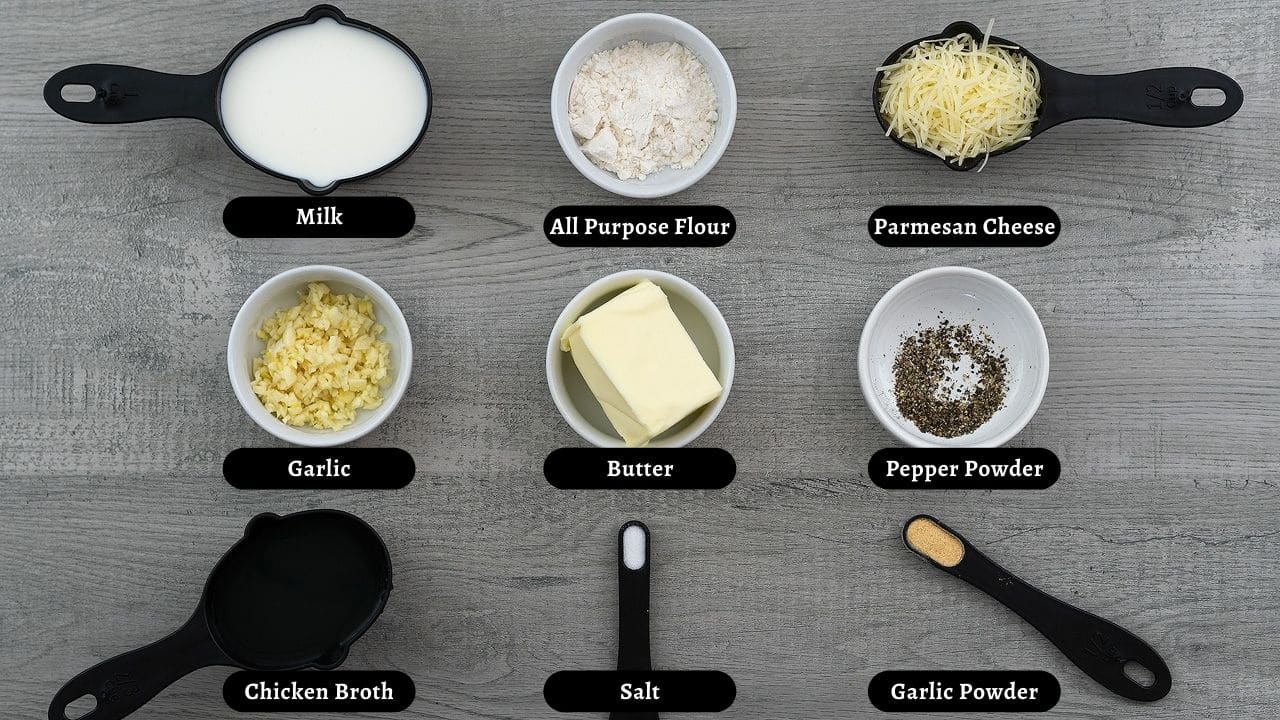 Butter: Opt for extra creamy salted butter for a smooth sauce base. If you prefer, unsalted butter works too, just remember to adjust the salt accordingly.
Garlic: A mix of minced garlic and garlic powder gives the sauce a robust garlic flavor. Feel free to use both for an extra garlic punch, or choose one based on your preference.
Whole Milk: Use full-fat milk for a thick and creamy texture. It's key to the richness of the sauce.
Parmesan Cheese: Start with ¼ cup of Parmesan for a subtle cheesy taste, or increase to ½ cup if you're a cheese lover and crave a stronger flavor.
Pepper Powder: This adds a mild heat to the sauce. If you like it spicier, consider adding chili flakes for an extra kick.
Chicken Broth: This adds depth and richness to the sauce, enhancing the overall flavor profile.
All-Purpose Flour: A key thickening agent, flour helps achieve the perfect consistency for your sauce.
How to make Garlic Parmesan Sauce?
Step into the delicious world of our Garlic Parmesan Sauce with an easy-to-follow recipe, complete with helpful photos and a video guide. Every step is captured to ensure you can recreate this creamy, flavorful sauce with ease. Let's get started!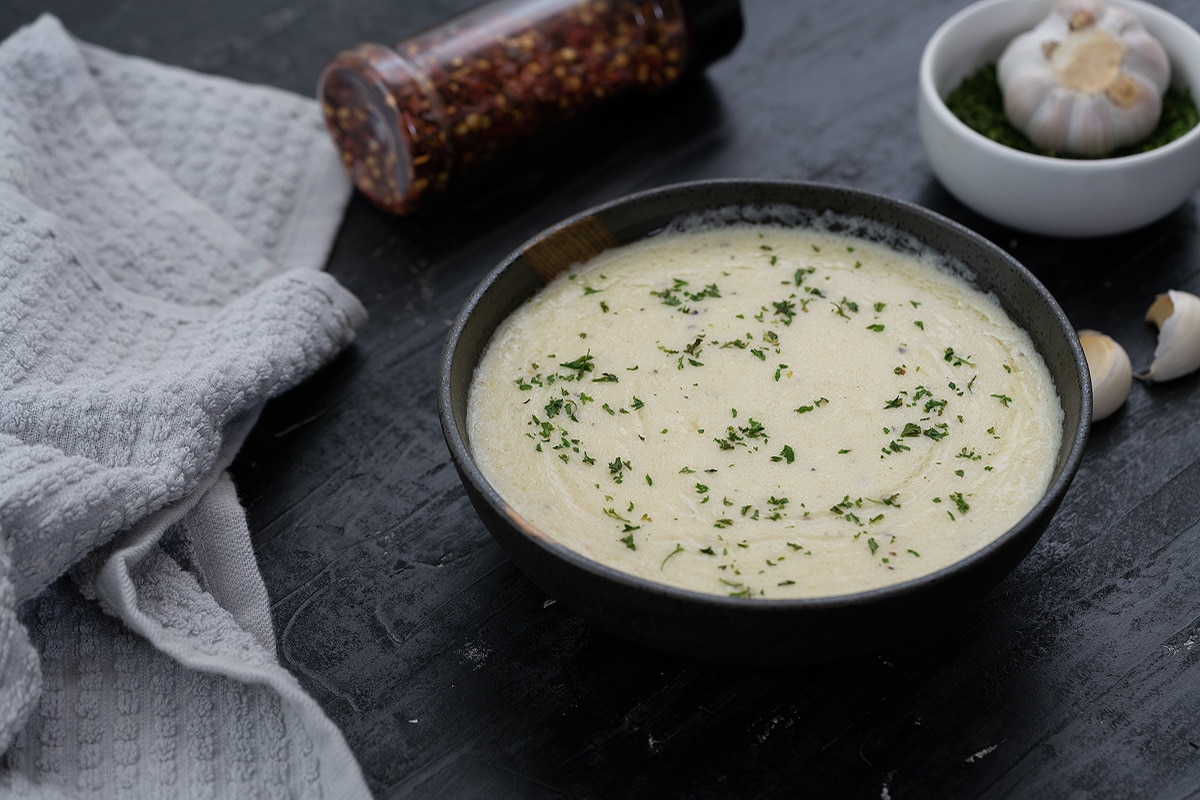 Explore Additional Sauce Creations: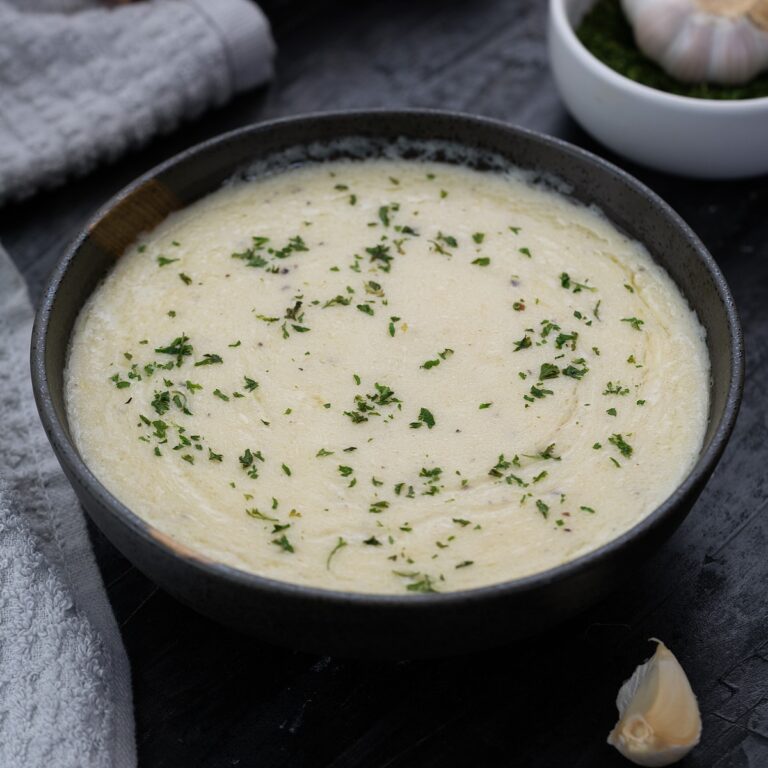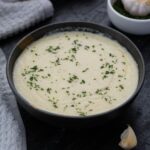 Garlic Parmesan Sauce
Savor our Garlic Parmesan Sauce, a rich, creamy dip bursting with garlic and Parmesan flavors. Versatile for pasta, pizza, or veggie bakes. Ideal for dipping with wings, shrimp, or steak, adding luxury to your dishes.
Subscribe
print (text-only)
email
pin
review
save
saved!
Ingredients
3

tbsp

Butter

1

cup

Milk

1

cup

Chicken Broth

¼

cup

Parmesan Cheese

½

tsp

Garlic Powder

½

tsp

Pepper Powder

2

tsp

All Purpose Flour

1

tbsp

Garlic

,

minced
More on Unit Conversions »
Instructions
To make Garlic Parmesan Sauce
In a pan over medium heat, melt the butter. Once melted, add the garlic and sauté until it becomes aromatic.

Next, mix in the flour and continue to sauté until it becomes fragrant. This step is important for flavor development.

Gradually pour in the milk, stirring continuously. Cook this mixture until it thickens up.

Add the chicken broth, a bit more garlic for enhanced flavor, and pepper powder. Stir well and cook until the mixture becomes slightly thick.

Finally, stir in the Parmesan cheese and cook until it completely melts and blends into the sauce. Once done, your delicious Garlic Parmesan Sauce is ready to be served and enjoyed.
To Serve
Serve this Creamy Garlic Parmesan Sauce with pasta, pizza, as a dip for chicken wings, steak, and shrimp, or use it to enhance baked vegetables.
Chef's Notes and Tips
Tips for Perfect Garlic Parmesan Sauce:
Taste and Flavor: For the best taste, cook the flour until it becomes fragrant. This step is crucial as undercooked flour can leave an unpleasant taste in your sauce.
Texture: To get a thick and creamy texture, it's important to use the right balance of flour, liquid, and cheese. This combination is key to achieving the perfect consistency.
Broth Options: While chicken broth adds a unique flavor to the sauce, you can easily substitute it with vegetable broth for a different twist.
Roasted Garlic Variation: For a roasted garlic version, simply roast the garlic in aluminum foil before adding it to the sauce. This will give a deeper, more caramelized garlic flavor.
Temperature Control: Maintain a medium heat throughout the cooking process. This helps prevent the sauce from burning and ensures even cooking.
Nutrition Info
Serving:
1
serving
|
Calories:
74
kcal
|
Carbohydrates:
3
g
|
Protein:
3
g
|
Fat:
6
g
|
Saturated Fat:
4
g
|
Polyunsaturated Fat:
0.2
g
|
Monounsaturated Fat:
2
g
|
Trans Fat:
0.2
g
|
Cholesterol:
18
mg
|
Sodium:
205
mg
|
Potassium:
64
mg
|
Fiber:
0.1
g
|
Sugar:
2
g
|
Vitamin A:
258
IU
|
Vitamin C:
0.4
mg
|
Calcium:
79
mg
|
Iron:
0.1
mg
Disclaimer: We're not nutrition experts. Nutritional info is estimated and should be used as a guide. For precise details, consult a professional.
Explore our culinary collection featuring Italian recipes, a variety of pasta sauce creations, and unique condiments. Each recipe is thoughtfully crafted to complement and elevate your cooking experience!
Storage Suggestions
Keep this sauce fresh and ready for future meals by storing it in the refrigerator, where it'll stay good for up to 10 days. For longer storage, freeze it, and it will keep well for up to 3 months. When you're ready to use frozen sauce, just thaw and reheat it thoroughly before adding it to your dishes.
Serving Suggestions
This Garlic Parmesan Sauce is incredibly versatile and pairs wonderfully with a variety of foods. It's an excellent dip for chicken wings, chicken nuggets, popcorn chicken, shrimp, roasted chicken, and steak.
Drizzle it over pasta or pizza for an instant flavor boost. For a healthy twist, use it as a delicious baking sauce for vegetables like broccoli, asparagus, green beans, and potatoes. Its creamy, cheesy goodness will enhance any meal.